Abstract
Necroptosis is a form of cell death that is reportedly involved in the pathogenesis of periodontitis. The role of Mlkl-involved necroptosis remains unclear. Herein, this project aimed to explore the role of MLKL-mediated necroptosis in periodontitis in vitro and in vivo. Expression of RIPK3, MLKL, and phosphorylated MLKL was observed in gingival tissues obtained from healthy subjects or patients with periodontitis. The cell viability of Porphyromonas gingivalis lipopolysaccharide (LPS-Pg)-treated cells was detected. In wild type or Mlkl deficiency mice with ligature-induced periodontitis, alveolar bone loss and osteoclast activation were assessed. mRNA levels of inflammatory cytokines in bone marrow-derived macrophages were tested by qRT-PCR. Increased expression of RIPK3, MLKL, and phosphorylated MLKL was observed in gingival tissues obtained from patients with periodontitis. Porphyromonas gingivalis lipopolysaccharide (LPS-Pg)-treated cells developed necroptosis after caspase inhibition and negatively regulated the NF-κB signaling pathway. In mice with ligature-induced periodontitis, Mlkl deficiency reduced alveolar bone loss and weakened osteoclast activation. Furthermore, genetic ablation of Mlkl in LPS-Pg-treated bone marrow-derived macrophages increased the mRNA levels of tumor necrosis factor-α, interleukin (Il)-1β, Il-6, cyclooxygenase 2, matrix metalloproteinase 9, and receptor activator of nuclear factor kappa-B ligand. Our data indicated that MLKL-mediated necroptosis aggravates the development of periodontitis in a Mlkl-deficient mouse. This will provide a new sight for the understanding of etiology and therapies of periodontitis.
Key messages
MLKL expression was up-regulated in inflamed human gingival tissue.

Mlkl deficiency affected the progression of periodontitis.

Necroptosis played a major role in mice periodontitis model.

Knockout of Mlkl had a significant effect on inflammatory responses.
Access options
Buy single article
Instant access to the full article PDF.
USD 39.95
Price includes VAT (USA)
Tax calculation will be finalised during checkout.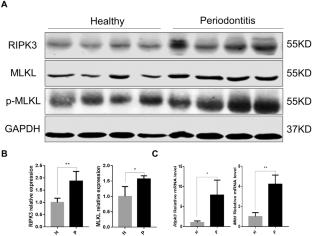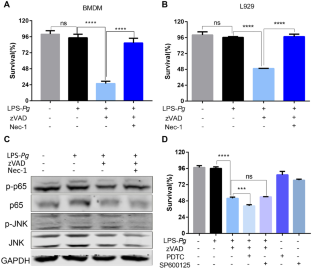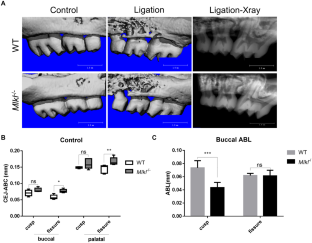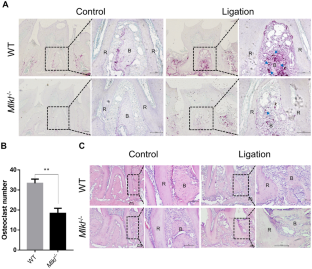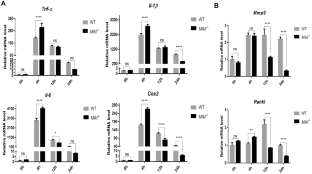 Data availability
All data generated or analyzed during this study are included in this published article.
Funding
This study was supported by the National Natural Science Foundation of China (No. 82071123, China) and the Shanghai Science and Technology Committee (project 20Y11904200).
Ethics declarations
Ethics approval
This study, including the method of obtaining consent, was approved by the Clinical Ethics Committee of at the School of Stomatology, Tongji University, in accordance with government-issued guidelines and institution policies (Approval number 2018011 and 2018012).
Consent to participate
Not applicable.
Consent for publication
Not applicable.
Conflict of interest
The authors declare no competing interests.
Additional information
Publisher's Note
Springer Nature remains neutral with regard to jurisdictional claims in published maps and institutional affiliations.
About this article
Cite this article
Yang, Y., Wang, L., Zhang, H. et al. Mixed lineage kinase domain-like pseudokinase-mediated necroptosis aggravates periodontitis progression. J Mol Med (2021). https://doi.org/10.1007/s00109-021-02126-7
Received:

Revised:

Accepted:

Published:
Keywords
Necroptosis

Periodontitis

Cell death

Alveolar bone loss

Inflammation