Abstract
Development of portal hypertension (PHT) is a central prognostic factor in patients with cirrhosis. Circulating microparticles (MPs) are released by hepatocytes in a caspase-dependent manner, are increased in circulation of patients with cirrhosis, and contribute to PHT via induction of impaired vasoconstrictor responses. Here, we tested the hypothesis that emricasan, a pan-caspase inhibitor, ameliorates PHT and reduction in release of MPs. We used a short-term and long-term protocol following common bile-duct ligation (BDL) in C57BL/6 mice (10 and 20 days, respectively). Mice were treated daily via intraperitoneal injection with 10 mg/kg/day of emricasan or placebo. Circulating MP levels were analyzed using flow cytometry and function via ex vivo angiogenesis assays. In contrast to BDL-placebo group, nearly all BDL-emricasan-treated mice survived after long-term BDL. Assessment of portal pressure showed a significant increase in BDL-placebo mice compared to sham-placebo mice. In contrast, BDL-emricasan mice had significantly lower levels of portal pressure compared to BDL-placebo mice. Although emricasan treatment resulted in a decrease in fibrosis, the changes did not reach statistical significance, suggesting that the effects on PHT are at least in part independent of the anti-fibrotic effects of the drug. Following short-term BDL, hepatocellular cell death as well as liver fibrosis had improved and circulating MPs were significantly reduced in BDL-emricasan mice compared to BDL-placebo. Circulating MPs from BDL-placebo mice induced endothelial cell activation, and this was significantly reduced in MPs from BDL-emricasan mice. Our results indicate that emricasan treatment improves survival and PHT in a murine model of long-term BDL. Emricasan is a promising agent for the treatment of PHT.
Key message
Emricasan, a pan-caspase inhibitor, improves survival and portal hypertension induced by long-term bile-duct ligation (BDL) in mice

Emricasan reduces liver damage, hepatocyte death, and fibrosis, following short-term BDL in mice, and these changes are associated with a decrease in circulating microparticle (MPs)

Circulating MPs from BDL-placebo but not from BDL-emiricasan-treated mice activate endothelial cells ex vivo
This is a preview of subscription content, log in to check access.
Access options
Buy single article
Instant access to the full article PDF.
US$ 39.95
Price includes VAT for USA
Subscribe to journal
Immediate online access to all issues from 2019. Subscription will auto renew annually.
US$ 199
This is the net price. Taxes to be calculated in checkout.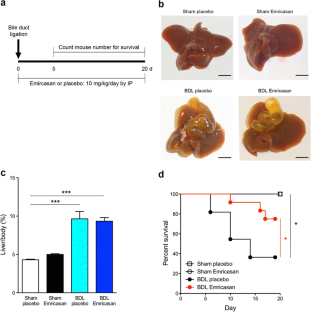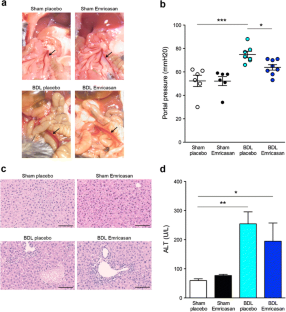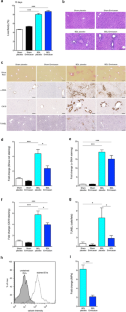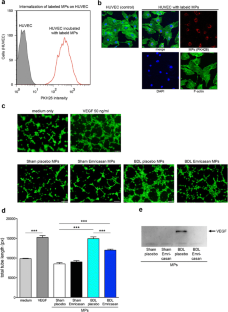 Abbreviations
PHT:

Portal hypertension

BDL:

Bile-duct ligation

MP:

Microparticle
References
1.

Ho SB, Matheny ME, Schnabl BE (2016) Changes in hospital admissions and mortality for complications of cirrhosis: implications for clinicians and health systems. Gut Liver 10:8–9

2.

Laleman W, Trebicka J, Verbeke L (2016) Evolving insights in the pathophysiology of complications of cirrhosis: the farnesoid X receptor (FXR) to the rescue? Hepatology 64:1792–1794

3.

Yanez-Mo M, Siljander PR, Andreu Z, Zavec AB, Borras FE, Buzas EI, Buzas K, Casal E, Cappello F, Carvalho J et al (2015) Biological properties of extracellular vesicles and their physiological functions. J Extracell Vesicles 4:27066. https://doi.org/10.3402/jev.v4.27066

4.

Eguchi A, Lazaro RG, Wang J, Kim J, Povero D, Willliams B, Ho SB, Starkel P, Schnabl B, Ohno-Machado L et al (2017) Extracellular vesicles released by hepatocytes from gastric infusion model of alcoholic liver disease contain a MicroRNA barcode that can be detected in blood. Hepatology 65:475–490

5.

Verma VK, Li H, Wang R, Hirsova P, Mushref M, Liu Y, Cao S, Contreras PC, Malhi H, Kamath PS, Gores GJ, Shah VH (2016) Alcohol stimulates macrophage activation through caspase-dependent hepatocyte derived release of CD40L containing extracellular vesicles. J Hepatol 64:651–660

6.

Rautou PE, Bresson J, Sainte-Marie Y, Vion AC, Paradis V, Renard JM, Devue C, Heymes C, Letteron P, Elkrief L et al (2012) Abnormal plasma microparticles impair vasoconstrictor responses in patients with cirrhosis. Gastroenterology 143:166–176 e166

7.

Canbay A, Feldstein A, Baskin-Bey E, Bronk SF, Gores GJ (2004) The caspase inhibitor IDN-6556 attenuates hepatic injury and fibrosis in the bile duct ligated mouse. J Pharmacol Exp Ther 308:1191–1196

8.

Barreyro FJ, Holod S, Finocchietto PV, Camino AM, Aquino JB, Avagnina A, Carreras MC, Poderoso JJ, Gores GJ (2015) The pan-caspase inhibitor Emricasan (IDN-6556) decreases liver injury and fibrosis in a murine model of non-alcoholic steatohepatitis. Liver Int : Off J Int Assoc Study Liver 35:953–966

9.

Witek RP, Stone WC, Karaca FG, Syn WK, Pereira TA, Agboola KM, Omenetti A, Jung Y, Teaberry V, Choi SS, Guy CD, Pollard J, Charlton P, Diehl AM (2009) Pan-caspase inhibitor VX-166 reduces fibrosis in an animal model of nonalcoholic steatohepatitis. Hepatology 50:1421–1430

10.

Anstee QM, Concas D, Kudo H, Levene A, Pollard J, Charlton P, Thomas HC, Thursz MR, Goldin RD (2010) Impact of pan-caspase inhibition in animal models of established steatosis and non-alcoholic steatohepatitis. J Hepatol 53:542–550

11.

Hirsova P, Gores GJ (2015) Death receptor-mediated cell death and proinflammatory signaling in nonalcoholic steatohepatitis. Cell Mol Gastroenterol Hepatol 1:17–27

12.

Baskin-Bey ES, Washburn K, Feng S, Oltersdorf T, Shapiro D, Huyghe M, Burgart L, Garrity-Park M, van Vilsteren FG, Oliver LK et al (2007) Clinical trial of the pan-caspase inhibitor, IDN-6556, in human liver preservation injury. Am J Transplant Off J Am Soc Transplant Am Soc Transplant Surg 7:218–225

13.

Eguchi A, De Mollerat Du Jeu X, Johnson CD, Nektaria A, Feldstein AE (2016) Liver bid suppression for treatment of fibrosis associated with non-alcoholic steatohepatitis. J Hepatol 64: 699–707. DOI

14.

Lazic M, Eguchi A, Berk MP, Povero D, Papouchado B, Mulya A, Johnson CD, Feldstein AE (2014) Differential regulation of inflammation and apoptosis in Fas-resistant hepatocyte-specific Bid-deficient mice. J Hepatol 61:107–115

15.

Woolbright BL, Ding WX, Jaeschke H (2017) Caspase inhibitors for the treatment of liver disease: friend or foe? Expert Rev Gastroenterol Hepatol 11:397–399

16.

Wang P, Koyama Y, Liu X, Xu J, Ma HY, Liang S, Kim IH, Brenner DA, Kisseleva T (2016) Promising therapy candidates for liver fibrosis. Front Physiol 7:47

17.

Eguchi A, Mulya A, Lazic M, Radhakrishnan D, Berk MP, Povero D, Gornicka A, Feldstein AE (2015) Microparticles release by adipocytes act as "find-me" signals to promote macrophage migration. PLoS One 10:e0123110. https://doi.org/10.1371/journal.pone.0123110

18.

Povero D, Eguchi A, Li H, Johnson CD, Papouchado BG, Wree A, Messer K, Feldstein AE (2014) Circulating extracellular vesicles with specific proteome and liver microRNAs are potential biomarkers for liver injury in experimental fatty liver disease. PLoS One 9:e113651. https://doi.org/10.1371/journal.pone.0113651

19.

Povero D, Eguchi A, Niesman IR, Andronikou N, de Mollerat du Jeu X, Mulya A, Berk M, Lazic M, Thapaliya S, Parola M, et al. (2013) Lipid-induced toxicity stimulates hepatocytes to release angiogenic microparticles that require Vanin-1 for uptake by endothelial cells. Sci Signal 6: ra88. DOI

20.

Hirsova P, Ibrahim SH, Krishnan A, Verma VK, Bronk SF, Werneburg NW, Charlton MR, Shah VH, Malhi H, Gores GJ (2016) Lipid-induced signaling causes release of inflammatory extracellular vesicles from hepatocytes. Gastroenterology 150:956–967

21.

Garcia-Tsao G, Fuchs M, Shiffman ML, Chan JL, Morris M, Yamashita M, Spada AP, Hagerty D, Bosch J Emricasan (IDN-6556) administered orally for 28 days lowers portal pressure in patients with compensated cirrhosis and severe portal hypertension. Hepatology 62: 1382A
Acknowledgements
UCSD Neuroscience Core for microscopy is supported by a grant NS047101.
Funding
This work was funded by NIH grants U01 AA022489 and Conatus Pharmaceuticals.
Ethics declarations
Conflict of interest
The authors state no conflict of interest, except Al Spada and Patricia Contreras who are employees of Conatus Pharmaceuticals.
Electronic supplementary material
About this article
Cite this article
Eguchi, A., Koyama, Y., Wree, A. et al. Emricasan, a pan-caspase inhibitor, improves survival and portal hypertension in a murine model of common bile-duct ligation. J Mol Med 96, 575–583 (2018). https://doi.org/10.1007/s00109-018-1642-9
Received:

Revised:

Accepted:

Published:

Issue Date:
Keywords
Portal hypertension

Cirrhosis

Pan-caspase inhibitor

Extracellular vesicles