Abstract
The mucopolysaccharidoses (MPS) are a subgroup of lysosomal storage disorders that are caused by mutations in the genes involved in glycosaminoglycan breakdown. Multiple organs and tissues are affected, including the central nervous system. At present, hematopoietic stem cell transplantation and enzyme replacement therapies are approved for some of the (non-neurological) MPS. Treatments that effectively ameliorate the neurological aspects of the disease are being assessed in clinical trials. This review will focus on the recent outcomes and planned viral vector-mediated gene therapy clinical trials, and the pre-clinical data that supported these studies, for MPS-I (Hurler/Scheie syndrome), MPS-II (Hunter syndrome), and MPS-IIIA and -IIIB (Sanfilippo syndrome).
Access options
Buy single article
Instant access to the full article PDF.
US$ 39.95
Tax calculation will be finalised during checkout.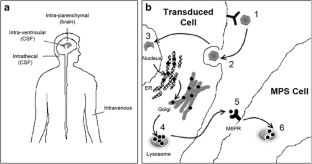 References
1.

Vitner EB, Platt FM, Futerman AH (2010) Common and uncommon pathogenic cascades in lysosomal storage diseases. J Biol Chem 285:20423–20427

2.

Pinto R, Caseiro C, Lemos M, Lopes L, Fontes A, Ribeiro H, Pinto E, Silva E, Rocha S, Marcao A et al (2004) Prevalence of lysosomal storage diseases in Portugal. Eur J Hum Genet 12:87–92

3.

Meikle PJ, Hopwood JJ, Clague AE, Carey WF (1999) Prevalence of lysosomal storage disorders. JAMA 281:249–254

4.

Poorthuis BJ, Wevers RA, Kleijer WJ, Groener JE, de Jong JG, van Weely S, Niezen-Koning KE, van Diggelen OP (1999) The frequency of lysosomal storage diseases in The Netherlands. Hum Genet 105:151–156

5.

Hwu WL, Chien YH, Lee NC, Chiang SC, Dobrovolny R, Huang AC, Yeh HY, Chao MC, Lin SJ, Kitagawa T et al (2009) Newborn screening for Fabry disease in Taiwan reveals a high incidence of the later-onset GLA mutation c.936+919G>A (IVS4+919G>A). Hum Mutat 30:1397–1405

6.

Spada M, Pagliardini S, Yasuda M, Tukel T, Thiagarajan G, Sakuraba H, Ponzone A, Desnick RJ (2006) High incidence of later-onset fabry disease revealed by newborn screening. Am J Hum Genet 79:31–40

7.

Applegarth DA, Toone JR, Lowry RB (2000) Incidence of inborn errors of metabolism in British Columbia, 1969-1996. Pediatrics 105:e10

8.

Scott HS, Anson DS, Orsborn AM, Nelson PV, Clements PR, Morris CP, Hopwood JJ (1991) Human alpha-L-iduronidase: cDNA isolation and expression. Proc Natl Acad Sci U S A 88:9695–9699

9.

Wilson PJ, Morris CP, Anson DS, Occhiodoro T, Bielicki J, Clements PR, Hopwood JJ (1990) Hunter syndrome: isolation of an iduronate-2-sulfatase cDNA clone and analysis of patient DNA. Proc Natl Acad Sci U S A 87:8531–8535

10.

Scott HS, Blanch L, Guo X-H, Freeman VC, Orsborn A, Baker E, Sutherland GR, Morris P, Hopwood JJ (1995) Cloning of the sulphamidase gene and identification of mutations in Sanfilippo A syndrome. Nat Genet 11:465–467

11.

Weber B, Blanch L, Clements PR, Scott HS, Hopwood JJ (1996) Cloning and expression of the gene involved in Sanfilippo B syndrome (Mucopolysaccharidosis III B). Hum Mol Genet 5:771–777

12.

Zhao HG, Li HH, Bach G, Schmidtchen A, Neufeld EF (1996) The molecular basis of Sanfilippo syndrome type B. Proc Natl Acad Sci U S A 93:6101–6105

13.

Hopwood JJ, Morris CP (1990) The mucopolysaccharidoses. Diagnosis, molecular genetics and treatment. Mol Biol Med 7:381–404

14.

Dahms NM, Lobel P, Kornfeld S (1989) Mannose 6-phosphate receptors and lysosomal enzyme targeting. J Biol Chem 264:12115–12118

15.

Hopwood JJ, Brooks DA (1997) An introduction to the basic science and biology of the lysosome and storage disorders. In: Appelgarth DA (ed) organelle diseases chapman and hall Medical, London, pp. 7-35

16.

Kornfeld S (1992) Structure and function of the mannose 6-phosphate/insulinlike growth factor II receptors. Annu Rev Biochem 61:307–330

17.

Brown WJ, Goodhouse J, Farquhar MG (1986) Mannose-6-phosphate receptors for lysosomal enzymes cycle between the Golgi complex and endosomes. J Cell Biol 103:1235–1247

18.

Willingham MC, Pastan IH, Sahagian GG, Jourdian GW, Neufeld EF (1981) Morphologic study of the internalization of a lysosomal enzyme by the mannose 6-phosphate receptor in cultured Chinese hamster ovary cells. Proc Natl Acad Sci U S A 78:6967–6971

19.

Hasilik A (1992) The early and late processing of lysosomal enzymes: proteolysis and compartmentation. Experientia 48:130–151

20.

Smith LG, Weissman IL, Heimfeld S (1991) Clonal analysis of hematopoietic stem-cell differentiation in vivo. Proc Natl Acad Sci U S A 88:2788–2792

21.

Hobbs JR, Hugh-Jones K, Barrett AJ, Byrom N, Chambers D, Henry K, James DC, Lucas CF, Rogers TR, Benson PF et al (1981) Reversal of clinical features of Hurler's disease and biochemical improvement after treatment by bone-marrow transplantation. Lancet 2:709–712

22.

Aldenhoven M, Wynn RF, Orchard PJ, O'Meara A, Veys P, Fischer A, Valayannopoulos V, Neven B, Rovelli A, Prasad VK et al (2015) Long-term outcome of Hurler syndrome patients after hematopoietic cell transplantation: an international multicenter study. Blood 125:2164–2172

23.

Krivit W (2004) Allogeneic stem cell transplantation for the treatment of lysosomal and peroxisomal metabolic diseases. Springer Semin Immun 26:119–132

24.

Yamada Y, Kato K, Sukegawa K, Tomatsu S, Fukuda S, Emura S, Kojima S, Matsuyama T, Sly WS, Kondo N et al (1998) Treatment of MPS VII (Sly disease) by allogeneic BMT in a female with homozygous A619v mutation. Bone Marrow Transplant 21:629–634

25.

Montano AM, Lock-Hock N, Steiner RD, Graham BH, Szlago M, Greenstein R, Pineda M, Gonzalez-Meneses A, Coker M, Bartholomew D et al (2016) Clinical course of sly syndrome (mucopolysaccharidosis type VII). J Med Genet. doi:10.1136/jmedgenet-2015-103322

26.

Guffon N, Bertrand Y, Forest I, Fouilhoux A, Froissart R (2009) Bone marrow transplantation in children with Hunter syndrome: outcome after 7 to 17 years. J Pediatr 154:733–737

27.

Vellodi A, Young E, Cooper A, Lidchi V, Winchester B, Wraith JE (1999) Long-term follow-up following bone marrow transplantation for Hunter disease. J Inherit Metab Dis 22:638–648

28.

Hoogerbrugge PM, Brouwer OF, Bordigoni P, Ringden O, Kapaun P, Ortega JJ, O'Meara A, Cornu G, Souillet G, Frappaz D et al (1995) Allogeneic bone marrow transplantation for lysosomal storage diseases. The European Group for Bone Marrow Transplantation Lancet 345:1398–1402

29.

Shapiro EG, Lockman LA, Balthazor M, Krivit W (1995) Neuropsychological outcomes of several storage diseases with and without bone marrow transplantation. J Inherit Metab Dis 18:413–429

30.

Fox JE, Volpe L, Bullaro J, Kakkis ED, Sly WS (2015) First human treatment with investigational rhGUS enzyme replacement therapy in an advanced stage MPS VII patient. Mol Genet Metab 114:203–208

31.

Munoz-Rojas MV, Vieira T, Costa R, Fagondes S, John A, Jardim LB, Vedolin LM, Raymundo M, Dickson PI, Kakkis E et al (2008) Intrathecal enzyme replacement therapy in a patient with mucopolysaccharidosis type I and symptomatic spinal cord compression. Am J Med Genet A 146A:2538–2544

32.

Muenzer J, Hendriksz CJ, Fan Z, Vijayaraghavan S, Perry V, Santra S, Solanki GA, Mascelli MA, Pan L, Wang N et al (2016) A phase I/II study of intrathecal idursulfase-IT in children with severe mucopolysaccharidosis II. Genet Med 18:73–81

33.

Jones SA, Breen C, Heap F, Rust S, de Ruijter J, Tump E, Marchal JP, Pan L, Qiu Y, Chung JK et al (2016) A phase 1/2 study of intrathecal heparan-N-sulfatase in patients with mucopolysaccharidosis IIIA. Mol Genet Metab 118:198–205

34.

Beutler E (2006) Lysosomal storage diseases: natural history and ethical and economic aspects. Mol Genet Metab 88:208–215

35.

Goldblatt J, Fletcher JM, McGill J, Szer J, Wilson M (2011) Enzyme replacement therapy "drug holiday": results from an unexpected shortage of an orphan drug supply in Australia. Blood Cells Mol Dis 46:107–110

36.

Chen F, Vitry S, Hocquemiller M, Desmaris N, Ausseil J, Heard JM (2006) alpha-L-Iduronidase transport in neurites. Mol Genet Metab 87:349–358

37.

Passini MA, Lee EB, Heuer GG, Wolfe JH (2002) Distribution of a lysosomal enzyme in the adult brain by axonal transport and by cells of the rostral migratory stream. J Neurosci 22:6437–6446

38.

Hennig AK, Ogilvie JM, Ohlemiller KK, Timmers AM, Hauswirth WW, Sands MS (2004) AAV-mediated intravitreal gene therapy reduces lysosomal storage in the retinal pigmented epithelium and improves retinal function in adult MPS VII mice. Mol Ther 10:106–116

39.

Sands MS, Davidson BL (2006) Gene therapy for lysosomal storage diseases. Mol Ther 13:839–849

40.

Byrne BJ, Falk DJ, Clement N, Mah CS (2012) Gene therapy approaches for lysosomal storage disease: next-generation treatment. Hum Gene Ther 23:808–815

41.

Aronovich EL, Bell JB, Belur LR, Gunther R, Koniar B, Erickson DC, Schachern PA, Matise I, McIvor RS, Whitley CB et al (2007) Prolonged expression of a lysosomal enzyme in mouse liver after Sleeping Beauty transposon-mediated gene delivery: implications for non-viral gene therapy of mucopolysaccharidoses. J Gene Med 9:403–415

42.

Zolotukhin S (2005) Production of recombinant adeno-associated virus vectors. Hum Gene Ther 16:551–557

43.

Samulski RJ, Zhu X, Xiao X, Brook JD, Housman DE, Epstein N, Hunter LA (1991) Targeted integration of adeno-associated virus (AAV) into human chromosome 19. EMBO J 10:3941–3950

44.

Baum C, Kustikova O, Modlich U, Li Z, Fehse B (2006) Mutagenesis and oncogenesis by chromosomal insertion of gene transfer vectors. Hum Gene Ther 17:253–263

45.

McCown TJ (2005) Adeno-associated virus (AAV) vectors in the CNS. Curr Gene Ther 5:333–338

46.

Mastakov MY, Baer K, Symes CW, Leichtlein CB, Kotin RM, During MJ (2002) Immunological aspects of recombinant adeno-associated virus delivery to the mammalian brain. J Virol 76:8446–8454

47.

Chirmule N, Propert K, Magosin S, Qian Y, Qian R, Wilson J (1999) Immune responses to adenovirus and adeno-associated virus in humans. Gene Ther 6:1574–1583

48.

Srivastava A (2016) In vivo tissue-tropism of adeno-associated viral vectors. Curr Opin Virol 21:75–80

49.

Hoggan MD, Blacklow NR, Rowe WP (1966) Studies of small DNA viruses found in various adenovirus preparations: physical, biological, and immunological characteristics. Proc Natl Acad Sci U S A 55:1467–1474

50.

Samulski RJ, Berns KI, Tan M, Muzyczka N (1982) Cloning of adeno-associated virus into pBR322: rescue of intact virus from the recombinant plasmid in human cells. Proc Natl Acad Sci U S A 79:2077–2081

51.

Rabinowitz JE, Rolling F, Li C, Conrath H, Xiao W, Xiao X, Samulski RJ (2002) Cross-packaging of a single adeno-associated virus (AAV) type 2 vector genome into multiple AAV serotypes enables transduction with broad specificity. J Virol 76:791–801

52.

Burger C, Gorbatyuk OS, Velardo MJ, Peden CS, Williams P, Zolotukhin S, Reier PJ, Mandel RJ, Muzyczka N (2004) Recombinant AAV viral vectors pseudotyped with viral capsids from serotypes 1, 2, and 5 display differential efficiency and cell tropism after delivery to different regions of the central nervous system. Mol Ther 10:302–317

53.

Markakis EA, Vives KP, Bober J, Leichtle S, Leranth C, Beecham J, Elsworth JD, Roth RH, Samulski RJ, Redmond DE Jr (2010) Comparative transduction efficiency of AAV vector serotypes 1-6 in the substantia nigra and striatum of the primate brain. Mol Ther 18:588–593

54.

Sondhi D, Hackett NR, Peterson DA, Stratton J, Baad M, Travis KM, Wilson JM, Crystal RG (2007) Enhanced survival of the LINCL mouse following CLN2 gene transfer using the rh.10 rhesus macaque-derived adeno-associated virus vector. Mol Ther 15:481–491

55.

Cearley CN, Wolfe JH (2006) Transduction characteristics of adeno-associated virus vectors expressing cap serotypes 7, 8, 9, and Rh10 in the mouse brain. Mol Ther 13:528–537

56.

Thwaite R, Pages G, Chillon M, Bosch A (2015) AAVrh.10 immunogenicity in mice and humans. Relevance of antibody cross-reactivity in human gene therapy. Gene Ther 22:196–201

57.

Liu Q, Huang W, Zhang H, Wang Y, Zhao J, Song A, Xie H, Zhao C, Gao D, Wang Y (2014) Neutralizing antibodies against AAV2, AAV5 and AAV8 in healthy and HIV-1-infected subjects in China: implications for gene therapy using AAV vectors. Gene Ther 21:732–738

58.

Foust KD, Nurre E, Montgomery CL, Hernandez A, Chan CM, Kaspar BK (2009) Intravascular AAV9 preferentially targets neonatal neurons and adult astrocytes. Nat Biotechnol 27:59–65

59.

Duque S, Joussemet B, Riviere C, Marais T, Dubreil L, Douar AM, Fyfe J, Moullier P, Colle MA, Barkats M (2009) Intravenous administration of self-complementary AAV9 enables transgene delivery to adult motor neurons. Mol Ther 17:1187–1196

60.

Schuster DJ, Dykstra JA, Riedl MS, Kitto KF, Belur LR, McIvor RS, Elde RP, Fairbanks CA, Vulchanova L (2014) Biodistribution of adeno-associated virus serotype 9 (AAV9) vector after intrathecal and intravenous delivery in mouse. Front Neuroanat 8:42

61.

Gray SJ, Matagne V, Bachaboina L, Yadav S, Ojeda SR, Samulski RJ (2011) Preclinical differences of intravascular AAV9 delivery to neurons and glia: a comparative study of adult mice and nonhuman primates. Mol Ther 19:1058–1069

62.

Winner LK, Beard H, Hassiotis S, Lau AA, Luck AJ, Hopwood JJ, Hemsley KM (2016) A pre-clinical study evaluating AAVrh10-based gene therapy for Sanfilippo syndrome. Hum Gene Ther 27:363–375

63.

Tardieu M, Zerah M, Husson B, de Bournonville S, Deiva K, Adamsbaum C, Vincent F, Hocquemiller M, Broissand C, Furlan V et al (2014) Intracerebral administration of adeno-associated viral vector serotype rh.10 carrying human SGSH and SUMF1 cDNAs in children with mucopolysaccharidosis type IIIA disease: results of a phase I/II trial. Hum Gene Ther 25:506–516

64.

Cressant A, Desmaris N, Verot L, Brejot T, Froissart R, Vanier MT, Maire I, Heard JM (2004) Improved behavior and neuropathology in the mouse model of Sanfilippo type IIIB disease after adeno-associated virus-mediated gene transfer in the striatum. J Neurosci 24:10229–10239

65.

Ellinwood NM, Ausseil J, Desmaris N, Bigou S, Liu S, Jens JK, Snella EM, Mohammed EE, Thomson CB, Raoul S et al (2011) Safe, efficient, and reproducible gene therapy of the brain in the dog models of Sanfilippo and Hurler syndromes. Mol Ther 19:251–259

66.

Unknown (2016) Intra-cerebral gene therapy for Sanfilippo type B syndrome.

67.

Unknown (2015) Positive Topline Results Announced from Phase I/II Trial in Sanfilippo B Syndrome Patients Using uniQure's Novel AAV5-Based Gene Therapy, Globe Newswire, Amsterdam, the Netherlands

68.

Hinderer C, Bell P, Gurda BL, Wang Q, Louboutin JP, Zhu Y, Bagel J, O'Donnell P, Sikora T, Ruane T et al (2014) Intrathecal gene therapy corrects CNS pathology in a feline model of mucopolysaccharidosis I. Mol Ther 22:2018–2027

69.

Bell P, Gurda B, Zhu Y, Sikora T, Ruane T, O'Donnell P, Haskins ME, Wilson JM (2015) Evaluating the impact of systemic AAV9.cIDUA administration on brain pathology in MPS I dogs. Mol Genet Metab 114:S25

70.

Hinderer C, Bell P, Louboutin JP, Zhu Y, Yu H, Lin G, Choa R, Gurda BL, Bagel J, O'Donnell P et al (2015) Neonatal systemic AAV induces tolerance to CNS gene therapy in MPS I dogs and nonhuman primates. Mol Ther 23:1298–1307

71.

Unknown (2015) ReGenXBio licenses key technologies from University of Pennsylvania and University of Minnesota for the development of treatments for MPS I and MPS II, REGENXBIO, Washington, DC

72.

Motas S, Haurigot V, Garcia M, Marco S, Ribera A, Roca C, Sanchez X, Sanchez V, Molas M, Bertolin J et al (2016) CNS-directed gene therapy for the treatment of neurologic and somatic mucopolysaccharidosis type II (Hunter syndrome). JCI Insight 1:e86696

73.

Fu H, Zaraspe K, Meadows A, Camboni M, McCarty DM (2016) Functional benefits of systemic rAAV9-hids gene delivery in MPS II mouse model. Mol Genet Metab 117:S47

74.

Unknown (2016) Esteve and UAB expand their research to two new gene therapies for Sanfilippo B syndrome and Hunter syndrome, PRNewswire, Barcelona.

75.

Unknown (2016) FDA grants rare pediatric disease designation to REGENXBIO's RGX-121 gene therapy for the treatment of mucopolysaccharidosis type II (MPS II), Globe Newswire, Rockville, MD.

76.

McCarty DM, Zaraspea K, Murreya D, Warea T, Fu H (2014) Functional correction and reversal of MPS IIIA in a mouse model by an intravenous hSGSH gene delivery using a self-complementary AAV9 vector. Mol Genet Metab 111:S75

77.

Ruzo A, Marco S, Garcia M, Villacampa P, Ribera A, Ayuso E, Maggioni L, Mingozzi F, Haurigot V, Bosch F (2012) Correction of pathological accumulation of glycosaminoglycans in central nervous system and peripheral tissues of MPSIIIA mice through systemic AAV9 gene transfer. Hum Gene Ther 23:1237–1246

78.

Haurigot V, Marco S, Ribera A, Garcia M, Ruzo A, Villacampa P, Ayuso E, Anor S, Andaluz A, Pineda M et al (2013) Whole body correction of mucopolysaccharidosis IIIA by intracerebrospinal fluid gene therapy. J Clin Invest 123:3254–3271

79.

Unknown (2016) Abeona therapeutics announces FDA allowance of investigational new drug (IND) for systemic AAV phase 1/2 clinical study with ABO-102 gene therapy for patients with Sanfilippo syndrome type A (MPS IIIA), Marketwired, New York, NY and Cleveland, OH

80.

Unknown (2016) Abeona therapeutics announces initial European regulatory approvals for phase 1/2 gene therapy clinical studies for patients with Sanfilippo syndromes type A (MPS IIIA) and type B (MPS IIIB), Marketwired New York, NY and Cleveland, OH

81.

Unknown (2017) Abeona therapeutics announces top-line data for ABO-102 phase 1/2 MPS IIIA gene therapy trial at ASGCT, Globe Newswire, New York, NY and Cleveland, OH

82.

Unknown (2017) Abeona therapeutics provides update from ABO-102 phase 1/2 MPS IIIA clinical trial at the 13th Annual WORLDSymposium™ 2017, Globe Newswire New York, NY and Cleveland, OH

83.

Fu H, Dirosario J, Killedar S, Zaraspe K, McCarty DM (2011) Correction of neurological disease of mucopolysaccharidosis IIIB in adult mice by rAAV9 trans-blood-brain barrier gene delivery. Mol Ther 19:1025–1033

84.

Meadows AS, Duncan FJ, Camboni M, Waligura K, Montgomery CL, Zaraspe K, Naughton BJ, Bremer WG, Shilling C, Walker C et al (2015) A GLP-compliant toxicology and biodistribution study: systemic delivery of a rAAV9 vector for the treatment of mucopolysaccharidosis IIIB. Hum Gene Ther Clin Dev 26:228–242

85.

Murrey DA, Naughton BJ, Duncan FJ, Meadows AS, Ware TA, Campbell KJ, Bremer WG, Walker CM, Goodchild L, Bolon B et al (2014) Feasibility and safety of systemic rAAV9-hNAGLU delivery for treating mucopolysaccharidosis IIIB: toxicology, biodistribution, and immunological assessments in primates. Hum Gene Ther Clin Dev 25:72–84

86.

Ribera A, Haurigot V, Garcia M, Marco S, Motas S, Villacampa P, Maggioni L, Leon X, Molas M, Sanchez V et al (2015) Biochemical, histological and functional correction of mucopolysaccharidosis type IIIB by intra-cerebrospinal fluid gene therapy. Hum Mol Genet 24:2078–2095
Acknowledgements
The authors have received funding for their research from the Australian National Health and Medical Research Council of Australia, the Women's and Children's Hospital Foundation (Australia), the Sanfilippo Children's Research Foundation (Canada), Swiss Sanfilippo Foundation, Alliance Sanfilippo, the National MPS Society (USA), the Isaac Foundation, Lysogene, and Shire Human Genetic Therapies. The funding sources did not have any role in the writing of this review or in the decision to submit it for publication.
About this article
Cite this article
Lau, A.A., Hemsley, K.M. Adeno-associated viral gene therapy for mucopolysaccharidoses exhibiting neurodegeneration. J Mol Med 95, 1043–1052 (2017). https://doi.org/10.1007/s00109-017-1562-0
Received:

Revised:

Accepted:

Published:

Issue Date:
Keywords
Gene therapy

Viral vectors

Lysosomal storage disease

Mucopolysaccharidosis

Central nervous system