Abstract
Interferon alpha and its surrogates, including IP-10 and SIGLEC1, paralleled changes of disease activity in systemic lupus erythematosus (SLE). However, the whole blood interferon signature (WBIFNS)—the current standard for type I IFN assessment in SLE—does not correlate with SLE disease activity in individual patients over time. The underlying causes for this apparent contradiction have not been convincingly demonstrated. Using a multicenter dataset of gene expression data from leukocyte subsets in SLE, we identify distinctive subset-specific contributions to the WBIFNS. In a subsequent analysis, the effects of type I interferon on cellular blood composition in patients with SLE and hepatitis B were also studied over time. We found that type I interferon mediates significant alterations in whole blood composition, including a neutropenia and relative lymphocytosis. Given different effects of type 1 interferon on different leukocyte subsets, these shifts confound measurement of a type 1 interferon signature in whole blood. To minimize and overcome these limitations of the WBIFNS, we suggest to measure IFN-induced transcripts or proteins in a specific leukocyte subset to improve clinical impact of interferon biomarkers.
Key messages
Myeloid cells contribute more to the WBIFNS in SLE than their lymphocytic counterpart.

Very similar leukocyte subsets reveal distinctive IFN signatures.

IFN alpha mixes up composition of blood and leads to a preferential neutropenia, yielding relative lymphocytosis.
Access options
Buy single article
Instant access to the full article PDF.
USD 39.95
Price excludes VAT (USA)
Tax calculation will be finalised during checkout.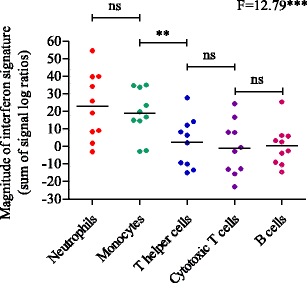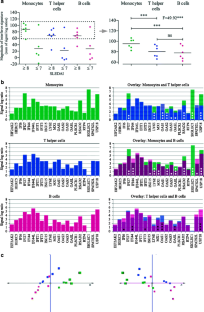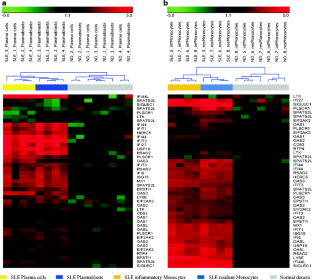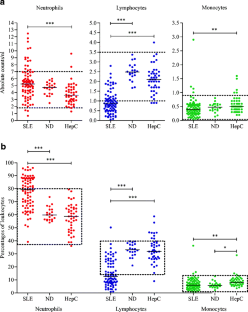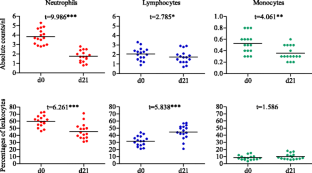 References
Baechler EC, Batliwalla FM, Karypis G, Gaffney PM, Ortmann WA, Espe KJ, Shark KB, Grande WJ, Hughes KM, Kapur V et al (2003) Interferon-inducible gene expression signature in peripheral blood cells of patients with severe lupus. Proc Natl Acad Sci U S A 100:2610–2615

Bennett L, Palucka AK, Arce E, Cantrell V, Borvak J, Banchereau J, Pascual V (2003) Interferon and granulopoiesis signatures in systemic lupus erythematosus blood. J Exp Med 197:711–723

Kirou KA, Lee C, George S, Louca K, Peterson MG, Crow MK (2005) Activation of the interferon-alpha pathway identifies a subgroup of systemic lupus erythematosus patients with distinct serologic features and active disease. Arthritis Rheum 52:1491–1503

Feng X, Wu H, Grossman JM, Hanvivadhanakul P, FitzGerald JD, Park GS, Dong X, Chen W, Kim MH, Weng HH et al (2006) Association of increased interferon-inducible gene expression with disease activity and lupus nephritis in patients with systemic lupus erythematosus. Arthritis Rheum 54:2951–2962

Landolt-Marticorena C, Bonventi G, Lubovich A, Ferguson C, Unnithan T, Su J, Gladman DD, Urowitz M, Fortin PR, Wither J (2009) Lack of association between the interferon-alpha signature and longitudinal changes in disease activity in systemic lupus erythematosus. Ann Rheum Dis 68:1440–1446

Petri M, Singh S, Tesfasyone H, Dedrick R, Fry K, Lal P, Williams G, Bauer J, Gregersen P, Behrens T et al (2009) Longitudinal expression of type I interferon responsive genes in systemic lupus erythematosus. Lupus 18:980–989

Yao Y, Higgs BW, Richman L, White B, Jallal B (2010) Use of type I interferon-inducible mRNAs as pharmacodynamic markers and potential diagnostic markers in trials with sifalimumab, an anti-IFNalpha antibody, in systemic lupus erythematosus. Arthritis Res Ther 12(Suppl 1):S6

McBride JM, Jiang J, Abbas AR, Morimoto A, Li J, Maciuca R, Townsend M, Wallace DJ, Kennedy WP, Drappa J (2012) Safety and pharmacodynamics of rontalizumab in patients with systemic lupus erythematosus: results of a phase I, placebo-controlled, double-blind, dose-escalation study. Arthritis Rheum 64:3666–3676

Petri M, Wallace DJ, Spindler A, Chindalore V, Kalunian K, Mysler E, Neuwelt CM, Robbie G, White WI, Higgs BW et al (2013) Sifalimumab, a human anti-interferon-a monoclonal antibody, in systemic lupus erythematosus: a phase 1 randomized controlled, dose-escalation study. Arthritis Rheum. doi:10.1002/art.37824

Lauwerys BR, Hachulla E, Spertini F, Lazaro E, Jorgensen C, Mariette X, Haelterman E, Grouard-Vogel G, Fanget B, Dhellin O et al (2013) Down-regulation of interferon signature in systemic lupus erythematosus patients by active immunization with interferon alpha-kinoid. Arthritis Rheum 65:447–456

Kalunian KC, Merrill JT, Maciuca R, McBride JM, Townsend MJ, Wei X, Davis JC Jr, Kennedy WP (2016) A phase II study of the efficacy and safety of rontalizumab (rhuMAb interferon-alpha) in patients with systemic lupus erythematosus (ROSE). Ann Rheum Dis 75:196–202

Preble OT, Rothko K, Klippel JH, Friedman RM, Johnston MI (1983) Interferon-induced 2′-5′ adenylate synthetase in vivo and interferon production in vitro by lymphocytes from systemic lupus erythematosus patients with and without circulating interferon. J Exp Med 157:2140–2146

von Wussow P, Jakschies D, Hochkeppel H, Horisberger M, Hartung K, Deicher H (1989) MX homologous protein in mononuclear cells from patients with systemic lupus erythematosus. Arthritis Rheum 32:914–918

Rose T, Grutzkau A, Hirseland H, Huscher D, Dahnrich C, Dzionek A, Ozimkowski T, Schlumberger W, Enghard P, Radbruch A et al (2013) IFNalpha and its response proteins, IP-10 and SIGLEC-1, are biomarkers of disease activity in systemic lupus erythematosus. Ann Rheum Dis 72:1639–1645

Hooks JJ, Jordan GW, Cupps T, Moutsopoulos HM, Fauci AS, Notkins AL (1982) Multiple interferons in the circulation of patients with systemic lupus erythematosus and vasculitis. Arthritis Rheum 25:396–400

Yao Y, Higgs BW, Morehouse C, de Los RM, Trigona W, Brohawn P, White W, Zhang J, White B, Coyle AJ et al (2009) Development of potential pharmacodynamic and diagnostic markers for anti-IFN-alpha monoclonal antibody trials in systemic lupus erythematosus. Hum Genomics Proteomics 1:374312

Morimoto AM, Flesher DT, Yang J, Wolslegel K, Wang X, Brady A, Abbas AR, Quarmby V, Wakshull E, Richardson B et al (2011) Association of endogenous anti-interferon-alpha autoantibodies with decreased interferon-pathway and disease activity in patients with systemic lupus erythematosus. Arthritis Rheum 63:2407–2415

Hooks JJ, Moutsopoulos HM, Geis SA, Stahl NI, Decker JL, Notkins AL (1979) Immune interferon in the circulation of patients with autoimmune disease. N Engl J Med 301:5–8

Bengtsson AA, Sturfelt G, Truedsson L, Blomberg J, Alm G, Vallin H, Ronnblom L (2000) Activation of type I interferon system in systemic lupus erythematosus correlates with disease activity but not with antiretroviral antibodies. Lupus 9:664–671

Kong KO, Tan AW, Thong BY, Lian TY, Cheng YK, Teh CL, Koh ET, Chng HH, Law WG, Lau TC et al (2009) Enhanced expression of interferon-inducible protein-10 correlates with disease activity and clinical manifestations in systemic lupus erythematosus. Clin Exp Immunol 156:134–140

Bauer JW, Petri M, Batliwalla FM, Koeuth T, Wilson J, Slattery C, Panoskaltsis-Mortari A, Gregersen PK, Behrens TW, Baechler EC (2009) Interferon-regulated chemokines as biomarkers of systemic lupus erythematosus disease activity: a validation study. Arthritis Rheum 60:3098–3107

Waddell SJ, Popper SJ, Rubins KH, Griffiths MJ, Brown PO, Levin M, Relman DA (2010) Dissecting interferon-induced transcriptional programs in human peripheral blood cells. PLoS One 5:e9753

Merrill JT, Wallace DJ, Petri M, Kirou KA, Yao Y, White WI, Robbie G, Levin R, Berney SM, Chindalore V et al (2011) Safety profile and clinical activity of sifalimumab, a fully human anti-interferon alpha monoclonal antibody, in systemic lupus erythematosus: a phase I, multicentre, double-blind randomised study. Ann Rheum Dis 70:1905–1913

Biesen R, Demir C, Barkhudarova F, Grun JR, Steinbrich-Zollner M, Backhaus M, Haupl T, Rudwaleit M, Riemekasten G, Radbruch A et al (2008) Sialic acid-binding Ig-like lectin 1 expression in inflammatory and resident monocytes is a potential biomarker for monitoring disease activity and success of therapy in systemic lupus erythematosus. Arthritis Rheum 58:1136–1145

Kyogoku C, Smiljanovic B, Grun JR, Biesen R, Schulte-Wrede U, Haupl T, Hiepe F, Alexander T, Radbruch A, Grutzkau A (2013) Cell-specific type I IFN signatures in autoimmunity and viral infection: what makes the difference? PLoS One 8:e83776

Lyons PA, McKinney EF, Rayner TF, Hatton A, Woffendin HB, Koukoulaki M, Freeman TC, Jayne DR, Chaudhry AN, Smith KG (2010) Novel expression signatures identified by transcriptional analysis of separated leucocyte subsets in systemic lupus erythematosus and vasculitis. Ann Rheum Dis 69:1208–1213

Becker AM, Dao KH, Han BK, Kornu R, Lakhanpal S, Mobley AB, Li QZ, Lian Y, Wu T, Reimold AM et al (2013) SLE peripheral blood B cell, T cell and myeloid cell transcriptomes display unique profiles and each subset contributes to the interferon signature. PLoS One 8:e67003

Yoshida T, Mei H, Dorner T, Hiepe F, Radbruch A, Fillatreau S, Hoyer BF (2010) Memory B and memory plasma cells. Immunol Rev 237:117–139

Hepburn AL, Narat S, Mason JC (2010) The management of peripheral blood cytopenias in systemic lupus erythematosus. Rheumatology (Oxford) 49:2243–2254

Peck-Radosavljevic M, Wichlas M, Homoncik-Kraml M, Kreil A, Hofer H, Jessner W, Gangl A, Ferenci P (2002) Rapid suppression of hematopoiesis by standard or pegylated interferon-alpha. Gastroenterology 123:141–151

Soza A, Everhart JE, Ghany MG, Doo E, Heller T, Promrat K, Park Y, Liang TJ, Hoofnagle JH (2002) Neutropenia during combination therapy of interferon alfa and ribavirin for chronic hepatitis C. Hepatology 36:1273–1279

Tan EM, Cohen AS, Fries JF, Masi AT, McShane DJ, Rothfield NF, Schaller JG, Talal N, Winchester RJ (1982) The 1982 revised criteria for the classification of systemic lupus erythematosus. Arthritis Rheum 25:1271–1277

Kabanova S, Kleinbongard P, Volkmer J, Andree B, Kelm M, Jax TW (2009) Gene expression analysis of human red blood cells. Int J Med Sci 6:156–159

Lood C, Amisten S, Gullstrand B, Jonsen A, Allhorn M, Truedsson L, Sturfelt G, Erlinge D, Bengtsson AA (2010) Platelet transcriptional profile and protein expression in patients with systemic lupus erythematosus: up-regulation of the type I interferon system is strongly associated with vascular disease. Blood 116:1951–1957

Courtney PA, Crockard AD, Williamson K, Irvine AE, Kennedy RJ, Bell AL (1999) Increased apoptotic peripheral blood neutrophils in systemic lupus erythematosus: relations with disease activity, antibodies to double stranded DNA, and neutropenia. Ann Rheum Dis 58:309–314

Samarajiwa SA, Forster S, Auchettl K, Hertzog PJ (2009) INTERFEROME: the database of interferon regulated genes. Nucleic Acids Res 37:D852–D857

Hacbarth E, Kajdacsy-Balla A (1986) Low density neutrophils in patients with systemic lupus erythematosus, rheumatoid arthritis, and acute rheumatic fever. Arthritis Rheum 29:1334–1342

Tochizawa S, Akamatsu S, Sugiyama Y, Muraguchi M, Ohmoto Y, Ono Y, Ishikawa H, Tanigami A, Sumida T, Mori T (2004) A flow cytometric method for determination of the interferon receptor IFNAR2 subunit in peripheral blood leukocyte subsets. J Pharmacol Toxicol Methods 50:59–66

Shoshan Y, Shapira I, Toubi E, Frolkis I, Yaron M, Mevorach D (2001) Accelerated Fas-mediated apoptosis of monocytes and maturing macrophages from patients with systemic lupus erythematosus: relevance to in vitro impairment of interaction with iC3b-opsonized apoptotic cells. J Immunol 167:5963–5969

Maria NI, Brkic Z, Waris M, van Helden-Meeuwsen CG, Heezen K, van de Merwe JP, van Daele PL, Dalm VA, Drexhage HA, Versnel MA (2014) MxA as a clinically applicable biomarker for identifying systemic interferon type I in primary Sjogren's syndrome. Ann Rheum Dis 73:1052–1059

Sehgal K, Guo X, Koduru S, Shah A, Lin A, Yan X, Dhodapkar KM (2013) Plasmacytoid dendritic cells, interferon signaling, and FcgammaR contribute to pathogenesis and therapeutic response in childhood immune thrombocytopenia. Sci Transl Med 5:193ra189

Crow YJ (2011) Type I interferonopathies: a novel set of inborn errors of immunity. Ann N Y Acad Sci 1238:91–98

Crow YJ, Casanova JL (2014) STING-associated vasculopathy with onset in infancy—a new interferonopathy. N Engl J Med 371:568–571

Ramilo O, Allman W, Chung W, Mejias A, Ardura M, Glaser C, Wittkowski KM, Piqueras B, Banchereau J, Palucka AK et al (2007) Gene expression patterns in blood leukocytes discriminate patients with acute infections. Blood 109:2066–2077

Zaas AK, Chen M, Varkey J, Veldman T, Hero AO 3rd, Lucas J, Huang Y, Turner R, Gilbert A, Lambkin-Williams R et al (2009) Gene expression signatures diagnose influenza and other symptomatic respiratory viral infections in humans. Cell Host Microbe 6:207–217

Abbas AR, Wolslegel K, Seshasayee D, Modrusan Z, Clark HF (2009) Deconvolution of blood microarray data identifies cellular activation patterns in systemic lupus erythematosus. PLoS One 4:e6098

Li Y, Lee PY, Kellner ES, Paulus M, Switanek J, Xu Y, Zhuang H, Sobel ES, Segal MS, Satoh M et al (2010) Monocyte surface expression of Fcgamma receptor RI (CD64), a biomarker reflecting type-I interferon levels in systemic lupus erythematosus. Arthritis Res Ther 12:R90

Kikuchi-Taura A, Yura A, Tsuji S, Ohshima S, Kitatoube A, Shimizu T, Nii T, Katayama M, Teshigawara S, Yoshimura M et al (2015) Monocyte CD64 expression as a novel biomarker for the disease activity of systemic lupus erythematosus. Lupus. doi:10.1177/0961203315579093

Hua J, Kirou K, Lee C, Crow MK (2006) Functional assay of type I interferon in systemic lupus erythematosus plasma and association with anti-RNA binding protein autoantibodies. Arthritis Rheum 54:1906–1916
Ethics declarations
Funding
The work was supported by the Sixth Framework Programme (project AutoCure; LSHB-CT-2006-018861), the German Research Foundation (grant number SFB650 TP12), the IMI JU-funded project BeTheCure (contract number 115142-29), and the Zukunftsfond Berlin (contract number 101399339). PAL and SMF were funded by project grants from the Medical Research Council (G0400929) and the Wellcome Trust (094227/Z/10/Z). SMF was supported by a Wellcome Trust Translational Medicine and Therapeutics PhD Studentship. Cambridge Institute for Medical Research is in receipt of a Wellcome Trust Strategic Award (079895). LSD was supported by an Alliance for Lupus Research (ALR) Award #257549 and National Institutes of Health grants AR067625 (PI, Satterthwaite) and AI122720 (PI, Satterthwaite).
Conflict of interest
The authors declare that they have no conflict of interest.
Electronic supplementary material
About this article
Cite this article
Strauß, R., Rose, T., Flint, S.M. et al. Type I interferon as a biomarker in autoimmunity and viral infection: a leukocyte subset-specific analysis unveils hidden diagnostic options. J Mol Med 95, 753–765 (2017). https://doi.org/10.1007/s00109-017-1515-7
Received:

Revised:

Accepted:

Published:

Issue Date:

DOI: https://doi.org/10.1007/s00109-017-1515-7
Keywords