Abstract
Understanding the underlying molecular mechanisms in burn wound progression is crucial to providing appropriate diagnoses and designing therapeutic regimens for burn patients. When inflammation becomes unregulated, recurrent, or excessive, it interferes with burn wound healing. Autophagy, which is a homeostatic and catabolic degradation process, was found to protect against ischemic injury, inflammatory diseases, and apoptosis in some cases. In the present study, we investigated whether far-infrared (FIR) could ameliorate burn wound progression and promote wound healing both in vitro and in a rat model of deep second-degree burn. We found that FIR induced autophagy in differentiated THP-1 cells (human monocytic cells differentiated to macrophages). Furthermore, FIR inhibited both the NLRP3 inflammasome and the production of IL-1β in lipopolysaccharide-activated THP-1 macrophages. In addition, FIR induced the ubiquitination of ASC, which is the adaptor protein of the inflammasome, by increasing tumor necrosis factor receptor-associated factor 6 (TRAF6), which is a ubiquitin E3 ligase. Furthermore, the exposure to FIR then promoted the delivery of inflammasome to autophagosomes for degradation. In a rat burn model, FIR ameliorated burn-induced epidermal thickening, inflammatory cell infiltration, and loss of distinct collagen fibers. Moreover, FIR enhanced autophagy and suppressed the activity of the NLRP3 inflammasome in the rat skin tissue of the burn model. Based on these results, we suggest that FIR-regulated autophagy and inflammasomes will be important for the discovery of novel therapeutics to promote the healing of burn wounds.
Key messages
Far-infrared (FIR) induced autophagy in THP-1 macrophages.

FIR suppressed the NLRP3 inflammasome through the activation of autophagy.

FIR induced the ubiquitination of ASC by increasing TRAF6.

FIR ameliorated burn wound progression and promoted wound healing in a rat burn model.
Access options
Buy single article
Instant access to the full article PDF.
US$ 39.95
Tax calculation will be finalised during checkout.
Subscribe to journal
Immediate online access to all issues from 2019. Subscription will auto renew annually.
US$ 119
Tax calculation will be finalised during checkout.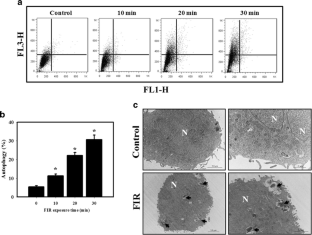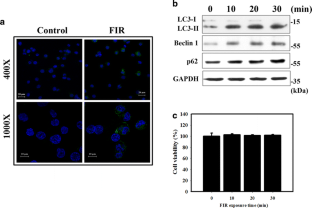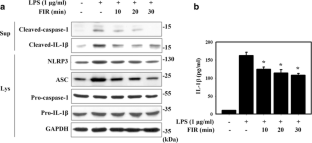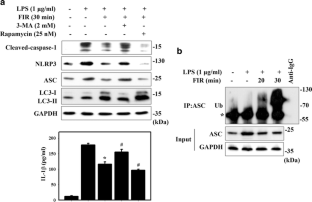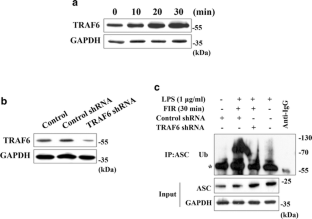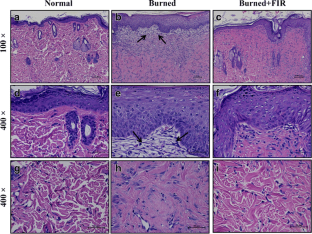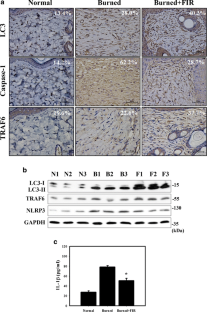 References
1.

Xiao M, Li L, Li C, Zhang P, Hu Q, Ma L, Zhang H (2014) Role of autophagy and apoptosis in wound tissue of deep second-degree burn in rats. Acad Emerg Med 21:383–391

2.

Shupp JW, Nasabzadeh TJ, Rosenthal DS, Jordan MH, Fidler P, Jeng JC (2010) A review of the local pathophysiologic bases of burn wound progression. J Burn Care Res 31:849–873

3.

Singh V, Devgan L, Bhat S, Milner SM (2007) The pathogenesis of burn wound conversion. Ann Plast Surg 59:109–115

4.

Stein C, Kuchler S (2012) Non-analgesic effects of opioids: peripheral opioid effects on inflammation and wound healing. Curr Pharm Des 18:6053–6069

5.

Behrends C, Sowa ME, Gygi SP, Harper JW (2010) Network organization of the human autophagy system. Nature 466:68–76

6.

Shi CS, Shenderov K, Huang NN, Kabat J, Abu-Asab M, Fitzgerald KA, Sher A, Kehrl JH (2012) Activation of autophagy by inflammatory signals limits IL-1beta production by targeting ubiquitinated inflammasomes for destruction. Nat Immunol 13:255–263

7.

Saitoh T, Fujita N, Jang MH, Uematsu S, Yang BG, Satoh T, Omori H, Noda T, Yamamoto N, Komatsu M et al (2008) Loss of the autophagy protein Atg16L1 enhances endotoxin-induced IL-1beta production. Nature 456:264–268

8.

Schroder K, Tschopp J (2010) The inflammasomes. Cell 140:821–832

9.

Gross O, Thomas CJ, Guarda G, Tschopp J (2011) The inflammasome: an integrated view. Immunol Rev 243:136–151

10.

Chen S, Sun B (2013) Negative regulation of NLRP3 inflammasome signaling. Protein Cell 4:251–258

11.

Artlett CM (2013) Inflammasomes in wound healing and fibrosis. J Pathol 229:157–167

12.

Xiao M, Li L, Hu Q, Ma L, Liu L, Chu W, Zhang H (2013) Rapamycin reduces burn wound progression by enhancing autophagy in deep second-degree burn in rats. Wound Repair Regen 21:852–859

13.

Toyokawa H, Matsui Y, Uhara J, Tsuchiya H, Teshima S, Nakanishi H, Kwon AH, Azuma Y, Nagaoka T, Ogawa T et al (2003) Promotive effects of far-infrared ray on full-thickness skin wound healing in rats. Exp Biol Med (Maywood) 228:724–729

14.

Yu SY, Chiu JH, Yang SD, Hsu YC, Lui WY, Wu CW (2006) Biological effect of far-infrared therapy on increasing skin microcirculation in rats. Photodermatol Photoimmunol Photomed 22:78–86

15.

Hsu YH, Chen YC, Chen TH, Sue YM, Cheng TH, Chen JR, Chen CH (2012) Far-infrared therapy induces the nuclear translocation of PLZF which inhibits VEGF-induced proliferation in human umbilical vein endothelial cells. PLoS One 7:e30674

16.

Chiu HW, Lin JH, Chen YA, Ho SY, Wang YJ (2010) Combination treatment with arsenic trioxide and irradiation enhances cell-killing effects in human fibrosarcoma cells in vitro and in vivo through induction of both autophagy and apoptosis. Autophagy 6:353–365

17.

Chiu HW, Ho SY, Guo HR, Wang YJ (2009) Combination treatment with arsenic trioxide and irradiation enhances autophagic effects in U118-MG cells through increased mitotic arrest and regulation of PI3K/Akt and ERK1/2 signaling pathways. Autophagy 5:472–483

18.

Yuhua S, Ligen L, Jiake C, Tongzhu S (2012) Effect of Poloxamer 188 on deepening of deep second-degree burn wounds in the early stage. Burns 38:95–101

19.

Peng PL, Kuo WH, Tseng HC, Chou FP (2008) Synergistic tumor-killing effect of radiation and berberine combined treatment in lung cancer: the contribution of autophagic cell death. Int J Radiat Oncol Biol Phys 70:529–542

20.

Paglin S, Hollister T, Delohery T, Hackett N, McMahill M, Sphicas E, Domingo D, Yahalom J (2001) A novel response of cancer cells to radiation involves autophagy and formation of acidic vesicles. Cancer Res 61:439–444

21.

Hansen TE, Johansen T (2011) Following autophagy step by step. BMC Biol 9:39

22.

Ding Z, Liu S, Wang X, Dai Y, Khaidakov M, Deng X, Fan Y, Xiang D, Mehta JL (2014) LOX-1, mtDNA damage, and NLRP3 inflammasome activation in macrophages: implications in atherogenesis. Cardiovasc Res 103:619–628

23.

Li S, Zhou Y, Fan J, Cao S, Cao T, Huang F, Zhuang S, Wang Y, Yu X, Mao H (2011) Heat shock protein 72 enhances autophagy as a protective mechanism in lipopolysaccharide-induced peritonitis in rats. Am J Pathol 179:2822–2834

24.

Wang F, Xiao J, Shen Y, Yao F, Chen Y (2014) Estrogen protects cardiomyocytes against lipopolysaccharide by inhibiting autophagy. Mol Med Rep 10:1509–1512

25.

Wooten MW, Geetha T, Seibenhener ML, Babu JR, Diaz-Meco MT, Moscat J (2005) The p62 scaffold regulates nerve growth factor-induced NF-kappaB activation by influencing TRAF6 polyubiquitination. J Biol Chem 280:35625–35629

26.

Shi CS, Kehrl JH (2010) TRAF6 and A20 regulate lysine 63-linked ubiquitination of Beclin-1 to control TLR4-induced autophagy. Sci Signal 3:ra42

27.

Chen Y, Klionsky DJ (2011) The regulation of autophagy—unanswered questions. J Cell Sci 124:161–170

28.

Noguchi M, Hirata N, Suizu F (2014) The links between AKT and two intracellular proteolytic cascades: ubiquitination and autophagy. Biochim Biophys Acta 1846:342–352

29.

Tan JQ, Zhang HH, Lei ZJ, Ren P, Deng C, Li XY, Chen SZ (2013) The roles of autophagy and apoptosis in burn wound progression in rats. Burns 39:1551–1556

30.

Evers LH, Bhavsar D, Mailander P (2010) The biology of burn injury. Exp Dermatol 19:777–783

31.

Moscat J, Diaz-Meco MT, Wooten MW (2007) Signal integration and diversification through the p62 scaffold protein. Trends Biochem Sci 32:95–100

32.

Vatansever F, Hamblin MR (2012) Far infrared radiation (FIR): its biological effects and medical applications. Photon Lasers Med 4:255–266

33.

Leung T, Lin Y, Lee C, Chen Y, Shang H, Hsiao S, Chang H, Chao J (2011) Direct and indirect effects of ceramic far infrared radiation on the hydrogen peroxide-scavenging capacity and on murine macrophages under oxidative stress. J Med Biol Eng 31:345–351

34.

Akasaki Y, Miyata M, Eto H, Shirasawa T, Hamada N, Ikeda Y, Biro S, Otsuji Y, Tei C (2006) Repeated thermal therapy up-regulates endothelial nitric oxide synthase and augments angiogenesis in a mouse model of hindlimb ischemia. Circ J 70:463–470

35.

Inoue S, Kabaya M (1989) Biological activities caused by far-infrared radiation. Int J Biometeorol 33:145–150
Acknowledgments
This study was supported by the Taipei Medical University-National Taiwan University of Science and Technology Joint Research Program (TMU-NTUST-102-13) and the Taipei Medical University (TMU103-AE1-B28).
Ethics declarations
Conflict of interest
The authors declare that they have no competing interests.
Electronic supplementary material
Below is the link to the electronic supplementary material.
About this article
Cite this article
Chiu, HW., Chen, CH., Chang, JN. et al. Far-infrared promotes burn wound healing by suppressing NLRP3 inflammasome caused by enhanced autophagy. J Mol Med 94, 809–819 (2016). https://doi.org/10.1007/s00109-016-1389-0
Received:

Revised:

Accepted:

Published:

Issue Date:
Keywords
Far-infrared

Burn wound healing

Autophagy

NLRP3 inflammasome