Abstract
Colon cancer affects millions of individuals in Western countries. Cannabidiol, a safe and non-psychotropic ingredient of Cannabis sativa, exerts pharmacological actions (antioxidant and intestinal antinflammatory) and mechanisms (inhibition of endocannabinoid enzymatic degradation) potentially beneficial for colon carcinogenesis. Thus, we investigated its possible chemopreventive effect in the model of colon cancer induced by azoxymethane (AOM) in mice. AOM treatment was associated with aberrant crypt foci (ACF, preneoplastic lesions), polyps, and tumour formation, up-regulation of phospho-Akt, iNOS and COX-2 and down-regulation of caspase-3. Cannabidiol-reduced ACF, polyps and tumours and counteracted AOM-induced phospho-Akt and caspase-3 changes. In colorectal carcinoma cell lines, cannabidiol protected DNA from oxidative damage, increased endocannabinoid levels and reduced cell proliferation in a CB1-, TRPV1- and PPARγ-antagonists sensitive manner. It is concluded that cannabidiol exerts chemopreventive effect in vivo and reduces cell proliferation through multiple mechanisms.
Access options
Buy single article
Instant access to the full article PDF.
USD 39.95
Price excludes VAT (USA)
Tax calculation will be finalised during checkout.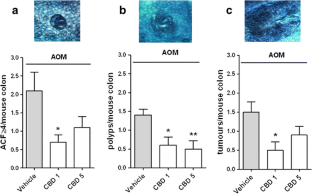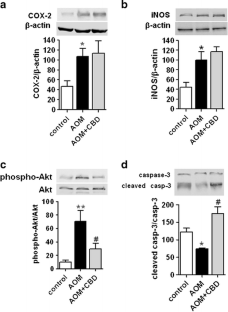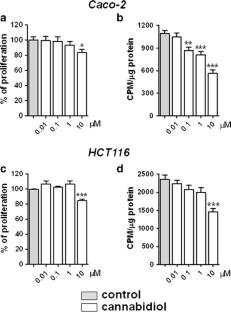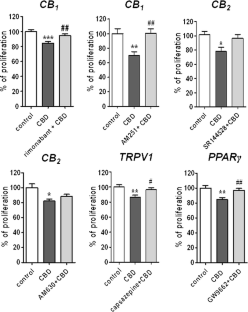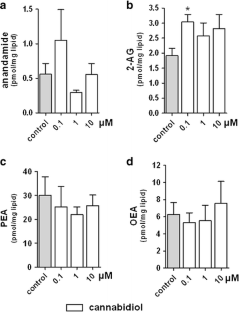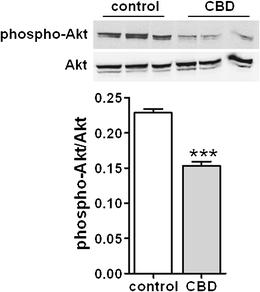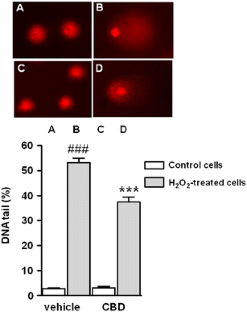 References
Siegel R, Ward E, Brawley O, Jemal A (2011) Cancer statistics, 2011: the impact of eliminating socioeconomic and racial disparities on premature cancer deaths. CA Cancer J Clin 61:212–236

Markowitz SD, Bertagnolli MM (2009) Molecular origins of cancer: molecular basis of colorectal cancer. N Engl J Med 361:2449–2460

Half E, Arber N (2009) Colon cancer: preventive agents and the present status of chemoprevention. Expert Opin Pharmacother 10:211–219

Di Marzo V (2008) Targeting the endocannabinoid system: to enhance or reduce? Nat Rev Drug Discov 7:438–455

Pertwee RG (2009) Emerging strategies for exploiting cannabinoid receptor agonists as medicines. Br J Pharmacol 156:397–411

Izzo AA, Aviello G, Petrosino S, Orlando P, Morsicano G, Lutz B, Borrelli F, Capasso R, Nigam S, Capasso F et al (2008) Increased endocannabinoid levels reduce the development of precancerous lesions in the mouse colon. J Mol Med 86:89–98

Cianchi F, Papucci L, Schiavone N, Lulli M, Magnelli L, Vinci MC, Messerini L, Manera C, Ronconi E, Romagnani P et al (2008) Cannabinoid receptor activation induces apoptosis through tumor necrosis factor alpha-mediated ceramide de novo synthesis in colon cancer cells. Clin Cancer Res 14:7691–7700

Wang D, Wang H, Ning W, Backlund MG, Dey SK, DuBois RN (2008) Loss of cannabinoid receptor 1 accelerates intestinal tumor growth. Cancer Res 68:6468–6476

Izzo AA, Borrelli F, Capasso R, Di Marzo V, Mechoulam R (2009) Non-psychotropic plant cannabinoids: new therapeutic opportunities from an ancient herb. Trends Pharmacol Sci 30:515–527

Capasso R, Borrelli F, Aviello G, Romano B, Scalisi C, Capasso F, Izzo AA (2008) Cannabidiol, extracted from Cannabis sativa, selectively inhibits inflammatory hypermotility in mice. Br J Pharmacol 154:1001–1008

Cluny NL, Naylor RJ, Whittle BA, Javid FA (2011) The effects of cannabidiolic acid and cannabidiol on contractility of the gastrointestinal tract of Suncus murinus. Arch Pharm Res 34:1509–1517

Borrelli F, Aviello G, Romano B, Orlando P, Capasso R, Macello F, Guadagno F, Petrosino S, Capasso F, Di Marzo V et al (2009) Cannabidiol, a safe and non-psychotropic ingredient of the marijuana plant Cannabis sativa, is protective in a murine model of colitis. J Mol Med 87:1111–1121

Jamontt JM, Molleman A, Pertwee RG, Parsons ME (2010) The effects of delta-tetrahydrocannabinol and cannabidiol alone and in combination on damage, inflammation and in vitro motility disturbances in rat colitis. Br J Pharmacol 160:712–723

Terzić J, Grivennikov S, Karin E, Karin M (2010) Inflammation and colon cancer. Gastroenterology 138:2101–2114

De Petrocellis L, Ligresti A, Moriello AS, Allarà M, Bisogno T, Petrosino S, Stott CG, Di Marzo V (2011) Effects of cannabinoids and cannabinoid-enriched Cannabis extracts on TRP channels and endocannabinoid metabolic enzymes. Br J Pharmacol 163:1479–1494

Izzo AA, Sharkey KA (2010) Cannabinoids and the gut: new developments and emerging concepts. Pharmacol Ther 126:21–38

Klaunig JE, Wang Z, Pu X, Zhou S (2011) Oxidative stress and oxidative damage in chemical carcinogenesis. Toxicol Appl Pharmacol 254:86–99

Fukuyama R, Niculaita R, Ng KP, Obusez E, Sanchez J, Kalady M, Aung PP, Casey G, Sizemore N (2008) Mutated in colorectal cancer, a putative tumor suppressor for serrated colorectal cancer, selectively represses beta-catenin-dependent transcription. Oncogene 27:6044–6055

Dunn EF, Iida M, Myers RA, Campbell DA, Hintz KA, Armstrong EA, Li C, Wheeler DL (2011) Dasatinib sensitizes KRAS mutant colorectal tumors to cetuximab. Oncogene 30:561–574

Boivin GP, Washington K, Yang K, Ward JM, Pretlow TP, Russell R, Besselsen DG, Godfrey VL, Doetschman T, Dove WF et al (2003) Pathology of mouse models of intestinal cancer: consensus report and recommendations. Gastroenterology 124:762–777

Aviello G, Rowland I, Gill CI, Acquaviva AM, Capasso F, McCann M, Capasso R, Izzo AA, Borrelli F (2010) Anti-proliferative effect of rhein, an anthraquinone isolated from Cassia species, on Caco-2 human adenocarcinoma cells. J Cell Mol Med 14:2006–2014

Massi P, Vaccani A, Bianchessi S, Costa B, Macchi P, Parolaro D (2006) The non-psychoactive cannabidiol triggers caspase activation and oxidative stress in human glioma cells. Cell Mol Life Sci 63:2057–2066

Ramer R, Merkord J, Rohde H, Hinz B (2010) Cannabidiol inhibits cancer cell invasion via upregulation of tissue inhibitor of matrix metalloproteinases-1. Biochem Pharmacol 79:955–966

Ligresti A, Moriello AS, Starowicz K, Matias I, Pisanti S, De Petrocellis L, Laezza C, Portella G, Bifulco M, Di Marzo V (2006) Antitumor activity of plant cannabinoids with emphasis on the effect of cannabidiol on human breast carcinoma. J Pharmacol Exp Ther 318:1375–1387

Shrivastava A, Kuzontkoski PM, Groopman J, Prasad A (2011) Cannabidiol induces programmed cell death in breast cancer cells by coordinating the crosstalk between apoptosis and autophagy. Mol Cancer Ther 10:1161–1172

Kim R (2005) Recent advances in understanding the cell death pathways activated by anticancer therapy. Cancer 103:1551–1560

Sheng H, Shao J, Townsend CM Jr, Evers BM (2003) Phosphatidylinositol 3-kinase mediates proliferative signals in intestinal epithelial cells. Gut 52:1472–1478

Wang Q, Wang X, Hernandez A, Kim S, Evers BM (2001) Inhibition of the phosphatidylinositol 3-kinase pathway contributes to HT29 and Caco-2 intestinal cell differentiation. Gastroenterology 120:1381–1392

Greenhough A, Patsos HA, Williams AC, Paraskeva C (2007) The cannabinoid delta(9)-tetrahydrocannabinol inhibits RAS-MAPK and PI3K-AKT survival signalling and induces BAD-mediated apoptosis in colorectal cancer cells. Int J Cancer 121:2172–2180

Rao CV (2004) Nitric oxide signaling in colon cancer chemoprevention. Mutat Res 555:107–119

Wu WK, Sung JJ, Lee CW, Yu J, Cho CH (2010) Cyclooxygenase-2 in tumorigenesis of gastrointestinal cancers: an update on the molecular mechanisms. Cancer Lett 295:7–16

Wiepz GJ, Edwin F, Patel T, Bertics PJ (2006) Methods for determining the proliferation of cells in response to EGFR ligands. Methods Mol Biol 327:179–187

Izzo AA, Camilleri M (2009) Cannabinoids in intestinal inflammation and cancer. Pharmacol Res 60:117–125

Ligresti A, Bisogno T, Matias I, De Petrocellis L, Cascio MG, Cosenza V, D'argenio G, Scaglione G, Bifulco M, Sorrentini I et al (2003) Possible endocannabinoid control of colorectal cancer growth. Gastroenterology 125:677–687

O'Sullivan SE, Sun Y, Bennett AJ, Randall MD, Kendall DA (2009) Time-dependent vascular actions of cannabidiol in the rat aorta. Eur J Pharmacol 612:61–68

Osawa E, Nakajima A, Wada K, Ishimine S, Fujisawa N, Kawamori T, Matsuhashi N, Kadowaki T, Ochiai M, Sekihara H et al (2003) Peroxisome proliferator-activated receptor gamma ligands suppress colon carcinogenesis induced by azoxymethane in mice. Gastroenterology 124:361–367

Alhamoruni A, Lee AC, Wright KL, Larvin M, O'Sullivan SE (2010) Pharmacological effects of cannabinoids on the Caco-2 cell culture model of intestinal permeability. J Pharmacol Exp Ther 335:92–102

Kim CS, Park WH, Park JY, Kang KH, Kim M, Kawada T, Han I, Yu R (2004) Capsaicin, a spicy component of hot pepper, induces apoptosis by activation of the peroxisome proliferator-activated receptor gamma in HT-29 human colon cancer cells. J Med Food 7:267–273
Acknowledgements
GA is grateful to Nexus award "Marcello Tonini".
Conflict of interest
This work was partly supported by GW Pharmaceuticals (UK).
About this article
Cite this article
Aviello, G., Romano, B., Borrelli, F. et al. Chemopreventive effect of the non-psychotropic phytocannabinoid cannabidiol on experimental colon cancer. J Mol Med 90, 925–934 (2012). https://doi.org/10.1007/s00109-011-0856-x
Received:

Revised:

Accepted:

Published:

Issue Date:

DOI: https://doi.org/10.1007/s00109-011-0856-x
Keywords
Non-psychotropic cannabinoid

Colon cancer

Adenocarcinoma cells

DNA damage