Abstract
Although metastasis accounts for >90% of cancer-related deaths, no therapeutic that targets this process has yet been approved. Because the chemokine receptor CXCR4 is one of the targets closely linked with tumor metastasis, inhibitors of this receptor have the potential to abrogate metastasis. In the current report, we demonstrate that celastrol can downregulate the CXCR4 expression on breast cancer MCF-7 cells stably transfected with HER2, an oncogene known to induce the chemokine receptor. Downregulation of CXCR4 by the triterpenoid was not cell type-specific as downregulation occurred in colon cancer, squamous cell carcinoma, and pancreatic cancer cells. Decrease in CXCR4 expression was not due to proteolysis as neither proteasome inhibitors nor lysosomal stabilization had any effect. Quantitative reverse transcription polymerase chain reaction analysis revealed that downregulation of CXCR4 messenger RNA (mRNA) by celastrol occurred at the translational level. Chromatin immunoprecipitation analysis revealed regulation at the transcriptional level as well. Abrogation of the chemokine receptor by celastrol or by gene-silencing was accompanied by suppression of invasiveness of colon cancer cells induced by CXCL12, the ligand for CXCR4. This effect was not cell type-specific as celastrol also abolished invasiveness of pancreatic tumor cells, and this effect again correlated with the disappearance of both the CXCR4 mRNA and CXCR4 protein. Other triterpenes, such as withaferin A and gedunin, which are known to inhibit Hsp90, did not downregulate CXCR4 expression, indicating that the effects were specific to celastrol. Overall, these results show that celastrol has potential in suppressing invasion and metastasis of cancer cells by down-modulation of CXCR4 expression.
This is a preview of subscription content, log in to check access.
Access options
Buy single article
Instant access to the full article PDF.
US$ 39.95
Price includes VAT for USA
Subscribe to journal
Immediate online access to all issues from 2019. Subscription will auto renew annually.
US$ 199
This is the net price. Taxes to be calculated in checkout.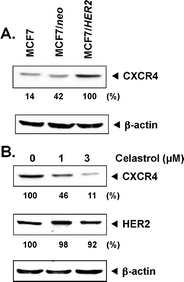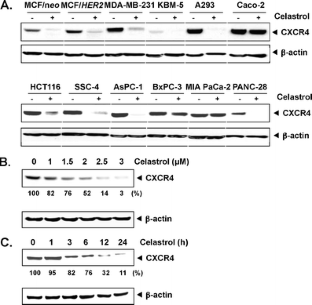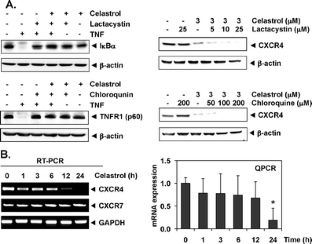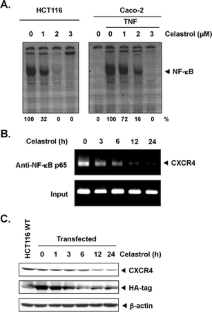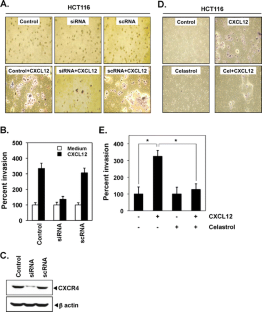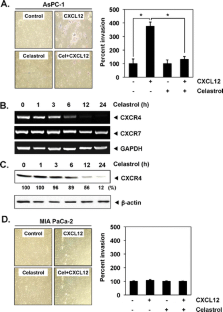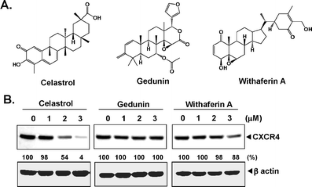 References
1.

Wong DJ, Liu H, Ridky TW, Cassarino D, Segal E, Chang HY (2008) Module map of stem cell genes guides creation of epithelial cancer stem cells. Cell Stem Cell 2:333–344

2.

Orosz P, Echtenacher B, Falk W, Ruschoff J, Weber D, Mannel DN (1993) Enhancement of experimental metastasis by tumor necrosis factor. J Exp Med 177:1391–1398

3.

Leivonen SK, Kahari VM (2007) Transforming growth factor-beta signaling in cancer invasion and metastasis. Int J Cancer 121:2119–2124

4.

Carmeliet P, Jain RK (2000) Angiogenesis in cancer and other diseases. Nature 407:249–257

5.

Muller A, Homey B, Soto H, Ge N, Catron D, Buchanan ME, McClanahan T, Murphy E, Yuan W, Wagner SN, Barrera JL, Mohar A, Verastegui E, Zlotnik A (2001) Involvement of chemokine receptors in breast cancer metastasis. Nature 410:50–56

6.

Xu L, Duda DG, di Tomaso E, Ancukiewicz M, Chung DC, Lauwers GY, Samuel R, Shellito P, Czito BG, Lin PC, Poleski M, Bentley R, Clark JW, Willett CG, Jain RK (2009) Direct evidence that bevacizumab, an anti-VEGF antibody, up-regulates SDF1alpha, CXCR4, CXCL6, and neuropilin 1 in tumors from patients with rectal cancer. Cancer Res 69:7905–7910

7.

Paez-Ribes M, Allen E, Hudock J, Takeda T, Okuyama H, Vinals F, Inoue M, Bergers G, Hanahan D, Casanovas O (2009) Antiangiogenic therapy elicits malignant progression of tumors to increased local invasion and distant metastasis. Cancer Cell 15:220–231

8.

Porcile C, Bajetto A, Barbero S, Pirani P, Schettini G (2004) CXCR4 activation induces epidermal growth factor receptor transactivation in an ovarian cancer cell line. Ann NY Acad Sci 1030:162–169

9.

Zeelenberg IS, Ruuls-Van Stalle L, Roos E (2003) The chemokine receptor CXCR4 is required for outgrowth of colon carcinoma micrometastases. Cancer Res 63:3833–3839

10.

Marchesi F, Monti P, Leone BE, Zerbi A, Vecchi A, Piemonti L, Mantovani A, Allavena P (2004) Increased survival, proliferation, and migration in metastatic human pancreatic tumor cells expressing functional CXCR4. Cancer Res 64:8420–8427

11.

Taichman RS, Cooper C, Keller ET, Pienta KJ, Taichman NS, McCauley LK (2002) Use of the stromal cell-derived factor-1/CXCR4 pathway in prostate cancer metastasis to bone. Cancer Res 62:1832–1837

12.

Li YM, Pan Y, Wei Y, Cheng X, Zhou BP, Tan M, Zhou X, Xia W, Hortobagyi GN, Yu D, Hung MC (2004) Upregulation of CXCR4 is essential for HER2-mediated tumor metastasis. Cancer Cell 6:459–469

13.

Holm NT, Byrnes K, Li BD, Turnage RH, Abreo F, Mathis JM, Chu QD (2007) Elevated levels of chemokine receptor CXCR4 in HER-2 negative breast cancer specimens predict recurrence. J Surg Res 141:53–59

14.

Calixto JB, Campos MM, Otuki MF, Santos AR (2004) Anti-inflammatory compounds of plant origin. Part II. Modulation of pro-inflammatory cytokines, chemokines and adhesion molecules. Planta Med 70:93–103

15.

Yang H, Chen D, Cui QC, Yuan X, Dou QP (2006) Celastrol, a triterpene extracted from the Chinese "Thunder of God Vine," is a potent proteasome inhibitor and suppresses human prostate cancer growth in nude mice. Cancer Res 66:4758–4765

16.

Hieronymus H, Lamb J, Ross KN, Peng XP, Clement C, Rodina A, Nieto M, Du J, Stegmaier K, Raj SM, Maloney KN, Clardy J, Hahn WC, Chiosis G, Golub TR (2006) Gene expression signature-based chemical genomic prediction identifies a novel class of HSP90 pathway modulators. Cancer Cell 10:321–330

17.

Hassane DC, Guzman ML, Corbett C, Li X, Abboud R, Young F, Liesveld JL, Carroll M, Jordan CT (2008) Discovery of agents that eradicate leukemia stem cells using an in silico screen of public gene expression data. Blood 111:5654–5662

18.

He W, Huang FC, Gavai A, Chan WK, Amato G, Yu KT, Zilberstein A (1998) Novel cytokine release inhibitors. Part III: truncated analogs of tripterine. Bioorg Med Chem Lett 8:3659–3664

19.

Westerheide SD, Bosman JD, Mbadugha BN, Kawahara TL, Matsumoto G, Kim S, Gu W, Devlin JP, Silverman RB, Morimoto RI (2004) Celastrols as inducers of the heat shock response and cytoprotection. J Biol Chem 279:56053–56060

20.

Zhang T, Li Y, Yu Y, Zou P, Jiang Y, Sun D (2009) Characterization of celastrol to inhibit hsp90 and cdc37 interaction. J Biol Chem 284:35381–35389

21.

Sreeramulu S, Gande SL, Gobel M, Schwalbe H (2009) Molecular mechanism of inhibition of the human protein complex Hsp90-Cdc37, a kinome chaperone-cochaperone, by triterpene celastrol. Angew Chem Int Ed Engl 48:5853–5855

22.

Chadli A, Felts SJ, Wang Q, Sullivan WP, Botuyan MV, Fauq A, Ramirez-Alvarado M, Mer G (2010) Celastrol inhibits Hsp90 chaperoning of steroid receptors by inducing fibrillization of the co-chaperone p23. J Biol Chem 285:4224–4231

23.

Mu TW, Ong DS, Wang YJ, Balch WE, Yates JR 3rd, Segatori L, Kelly JW (2008) Chemical and biological approaches synergize to ameliorate protein-folding diseases. Cell 134:769–781

24.

Marchese A, Raiborg C, Santini F, Keen JH, Stenmark H, Benovic JL (2003) The E3 ubiquitin ligase AIP4 mediates ubiquitination and sorting of the G protein-coupled receptor CXCR4. Dev Cell 5:709–722

25.

Peters AH, Kubicek S, Mechtler K, O'Sullivan RJ, Derijck AA, Perez-Burgos L, Kohlmaier A, Opravil S, Tachibana M, Shinkai Y, Martens JH, Jenuwein T (2003) Partitioning and plasticity of repressive histone methylation states in mammalian chromatin. Mol Cell 12:1577–1589

26.

Maroni P, Bendinelli P, Matteucci E, Desiderio MA (2007) HGF induces CXCR4 and CXCL12-mediated tumor invasion through Ets1 and NF-kappaB. Carcinogenesis 28:267–279

27.

Bhandari D, Trejo J, Benovic JL, Marchese A (2007) Arrestin-2 interacts with the ubiquitin-protein isopeptide ligase atrophin-interacting protein 4 and mediates endosomal sorting of the chemokine receptor CXCR4. J Biol Chem 282:36971–36979

28.

Sethi G, Ahn KS, Pandey MK, Aggarwal BB (2007) Celastrol, a novel triterpene, potentiates TNF-induced apoptosis and suppresses invasion of tumor cells by inhibiting NF-kappaB-regulated gene products and TAK1-mediated NF-kappaB activation. Blood 109:2727–2735

29.

Idris AI, Libouban H, Nyangoga H, Landao-Bassonga E, Chappard D, Ralston SH (2009) Pharmacologic inhibitors of IkappaB kinase suppress growth and migration of mammary carcinosarcoma cells in vitro and prevent osteolytic bone metastasis in vivo. Mol Cancer Ther 8:2339–2347

30.

Lee JH, Koo TH, Yoon H, Jung HS, Jin HZ, Lee K, Hong YS, Lee JJ (2006) Inhibition of NF-kappa B activation through targeting I kappa B kinase by celastrol, a quinone methide triterpenoid. Biochem Pharmacol 72:1311–1321

31.

Biswas DK, Iglehart JD (2006) Linkage between EGFR family receptors and nuclear factor kappaB (NF-kappaB) signaling in breast cancer. J Cell Physiol 209:645–652

32.

Matsusue R, Kubo H, Hisamori S, Okoshi K, Takagi H, Hida K, Nakano K, Itami A, Kawada K, Nagayama S, Sakai Y (2009) Hepatic stellate cells promote liver metastasis of colon cancer cells by the action of SDF-1/CXCR4 axis. Ann Surg Oncol 16:2645–2653

33.

Kulbe H, Hagemann T, Szlosarek PW, Balkwill FR, Wilson JL (2005) The inflammatory cytokine tumor necrosis factor-alpha regulates chemokine receptor expression on ovarian cancer cells. Cancer Res 65:10355–10362

34.

Bachelder RE, Wendt MA, Mercurio AM (2002) Vascular endothelial growth factor promotes breast carcinoma invasion in an autocrine manner by regulating the chemokine receptor CXCR4. Cancer Res 62:7203–7206

35.

Kukreja P, Abdel-Mageed AB, Mondal D, Liu K, Agrawal KC (2005) Up-regulation of CXCR4 expression in PC-3 cells by stromal-derived factor-1alpha (CXCL12) increases endothelial adhesion and transendothelial migration: role of MEK/ERK signaling pathway-dependent NF-kappaB activation. Cancer Res 65:9891–9898

36.

Marchese A, Benovic JL (2001) Agonist-promoted ubiquitination of the G protein-coupled receptor CXCR4 mediates lysosomal sorting. J Biol Chem 276:45509–45512

37.

Helbig G, Christopherson KW 2nd, Bhat-Nakshatri P, Kumar S, Kishimoto H, Miller KD, Broxmeyer HE, Nakshatri H (2003) NF-kappaB promotes breast cancer cell migration and metastasis by inducing the expression of the chemokine receptor CXCR4. J Biol Chem 278:21631–21638

38.

Cabioglu N, Sahin A, Doucet M, Yavuz E, Igci A, OY E, Aktas E, Bilgic S, Kiran B, Deniz G, Price JE (2005) Chemokine receptor CXCR4 expression in breast cancer as a potential predictive marker of isolated tumor cells in bone marrow. Clin Exp Metastasis 22:39–46

39.

Salminen A, Lehtonen M, Paimela T, Kaarniranta K (2010) Celastrol: molecular targets of Thunder God Vine. Biochem Biophys Res Commun 394:439–442

40.

Nagase M, Oto J, Sugiyama S, Yube K, Takaishi Y, Sakato N (2003) Apoptosis induction in HL-60 cells and inhibition of topoisomerase II by triterpene celastrol. Biosci Biotechnol Biochem 67:1883–1887

41.

Zhang DH, Marconi A, Xu LM, Yang CX, Sun GW, Feng XL, Ling CQ, Qin WZ, Uzan G, d'Alessio P (2006) Tripterine inhibits the expression of adhesion molecules in activated endothelial cells. J Leukoc Biol 80:309–319

42.

Pang X, Yi Z, Zhang J, Lu B, Sung B, Qu W, Aggarwal BB, Liu M (2010) Celastrol suppresses angiogenesis-mediated tumor growth through inhibition of AKT/mammalian target of rapamycin pathway. Cancer Res 70:1951–1959
Acknowledgement
Dr. Aggarwal is the Ransom Horne, Jr., Professor of Cancer Research. This work was supported by a program project grant from National Institutes of Health (NIH CA-124787-01A2) and a grant from Clayton Foundation for Research, USA. We would like to thank Dr. J. L. Benovic, Department of Biochemistry and Molecular Biology, Thomas Jefferson University, Philadelphia, PA and Dr. M.C. Hung, Department of Molecular and Cellular Oncology, MD Anderson Cancer Center for HA-CXCR4 plasmid constructs and also Mr. Walter Pagel for his careful reading of the manuscript.
Conflict of interest
The authors declare no conflict of interest.
About this article
Cite this article
Yadav, V.R., Sung, B., Prasad, S. et al. Celastrol suppresses invasion of colon and pancreatic cancer cells through the downregulation of expression of CXCR4 chemokine receptor. J Mol Med 88, 1243–1253 (2010). https://doi.org/10.1007/s00109-010-0669-3
Received:

Revised:

Accepted:

Published:

Issue Date:
Keywords
CXCR4

CXCL12

Colon cancer

NF-κB