Abstract
Vitamin D has received increased attention recently for its pleiotropic actions on many chronic diseases. The importance of vitamin D on the regulation of cells of the immune system has gained increased appreciation over the past decade with the discovery of the vitamin D receptor (VDR) and key vitamin D metabolizing enzymes expressed by cells of the immune system. Animal studies, early epidemiologic and clinical studies have supported a potential role for vitamin D in maintaining immune system balance. The hormonal form of vitamin D up-regulates anti-microbial peptides, namely cathelicidin, to enhance clearance of bacteria at various barrier sites and in immune cells. Vitamin D modulates the adaptive immune system by direct effects on T cell activation and on the phenotype and function of antigen-presenting cells (APCs), particularly of DCs. The purpose of this manuscript is to review the molecular and clinical evidence for vitamin D as a modulator of the innate and adaptive immune system.
Access options
Buy single article
Instant access to the full article PDF.
USD 39.95
Price excludes VAT (USA)
Tax calculation will be finalised during checkout.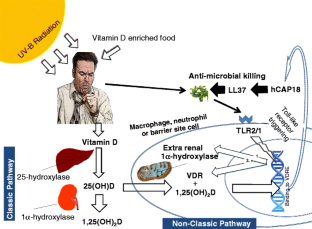 References
Holick MF (2007) Vitamin D deficiency. N Engl J Med 357(3):266–281

Wang TT, Tavera-Mendoza LE, Laperriere D, Libby E, MacLeod NB, Nagai Y et al (2005) Large-scale in silico and microarray-based identification of direct 1, 25-dihydroxyvitamin D3 target genes. Mol Endocrinol 19(11):2685–2695

Wu S, Ren S, Nguyen L, Adams JS, Hewison M (2007) Splice variants of the CYP27b1 gene and the regulation of 1, 25-dihydroxyvitamin D3 production. Endocrinology 148(7):3410–3418

Cross HS (2007) Extrarenal vitamin D hydroxylase expression and activity in normal and malignant cells: modification of expression by epigenetic mechanisms and dietary substances. Nutr Rev 65(8 Pt 2):S108–S112

Williams CJB (1849) On the use and administration of cod-liver oil in pulmonary consumption. London Journal of Medicine 1:1–18

Finsen NR (1903) Nobel prize presentation speech by professor the count K.A.H. Morner, Rector of the Royal Caroline Institute on December 10, 1903. www.nobelprize.org

Moller KI, Kongshoj B, Philipsen PA, Thomsen VO, Wulf HC (2005) How Finsen's light cured lupus vulgaris. Photodermatol Photoimmunol Photomed 21(3):118–124

Martineau AR, Honecker FU, Wilkinson RJ, Griffiths CJ (2007) Vitamin D in the treatment of pulmonary tuberculosis. J Steroid Biochem Mol Biol 103(3–5):793–798

Rook GA, Steele J, Fraher L, Barker S, Karmali R, O'Riordan J et al (1986) Vitamin D3, gamma interferon, and control of proliferation of Mycobacterium tuberculosis by human monocytes. Immunology 57(1):159–163

Liu PT, Stenger S, Li H, Wenzel L, Tan BH, Krutzik S et al (2006) Toll-like receptor triggering of a vitamin D-mediated human antimicrobial response. Science; 311:1773–3

Trinchieri G, Sher A (2007) Cooperation of Toll-like receptor signals in innate immune defence. Nat Rev Immunol 7(3):179–190

Medzhitov R (2007) Recognition of microorganisms and activation of the immune response. Nature 449(7164):819–826

Ramanathan B, Davis EG, Ross CR, Blecha F (2002) Cathelicidins: microbicidal activity, mechanisms of action, and roles in innate immunity. Microbes Infect 4(3):361–372

Weber G, Heilborn JD, Chamorro Jimenez CI, Hammarsjo A, Torma H, Stahle M (2005) Vitamin D induces the antimicrobial protein hCAP18 in human skin. J Invest Dermatol 124(5):1080–1082

Bals R, Wang X, Zasloff M, Wilson JM (1998) The peptide antibiotic LL-37/hCAP-18 is expressed in epithelia of the human lung where it has broad antimicrobial activity at the airway surface. Proc Natl Acad Sci USA 95(16):9541–9546

Gallo RL, Kim KJ, Bernfield M, Kozak CA, Zanetti M, Merluzzi L et al (1997) Identification of CRAMP, a cathelin-related antimicrobial peptide expressed in the embryonic and adult mouse. J Biol Chem 272(20):13088–13093

Agerberth B, Charo J, Werr J, Olsson B, Idali F, Lindbom L et al (2000) The human antimicrobial and chemotactic peptides LL-37 and alpha-defensins are expressed by specific lymphocyte and monocyte populations. Blood 96(9):3086–3093

Wang TT, Nestel FP, Bourdeau V, Nagai Y, Wang Q, Liao J et al (2004) Cutting edge: 1, 25-dihydroxyvitamin D3 is a direct inducer of antimicrobial peptide gene expression. J Immunol 173(5):2909–2912

Gombart AF, Saito T, Koeffler HP (2009) Exaptation of an ancient Alu short interspersed element provides a highly conserved vitamin D-mediated innate immune response in humans and primates. BMC Genomics 10:321

Gombart AF, Borregaard N, Koeffler HP (2005) Human cathelicidin antimicrobial peptide (CAMP) gene is a direct target of the vitamin D receptor and is strongly up-regulated in myeloid cells by 1, 25-dihydroxyvitamin D3. Faseb J 19(9):1067–1077

Gombart AF, O'Kelly J, Saito T, Koeffler HP (2007) Regulation of the CAMP gene by 1, 25(OH)2D3 in various tissues. J Steroid Biochem Mol Biol 103(3–5):552–557

Schauber J, Dorschner RA, Coda AB, Buchau AS, Liu PT, Kiken D et al (2007) Injury enhances TLR2 function and antimicrobial peptide expression through a vitamin D-dependent mechanism. J Clin Invest 117(3):803–811

Lehmann B, Rudolph T, Pietzsch J, Meurer M (2000) Conversion of vitamin D3 to 1alpha, 25-dihydroxyvitamin D3 in human skin equivalents. Exp Dermatol 9(2):97–103

Cannell JJ, Vieth R, Umhau JC, Holick MF, Grant WB, Madronich S et al (2006) Epidemic influenza and vitamin D. Epidemiol Infect 134(6):1129–1140

Laaksi I, Ruohola JP, Tuohimaa P, Auvinen A, Haataja R, Pihlajamaki H et al (2007) An association of serum vitamin D concentrations < 40 nmol/L with acute respiratory tract infection in young Finnish men. Am J Clin Nutr 86(3):714–717

Cannell JJ, Vieth R, Willett W, Zasloff M, Hathcock JN, White JH et al (2008) Cod liver oil, vitamin A toxicity, frequent respiratory infections, and the vitamin D deficiency epidemic. Ann Otol Rhinol Laryngol 117(11):864–870

Ginde AA, Mansbach JM, Camargo CA Jr (2009) Association between serum 25-hydroxyvitamin D level and upper respiratory tract infection in the Third National Health and Nutrition Examination Survey. Arch Intern Med 169(4):384–390

Villamor E (2006) A potential role for vitamin D on HIV infection? Nutr Rev 64(5 Pt 1):226–233

Bodnar LM, Krohn MA, Simhan HN (2009) Maternal vitamin D deficiency is associated with bacterial vaginosis in the first trimester of pregnancy. J Nutr 139(6):1157–1161

Jeng L, Yamshchikov AV, Judd SE, Blumberg HM, Martin GS, Ziegler TR et al (2009) Alterations in vitamin D status and anti-microbial peptide levels in patients in the intensive care unit with sepsis. J Transl Med 7:28

Gombart AF, Bhan I, Borregaard N, Tamez H, Camargo CA Jr, Koeffler HP et al (2009) Low plasma level of cathelicidin antimicrobial peptide (hCAP18) predicts increased infectious disease mortality in patients undergoing hemodialysis. Clin Infect Dis 48(4):418–424

Yamshchikov AV, Desai NS, Blumberg HM, Ziegler TR, Tangpricha V (2009) Vitamin D for treatment and prevention of infectious diseases: a systematic review of randomized controlled trials. Endocr Pract 15(5):438–449

Nnoaham KE, Clarke A (2008) Low serum vitamin D levels and tuberculosis: a systematic review and meta-analysis. Int J Epidemiol 37(1):113–119

Wejse C, Gomes VF, Rabna P, Gustafson P, Aaby P, Lisse IM et al (2009) Vitamin D as supplementary treatment for tuberculosis: a double-blind, randomized, placebo-controlled trial. Am J Respir Crit Care Med 179(9):843–850

Adams JS, Ren S, Liu PT, Chun RF, Lagishetty V, Gombart AF et al (2009) Vitamin d-directed rheostatic regulation of monocyte antibacterial responses. J Immunol 182(7):4289–4295

Yamshchikov AV, Oladele A, Leonard MK Jr, Blumberg HM, Ziegler TR, Tangpricha V (2010) Vitamin D as Adjunctive Therapy in Refractory Pulmonary Tuberculosis: A Case Report. South Med J. in press

Loomis WF (1967) Skin-pigment regulation of vitamin-D biosynthesis in man. Science 157(788):501–506

Chaplin G, Jablonski NG (2009) Vitamin D and the evolution of human depigmentation. Am J Phys Anthropol 139(4):451–461

Merewood A, Mehta SD, Chen TC, Bauchner H, Holick MF (2009) Association between vitamin D deficiency and primary cesarean section. J Clin Endocrinol Metab 94(3):940–945

Kappelman J, Alcicek MC, Kazanci N, Schultz M, Ozkul M, Sen S (2008) First Homo erectus from Turkey and implications for migrations into temperate Eurasia. Am J Phys Anthropol 135(1):110–116

Dib J, Motok J, Zenoff VF, Ordonez O, Farias ME (2008) Occurrence of resistance to antibiotics, UV-B, and arsenic in bacteria isolated from extreme environments in high-altitude (above 4400 m) Andean wetlands. Curr Microbiol 56(5):510–517

Kamen D, Aranow C (2008) Vitamin D in systemic lupus erythematosus. Curr Opin Rheumatol 20(5):532–537

Deluca HF, Cantorna MT (2001) Vitamin D: its role and uses in immunology. Faseb J 15(14):2579–2585

Arnson Y, Amital H, Shoenfeld Y (2007) Vitamin D and autoimmunity: new aetiological and therapeutic considerations. Ann Rheum Dis 66(9):1137–1142

Norman AW (2006) Minireview: vitamin D receptor: new assignments for an already busy receptor. Endocrinology 147(12):5542–5548

Veldman CM, Cantorna MT, DeLuca HF (2000) Expression of 1, 25-dihydroxyvitamin D(3) receptor in the immune system. Arch Biochem Biophys 374(2):334–338

Chen S, Sims GP, Chen XX, Gu YY, Chen S, Lipsky PE (2007) Modulatory effects of 1, 25-dihydroxyvitamin D3 on human B cell differentiation. J Immunol 179(3):1634–1647

van Etten E, Stoffels K, Gysemans C, Mathieu C, Overbergh L (2008) Regulation of vitamin D homeostasis: implications for the immune system. Nutr Rev 66(10 Suppl 2):S125–S134

Correale J, Ysrraelit MC, Gaitan MI (2009) Immunomodulatory effects of Vitamin D in multiple sclerosis. Brain 132(Pt 5):1146–1160

Mahon BD, Wittke A, Weaver V, Cantorna MT (2003) The targets of vitamin D depend on the differentiation and activation status of CD4 positive T cells. J Cell Biochem 89(5):922–932

Bhalla AK, Amento EP, Serog B, Glimcher LH (1984) 1, 25-Dihydroxyvitamin D3 inhibits antigen-induced T cell activation. J Immunol 133(4):1748–1754

Mattner F, Smiroldo S, Galbiati F, Muller M, Di Lucia P, Poliani PL et al (2000) Inhibition of Th1 development and treatment of chronic-relapsing experimental allergic encephalomyelitis by a non-hypercalcemic analogue of 1, 25-dihydroxyvitamin D(3). Eur J Immunol 30(2):498–508

Lemire JM, Archer DC, Beck L, Spiegelberg HL (1995) Immunosuppressive actions of 1, 25-dihydroxyvitamin D3: preferential inhibition of Th1 functions. J Nutr 125(6 Suppl):1704S–1708S

Boonstra A, Barrat FJ, Crain C, Heath VL, Savelkoul HF, O'Garra A (2001) 1alpha, 25-Dihydroxyvitamin d3 has a direct effect on naive CD4(+) T cells to enhance the development of Th2 cells. J Immunol 167(9):4974–4980

Overbergh L, Decallonne B, Waer M, Rutgeerts O, Valckx D, Casteels KM et al (2000) 1alpha, 25-dihydroxyvitamin D3 induces an autoantigen-specific T-helper 1/T-helper 2 immune shift in NOD mice immunized with GAD65 (p524–543). Diabetes 49(8):1301–1307

Staeva-Vieira TP, Freedman LP (2002) 1, 25-dihydroxyvitamin D3 inhibits IFN-gamma and IL-4 levels during in vitro polarization of primary murine CD4+ T cells. J Immunol 168(3):1181–1189

Penna G, Roncari A, Amuchastegui S, Daniel KC, Berti E, Colonna M et al (2005) Expression of the inhibitory receptor ILT3 on dendritic cells is dispensable for induction of CD4+Foxp3+ regulatory T cells by 1, 25-dihydroxyvitamin D3. Blood 106(10):3490–3497

Eisenstein EM, Williams CB (2009) The T(reg)/Th17 cell balance: a new paradigm for autoimmunity. Pediatr Res 65(5 Pt 2):26R–31R

Tang J, Zhou R, Luger D, Zhu W, Silver PB, Grajewski RS et al (2009) Calcitriol suppresses antiretinal autoimmunity through inhibitory effects on the Th17 effector response. J Immunol 182(8):4624–4632

Daniel C, Sartory NA, Zahn N, Radeke HH, Stein JM (2008) Immune modulatory treatment of trinitrobenzene sulfonic acid colitis with calcitriol is associated with a change of a T helper (Th) 1/Th17 to a Th2 and regulatory T cell profile. J Pharmacol Exp Ther 324(1):23–33

Xue ML, Zhu H, Thakur A, Willcox M (2002) 1 alpha, 25-Dihydroxyvitamin D3 inhibits pro-inflammatory cytokine and chemokine expression in human corneal epithelial cells colonized with Pseudomonas aeruginosa. Immunol Cell Biol 80(4):340–345

van Etten E, Verlinden L, Giulietti A, Ramos-Lopez E, Branisteanu DD, Ferreira GB et al (2007) The vitamin D receptor gene FokI polymorphism: functional impact on the immune system. Eur J Immunol 37(2):395–405

Gregori S, Casorati M, Amuchastegui S, Smiroldo S, Davalli AM, Adorini L (2001) Regulatory T cells induced by 1 alpha, 25-dihydroxyvitamin D3 and mycophenolate mofetil treatment mediate transplantation tolerance. J Immunol 167(4):1945–1953

Smolders J, Thewissen M, Peelen E, Menheere P, Cohen Tervaert JW, Damoiseaux J et al (2009) Vitamin D status is positively correlated with regulatory T cell function in patients with multiple sclerosis. PLoS ONE 4(8):e6635

Lemire JM, Adams JS, Sakai R, Jordan SC (1984) 1 alpha, 25-dihydroxyvitamin D3 suppresses proliferation and immunoglobulin production by normal human peripheral blood mononuclear cells. J Clin Invest 74(2):657–661

Linker-Israeli M, Elstner E, Klinenberg JR, Wallace DJ, Koeffler HP (2001) Vitamin D(3) and its synthetic analogs inhibit the spontaneous in vitro immunoglobulin production by SLE-derived PBMC. Clin Immunol 99(1):82–93

Griffin MD, Lutz W, Phan VA, Bachman LA, McKean DJ, Kumar R (2001) Dendritic cell modulation by 1alpha, 25 dihydroxyvitamin D3 and its analogs: a vitamin D receptor-dependent pathway that promotes a persistent state of immaturity in vitro and in vivo. Proc Natl Acad Sci USA 98(12):6800–6805

Szeles L, Keresztes G, Torocsik D, Balajthy Z, Krenacs L, Poliska S et al (2009) 1, 25-dihydroxyvitamin D3 is an autonomous regulator of the transcriptional changes leading to a tolerogenic dendritic cell phenotype. J Immunol 182(4):2074–2083

Banchereau J, Steinman RM (1998) Dendritic cells and the control of immunity. Nature 392(6673):245–252

Lanzavecchia A, Sallusto F (2001) Regulation of T cell immunity by dendritic cells. Cell 106(3):263–266

van Halteren AG, Tysma OM, van Etten E, Mathieu C, Roep BO (2004) 1alpha, 25-dihydroxyvitamin D3 or analogue treated dendritic cells modulate human autoreactive T cells via the selective induction of apoptosis. J Autoimmun 23(3):233–239

Gauzzi MC, Purificato C, Donato K, Jin Y, Wang L, Daniel KC et al (2005) Suppressive effect of 1alpha, 25-dihydroxyvitamin D3 on type I IFN-mediated monocyte differentiation into dendritic cells: impairment of functional activities and chemotaxis. J Immunol 174(1):270–276

Piemonti L, Monti P, Sironi M, Fraticelli P, Leone BE, Dal Cin E et al (2000) Vitamin D3 affects differentiation, maturation, and function of human monocyte-derived dendritic cells. J Immunol 164(9):4443–4451

Canning MO, Grotenhuis K, de Wit H, Ruwhof C, Drexhage HA (2001) 1-alpha, 25-Dihydroxyvitamin D3 (1, 25(OH)(2)D(3)) hampers the maturation of fully active immature dendritic cells from monocytes. Eur J Endocrinol 145(3):351–357

Van Amerongen BM, Dijkstra CD, Lips P, Polman CH (2004) Multiple sclerosis and vitamin D: an update. Eur J Clin Nutr; 58:1095–1109

Cantorna MT, Hayes CE, DeLuca HF (1996) 1, 25-Dihydroxyvitamin D3 reversibly blocks the progression of relapsing encephalomyelitis, a model of multiple sclerosis. Proc Natl Acad Sci USA 93(15):7861–7864

Van Etten E, Branisteanu DD, Overbergh L, Bouillon R, Verstuyf A, Mathieu C (2003) Combination of a 1, 25-dihydroxyvitamin D3 analog and a bisphosphonate prevents experimental autoimmune encephalomyelitis and preserves bone. Bone 32(4):397–404

Cantorna MT, Hayes CE, DeLuca HF (1998) 1, 25-Dihydroxycholecalciferol inhibits the progression of arthritis in murine models of human arthritis. J Nutr 128(1):68–72

Larsson P, Mattsson L, Klareskog L, Johnsson C (1998) A vitamin D analogue (MC 1288) has immunomodulatory properties and suppresses collagen-induced arthritis (CIA) without causing hypercalcaemia. Clin Exp Immunol 114(2):277–283

Zella JB, McCary LC, DeLuca HF (2003) Oral administration of 1, 25-dihydroxyvitamin D3 completely protects NOD mice from insulin-dependent diabetes mellitus. Arch Biochem Biophys 417(1):77–80

Giulietti A, Gysemans C, Stoffels K, van Etten E, Decallonne B, Overbergh L et al (2004) Vitamin D deficiency in early life accelerates Type 1 diabetes in non-obese diabetic mice. Diabetologia 47(3):451–462

Mathieu C, Waer M, Laureys J, Rutgeerts O, Bouillon R (1994) Prevention of autoimmune diabetes in NOD mice by 1, 25 dihydroxyvitamin D3. Diabetologia 37(6):552–558

Froicu M, Weaver V, Wynn TA, McDowell MA, Welsh JE, Cantorna MT (2003) A crucial role for the vitamin D receptor in experimental inflammatory bowel diseases. Mol Endocrinol 17(12):2386–2392

Cantorna MT, Munsick C, Bemiss C, Mahon BD (2000) 1, 25-Dihydroxycholecalciferol prevents and ameliorates symptoms of experimental murine inflammatory bowel disease. J Nutr 130(11):2648–2652

Koizumi T, Nakao Y, Matsui T, Nakagawa T, Matsuda S, Komoriya K et al (1985) Effects of corticosteroid and 1, 24R-dihydroxy-vitamin D3 administration on lymphoproliferation and autoimmune disease in MRL/MP-lpr/lpr mice. Int Arch Allergy Appl Immunol 77(4):396–404

Lemire JM, Ince A, Takashima M (1992) 1, 25-Dihydroxyvitamin D3 attenuates the expression of experimental murine lupus of MRL/l mice. Autoimmunity 12(2):143–148

Nielen MM, van Schaardenburg D, Lems WF, van de Stadt RJ, de Koning MH, Reesink HW et al (2006) Vitamin D deficiency does not increase the risk of rheumatoid arthritis: comment on the article by Merlino et al. Arthritis Rheum 54(11):3719–3720

Merlino LA, Curtis J, Mikuls TR, Cerhan JR, Criswell LA, Saag KG (2004) Vitamin D intake is inversely associated with rheumatoid arthritis: results from the Iowa Women's Health Study. Arthritis Rheum 50(1):72–77

Costenbader KH, Feskanich D, Benito-Garcia E, Holmes M, Karlson E (2007) Vitamin D intake and risks of systemic lupus erythematosus and rheumatoid arthritis in women. Ann Rheum Dis; 67:530–5

Patel S, Farragher T, Berry J, Bunn D, Silman A, Symmons D (2007) Association between serum vitamin D metabolite levels and disease activity in patients with early inflammatory polyarthritis. Arthritis Rheum 56(7):2143–2149

Cutolo M, Otsa K, Laas K, Yprus M, Lehtme R, Secchi ME et al (2006) Circannual vitamin d serum levels and disease activity in rheumatoid arthritis: Northern versus Southern Europe. Clin Exp Rheumatol 24(6):702–704

Munger KL, Zhang SM, O'Reilly E, Hernan MA, Olek MJ, Willett WC et al (2004) Vitamin D intake and incidence of multiple sclerosis. Neurology 62(1):60–65

Munger KL, Levin LI, Hollis BW, Howard NS, Ascherio A (2006) Serum 25-hydroxyvitamin D levels and risk of multiple sclerosis. Jama 296(23):2832–2838

Embry AF, Snowdon LR, Vieth R (2000) Vitamin D and seasonal fluctuations of gadolinium-enhancing magnetic resonance imaging lesions in multiple sclerosis. Ann Neurol 48(2):271–272

Tremlett H, van der Mei IA, Pittas F, Blizzard L, Paley G, Mesaros D et al (2008) Monthly ambient sunlight, infections and relapse rates in multiple sclerosis. Neuroepidemiology 31(4):271–279

van der Mei IA, Blizzard L, Ponsonby AL, Dwyer T (2006) Validity and reliability of adult recall of past sun exposure in a case-control study of multiple sclerosis. Cancer Epidemiol Biomarkers Prev 15(8):1538–1544

Zipitis CS, Akobeng AK (2008) Vitamin D supplementation in early childhood and risk of type 1 diabetes: a systematic review and meta-analysis. Arch Dis Child 93(6):512–517

Hypponen E, Laara E, Reunanen A, Jarvelin MR, Virtanen SM (2001) Intake of vitamin D and risk of type 1 diabetes: a birth-cohort study. Lancet 358(9292):1500–1503

Crow MK (2007) Type I interferon in systemic lupus erythematosus. Curr Top Microbiol Immunol 316:359–386

Ronnblom L, Eloranta ML, Alm GV (2006) The type I interferon system in systemic lupus erythematosus. Arthritis Rheum 54(2):408–420

Dong X, Craig T, Xing N, Bachman LA, Paya CV, Weih F et al (2003) Direct transcriptional regulation of RelB by 1alpha, 25-dihydroxyvitamin D3 and its analogs: physiologic and therapeutic implications for dendritic cell function. J Biol Chem 278(49):49378–49385

Kamen DL, Aranow C (2008) The link between vitamin D deficiency and systemic lupus erythematosus. Curr Rheumatol Rep 10(4):273–280

Kamen DL, Cooper GS, Bouali H, Shaftman SR, Hollis BW, Gilkeson GS (2006) Vitamin D deficiency in systemic lupus erythematosus. Autoimmun Rev 5(2):114–117

O'Regan S, Chesney RW, Hamstra A, Eisman JA, O'Gorman AM, Deluca HF (1979) Reduced serum 1, 25-(OH)2 vitamin D3 levels in prednisone-treated adolescents with systemic lupus erythematosus. Acta Paediatr Scand 68(1):109–111

Muller K, Kriegbaum NJ, Baslund B, Sorensen OH, Thymann M, Bentzen K (1995) Vitamin D3 metabolism in patients with rheumatic diseases: low serum levels of 25-hydroxyvitamin D3 in patients with systemic lupus erythematosus. Clin Rheumatol 14(4):397–400

Costenbader KH, Feskanich D, Holmes M, Karlson EW, Benito-Garcia E (2008) Vitamin D intake and risks of systemic lupus erythematosus and rheumatoid arthritis in women. Ann Rheum Dis 67(4):530–535

Niyonsaba F, Hirata M, Ogawa H, Nagaoka I (2003) Epithelial cell-derived antibacterial peptides human beta-defensins and cathelicidin: multifunctional activities on mast cells. Curr Drug Targets Inflamm Allergy 2(3):224–231

Lazarus R, Klimecki WT, Raby BA, Vercelli D, Palmer LJ, Kwiatkowski DJ et al (2003) Single-nucleotide polymorphisms in the Toll-like receptor 9 gene (TLR9): frequencies, pairwise linkage disequilibrium, and haplotypes in three U.S. ethnic groups and exploratory case-control disease association studies. Genomics 81(1):85–91

Niyonsaba F, Ogawa H, Nagaoka I (2004) Human beta-defensin-2 functions as a chemotactic agent for tumour necrosis factor-alpha-treated human neutrophils. Immunology 111(3):273–281

Helming L, Bose J, Ehrchen J, Schiebe S, Frahm T, Geffers R et al (2005) 1alpha, 25-Dihydroxyvitamin D3 is a potent suppressor of interferon gamma-mediated macrophage activation. Blood 106(13):4351–4358

Niyonsaba F, Ushio H, Nagaoka I, Okumura K, Ogawa H (2005) The human beta-defensins (-1, -2, -3, -4) and cathelicidin LL-37 induce IL-18 secretion through p38 and ERK MAPK activation in primary human keratinocytes. J Immunol 175(3):1776–1784

Niyonsaba F, Nagaoka I, Ogawa H (2006) Human defensins and cathelicidins in the skin: beyond direct antimicrobial properties. Crit Rev Immunol 26(6):545–576

Byers S, Shah S (2007) Vitamin D and the regulation of Wnt/beta-catenin signaling and innate immunity in colorectal cancer. Nutr Rev 65(8 Pt 2):S118–S120

Chen X, Niyonsaba F, Ushio H, Hara M, Yokoi H, Matsumoto K et al (2007) Antimicrobial peptides human beta-defensin (hBD)-3 and hBD-4 activate mast cells and increase skin vascular permeability. Eur J Immunol 37(2):434–444

Van Etten E, Decallonne B, Verlinden L, Verstuyf A, Bouillon R, Mathieu C (2003) Analogs of 1alpha, 25-dihydroxyvitamin D3 as pluripotent immunomodulators. J Cell Biochem 88(2):223–226
Acknowledgments
Grant support: NIH K23-AR052364 (DK) "The Role of Vitamin D in Systemic Lupus Erythematosus", NIH K23-AR054334 (VT) "Role of T-Cells in Post Menopausal Osteoporosis", Emory University Research Committee (URC) Grant (VT)
About this article
Cite this article
Kamen, D.L., Tangpricha, V. Vitamin D and molecular actions on the immune system: modulation of innate and autoimmunity. J Mol Med 88, 441–450 (2010). https://doi.org/10.1007/s00109-010-0590-9
Received:

Revised:

Accepted:

Published:

Issue Date:

DOI: https://doi.org/10.1007/s00109-010-0590-9
Keywords
Vitamins

Innate immunity

Immunology