Abstract
Benzyl isothiocyanate (BITC) is detected in abundance in Brassica vegetables, and some previous studies have demonstrated that BITC may potentially function as a chemopreventive agent in humans. This study examined whether BITC inhibits lipopolysaccharide (LPS)-induced inflammatory responses in Raw 264.7 macrophages and 12-O-tetradecanoylphorbol-13-acetate (TPA)-induced ear edema formation. The treatment of macrophages with various concentrations of BITC resulted in a dose-dependent reduction in the LPS-induced secretion of interleukin (IL)-1β, TNF-α, and IL-6 and their corresponding mRNA levels, as well as in the production of nitric oxide and PGE2. Consistent with these findings, BITC inhibited the LPS-induced expressions of inducible nitric oxide synthase (iNOS) and cyclooxygenase (COX)-2 proteins and their corresponding mRNAs. BITC inhibited LPS-induced phosphorylation and the degradation of the inhibitor of κBα, translocation of p65 into the nucleus, and the DNA binding activity and transcriptional activity of NFκB. Moreover, the LPS-stimulated phosphorylation of extracellular signal regulated kinase (ERK)1/2 and Akt was suppressed by BITC. BITC also inhibited ear edema formation and the protein expression of iNOS and COX-2 in mouse skin treated with TPA. We demonstrate that BITC is a potent anti-inflammatory agent, and the anti-inflammatory properties of BITC may result from the downregulation of NFκB signaling.
This is a preview of subscription content, log in to check access.
Access options
Buy single article
Instant access to the full article PDF.
US$ 39.95
Price includes VAT for USA
Subscribe to journal
Immediate online access to all issues from 2019. Subscription will auto renew annually.
US$ 199
This is the net price. Taxes to be calculated in checkout.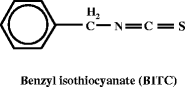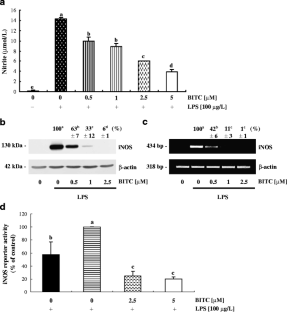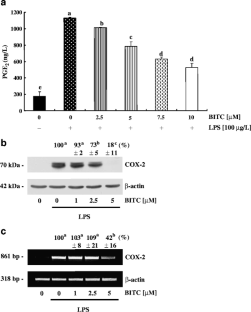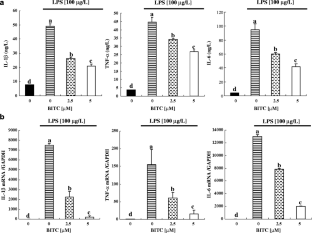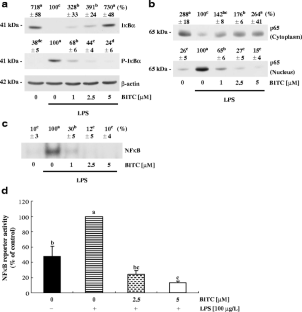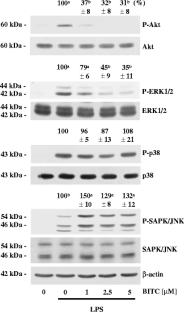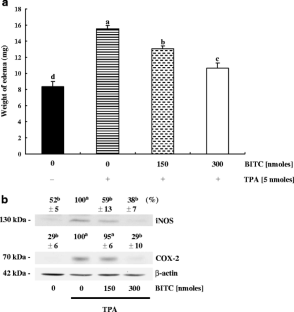 References
1.

Shacter E, Weitzman SA (2002) Chronic inflammation and cancer. Oncology (Williston Park) 16:217-226, 229; discussion 230–212

2.

Balkwill F, Mantovani A (2001) Inflammation and cancer: back to Virchow? Lancet 357:539–545

3.

Iezzi A, Ferri C, Mezzetti A, Cipollone F (2007) COX-2: friend or foe? Curr Pharm Des 13:1715–1721

4.

MacMicking J, Xie QW, Nathan C (1997) Nitric oxide and macrophage function. Annu Rev Immunol 15:323–350

5.

Rouzer CA, Marnett LJ (2009) Cyclooxygenases: structural and functional insights. J Lipid Res 50(Suppl):S29–S34

6.

Alderton WK, Cooper CE, Knowles RG (2001) Nitric oxide synthases: structure, function and inhibition. Biochem J 357:593–615

7.

Murakami A, Ohigashi H (2007) Targeting NOX, INOS and COX-2 in inflammatory cells: chemoprevention using food phytochemicals. Int J Cancer 121:2357–2363

8.

Baud V, Karin M (2009) Is NF-kappaB a good target for cancer therapy? Hopes and pitfalls. Nat Rev Drug Discov 8:33–40

9.

Karin M, Ben-Neriah Y (2000) Phosphorylation meets ubiquitination: the control of NF-[kappa]B activity. Annu Rev Immunol 18:621–663

10.

Nam NH (2006) Naturally occurring NF-kappaB inhibitors. Mini Rev Med Chem 6:945–951

11.

Higdon JV, Delage B, Williams DE, Dashwood RH (2007) Cruciferous vegetables and human cancer risk: epidemiologic evidence and mechanistic basis. Pharmacol Res 55:224–236

12.

Hecht SS (1995) Chemoprevention by isothiocyanates. J Cell Biochem Suppl 22:195–209

13.

von Weymarn LB, Chun JA, Hollenberg PF (2006) Effects of benzyl and phenethyl isothiocyanate on P450s 2A6 and 2A13: potential for chemoprevention in smokers. Carcinogenesis 27:782–790

14.

Nakamura Y, Miyoshi N, Takabayashi S, Osawa T (2004) Benzyl isothiocyanate inhibits oxidative stress in mouse skin: involvement of attenuation of leukocyte infiltration. Biofactors 21:255–257

15.

Miyoshi N, Takabayashi S, Osawa T, Nakamura Y (2004) Benzyl isothiocyanate inhibits excessive superoxide generation in inflammatory leukocytes: implication for prevention against inflammation-related carcinogenesis. Carcinogenesis 25:567–575

16.

Cho HJ, Kim WK, Kim EJ, Jung KC, Park S, Lee HS, Tyner AL, Park JH (2003) Conjugated linoleic acid inhibits cell proliferation and ErbB3 signaling in HT-29 human colon cell line. Am J Physiol Gastrointest Liver Physiol 284:G996–G1005

17.

Cho HJ, Seon MR, Lee YM, Kim J, Kim JK, Kim SG, Park JH (2008) 3,3′-Diindolylmethane suppresses the inflammatory response to lipopolysaccharide in murine macrophages. J Nutr 138:17–23

18.

Park YM, Won JH, Yun KJ, Ryu JH, Han YN, Choi SK, Lee KT (2006) Preventive effect of Ginkgo biloba extract (GBB) on the lipopolysaccharide-induced expressions of inducible nitric oxide synthase and cyclooxygenase-2 via suppression of nuclear factor-kappaB in RAW 264.7 cells. Biol Pharm Bull 29:985–990

19.

Cho IJ, Lee AK, Lee SJ, Lee MG, Kim SG (2005) Repression by oxidative stress of iNOS and cytokine gene induction in macrophages results from AP-1 and NF-kappaB inhibition mediated by B cell translocation gene-1 activation. Free Radic Biol Med 39:1523–1536

20.

Hecht SS (1999) Chemoprevention of cancer by isothiocyanates, modifiers of carcinogen metabolism. J Nutr 129:768S–774S

21.

Murakami A, Matsumoto K, Koshimizu K, Ohigashi H (2003) Effects of selected food factors with chemopreventive properties on combined lipopolysaccharide- and interferon-gamma-induced IkappaB degradation in RAW264.7 macrophages. Cancer Lett 195:17–25

22.

Barnes PJ, Karin M (1997) Nuclear factor-kappaB: a pivotal transcription factor in chronic inflammatory diseases. N Engl J Med 336:1066–1071

23.

Li Q, Verma IM (2002) NF-kappaB regulation in the immune system. Nat Rev Immunol 2:725–734

24.

Janssen-Heininger YM, Poynter ME, Baeuerle PA (2000) Recent advances towards understanding redox mechanisms in the activation of nuclear factor kappaB. Free Radic Biol Med 28:1317–1327

25.

Ajizian SJ, English BK, Meals EA (1999) Specific inhibitors of p38 and extracellular signal-regulated kinase mitogen-activated protein kinase pathways block inducible nitric oxide synthase and tumor necrosis factor accumulation in murine macrophages stimulated with lipopolysaccharide and interferon-gamma. J Infect Dis 179:939–944

26.

Bhat NR, Zhang P, Lee JC, Hogan EL (1998) Extracellular signal-regulated kinase and p38 subgroups of mitogen-activated protein kinases regulate inducible nitric oxide synthase and tumor necrosis factor-alpha gene expression in endotoxin-stimulated primary glial cultures. J Neurosci 18:1633–1641

27.

Hambleton J, Weinstein SL, Lem L, DeFranco AL (1996) Activation of c-Jun N-terminal kinase in bacterial lipopolysaccharide-stimulated macrophages. Proc Natl Acad Sci U S A 93:2774–2778

28.

Tsukamoto K, Hazeki K, Hoshi M, Nigorikawa K, Inoue N, Sasaki T, Hazeki O (2008) Critical roles of the p110 beta subtype of phosphoinositide 3-kinase in lipopolysaccharide-induced Akt activation and negative regulation of nitrite production in RAW 264.7 cells. J Immunol 180:2054–2061

29.

Lee SJ, Lim KT (2008) Inhibitory effect of 30-kDa phytoglycoprotein on expression of TNF-alpha and COX-2 via activation of PKCalpha and ERK 1/2 in LPS-stimulated RAW 264.7 cells. Mol Cell Biochem 317:151–159

30.

Hwang ES, Lee HJ (2008) Benzyl isothiocyanate inhibits metalloproteinase-2/-9 expression by suppressing the mitogen-activated protein kinase in SK-Hep1 human hepatoma cells. Food Chem Toxicol 46:2358–2364

31.

Kane LP, Shapiro VS, Stokoe D, Weiss A (1999) Induction of NF-kappaB by the Akt/PKB kinase. Curr Biol 9:601–604

32.

Meng F, Liu L, Chin PC, D'Mello SR (2002) Akt is a downstream target of NF-kappa B. J Biol Chem 277:29674–29680

33.

Mueller MM (2006) Inflammation in epithelial skin tumours: old stories and new ideas. Eur J Cancer 42:735–744

34.

Hvid H, Teige I, Kvist PH, Svensson L, Kemp K (2008) TPA induction leads to a Th17-like response in transgenic K14/VEGF mice: a novel in vivo screening model of psoriasis. Int Immunol 20:1097–1106

35.

Kang JS, Yoon WK, Youm JK, Jeong SK, Park BD, Han MH, Lee H, Moon EY, Han SB, Lee CW, Lee K, Park SK, Yang KH, Kim HM (2008) Inhibition of atopic dermatitis-like skin lesions by topical application of a novel ceramide derivative, K6PC-9p, in NC/Nga mice. Exp Dermatol 17:958–964
Acknowledgments
This research was supported by the Korea Research Foundation Grant funded by the Korean Government (MOEHRD; KRF-2008-314-F00069) and a grant from the SRC program of the Korea Science and Engineering Foundation (KOSEF) (2009-0063409). In addition, the authors have no conflicts of interest to declare. All authors contributed to the preparation of the manuscript.
About this article
Cite this article
Lee, Y.M., Seon, M.R., Cho, H.J. et al. Benzyl isothiocyanate exhibits anti-inflammatory effects in murine macrophages and in mouse skin. J Mol Med 87, 1251 (2009). https://doi.org/10.1007/s00109-009-0532-6
Received:

Revised:

Accepted:

Published:
Keywords
Inducible nitric oxide synthase

Cyclooxygenase-2

Raw 264.7 cells

TNF-α

NFκB