Abstract
Inflammatory bowel disease affects millions of individuals; nevertheless, pharmacological treatment is disappointingly unsatisfactory. Cannabidiol, a safe and non-psychotropic ingredient of marijuana, exerts pharmacological effects (e.g., antioxidant) and mechanisms (e.g., inhibition of endocannabinoids enzymatic degradation) potentially beneficial for the inflamed gut. Thus, we investigated the effect of cannabidiol in a murine model of colitis. Colitis was induced in mice by intracolonic administration of dinitrobenzene sulfonic acid. Inflammation was assessed both macroscopically and histologically. In the inflamed colon, cyclooxygenase-2 and inducible nitric oxide synthase (iNOS) were evaluated by Western blot, interleukin-1β and interleukin-10 by ELISA, and endocannabinoids by isotope dilution liquid chromatography–mass spectrometry. Human colon adenocarcinoma (Caco-2) cells were used to evaluate the effect of cannabidiol on oxidative stress. Cannabidiol reduced colon injury, inducible iNOS (but not cyclooxygenase-2) expression, and interleukin-1β, interleukin-10, and endocannabinoid changes associated with 2,4,6-dinitrobenzene sulfonic acid administration. In Caco-2 cells, cannabidiol reduced reactive oxygen species production and lipid peroxidation. In conclusion, cannabidiol, a likely safe compound, prevents experimental colitis in mice.
Access options
Buy single article
Instant access to the full article PDF.
US$ 39.95
Tax calculation will be finalised during checkout.
Subscribe to journal
Immediate online access to all issues from 2019. Subscription will auto renew annually.
US$ 119
Tax calculation will be finalised during checkout.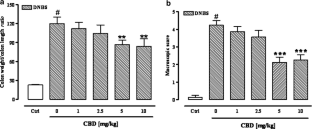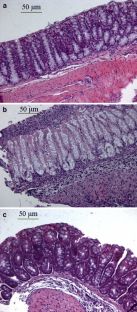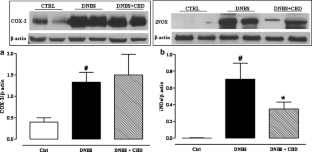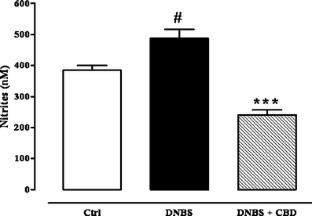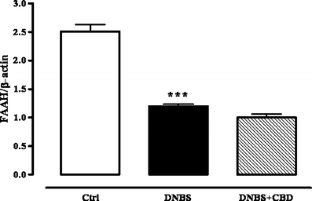 Abbreviations
2-AG:

2-Arachydonylglycerol

CBD:

Cannabidiol

COX-2:

Cyclooxygenase-2

DMEM:

Dulbecco's modified Eagle's medium

DNBS:

2,4,6-Dinitrobenzene sulfonic acid

ELISA:

Enzyme-linked immunosorbent assay

FAAH:

Fatty acid amide hydrolase

FBS:

Fetal bovine serum

iNOS:

Inducible nitric oxide synthase

H2DCF-DA:

2′,7′-Dichlorfluorescein-diacetate

IL-1β:

Interleukin-1β

IL-10:

Interleukin 10

MDA:

Malondialdehyde

MTT:

3-(4,5-Dimethylthiazol-2-yl)-2,5-diphenyltetrazolium bromide

PBS:

Phosphate-buffered saline

ROS:

Reactive oxygen species

TBA:

Thiobarbituric acid
References
1.

Lichtenstein GR, Abreu MT, Cohen R, Tremaine W (2006) American Gastroenterological Association Institute technical review on corticosteroids, immunomodulators, and infliximab in inflammatory bowel disease. Gastroenterology 130:940–987

2.

Colombel JF, Watson AJ, Neurath MF (2008) The 10 remaining mysteries of inflammatory bowel disease. Gut 57:429–433

3.

Kozuch PL, Hanauer SB (2008) Treatment of inflammatory bowel disease: a review of medical therapy. World J Gastroenterol 14:354–377

4.

Mechoulam R, Ben-Shabat S (1999) From gan-zi-gun-nu to anandamide and 2-arachidonoylglycerol: the ongoing story of cannabis. Nat Prod Rep 16:131–143

5.

Di Marzo V (2008) Targeting the endocannanbinoid system: to enhance or to reduce. Nat Rev Drug Discov 7:438–455

6.

Mechoulam R, Peters M, Murillo-Rodriguez E, Hanus LO (2007) Cannabidiol—recent advances. Chem Biodivers 4:1678–1692

7.

Cunha JM, Carlini EA, Pereira AE, Ramos OL, Pimentel C, Gagliardi R, Sanvito WL, Lander N, Mechoulam R (1980) Chronic administration of cannabidiol to healthy volunteers and epileptic patients. Pharmacology 21:175–185

8.

McPartland JM, Glass M, Pertwee RG (2007) Meta-analysis of cannabinoid ligand binding affinity and receptor distribution: interspecies differences. Br J Pharmacol 152:583–593

9.

Pertwee RG (2008) The diverse CB1 and CB2 receptor pharmacology of three plant cannabinoids: delta9-tetrahydrocannabinol, cannabidiol and delta9-tetrahydrocannabivarin. Br J Pharmacol 153:199–215

10.

Bisogno T, Hanus L, De Petrocellis L, Tchilibon S, Ponde DE, Brandi I, Moriello AS, Davis JB, Mechoulam R, Di Marzo V (2001) Molecular targets for cannabidiol and its synthetic analogues: effect on vanilloid VR1 receptors and on the cellular uptake and enzymatic hydrolysis of anandamide. Br J Pharmacol 134:845–852

11.

Massa F, Marsicano G, Hermann H, Cannich A, Monory K, Cravatt BF, Ferri GL, Sibaev A, Storr M, Lutz B (2004) The endogenous cannabinoid system protects against colonic inflammation. J Clin Invest 113:1202–1209

12.

D'Argenio G, Valenti M, Scaglione G, Cosenza V, Sorrentini I, Di Marzo V (2006) Up-regulation of anandamide levels as an endogenous mechanism and a pharmacological strategy to limit colon inflammation. FASEB J 20:568–570

13.

Storr MA, Keenan CM, Emmerdinger D, Zhang H, Yüce B, Sibaev A, Massa F, Buckley NE, Lutz B, Göke B, Brand S, Patel KD, Sharkey KA (2008) Targeting endocannabinoid degradation protects against experimental colitis in mice: involvement of CB1 and CB2 receptors. J Mol Med 86:925–936

14.

Di Marzo V, Izzo AA (2006) Endocannabinoid overactivity and intestinal inflammation. Gut 55:1373–1376

15.

Izzo AA, Camilleri M (2008) Emerging role of cannabinoids in gastrointestinal and liver diseases: basic and clinical aspects. Gut 57:1140–1155

16.

Ligresti A, Moriello AS, Starowicz K, Matias I, Pisanti S, De Petrocellis L, Laezza C, Portella G, Bifulco M, Di Marzo V (2006) Antitumor activity of plant cannabinoids with emphasis on the effect of cannabidiol on human breast carcinoma. J Pharmacol Exp Ther 318:1375–1387

17.

Capasso R, Borrelli F, Aviello G, Romano B, Scalisi C, Capasso F, Izzo AA (2008) Cannabidiol, extracted from Cannabis sativa, selectively inhibits inflammatory hypermotility in mice. Br J Pharmacol 154:1001–1008

18.

Xavier RJ, Podolsky DK (2007) Unravelling the pathogenesis of inflammatory bowel disease. Nature 448:427–434

19.

Thomsen LL, Ching LM, Zuang L, Gavin JB, Bagueley BC (1991) Tumor-dependent increased plasma nitrate concentrations as an indication of the antitumor effect of flavone-8-acetic acid and analogues in mice. Cancer Res 51:71–81

20.

Di Marzo V, Capasso R, Matias I, Aviello G, Petrosino S, Borrelli F, Romano B, Orlando P, Capasso F, Izzo AA (2008) The role of endocannabinoids in the regulation of gastric emptying: alterations in mice fed a high fat diet. Br J Pharmacol 153:1272–1280

21.

Mosmann T (1983) Rapid colorimetric assay for cellular growth and survival: application to proliferation and cytotoxicity assays. J Immunol Methods 65:55–63

22.

Esterbauer H, Cheeseman KH (1990) Determination of aldehydic lipid peroxidation products: malonaldehyde and 4-hydroxynonenal. Methods Enzymol 186:407–421

23.

Yokomizo A, Moriwaki M (2006) Effects of uptake of flavonoids on oxidative stress induced by hydrogen peroxide in human intestinal Caco-2 cells. Biosci Biotechnol Biochem 70:1317–1324

24.

Gálvez J, Garrido M, Merlos M, Torres MI (2000) Zarzuelo A (2000) Intestinal anti-inflammatory activity of UR-12746, a novel 5-ASA conjugate, on acute and chronic experimental colitis in the rat. Br J Pharmacol 130:1949–1959

25.

Kolios G, Valatas V, Ward SG (2004) Nitric oxide in inflammatory bowel disease: a universal messenger in an unsolved puzzle. Immunology 113:427–437

26.

Costa B, Trovato AE, Comelli F, Giagnoni G, Colleoni M (2007) The non-psychoactive cannabis constituent cannabidiol is an orally effective therapeutic agent in rat chronic inflammatory and neuropathic pain. Eur J Pharmacol 556:75–83

27.

Rajesh M, Mukhopadhyay P, Bátkai S, Haskó G, Liaudet L, Drel VR, Obrosova IG, Pacher P (2007) Cannabidiol attenuates high glucose-induced endothelial cell inflammatory response and barrier disruption. Am J Physiol Heart Circ Physiol 293:H610–H619

28.

Wallace JL (2006) COX-2: a pivotal enzyme in mucosal protection and resolution of inflammation. ScientificWorldJournal 6:577–588

29.

Singer II, Kawka DW, Schloemann S, Tessner T, Riehl T, Stenson WF (1998) Cyclooxygenase 2 is induced in colonic epithelial cells in inflammatory bowel disease. Gastroenterology 115:297–306

30.

Dudhgaonkar SP, Tandan SK, Kumar D, Raviprakash V, Kataria M (2007) Influence of simultaneous inhibition of cyclooxygenase-2 and inducible nitric oxide synthase in experimental colitis in rats. Inflammopharmacology 15:188–195

31.

Reuter BK, Asfaha S, Buret A, Sharkey KA, Wallace JL (1996) Exacerbation of inflammation-associated colonic injury in rat through inhibition of cyclooxygenase-2. J Clin Invest 98:2076–2085

32.

Massi P, Valenti M, Vaccani A, Gasperi V, Perletti G, Marras E, Fezza F, Maccarrone M, Parolaro D (2008) 5-Lipoxygenase and anandamide hydrolase (FAAH) mediate the antitumor activity of cannabidiol, a non-psychoactive cannabinoid. J Neurochem 104:1091–1110

33.

Siegmund B (2002) Interleukin-1beta converting enzyme (caspase-1) in intestinal inflammation. Biochem Pharmacol 64:1–8

34.

Barbara G, Xing Z, Hogaboam CM, Gauldie J, Collins SM (2000) Interleukin 10 gene transfer prevents experimental colitis in rats. Gut 46:344–349

35.

Madsen K (2002) Combining T cells and IL-10: a new therapy for Crohn's disease? Gastroenterology 123:2140–2144

36.

Cominelli F, Nast CC, Duchini A, Lee M (1992) Recombinant interleukin-1 receptor antagonist blocks the proinflammatory activity of endogenous interleukin-1 in rabbit immune colitis. Gastroenterology 103:65–71

37.

Esposito G, Scuderi C, Savani C, Steardo L Jr, De Filippis D, Cottone P, Iuvone T, Cuomo V, Steardo L (2007) Cannabidiol in vivo blunts beta-amyloid induced neuroinflammation by suppressing IL-1beta and iNOS expression. Br J Pharmacol 151:1272–1279

38.

Kimball ES, Schneider CR, Wallace NH, Hornby PJ (2006) Agonists of cannabinoid receptor 1 and 2 inhibit experimental colitis induced by oil of mustard and by dextran sulfate sodium. Am J Physiol Gastrointest Liver Physiol 291:G364–G371

39.

Wright KL, Duncan M, Sharkey KA (2008) Cannabinoid CB2 receptors in the gastrointestinal tract: a regulatory system in states of inflammation. Br J Pharmacol 153:263–270

40.

Capasso R, Matias I, Lutz B, Borrelli F, Capasso F, Marsicano G, Mascolo N, Petrosino S, Monory K, Valenti M, Di Marzo V, Izzo AA (2005) Fatty acid amide hydrolase controls mouse intestinal motility in vivo. Gastroenterology 129:941–951

41.

Izzo AA, Aviello G, Petrosino S, Orlando P, Marsicano G, Lutz B, Borrelli F, Capasso R, Nigam S, Capasso F, Di Marzo V (2008) Increased endocannabinoid levels reduce the development of precancerous lesions in the mouse colon. J Mol Med 86:89–98

42.

De Filippis D, Iuvone T, D'amico A, Esposito G, Steardo L, Herman AG, Pelckmans PA, de Winter BY, de Man JG (2008) Effect of cannabidiol on sepsis-induced motility disturbances in mice: involvement of CB receptors and fatty acid amide hydrolase. Neurogastroenterol Motil 20:919–927

43.

Kruidenier L, Verspaget HW (2002) Review article: oxidative stress as a pathogenic factor in inflammatory bowel disease—radicals or ridiculous? Aliment Pharmacol Ther 16:1997–2015

44.

El-Remessy AB, Al-Shabrawey M, Khalifa Y, Tsai NT, Caldwell RB, Liou GI (2006) Neuroprotective and blood-retinal barrier-preserving effects of cannabidiol in experimental diabetes. Am J Pathol 168:235–244

45.

Esposito G, De Filippis D, Carnuccio R, Izzo AA, Iuvone T (2006) The marijuana component cannabidiol inhibits beta-amyloid-induced tau protein hyperphosphorylation through Wnt/beta-catenin pathway rescue in PC12 cells. J Mol Med 84:253–258

46.

Hampson AJ, Grimaldi M, Axelrod J, Wink D (1998) Cannabidiol and (−)Delta9-tetrahydrocannabinol are neuroprotective antioxidants. Proc Natl Acad Sci USA 95:8268–8273
Acknowledgments
We are grateful to GW Pharmaceuticals (Porton Down, Wiltshire, UK) for providing us cannabidiol.
Additional information
Francesca Borrelli, Gabriella Aviello, Barbara Romano, Pierangelo Orlando, Rafaelle Capasso, Federico Guadagno, Stefania Petrosino, Vincenzo Di Marzo, and Angelo A, Izzo are members of the Endocannabinoid Research Group.
About this article
Cite this article
Borrelli, F., Aviello, G., Romano, B. et al. Cannabidiol, a safe and non-psychotropic ingredient of the marijuana plant Cannabis sativa, is protective in a murine model of colitis. J Mol Med 87, 1111 (2009). https://doi.org/10.1007/s00109-009-0512-x
Received:

Revised:

Accepted:

Published:
Keywords
Cannabinoids

Colitis

Inflammatory bowel disease

Gastroenterology