Abstract
Alzheimer's disease (AD) is the most common age-related neurodegenerative disorder. A massive accumulation of β-amyloid (Aβ) peptide aggregates has been proposed as pivotal event in AD. Aβ-induced toxicity is accompanied by a variegated combination of events including oxidative stress. The Wnt pathway has multiple actions in the cascade of events triggered by Aβ, and drugs that rescue Wnt activity may be considered as novel therapeutics for AD treatment. Cannabidiol, a non-psychoactive marijuana component, has been recently proposed as an antioxidant neuroprotective agent in neurodegenerative diseases. Moreover, it has been shown to rescue PC12 cells from toxicity induced by Aβ peptide. However, the molecular mechanism of cannabidiol-induced neuroprotective effect is still unknown. Here, we report that cannabidiol inhibits hyperphosphorylation of tau protein in Aβ-stimulated PC12 neuronal cells, which is one of the most representative hallmarks in AD. The effect of cannabidiol is mediated through the Wnt/β-catenin pathway rescue in Aβ-stimulated PC12 cells. These results provide new molecular insight regarding the neuroprotective effect of cannabidiol and suggest its possible role in the pharmacological management of AD, especially in view of its low toxicity in humans.
This is a preview of subscription content, log in to check access.
Access options
Buy single article
Instant access to the full article PDF.
US$ 39.95
Price includes VAT for USA
Subscribe to journal
Immediate online access to all issues from 2019. Subscription will auto renew annually.
US$ 199
This is the net price. Taxes to be calculated in checkout.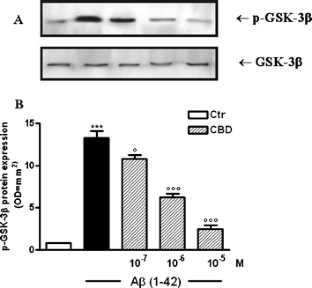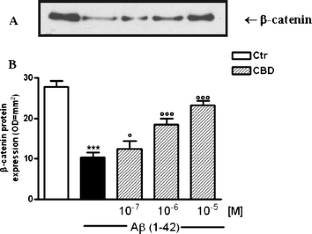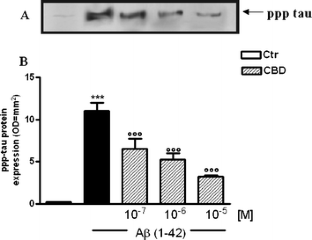 References
1.

Caricasole A, Copani A, Caruso A, Caraci F, Iacovelli L, Sortino MA, Terstappen GC, Nicoletti F (2003) The Wnt pathway, cell-cycle activation and beta-amyloid: novel therapeutic strategies in Alzheimer's disease? Trends Pharmacol Sci 24(5):233–238

2.

Kim HS, Skurk C, Thomas SR, Bialik A, Suhara T, Kureishi Y, Birnbaum M, Keaney JF Jr, Walsh K (2002) Regulation of angiogenesis by glycogen synthase kinase-3beta. J Biol Chem 277(44):41888–41896

3.

Embi N, Rylatt DB, Cohen P (1980) Glycogen synthase kinase-3 from rabbit skeletal muscle. Separation from cyclic-AMP-dependent protein kinase and phosphorylase kinase. Eur J Biochem 107(2):519–527

4.

De Ferrari GV, Inestrosa NC (2000) Wnt signaling function in Alzheimer's disease. Brain Res Brain Res Rev 33(1):1–12

5.

Doble BW, Woodgett JR (2003) GSK-3: tricks of the trade for a multi-tasking kinase. J Cell Sci 116:1175–1186

6.

Garrido JL, Godoy JA, Alvarez A, Bronfman M, Inestrosa NC (2002) Protein kinase C inhibits amyloid beta peptide neurotoxicity by acting on members of the Wnt pathway. FASEB J 16(14):1982–1984

7.

Sperber BR, Leight S, Goedert M, Lee VM (1995) Glycogen synthase kinase-3 beta phosphorylates tau protein at multiple sites in intact cells. Neurosci Lett 197(2):149–153

8.

Mechoulam R, Parker LA, Gallily R (2002) Cannabidiol: an overview of some pharmacological aspects. J Clin Pharmacol 42:11–19

9.

Consroe P, Kennedy K, Schram K (1991) Assay of plasma cannabidiol by capillary gas chromatography/ion trap mass spectroscopy following high-dose repeated daily oral administration in humans. Pharmacol Biochem Behav 40(3):517–522

10.

Hampson AJ, Grimaldi M, Axelrod J, Wink D (1998) Cannabidiol and (-) Δ9-tetrahydrocannabinol are neuroprotective antioxidants. Proc Natl Acad Sci U S A 95:8268–8273

11.

Iuvone T, Esposito G, Esposito R, Santamaria R, Di Rosa M, Izzo AA (2004) Neuroprotective effect of cannabidiol, a non-psychoactive component from Cannabis sativa, on beta-amyloid-induced toxicity in PC12 cells. J Neurochem 89(1):134–141

12.

Koh SH, Kwon H, Park KH, Ko JK, Kim JH, Hwang MS, Yum YN, Kim OH, Kim J, Kim HT, Do BR, Kim KS, Kim H, Roh H, Yu HJ, Jung HK, Kim SH (2005) Protective effect of diallyl disulfide on oxidative stress-injured neuronally differentiated PC12 cells. Brain Res Mol Brain Res 133(2):176–186

13.

Farias GG, Godoy JA, Vazquez MC, Adani R, Meshulam H, Avila J, Amitai G, Inestrosa NC (2005) The anti-inflammatory and cholinesterase inhibitor bifunctional compound IBU-PO protects from beta-amyloid neurotoxicity by acting on Wnt signaling components. Neurobiol Dis 18(1):176–183

14.

Farias GG, Godoy JA, Hernandez F, Avila J, Fisher A, Inestrosa NC (2004) M1 muscarinic receptor activation protects neurons from beta-amyloid toxicity. A role for Wnt signaling pathway. Neurobiol Dis 17(2):337–348

15.

Hedgepeth CM, Conrad LJ, Zhang J, Huang HC, Lee VM, Klein PS (1997) Activation of the Wnt signaling pathway: a molecular mechanism for lithium action. Dev Biol 185(1):82–91

16.

Lee VM, Balin BJ, Otvos L Jr, Trojanowski JQ (1991) A68: a major subunit of paired helical filaments and derivatized forms of normal Tau. Science 251:675–678

17.

Behl C, Davis JB, Lesley R, Schubert D (1994) Hydrogen peroxide mediates amyloid beta protein toxicity. Cell 77(6):817–827

18.

Lovell MA, Xiong S, Xie C, Davies P, Markesbery WR (2004) Induction of hyperphosphorylated tau in primary rat cortical neuron cultures mediated by oxidative stress and glycogen synthase kinase-3. J Alzheimer's Dis 6(6):659–671

19.

Maccioni RB, Munoz JP, Barbeito L (2001) The molecular bases of Alzheimer's disease and other neurodegenerative disorders. Arch Med Res 32(5):367–381

20.

Satoh J, Kuroda Y (2000) Amyloid precursor protein beta-secretase (BACE) mRNA expression in human neural cell lines following induction of neuronal differentiation and exposure to cytokines and growth factors. Neuropathology 20(4):289–296

21.

Phiel CJ, Wilson CA, Lee VM, Klein PS (2003) GSK-3alpha regulates production of Alzheimer's disease amyloid-beta peptides. Nature 423:392–393

22.

Chen G, Bower KA, Ma C, Fang S, Thiele CJ, Luo J (2004) Glycogen synthase kinase 3β (GSK3β) mediates 6-hydroxydopamine-induced neuronal death. FASEB J 18(10):1162–1164

23.

Quintanilla RA, Muñoz FJ, Metcalfe MJ, Hitschfeld M, Olivares G, Godoy JA, Inestrosa NC (2005) Trolox and 17β-estradiol protect against amyloid β-peptide neurotoxicity by a mechanism that involves modulation of the Wnt signalling pathway. J Biol Chem 280:11615–11625

24.

Glinka A, Wu W, Delius H, Monaghan AP, Blumenstock C, Niehrs C (1998) Dickkopf-1 is a member of a new family of secreted proteins and functions in head induction. Nature 391:357–362
Acknowledgement
This work was supported by COFIN 2004.
About this article
Cite this article
Esposito, G., De Filippis, D., Carnuccio, R. et al. The marijuana component cannabidiol inhibits β-amyloid-induced tau protein hyperphosphorylation through Wnt/β-catenin pathway rescue in PC12 cells. J Mol Med 84, 253–258 (2006). https://doi.org/10.1007/s00109-005-0025-1
Received:

Accepted:

Published:

Issue Date:
Keywords
Alzheimer's disease

β-amyloid (Aβ) peptide

Cannabidiol

Tau protein

GSK-3β

PC12 cells