Zusammenfassung
Langjähriger Alkoholkonsum und Genmutationen sind die wichtigsten Ursachen einer chronischen Pankreatitis. Neben Mutationen in azinären Genen wie Verdauungsenzymen und deren Inhibitoren sind in den letzten Jahren auch genetische Defekte beschrieben worden, die vornehmlich oder ausschließlich die Gangzellen betreffen. Genveränderungen finden sich nicht nur bei Patienten mit positiver Familienanamnese (hereditäre Pankreatitis), sondern auch bei sogenannter idiopathischer und – in geringerem Maße – bei alkoholischer chronischer Pankreatitis. In den nächsten Jahren wird sich wahrscheinlich zeigen, dass sehr komplexe Interaktionen zwischen Umwelteinflüssen und zahlreichen genetischen Faktoren bestehen.
Abstract
Long-term alcohol consumption and gene mutations are the most important causes of chronic pancreatitis. In addition to mutations in acinar genes, such as digestive enzymes and their inhibitors, defects in genes that primarily or exclusively affect the duct cells have also been described in recent years. Genetic changes are found not only in patients with a positive family history (hereditary pancreatitis) but also in so-called idiopathic and, to a lesser extent, in alcoholic chronic pancreatitis. The coming years will likely show that there are very complex interactions between environmental influences and numerous genetic factors.
Access options
Buy single article
Instant access to the full article PDF.
USD 39.95
Price includes VAT (USA)
Tax calculation will be finalised during checkout.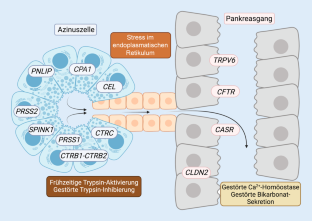 Literatur
1.

Andriulli A, Botteri E, Almasio PL et al (2010) Smoking as a cofactor for causation of chronic pancreatitis: a meta-analysis. Pancreas 39:1205–1210

2.

Ammann RW (1997) A clinically based classification system for alcoholic chronic pancreatitis: summary of an international workshop on chronic pancreatitis. Pancreas 14:215–221

3.

Bruce JI, Yang X, Ferguson CJ et al (1999) Molecular and functional identification of a Ca2+ (polyvalent cation)-sensing receptor in rat pancreas. J Biol Chem 274:20561–20568

4.

Chiari H (1896) Über Selbstverdauung des menschlichen Pankreas. Z Heilkd 17:69–96

5.

Comfort MW, Steinberg AG (1952) Pedigree of a family with hereditary chronic relapsing pancreatitis. Gastroenterology 21:54–63

6.

Durbec JP, Sarles H (1978) Multicenter survey of the etiology of pancreatic diseases. Relationship between the relative risk of developing chronic pancreatitis and alcohol, protein and lipid consumption. Digestion 18:337–350

7.

Durno C, Corey M, Zielenski J, Tullis E, Tsui LC, Durie P (2002) Genotype and phenotype correlations in patients with cystic fibrosis and pancreatitis. Gastroenterology 123:1857–1864

8.

Felderbauer P, Hoffmann P, Einwächter H et al (2003) A novel mutation of the calcium sensing receptor gene is associated with chronic pancreatitis in a family with heterozygous SPINK1 mutations. BMC Gastroenterol 3:34

9.

Fjeld K, Weiss FU, Lasher D et al (2015) A recombined allele of the lipase gene CEL and its pseudogene CELP confers susceptibility to chronic pancreatitis. Nat Genet 47:518–522

10.

Gui F, Zhang Y, Wan J et al (2020) Trypsin activity governs increased susceptibility to pancreatitis in mice expressing human PRSS1 R122H. J Clin Invest 130:189–202

11.

Hegyi E, Sahin-Tóth M (2019) Human CPA1 mutation causes digestive enzyme misfolding and chronic pancreatitis in mice. Gut 68:301–312

12.

Lasher D, Szabó A, Masamune A et al (2019) Protease-sensitive pancreatic lipase variants are associated with early onset chronic pancreatitis. Am J Gastroenterol 114:974–983

13.

Lévy P, Mathurin P, Roqueplo A et al (1995) A multidimensional case-control study of dietary, alcohol, and tobacco habits in alcoholic men with chronic pancreatitis. Pancreas 10:231–238

14.

Kereszturi É, Sahin-Tóth M (2017) Pancreatic cancer cell lines heterozygous for the SPINK1 p.N34S haplotype exhibit diminished expression of the variant allele. Pancreas 46:e54–e55

15.

Maisonneuve P, Lowenfels AB, Müllhaupt B et al (2005) Cigarette smoking accelerates progression of alcoholic chronic pancreatitis. Gut 54:510–514

16.

Masamune A, Kotani H, Sörgel FL et al (2020) Variants that affect function of calcium channel TRPV6 are associated with early-onset chronic pancreatitis. Gastroenterology 158:1626–1641

17.

Rosendahl J, Witt H, Szmola R et al (2008) Chymotrypsin C (CTRC) variants that diminish activity or secretion are associated with chronic pancreatitis. Nat Genet 40:78–82

18.

Rosendahl J, Landt O, Bernadova J et al (2013) CFTR, SPINK1, CTRC and PRSS1 variants in chronic pancreatitis: is the role of mutated CFTR overestimated? Gut 62:582–592

19.

Rosendahl J, Kirsten H, Hegyi E et al (2018) Genome-wide association study identifies inversion in the CTRB1-CTRB2 locus to modify risk for alcoholic and non-alcoholic chronic pancreatitis. Gut 67:1855–1863

20.

Sahin-Tóth M, Tóth M (2000) Gain-of-function mutations associated with hereditary pancreatitis enhance autoactivation of human cationic trypsinogen. Biochem Biophys Res Commun 278:286–289

21.

Sakata K, Araki K, Nakano H et al (2016) Novel method to rescue a lethal phenotype through integration of target gene onto the X‑chromosome. Sci Rep 6:37200

22.

Seltsam K, Pentner C, Weigl F et al (2020) Sequencing of the complex CTRB1-CTRB2 locus in chronic pancreatitis. Pancreatology 20:1598–1603

23.

Szmola R, Sahin-Tóth M (2007) Chymotrypsin C (caldecrin) promotes degradation of human cationic trypsin: identity with Rinderknecht's enzyme Y. Proc Natl Acad Sci U S A 104:11227–11232

24.

Talamini G, Bassi C, Falconi M et al (1999) Alcohol and smoking as risk factors in chronic pancreatitis and pancreatic cancer. Dig Dis Sci 44:1303–1311

25.

Whitcomb DC, Gorry MC, Preston RA et al (1996) Hereditary pancreatitis is caused by a mutation in the cationic trypsinogen gene. Nat Genet 14:141–145

26.

Whitcomb DC, LaRusch J, Krasinskas AM et al (2012) Common genetic variants in the CLDN2 and PRSS1-PRSS2 loci alter risk for alcohol-related and sporadic pancreatitis. Nat Genet 44:1349–1354

27.

Witt H, Luck W, Hennies HC et al (2000) Mutations in the gene encoding the serine protease inhibitor, Kazal type 1 are associated with chronic pancreatitis. Nat Genet 25:213–216

28.

Witt H, Luck W, Becker M et al (2001) Mutation in the SPINK1 trypsin inhibitor gene, alcohol use, and chronic pancreatitis. JAMA 285:2716–2717

29.

Witt H, Sahin-Tóth M, Landt O et al (2006) A degradation-sensitive anionic trypsinogen (PRSS2) variant protects against chronic pancreatitis. Nat Genet 38:668–673

30.

Witt H, Beer S, Rosendahl J et al (2013) Variants in CPA1 are strongly associated with early onset chronic pancreatitis. Nat Genet 45:1216–1220
Ethics declarations
Interessenkonflikt
J. Rosendahl und H. Witt geben an, dass kein Interessenkonflikt besteht.
Für diesen Beitrag wurden von den Autoren keine Studien an Menschen oder Tieren durchgeführt. Für die aufgeführten Studien gelten die jeweils dort angegebenen ethischen Richtlinien.
Additional information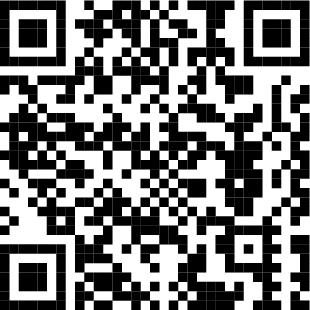 QR-Code scannen & Beitrag online lesen
Redaktion
Markus M. Lerch, München
Joachim Mössner, Leipzig
About this article
Cite this article
Rosendahl, J., Witt, H. Pathogenese der chronischen Pankreatitis. Internist 62, 1007–1014 (2021). https://doi.org/10.1007/s00108-021-01150-6
Accepted:

Published:

Issue Date:
Schlüsselwörter
Idiopathische Pankreatitis

Alkoholabusus

Genmutationen

Trypsininhibitoren

Kalziumstoffwechsel
Keywords
Pancreatitis, idiopathic

Alcoholism

Gene mutations

Trypsin inhibitors

Calcium metabolism