Zusammenfassung
Aldosteron wird in der Nebennierenrinde produziert und reguliert den Volumen- und Elektrolythaushalt. Ein Hyperaldosteronismus kann entweder primär (reninunabhängig) oder sekundär (reninabhängig) auftreten. Der primäre Hyperaldosteronismus als häufigste Ursache der sekundären Hypertonie ist mit einem erhöhten kardiovaskulären Risiko assoziiert. Seine wichtigsten Subtypen sind das aldosteronproduzierende Adenom als häufigste unilaterale Form und der bilaterale Hyperaldosteronismus, selten treten eine unilaterale Hyperplasie, familiäre Formen und das Nebennierenkarzinom auf. Diagnostisch wird als Screeningparameter der Aldosteron/Renin-Quotient bestimmt. Ist dieser erhöht, folgen ein Bestätigungstest und eine Schnittbildgebung. Goldstandard zur Unterscheidung unilateraler von bilateralen Formen ist die seitengetrennte Nebennierenvenenkatheterisierung. Unilaterale Formen können mittels Adrenalektomie grundsätzlich kurativ therapiert werden, während bei Kontraindikation zur Operation und bei bilateralen Formen die Therapie mit Mineralokortikoidrezeptorantagonisten im Vordergrund steht. Studien der letzten zehn Jahre konnten somatische Mutationen, meist in Ionenkanälen oder -transportern, als Ursache von aldosteronproduzierenden Adenomen und sog. aldosteronproduzierenden Zellclustern nachweisen (aldosteronproduzierende Zellcluster sind womöglich Vorstufen von Adenomen und Korrelate der bilateralen Hyperplasie, aber auch eines subklinischen Hyperaldosteronismus). Ein familiärer Hyperaldosteronismus wird durch Keimbahnmutationen in überlappenden Genen ausgelöst. Ein sekundärer Hyperaldosteronismus kann im Rahmen einer Hypertonie als Folge einer Diuretikatherapie oder einer Nierenarterienstenose auftreten.
Abstract
Aldosterone is produced in the adrenal cortex and governs volume and electrolyte homeostasis. Hyperaldosteronism can occur either as primary aldosteronism (renin-independent) or secondary aldosteronism (renin-dependent). As the commonest cause of secondary hypertension, primary aldosteronism is associated with increased cardiovascular risk. Its most prevalent subtypes are aldosterone-producing adenomas as the most frequent unilateral form and bilateral hyperaldosteronism. Unilateral hyperplasia, familial hyperaldosteronism and aldosterone-producing carcinoma are rare. The aldosterone/renin ratio serves as a screening parameter for primary aldosteronism. If this ratio is elevated, confirmatory testing and adrenal imaging are performed. Adrenal venous sampling is considered the gold standard for the distinction of unilateral from bilateral disease. Unilateral disease can potentially be cured by adrenalectomy, whereas patients that are not candidates for surgery or have bilateral disease are treated with mineralocorticoid receptor antagonists. Over the past 10 years, somatic mutations in ion channels or transporters have been identified as causes of aldosterone-producing adenomas and so-called aldosterone-producing cell clusters (potential precursors of adenomas and correlates of bilateral hyperplasia, but also of subclinical hyperaldosteronism). In addition, germline mutations in overlapping genes cause familial hyperaldosteronism. Secondary hyperaldosteronism can occur in patients with hypertension treated with diuretics or in renal artery stenosis.
Access options
Buy single article
Instant access to the full article PDF.
US$ 39.95
Tax calculation will be finalised during checkout.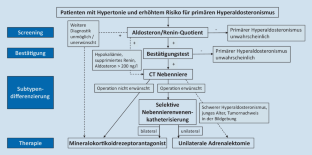 Literatur
1.

Ahmed AH, Gordon RD, Ward G et al (2017) Effect of moxonidine on the aldosterone/Renin ratio in healthy male volunteers. J Clin Endocrinol Metab 102:2039–2043

2.

Beuschlein F, Boulkroun S, Osswald A et al (2013) Somatic mutations in ATP1A1 and ATP2B3 lead to aldosterone-producing adenomas and secondary hypertension. Nat Genet 45:440–444

3.

Born-Frontsberg E, Reincke M, Rump LC et al (2009) Cardiovascular and cerebrovascular comorbidities of hypokalemic and normokalemic primary aldosteronism: results of the German Conn's Registry. J Clin Endocrinol Metab 94:1125–1130

4.

Brown JM, Robinson-Cohen C, Luque-Fernandez MA et al (2017) The spectrum of subclinical primary aldosteronism and incident hypertension: a cohort study. Ann Intern Med 167:630–641

5.

Choi M, Scholl UI, Yue P et al (2011) K+ channel mutations in adrenal aldosterone-producing adenomas and hereditary hypertension. Science 331:768–772

6.

Conn JW (1955) Presidential address. I. Painting background. II. Primary aldosteronism, a new clinical syndrome. J Lab Clin Med 45:3–17

7.

Dekkers T, Prejbisz A, Kool LJS et al (2016) Adrenal vein sampling versus CT scan to determine treatment in primary aldosteronism: an outcome-based randomised diagnostic trial. Lancet Diabetes Endocrinol 4:739–746

8.

Dutta RK, Arnesen T, Heie A et al (2019) A somatic mutation in CLCN2 identified in a sporadic aldosterone-producing adenoma. Eur J Endocrinol 181:K37–K41

9.

Eisenhofer G, Duran C, Cannistraci CV et al (2020) Use of steroid profiling combined with machine learning for identification and subtype classification in primary Aldosteronism. JAMA Netw Open 3:e2016209

10.

Funder JW, Carey RM, Mantero F et al (2016) The management of primary aldosteronism: case detection, diagnosis, and treatment: an endocrine society clinical practice guideline. J Clin Endocrinol Metab 101:1889–1916

11.

Hundemer GL, Curhan GC, Yozamp N et al (2018) Cardiometabolic outcomes and mortality in medically treated primary aldosteronism: a retrospective cohort study. Lancet Diabetes Endocrinol 6:51–59

12.

Laurent I, Astere M, Zheng F et al (2019) Adrenal venous sampling with or without adrenocorticotropic hormone stimulation: a meta-analysis. J Clin Endocrinol Metab 104:1060–1068

13.

Lifton RP, Dluhy RG, Powers M et al (1992) A chimaeric 11 beta-hydroxylase/aldosterone synthase gene causes glucocorticoid-remediable aldosteronism and human hypertension. Nature 355:262–265

14.

Markou A, Pappa T, Kaltsas G et al (2013) Evidence of primary aldosteronism in a predominantly female cohort of normotensive individuals: a very high odds ratio for progression into arterial hypertension. J Clin Endocrinol Metab 98:1409–1416

15.

Milliez P, Girerd X, Plouin PF et al (2005) Evidence for an increased rate of cardiovascular events in patients with primary aldosteronism. J Am Coll Cardiol 45:1243–1248

16.

Monticone S, Burrello J, Tizzani D et al (2017) Prevalence and clinical manifestations of primary Aldosteronism encountered in primary care practice. J Am Coll Cardiol 69:1811–1820

17.

Monticone S, D'ascenzo F, Moretti C et al (2018) Cardiovascular events and target organ damage in primary aldosteronism compared with essential hypertension: a systematic review and meta-analysis. Lancet Diabetes Endocrinol 6:41–50

18.

Mouat IC, Omata K, Mcdaniel AS et al (2019) Somatic mutations in adrenocortical carcinoma with primary aldosteronism or hyperreninemic hyperaldosteronism. Endocr Relat Cancer 26:217–225

19.

Nanba K, Blinder AR, Rege J et al (2020) Somatic CACNA1H mutation as a cause of Aldosterone-producing adenoma. Hypertension 75:645–649

20.

Nanba K, Omata K, Else T et al (2018) Targeted molecular characterization of aldosterone-producing adenomas in white Americans. J Clin Endocrinol Metab 103:3869–3876

21.

Nanba K, Omata K, Gomez-Sanchez CE et al (2019) Genetic characteristics of aldosterone-producing adenomas in blacks. Hypertension 73:885–892

22.

Nishimoto K, Nakagawa K, Li D et al (2010) Adrenocortical zonation in humans under normal and pathological conditions. J Clin Endocrinol Metab 95:2296–2305

23.

Nishimoto K, Tomlins SA, Kuick R et al (2015) Aldosterone-stimulating somatic gene mutations are common in normal adrenal glands. Proc Natl Acad Sci U S A 112:E4591–E4599

24.

Omata K, Satoh F, Morimoto R et al (2018) Cellular and genetic causes of idiopathic hyperaldosteronism. Hypertension 72:874–880

25.

Pimenta E, Gordon RD, Stowasser M (2013) Salt, aldosterone and hypertension. J Hum Hypertens 27:1–6

26.

Rossi GP, Bernini G, Caliumi C et al (2006) A prospective study of the prevalence of primary aldosteronism in 1,125 hypertensive patients. J Am Coll Cardiol 48:2293–2300

27.

Rossi GP, Rossitto G, Amar L et al (2019) Clinical outcomes of 1625 patients with primary aldosteronism subtyped with adrenal vein sampling. Hypertension 74:800–808

28.

Scholl UI, Goh G, Stolting G et al (2013) Somatic and germline CACNA1D calcium channel mutations in aldosterone-producing adenomas and primary aldosteronism. Nat Genet 45:1050–1054

29.

Scholl UI, Stolting G, Nelson-Williams C et al (2015) Recurrent gain of function mutation in calcium channel CACNA1H causes early-onset hypertension with primary aldosteronism. Elife. https://doi.org/10.7554/eLife.06315

30.

Scholl UI, Stolting G, Schewe J et al (2018) CLCN2 chloride channel mutations in familial hyperaldosteronism type II. Nat Genet 50:349–354

31.

Stowasser M, Ahmed AH, Cowley D et al (2018) Comparison of seated with recumbent saline suppression testing for the diagnosis of primary aldosteronism. J Clin Endocrinol Metab 103:4113–4124

32.

Trnka P, Orellana L, Walsh M et al (2014) Reninoma: an uncommon cause of Renin-mediated hypertension. Front Pediatr 2:89

33.

Williams B, Macdonald TM, Morant S et al (2015) Spironolactone versus placebo, bisoprolol, and doxazosin to determine the optimal treatment for drug-resistant hypertension (PATHWAY-2): a randomised, double-blind, crossover trial. Lancet 386:2059–2068

34.

Williams TA, Lenders JWM, Mulatero P et al (2017) Outcomes after adrenalectomy for unilateral primary aldosteronism: an international consensus on outcome measures and analysis of remission rates in an international cohort. Lancet Diabetes Endocrinol 5:689–699

35.

Yamazaki Y, Nakamura Y, Omata K et al (2017) Histopathological classification of cross-sectional image-negative hyperaldosteronism. J Clin Endocrinol Metab 102:1182–1192

36.

Young WF Jr. (2019) Diagnosis and treatment of primary aldosteronism: practical clinical perspectives. J Intern Med 285:126–148

37.

Zheng FF, Zhu LM, Nie AF et al (2015) Clinical characteristics of somatic mutations in Chinese patients with aldosterone-producing adenoma. Hypertension 65:622–628
Förderung
Gefördert durch die Stiftung Charité und die Deutsche Forschungsgemeinschaft (SFB 1365, SFB 1453).
Ethics declarations
Interessenkonflikt
U.I. Scholl gibt an, dass kein Interessenkonflikt besteht.
Für diesen Beitrag wurden von der Autorin keine Studien an Menschen oder Tieren durchgeführt. Für die aufgeführten Studien gelten die jeweils dort angegebenen ethischen Richtlinien.
Additional information
Redaktion
H. Haller, Hannover
About this article
Cite this article
Scholl, U.I. Hyperaldosteronismus. Internist 62, 245–251 (2021). https://doi.org/10.1007/s00108-021-00972-8
Accepted:

Published:

Issue Date:
Schlüsselwörter
Aldosteron

Renin

Nebennierenadenom

Mineralokortikoidrezeptorantagonisten

Mutation
Keywords
Aldosterone

Renin

Adrenocortical adenoma

Mineralocorticoid receptor antagonists

Mutation