Zusammenfassung
Tuberkulose (TB) ist eine der häufigsten Infektionskrankheit weltweit. Hier berichten wir über einen 20-jährigen Flüchtling aus Somalia, der sich zunächst mit rechtsseitigem Oberbauchschmerz, Erbrechen, Gewichtsverlust und Ikterus bei Verdacht auf eine Cholezystitis in unserer Klinik vorstellte. Im Rahmen der weiteren Diagnostik stellte sich eine Pylorusstenose dar, die – wie auch die Cholestase – durch komprimierende peripankreatische Lymphknotenpakete verursacht wurde. In einer zytologischen Untersuchung der Lymphknoten wurden eine verkäsende Nekrose und Tuberkulosebakterien nachgewiesen.
Abstract
Tuberculosis (TB) is one of the most common infectious diseases worldwide. The case of a 20-year old male refugee from Somalia, who initially presented with right-sided upper abdominal pain, vomiting, weight loss and jaundice with suspected cholecystitis is reported. In the course of further diagnostics, pyloric stenosis surprisingly appeared, which, like the cholestasis, was caused by compressing peripancreatic lymph nodes. Lymph node cytology finally showed evidence of caseating necrosis with evidence of TB pathogens.
This is a preview of subscription content, log in to check access.
Access options
Buy single article
Instant access to the full article PDF.
US$ 39.95
Price includes VAT for USA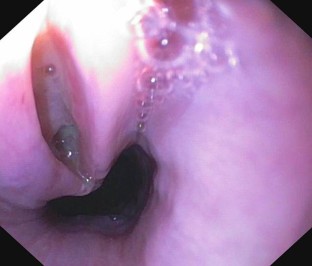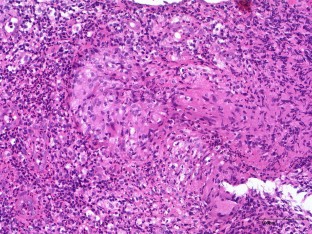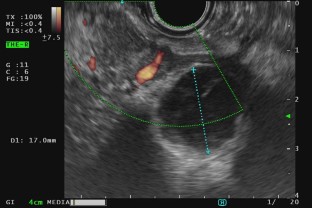 Literatur
1.

WHO (2020) Webpräsenz. www.who.int. Zugegriffen: 2. Jan. 2020

2.

Schaberg T, Bauer T, Brinkman F et al (2017) S2k Leitlinie: Tuberkulose im Erwachsenenalter. Pneumologie 71:325–397

3.

Robert Koch-Institut (2018) RKI Bericht zur Epidemiologie der Tuberkulose in Deutschland für 2018. https://www.rki.de/DE/Content/InfAZ/T/Tuberkulose/Download/TB2017.pdf?__blob=publicationFile. Zugegriffen: 2. Jan. 2020

4.

Awasthi S, Saxena M, Ahmad F et al (2015) Abdominal tuberculosis: a diagnostic dilemma. J Clin Diagn Res 9(5):EC1–EC3. https://doi.org/10.7860/JCDR/2015/13350.5887

5.

Welsh KJ, Risin SA, Actor JK, Hunter RL (2011) Immunopathology of postprimary tuberculosis: increased T‑regulatory cells and DEC-205-positive foamy macrophages in cavitary lesions. Clin Dev Immunol. https://doi.org/10.1155/2011/307631

6.

Hunter RL (2018) The pathogenesis of tuberculosis: the early infiltrate of post-primary (adult pulmonary) tuberculosis: a distinct disease entity. Front Immunol 9:2108. https://doi.org/10.3389/fimmu.2018.02108

7.

Loddenkemper R, Lipman M, Zumla A (2015) Clinical aspects of adult tuberculosis. Cold Spring Harb Perspect Med 6(1):a17848. https://doi.org/10.1101/cshperspect.a017848

8.

Gandhare A, Mahashur A (2017) Tuberculosis of the lymph nodes: many facets, many hues. Astrocyte 4:80–86
Ethics declarations
Interessenkonflikt
K. Kaire, A. Starke, K. Junker, M. Henschel, M. Dahlmann und R.R. Plentz geben an, dass kein Interessenkonflikt besteht.
Für diesen Beitrag wurden von den Autoren keine Studien an Menschen oder Tieren durchgeführt. Für die aufgeführten Studien gelten die jeweils dort angegebenen ethischen Richtlinien. Für Bildmaterial oder anderweitige Angaben innerhalb des Manuskripts, über die Patienten zu identifizieren sind, liegt von ihnen und/oder ihren gesetzlichen Vertretern eine schriftliche Einwilligung vor.
Additional information
Redaktion
H. Haller, Hannover (Schriftleitung)
B. Salzberger, Regensburg
C.C. Sieber, Nürnberg
About this article
Cite this article
Kaire, K., Starke, A., Junker, K. et al. Rechtsseitiger Oberbauchschmerz, Erbrechen, Gewichtsverlust und Ikterus bei einem 20-jährigen Flüchtling. Internist (2020). https://doi.org/10.1007/s00108-020-00889-8
Schlüsselwörter
Lymphknotentuberkulose

Mycobacterium tuberculosis

Cholestase

Pylorusstenose

Lymphadenopathie
Keywords
Tuberculosis, lymph node

Mycobacterium tuberculosis

Cholestasis

Pyloric stenosis

Lymphadenopathy