Zusammenfassung
Durch eine fortwährende Weiterentwicklung der modernen Krebstherapie können jedes Jahr mehr Patienten mit Tumorerkrankung geheilt werden. Da es bei vielen Patienten jedoch kardiovaskuläre Probleme vor, während und nach ihrer Tumorbehandlung gibt, wird die Kardioonkologie immer wichtiger. Es gibt viele Therapien, die eine Kardiotoxizität verursachen können, so etwa Chemo‑, Immun‑, Antikörper- und Strahlentherapien. Bleiben diese unerkannt, kann der Patient unter anderem eine Herzinsuffizienz oder eine schwerwiegende Schädigung der Herzklappen entwickeln. Für Kardiologen und Onkologen ist das breite Spektrum der kardiovaskulären Komorbiditäten eine immense Herausforderung geworden. Die Kardioonkologie befasst sich daneben auch mit den Effekten der Tumorerkrankung selbst auf das kardiovaskuläre System. Neue Forschungsergebnisse weisen darauf hin, dass es auch direkte negative Einflüsse des Tumors auf das Herz gibt, die durch Botenstoffe vermittelt werden. Es ist daher wichtig zu verstehen, welche Patienten mit Tumorerkrankung ein erhöhtes kardiovaskuläres Risiko haben. So können langfristig neue Therapieansätze entwickelt werden, um Mobilität zu erhalten und die Prognose der Patienten zu verbessern.
Abstract
As a result of the continuous development of modern cancer treatment, more cancer patients can be cured every year. However, since many patients experience cardiovascular problems before, during and after their cancer treatment, cardio-oncology is becoming increasingly important. Numerous therapies can cause cardiotoxicity, such as chemotherapy, immunotherapy, antibody therapy and radiotherapy. If these remain undetected, the patient may develop, e.g. heart failure or severe heart valve damage. The broad spectrum of cardiovascular comorbidities has become an immense challenge for cardiologists and oncologists. Cardio-oncology also deals with the effects that cancer has on the cardiovascular system. New research indicates that the tumor itself also has direct negative effects on the heart, mediated by messenger substances. Therefore, it is important to understand which cancer patients are at increased cardiovascular risk, thereby enabling the development of new therapeutic approaches in the long term to maintain mobility and improve patient prognosis.
This is a preview of subscription content, log in to check access.
Access options
Buy single article
Instant access to the full article PDF.
US$ 39.95
Price includes VAT for USA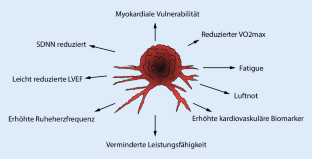 Literatur
1.

Ferlay J, Soerjomataram I, Dikshit R, Eser S, Mathers C, Rebelo M, Parkin DM, Forman D, Bray F (2015) Cancer incidence and mortality worldwide: sources, methods and major patterns in GLOBOCAN 2012. Int J Cancer 136:E359–E386

2.

Howlader N, Noone AM, Krapcho M, Miller D, Bishop K, Kosary CL, Yu M, Ruhl J, Tatalovich Z, Mariotto A, Lewis DR, Chen HS, Feuer EJ, Cronin KA SEER Cancer Statistics Review (CSR), 1975–2014. Bethesda, MD: National Cancer Institute, based on November 2016 SEER data submission, posted to the SEER web site, April 2017. https://seer.cancer.gov/csr/1975_2014. Zugegriffen: 4. Juni 2018

3.

Luengo-Fernandez R, Leal J, Gray A, Sullivan R (2013) Economic burden of cancer across the European Union a population-based cost analysis. Lancet Oncol 14:1165–1174

4.

Lagergren P, Schandl A, Aaronson NK, Adami HO, de Lorenzo F, Denis L, Faithfull S, Liu L, Meunier F, Ulrich C (2019) European Academy of Cancer Sciences. Cancer survivorship: an integral part of Europe's research agenda. Mol Oncol 13:624–635

5.

Na SY, Sung JY, Chang JH, Kim S, Lee HH, Park YH, Chung W, Oh KH, Jung JY (2011) Chronic kidney disease in cancer patients: an independent predictor of cancer-specific mortality. Am J Nephrol 33:121–130

6.

Lena A, Coats AJS, Anker MS (2018) Metabolic disorders in heart failure and cancer. Esc Heart Fail 5:1092–1098

7.

Chang HM, Moudgil R, Scarabelli T, Okwuosa TM, Yeh ETH (2017) Cardiovascular complicarions of cancer therapy: best practices in diagnosis, prevention, and management: part 1. J Am Coll Cardiol 70:2536–2551

8.

Markus S. Anker, Sara Hadzibegovic, Alessia Lena, Yury Belenkov, Jutta Bergler-Klein, Rudolf A. de Boer, Dimitrios Farmakis, Stephan von Haehling, Zaza Iakobishvili, Christoph Maack, Radek Pudil, Hadi Skouri, Alain Cohen-Solal, Carlo G. Tocchetti, Andrew J.S. Coats, Petar M. Seferović, Alexander R. Lyon, for the Heart Failure Association Cardio-Oncology Study Group of the European Society of Cardiology Recent advances in cardio-oncology: a report from the 'Heart Failure Association 2019 and World Congress on Acute Heart Failure 2019'. ESC Heart Fail. 2019;6:1140–1148.

9.

Grønberg BH, Valan CD, Halvorsen T, Sjøblom B, Jordhøy MS (2019) Associations between severe co-morbidity and muscle measures in advanced non-small cell lung cancer patients. J Cachexia Sarcopenia Muscle 10:1347–1355

10.

Maor Y, Malnick S (2013) Liver injury induced by anticancer chemotherapy and radiation therapy. Int J Hepatol 2013:815105

11.

Boussios S, Pentheroudakis G, Katsanos K, Pavlidis N (2012) Systemic treatment-induced gastrointestinal toxicity: incidence, clinical presentation and management. Ann Gastroenterol 25:106–118

12.

Xiao J, Caan BJ, Weltzien E, Cespedes Feliciano EM, Kroenke CH, Meyerhardt JA, Baracos VE, Kwan ML, Castillo AL, Prado CM (2018) Associations of pre-existing co-morbidities with skeletal muscle mass and radiodensity in patients with non-metastatic colorectal cancer. J Cachexia Sarcopenia Muscle 9(4):654–663. https://doi.org/10.1002/jcsm.12301

13.

Musolino V, Palus S, Latouche C, Gliozzi M, Bosco F, Scarano F, Nucera S, Carresi C, Scicchitano M, von Haehling S, Jaisser F, Hasenfuss G, Anker SD, Mollace V, Springer J (2019) Cardiac expression of neutrophil gelatinase-associated lipocalin in a model of cancer cachexia-induced cardiomyopathy. ESC Heart Fail 6:89–97

14.

Anker MS, Hülsmann M, Cleland JG (2020) What do patients with heart failure die from? A single assassin or a conspiracy? Eur J Heart Fail 22:26–28

15.

Zaorsky NG, Churilla TM, Egleston BL, Fisher SG, Ridge JA, Horwitz EM, Meyer JE (2017) Causes of death among cancer patients. Ann Oncol 28:400–407

16.

Colt JS, Schwartz K, Graubard BI, Davis F, Ruterbusch J, DiGaetano R, Purdue M, Rothman N, Wacholder S, Chow WH (2011) Hypertension and risk of renal cell carcinoma among white and black Americans. Epidemiology 22:797–804

17.

Hess CN, Roe MT (2017) Treatment of coronary artery disease in cancer survivors: an emerging challenge. Coron Artery Dis 28:1–2

18.

Farmakis D, Parissis J, Filippatos G (2014) Inisghts into cardio-oncology: atrial fibrillation in cancer. J Am Coll Cardiol 63:945–953

19.

Moslehi JJ, Salem JE, Sosman JA, Lebrun-Vignes B, Johnson DB (2018) Increased reporting of fatal immune checkpoint inhibitor-associated myocarditis. Lancet 391:933

20.

Di Nisio M, Ferrante N, Feragalli B, De Tursi M, Iacobelli S, Cuccurullo F, Porreca E (2011) Arterial thrombosis in ambulatory cancer patients treated with chemotherapy. Thromb Res 127:382–383

21.

Plummer C, Henderson RD, O'Sullivan JD, Read SJ (2011) Ischemic stroke and transient ischemic attack after head and neck radiotherapy: a review. Stroke 42:2410–2418

22.

Anker MS, von Haehling S, Landmesser U, Coats AJS, Anker SD (2018) Cancer and heart failure-more than meets the eye: common risk factors and co-morbidities. Eur J Heart Fail 20:1382–1384

23.

Zamorano JL, Lancellotti P, Rodriguez Muñoz D, Aboyans V, Asteggiano R, Galderisi M, Habib G, Lenihan DJ, Lip GYH, Lyon AR, Lopez Fernandez T, Mohty D, Piepoli MF, Tamargo J, Torbicki A, Suter TM; ESC Scientific Document Group (2016) 2016 ESC Position Paper on cancer treatments and cardiovascular toxicity developed under the auspices of the ESC Committee for Practice Guidelines: The Task Force for cancer treatments and cardiovascular toxicity of the European Society of Cardiology (ESC). Eur Heart J 37:2768–2801

24.

Ameri P, Canepa M, Anker MS et al (2018) Cancer diagnosis in patients with heart failure: epidemiology, clinical implications and gaps in knowledge. Eur J Heart Fail 20:879–887

25.

Koene RJ, Prizment AE, Blaes A, Konety SH (2016) Shared risk factors in cardiovascular disease and cancer. Circulation 133:1104–1114

26.

Suter TM, Ewer MS (2013) Cancer drugs and the heart: importance and management. Eur Heart J 34:1102–1111

27.

Anker MS, Lena A, Hadzibegovic S, Belenkov Y, Bergler-Klein J, de Boer RA, Cohen-Solal A, Farmakis D, von Haehling S, López-Fernández T, Pudil R, Suter T, Tocchetti CG, Lyon AR, Heart Failure Association Cardio-Oncology Study Group of the European Society of Cardiology (2018) Modern-day cardio-oncology: a report from the 'Heart Failure and World Congress on Acute Heart Failure 2018. ESC Heart Fail 5:1083–1091

28.

Cramer L, Hildebrandt B, Kung T, Wichmann K, Springer J, Doehner W, Sandek A, Valentova M, Stojakovic T, Scharnagl H, Riess H, Anker SD, von Haehling S (2014) Cardiovascular function and predictors of exercise capacity in patients with colorectal cancer. J Am Coll Cardiol 64:1310–1319

29.

Anker MS, Ebner N, Hildebrandt B, Springer J, Sinn M, Riess H, Anker SD, Landmesser U, Haverkamp W, von Haehling S (2016) Resting heart rate is an independent predictor of death in patients with colorectal, pancreatic, and non-small cell lung cancer: results of a prospective cardiovascular long-term study. Eur J Heart Fail 18:1524–1534

30.

Anker MS, Frey MK, Goliasch G, Bartko PE, Prausmüller S, Gisslinger H, Kornek G, Strunk G, Raderer M, Zielinski C, Hülsmann M, Pavo N (2020) Increase resting heart rate and prognosis in treatment-naive unselected cancer patients: results from a prospective observational study. Eur J Heart Fail 22(7):1230–1238. https://doi.org/10.1002/ejhf.1782

31.

Lee DH, Park S, Lim SM, Lee MK, Giovannucci EL, Kim JH, Kim SI, Jeon JY (2016) Resting heart rate as a prognostic factor for mortality in patients with breast cancer. Breast Cancer Res Treat 159:375–384

32.

Park J, Kim JH, Park Y, Park SJ, Cheon JH, Kim WH, Park JS, Jeon JY, Kim TI (2018) Resting heart rate is an independent predictor of advanced colorectal recurrence. PLoS ONE 13:e193753

33.

Sloan EK, Priceman SJ, Cox BF, Yu S, Pimentel MA, Tangkanangnukul V, Arevalo JM, Morizono K, Karanikolas BD, Wu L, Sood AK, Cole SW (2010) The sympathetic nervous system induces a metastatic switch in primary breast cancer. Cancer Res 70:7042–7052

34.

Hu S, Lou J, Zhang Y, Chen P (2018) Low heart rate variability relates to the progression of gastric cancer. World J Surg Oncol 16:49

35.

Guo Y, Koshy S, Hui D, Palmer JL, Shin K, Bozkurt M, Yusuf SW (2015) Prognostic value of heart rate variability in patients with cancer. J Clin Neurophysiol 32:516–520

36.

Barkhudaryan A, Scherbakov N, Springer J, Doehner W (2017) Cardiac muscle wasting in individuals with cancer cachexia. ESC Heart Fail 4:458–467

37.

Springer J, Tschirner A, Haghikia A, von Haehling S, Lal H, Grzesiak A, Kaschina E, Palus S, Pötsch M, von Websky K, Hocher B, Latouche C, Jaisser F, Morawietz L, Coats AJ, Beadle J, Argiles JM, Thum T, Földes G, Doehner W, Hilfiker-Kleiner D, Force T, Anker SD (2014) Prevention of liver cancer cachexia-induced cardiac wasting and heart failure. Eur Heart J 35:932–941

38.

Karlstaedt A, Zhang X, Vitrac H, Harmancey R, Vasquez H, Wang JH, Goodell MA, Taegtmeyer H (2016) Oncometabolite d‑2-hydroxyglutarate impairs α‑ketoglutarate dehydrogenase and contractile function in rodent heart. Proc Natl Acad Sci U S A 113:10436–10441
Ethics declarations
Interessenkonflikt
M.S. Anker hat Gelder für Beratertätigkeiten von Servier außerhalb der aktuellen Arbeit erhalten. S. von Haehling hat Beratungs- und/oder Vortragshonorare erhalten von Bayer, Boehringer Ingelheim, BRAHMS/Thermo Fisher, Chugai Pharma, Grünenthal, Helsinn, Novartis, Pharmacosmos, Respicardia, Roche, Servier und Vifor. Seine Arbeitsgruppe erhält Forschungsunterstützung vom Deutschen Zentrum für Herz-Kreislauf-Forschung (DZHK), der Innovative Medicines Initiative – Joint Undertaking (IMI–JU 115621) sowie von Boehringer Ingelheim und Amgen. S. Hadzibegovic gibt an, dass kein Interessenkonflikt besteht.
Für diesen Beitrag wurden von den Autoren keine Studien an Menschen oder Tieren durchgeführt. Für die aufgeführten Studien gelten die jeweils dort angegebenen ethischen Richtlinien.
Additional information
M.S. Anker und S. Hadzibegovic teilen sich die Erstautorenschaft.
Redaktion
G. Hasenfuß, Göttingen
S. von Haehling, Göttingen
About this article
Cite this article
Anker, M.S., Hadzibegovic, S. & von Haehling, S. Effekte des Tumors auf Herz und Kreislauf. Internist 61, 1120–1124 (2020). https://doi.org/10.1007/s00108-020-00887-w
Schlüsselwörter
Herz-Kreislauf-Erkrankungen

Tumor

Ruheherzfrequenz

Herzfrequenzvariabilität

Kardiotoxizität
Keywords
Cardiovascular diseases

Tumour

Resting heart rate

Heart rate variability

Cardiotoxicity