Zusammenfassung
Eine 19-jährige Patientin wurde aufgrund einer fieberhaften Infektion zu weiterer Diagnostik und Therapie stationär aufgenommen. Als Ursache fand sich eine durch Methicillin-sensiblen Staphylococcus aureus (MSSA) verursachte bronchopulmonale Infektion, die nachfolgend zu einer infektiösen Endokarditis mit Mitralklappenbefall und 2 Milzabszessen führte. Unter antibiogrammgemäßer Therapie sowie laparoskopischer Entfernung der Milzabszesse gelang es, die infektionsbedingten Komplikationen zu sanieren. Infektionsbahnend könnte das bereits bei der körperlichen Untersuchung vermutete sowie nachfolgend laborchemisch und radiologisch festgestellte zentrale Cushing-Syndrom sein, das mit einer generellen Abwehrschwäche einhergehen kann. Bemerkenswert ist, dass sich der initial schwer einstellbare Bluthochdruck nach transsphenoidaler Resektion des Hypophysenadenoms normalisierte.
Abstract
A 19-year-old female patient was admitted to hospital for further diagnostics and treatment of a febrile infection. The cause was found to be a bronchopulmonary infection due to methicillin-sensitive Staphylococcus aureus (MSSA), which led to an infective endocarditis with mitral valve infestation and two splenic abscesses. Under treatment according to the antibiogram and laparoscopic excision of the splenic abscesses, the infection-related complications could be successfully resolved. Even during the physical examination there was a suspicion of Cushing's syndrome, which was confirmed by laboratory and radiological investigations and is associated with a general immune deficiency. Remarkable was that the initially difficult to adjust high blood pressure became normalized after transsphenoidal resection of the pituitary adenoma.
This is a preview of subscription content, log in to check access.
Access options
Buy single article
Instant access to the full article PDF.
US$ 39.95
Price includes VAT for USA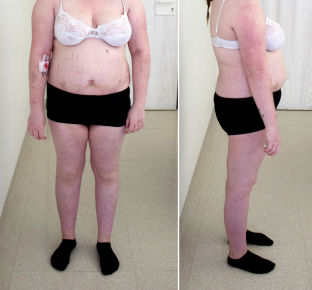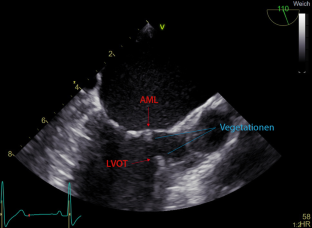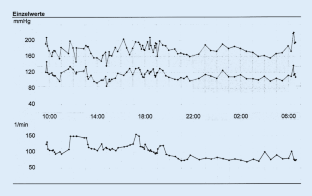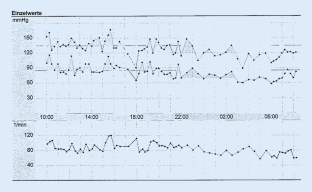 Literatur
1.

Li JS, Sexton DJ, Mick N, Nettles R, Fowler VG, Ryan T, Bashore T, Corey GR (2000) Proposed Modifications to the Duke Criteria for the Diagnosis of Infective Endocarditis. Clin Infect Diseas 30(4):633–638

2.

Cushing HW (1932) The basophil adenomas of the pituitary body and their clinical manifestations (pituitary basophilism). Bull Johns Hopkins Hosp 50:137–195

3.

Dieckmann R, Boone I et al (2016) The risk of bacterial infection after tatooing – a systematic review of the literature. Dtsch Ärzteblatt Int 113:665–671

4.

Klaus D (1987) Erkrankungen der Nebennierenrinde. In: Groß R, Schölmerich P, Gerok W (Hrsg) Lehrbuch der Inneren Medizin. Schattauer, Stuttgart, New York, S 773–783

5.

Mügge A, Gahl K (1994) Klinisches Bild In. In: Gahl K (Hrsg) Infektiöse Endokarditis. Steinhkopff, Darmstadt, S 78–79

6.

Durack DT (1998) Infective Endocarditis. In: HURST's. The Heart, 9. Aufl. McGraw-Hill, New York, S 2205–2239

7.

Osler W (1885) The Gulstonian Lectures, on Malignant Endocarditis. BMJ 1(1264):577–579

8.

Gahl K (1994) Infektiöse Endokarditis: Terminologie und Epidemiologie. In: Gahl K (Hrsg) Infektiöse Endokarditis. Steinkopff, Darmstadt, S 1–15

9.

Britton S, Thoren M, Sjøberg HE (1975) The immunological hazard of Cushing's syndrome. Br Med J 4:678

10.

Würzburger MI et al (1986) Cushing's syndrome—transitory immune deficiency state? Postgrad Med J 62:657–659
Ethics declarations
Interessenkonflikt
P. Wirtz gibt an, dass kein Interessenkonflikt besteht.
Für diesen Beitrag wurden von den Autoren keine Studien an Menschen oder Tieren durchgeführt. Für die aufgeführten Studien gelten die jeweils dort angegebenen ethischen Richtlinien. Für Bildmaterial oder anderweitige Angaben innerhalb des Manuskripts, über die Patienten zu identifizieren sind, liegt von ihnen und/oder ihren gesetzlichen Vertretern eine schriftliche Einwilligung vor.
Additional information
Redaktion
H. Haller, Hannover (Schriftleitung)
B. Salzberger, Regensburg
C.C. Sieber, Nürnberg
About this article
Cite this article
Wirtz, P. Eine 19-jährige Frau mit Fieber und Bluthochdruck. Internist (2020). https://doi.org/10.1007/s00108-020-00884-z
Schlüsselwörter
Cushing-Syndrom

Arterielle Hypertonie

Infektiöse Endokarditis

Osler-Knötchen

Staphylococcus aureus
Keywords
Cushing's syndrome

Arterial hypertension

Infective endocarditis

Osler nodes

Staphylococcus aureus