Zusammenfassung
Hintergrund
Die Früherkennung und Therapie der diabetischen Nephropathie (DN) ist von essenzieller Bedeutung, da Patienten mit Diabetes mellitus den größten Teil der dialysepflichtigen Patienten darstellen, mit höchster Morbidität und Mortalität. Gegenwärtig gilt als erstes klinisches Zeichen einer sich entwickelnden DN die Mikroalbuminurie, deren Präzision jedoch nicht optimal ist. Viele Studien berichten nun von Proteinen und Peptiden als neue Biomarker im Urin, die vor allem die Pathophysiologie der DN abbilden und somit eine verbesserte Diagnose von DN ermöglichen.
Ziel der Arbeit
Vorstellung neuer Konzepte zur Früherkennung und Therapie der DN zum besseren Patientenmanagement.
Material und Methoden
Es wurde eine systematische Literaturrecherche durchgeführt.
Ergebnisse
Bei der Suche nach neuen Biomarkern zur Diagnose der DN mittels Urinproteomanalyse sind viele potenzielle Marker beschrieben worden. Viele Studien waren jedoch wegen der geringen Probenanzahl nicht aussagekräftig. Diese Limitation führte zu unzureichenden Validierungen von Proteinen, die als Marker nicht bestätigt werden konnten. Es konnte aber der diagnostische Nutzen von CKD273, einem Multimarker aus 273 Proteinfragmenten, zur frühen Diagnose der DN nachhaltig demonstriert werden. Dieser Multimarker zeigt signifikante Vorteile in der Präzision der Diagnose und Prognose im Vergleich zur Albuminurie. Viele seiner Peptidmarker bilden dabei die molekulare Pathophysiologie der DN ab.
Schlussfolgerungen
Die klinische Urinproteomanalyse zeigt einen großen Nutzen und stellt bereits heute ein probates Mittel zur frühen Erkennung einer beginnenden DN dar.
Abstract
Background
The early detection and treatment of diabetic nephropathy (DN) is of crucial importance as patients with diabetes mellitus represent the largest proportion of patients on dialysis, with the highest morbidity and mortality. Currently, the first clinical sign of incipient DN is microalbuminuria, but its precision is not optimal. Many studies now report that proteins and peptides are new biomarkers in urine that primarily depict the pathophysiology of DN and thus allow for improved diagnosis of DN.
Objectives
The presentation of new concepts for the early detection and treatment of DN for better patient management.
Material and methods
A systematic literature search was carried out.
Results
Many potential markers have been described in the search for new biomarkers to diagnose DN by urinary proteome analysis. However, many of these studies were not meaningful due to the small number of samples. This limitation led to inadequate validation of proteins that could not be confirmed as markers. However, the diagnostic benefit of CKD 273, a multimarker of 273 protein fragments, was sustainably demonstrated for the early diagnosis of DN. This multi-marker shows significant advantages in the precision of diagnosis and prognosis compared to albuminuria. Furthermore, many of its peptide markers map the molecular pathophysiology of DN.
Conclusions
Clinical urinary proteome analysis shows great benefits and is already an appropriate tool for the early detection of incipient DN.
This is a preview of subscription content, log in to check access.
Access options
Buy single article
Instant access to the full article PDF.
US$ 39.95
Price includes VAT for USA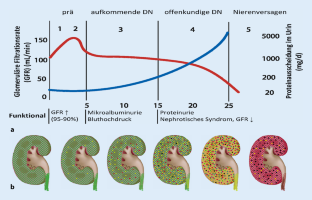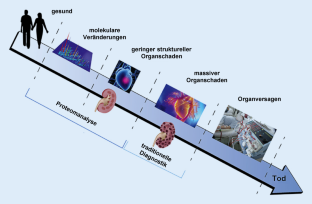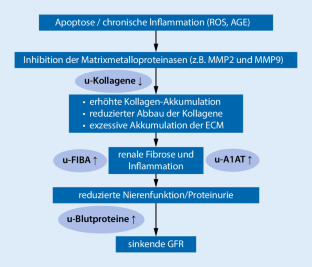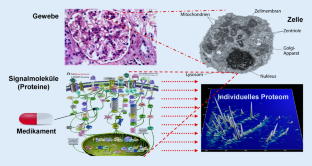 Notes
1.

Bedauerlicherweise wurde vor mehr als 10 Jahren die Finanzierung eines einheitlichen Dialyseregisters durch die Kostenträger eingestellt.
Literatur
1.

Afkarian M, Bhasin M, Dillon ST et al (2010) Optimizing a proteomics platform for urine biomarker discovery. Mol Cell Proteomics 9:2195–2204

2.

Alkhalaf A, Zürbig P, Bakker SJ et al (2010) Multicentric validation of proteomic biomarkers in urine specific for diabetic nephropathy. Plos One 5:e13421

3.

Alsaad KO, Herzenberg AM (2007) Distinguishing diabetic nephropathy from other causes of glomerulosclerosis: an update. J Clin Pathol 60:18–26

4.

Bellei E, Rossi C, Lucchi L et al (2008) Proteomic analysis of early urinary biomarkers of renal chanegs in type 2 diabetic patients. Proteomics Clin Appl 2:478–491

5.

Bergin DA, Hurley K, McElvaney NG et al (2012) Alpha‑1 antitrypsin: a potent anti-inflammatory and potential novel therapeutic agent. Arch Immunol Ther Exp 60:81–97

6.

Bhensdadia NM, Hunt KJ, Lopes-Virella MF et al (2013) Urine haptoglobin levels predict early renal functional decline in patients with type 2 diabetes. Kidney Int 83:1136–1143

7.

Caramori ML, Fioretto P, Mauer M (2000) The need for early predictors of diabetic nephropathy risk: is albumin excretion rate sufficient? Diabetes 49:1399–1408

8.

Caseiro A, Barros A, Ferreira R et al (2014) Pursuing type 1 diabetes mellitus and related complications through urinary proteomics. Transl Res 163:188–199

9.

Chen CJ, Liao WL, Chang CT et al (2018) Urine proteome analysis by C18 plate-matrix-assisted laser desorption/ionization time-of-flight mass spectrometry allows noninvasive differential diagnosis and prediction of diabetic nephropathy. PLoS ONE 13:e200945

10.

Critselis E, Vlahou A, Stel V et al (2018) Cost-effectiveness of screening type 2 diabetes patients for chronic kidney disease progression with the CKD273 urinary peptide classifier as compared to urinary albumin excretion. Nephrol Dial Transplant 33:441–449

11.

Currie GE, von Scholten BJ, Mary S et al (2018) Urinary proteomics for prediction of mortality in patients with type 2 diabetes and microalbuminuria. Cardiovasc Diabetol 17:50

12.

Dalla VM, Mussap M, Gallina P et al (2005) Acute-phase markers of inflammation and glomerular structure in patients with type 2 diabetes. J Am Soc Nephrol 16(Suppl 1):S78–S82

13.

Drube J, Zürbig P, Beige J, Mischak H (2017) Proteomanalyse: Neue Wege zur verbesserten Behandlung der diabetischen Nephropathie. Diabetol Stoffwechs 12(03):213–221

14.

Fisher WG, Lucas JE, Mehdi UF et al (2011) A method for isolation and identification of urinary biomarkers in patients with diabetic nephropathy. Proteomics Clin Appl 5:603–612

15.

Frei U, Schober-Halstenberg J (2005) Nierenersatztherapie in Deutschland, S 1–41, ISBN 3-9809996-3-7, https://www.bundesverband-niere.de/wp/wp-content/uploads/2019/02/QuaSi-Niere-Bericht_2006-2007.pdf. Zugegriffen: 26.8.2020

16.

Good DM, Zürbig P, Argiles A et al (2010) Naturally occurring human urinary peptides for use in diagnosis of chronic kidney disease. Mol Cell Proteomics 9:2424–2437

17.

Guillen-Gomez E, Bardaji-de-Quixano B, Ferrer S et al (2018) Urinary proteome analysis identified Neprilysin and VCAM as proteins involved in diabetic nephropathy. J Diabetes Res 2018:6165303

18.

Hovind P, Tarnow L, Rossing P et al (2004) Predictors for the development of microalbuminuria and macroalbuminuria in patients with type 1 diabetes: inception cohort study. BMJ 328:1105

19.

Jain S, Rajput A, Kumar Y et al (2005) Proteomic analysis of urinary protein markers for accurate prediction of diabetic kidney disorder. J Assoc Physicians India 53:513–520

20.

Jankowski J, Schanstra JP, Mischak H (2015) Body fluid peptide and protein signatures in diabetic kidney diseases. Nephrol Dial Transplant 30(Suppl 4):iv43–iv53

21.

Jiang H, Guan G, Zhang R et al (2009) Identification of urinary soluble E‑cadherin as a novel biomarker for diabetic nephropathy. Diabetes Metab Res Rev 25:232–241

22.

Jiang HJ, Guan GJ, Zhang R et al (2009) Increased urinary excretion of orosomucoid is a risk predictor of diabetic nephropathy. Nephrology 14:332–337

23.

Jin J, Ku YH, Kim Y et al (2012) Differential proteome profiling using iTRAQ in microalbuminuric and normoalbuminuric type 2 diabetic patients. Exp Diabetes Res 2012:168602

24.

Kawanami D, Matoba K, Sango K et al (2016) Incretin-based therapies for diabetic complications: basic mechanisms and clinical evidence. Int J Mol Sci 17(8):1223

25.

Kawanami D, Matoba K, Takeda Y et al (2017) SGLT2 inhibitors as a therapeutic option for diabetic nephropathy. Int J Mol Sci 18(5):1083

26.

Lewandowicz A, Bakun M, Kohutnicki R et al (2015) Changes in urine proteome accompanying diabetic nephropathy progression. Pol Arch Med Wewn 125:27–38

27.

Liao WL, Chang CT, Chen CC et al (2018) Urinaryproteomics for the early diagnosis of diabetic nephropathy in Taiwanese patients. J Clin Med 7(12):483

28.

Lim SC, Liying DQ, Toy WC et al (2012) Adipocytokine zinc alpha(2) glycoprotein (ZAG) as a novel urinary biomarker for normo-albuminuric diabetic nephropathy. Diabet Med 29:945–949

29.

Lindhardt M, Persson F, Oxlund C et al (2018) Predicting albuminuria response to spironolactone treatment with urinary proteomics in patients with type 2 diabetes and hypertension. Nephrol Dial Transplant 33:296–303

30.

Lindhardt M, Persson F, Zuerbig P et al (2017) Urinary proteomics predict onset of microalbuminuria in normoalbuminuric type 2 diabetic patients, a sub-study of the DIRECT-Protect 2 study. Nephrol Dial Transplant 32:1866–1873

31.

Magagnotti C, Zerbini G, Fermo I et al (2019) Identification of nephropathy predictors in urine from children with a recent diagnosis of type 1 diabetes. J Proteomics 193:205–216

32.

Magalhães P, Pejchinovski M, Markoska K et al (2017) Association of kidney fibrosis with urinary peptides: a path towards non-invasive liquid biopsies? Sci Rep 7:16915

33.

Mann JFE, Fonseca V, Mosenzon O et al (2018) Effects of liraglutide versus placebo on cardiovascular events in patients with type 2 diabetes mellitus and chronic kidney disease. Circulation 138:2908–2918

34.

Merchant ML, Perkins BA, Boratyn GM et al (2009) Urinary peptidome may predict renal function decline in type 1 diabetes and microalbuminuria. J Am Soc Nephrol 20:2065–2074

35.

Mischak H (2015) Pro: Urine proteomics as a liquid kidney biopsy: no more kidney punctures! Nephrol Dial Transplant 30(4):532–537

36.

Mischak H, Kaiser T, Walden M et al (2004) Proteomic analysis for the assessment of diabetic renal damage in humans. Clin Sci 107:485–495

37.

O'Shaughnessy MM, Liu S, Montez-Rath ME et al (2019) Cause of kidney disease and cardiovascular events in a national cohort of US patients with end-stage renal disease on dialysis: a retrospective analysis. Eur Heart J 40:887–898

38.

Oellgaard J, Gaede P, Rossing P et al (2017) Intensified multifactorial intervention in type 2 diabetics with microalbuminuria leads to long-term renal benefits. Kidney Int 91:982–988

39.

Perkins BA, Ficociello LH, Roshan B et al (2010) In patients with type 1 diabetes and new-onset microalbuminuria the development of advanced chronic kidney disease may not require progression to proteinuria. Kidney Int 77:57–64

40.

Pontillo C, Jacobs L, Staessen JA et al (2017) A urinary proteome-based classifier for the early detection of decline in glomerular filtration. Nephrol Dial Transplant 32:1510–1516

41.

Pontillo C, Mischak H (2017) Urinary peptide-based classifier CKD273: towards clinical application in chronic kidney disease. Clin Kidney J 10:192–201

42.

Pontillo C, Zhang Z, Schanstra J et al (2017) Prediction of chronic kidney disease stage 3 by CKD273, a urinary proteomic biomarker. Kidney Int Rep 2:1066–1075

43.

Rao PV, Lu X, Standley M et al (2007) Proteomic identification of urinary biomarkers of diabetic nephropathy. Diabetes Care 30:629–637

44.

Rossing K, Mischak H, Dakna M et al (2008) Urinary proteomics in diabetes and CKD. J Am Soc Nephrol 19:1283–1290

45.

Rossing K, Mischak H, Parving HH et al (2005) Impact of diabetic nephropathy and angiotensin II receptor blockade on urinary polypeptide patterns. Kidney Int 68:193–205

46.

Schanstra JP, Mischak H (2014) Proteomic urinary biomarker approach in renal disease: from discovery to implementation. Pediatr Nephrol 30:713–725

47.

Schanstra JP, Zurbig P, Alkhalaf A et al (2015) Diagnosis and prediction of CKD progression by assessment of urinary peptides. J Am Soc Nephrol 26:1999–2010

48.

Schievink B, Kropelin T, Mulder S et al (2016) Early renin-angiotensin system intervention is more beneficial than late intervention in delaying end-stage renal disease in patients with type 2 diabetes. Diabetes Obes Metab 18:64–71

49.

Selva DM, Lecube A, Hernandez C et al (2009) Lower zinc-alpha2-glycoprotein production by adipose tissue and liver in obese patients unrelated to insulin resistance. J Clin Endocrinol Metab 94:4499–4507

50.

Siwy J, Schanstra JP, Argiles A et al (2014) Multicentre prospective validation of a urinary peptidome-based classifier for the diagnosis of type 2 diabetic nephropathy. Nephrol Dial Transplant 29:1563–1570

51.

Siwy J, Zurbig P, Argiles A et al (2017) Noninvasive diagnosis of chronic kidney diseases using urinary proteome analysis. Nephrol Dial Transplant 32(12):2079–2089. https://doi.org/10.1093/ndt/gfw337

52.

Snell-Bergeon JK, Maahs DM, Ogden LG et al (2009) Evaluation of urinary biomarkers for coronary artery disease, diabetes, and diabetic kidney disease. Diabetes Technol Ther 11:1–9

53.

Stepczynska A, Schanstra JP, Mischak H (2016) Implementation of CE-MS-identified proteome-based biomarker panels in drug development and patient management. Bioanalysis 8:439–455

54.

Tofte N, Lindhardt M, Adamova K et al (2020) Early detection of diabetic kidney disease by urinary proteomics and subsequent intervention with spironolactone to delay progression (PRIORITY): a prospective observational study and embedded randomised placebo-controlled trial. Lancet Diabetes Endocrinol. https://doi.org/10.1016/S2213-8587(20)30026-7

55.

Tofte N, Lindhardt M, Adamova K et al (2018) Characteristics of high- and low-risk individuals in the PRIORITY study: urinary proteomics and mineralocorticoid receptor antagonism for prevention of diabetic nephropathy in type 2 diabetes. Diabet Med 35:1375–1382

56.

Varghese SA, Powell TB, Budisavljevic MN et al (2007) Urine biomarkers predict the cause of glomerular disease. J Am Soc Nephrol 18:913–922

57.

Verbeke F, Siwy J, Van BW et al (2019) The urinary proteomics classifier chronic kidney disease 273 predicts cardiovascular outcome in patients with chronic kidney disease. Nephrol Dial Transplant. https://doi.org/10.1093/ndt/gfz242

58.

Vitova L, Tuma Z, Moravec J et al (2017) Early urinary biomarkers of diabetic nephropathy in type 1 diabetes mellitus show involvement of kallikrein-kinin system. BMC Nephrol 18:112

59.

Wang H, Zheng C, Lu Y et al (2017) Urinary fibrinogen as a predictor of progression of CKD. Clin J Am Soc Nephrol 12:1922–1929

60.

Wanner C, Inzucchi SE, Lachin JM et al (2016) Empagliflozin and progression of kidney disease in type 2 diabetes. N Engl J Med 375:323–334

61.

Zoccali C, Mallamaci F (2019) Nonproteinuric progressive diabetic kidney disease. Curr Opin Nephrol Hypertens 28:227–232

62.

Zürbig P, Jerums G, Hovind P et al (2012) Urinary proteomics for early diagnosis in diabetic nephropathy. Diabetes 61:3304–3313

63.

Zurbig P, Mischak H, Menne J et al (2019) CKD273 enables efficient prediction of diabetic nephropathy in nonalbuminuric patients. Diabetes Care 42:e4–e5
Ethics declarations
Interessenkonflikt
J. Beige, J. Drube, H. von der Leyen, L. Pape und H. Rupprecht geben an, dass kein Interessenkonflikt besteht. Alle Autoren haben wissenschaftliche Kooperationen mit der Firma Mosaiques Diagnostics, die die Urinproteomanalyse wissenschaftlich und kommerziell betreibt und entwickelt.
Für diesen Beitrag wurden von den Autoren keine (eigens durchgeführten) Studien an Menschen oder Tieren durchgeführt. Für die aufgeführten Studien gelten die jeweils dort angegebenen ethischen Richtlinien.
About this article
Cite this article
Beige, J., Drube, J., von der Leyen, H. et al. Früherkennung mittels Urinproteomanalyse. Internist (2020). https://doi.org/10.1007/s00108-020-00863-4
Schlüsselwörter
Proteomik

Diabetes mellitus

Biomarker

CKD273

Therapie der diabetischen Nephropathie
Keywords
Proteomics

Diabetes mellitus

Biomarkers

CKD273

Therapy/diabetic nephropathy