Zusammenfassung
Bei einer 19-jährigen Frau mit Leberkapselschmerz zeigte sich sonographisch eine mikrovesikulär-zystische Leberläsion mit nekrotischen und fibrös-soliden Anteilen sowie Verkalkungen, die typisch für eine alveoläre Echinokokkose (AE) war. Die Diagnose wurde serologisch und histopathologisch bestätigt. Diese in Deutschland endemische parasitäre Erkrankung ist wegen ihres malignomartigen Wachstums gefürchtet. Durch eine zunehmende Verbreitung von Echinococcus multilocularis in Europa ist in Zukunft mit einer höheren Inzidenz und dem Auftreten der AE außerhalb der klassischen Endemiegebiete zu rechnen.
Abstract
A 19-year-old woman presented with liver capsule pain and a liver lesion on sonography, which contained microvesicular cystic, necrotic and solid fibrotic formations typical for alveolar echinococcosis (AE). The diagnosis was confirmed by serology and histopathology. This parasitic infection which is endemic in Germany is feared because of its malignant growth. The increasing expansion of E. multilocularis in Europe will lead to a higher incidence of AE with an occurrence of cases outside classical endemic regions.
This is a preview of subscription content, log in to check access.
Access options
Buy single article
Instant access to the full article PDF.
US$ 39.95
Price includes VAT for USA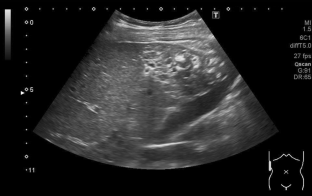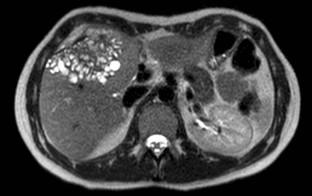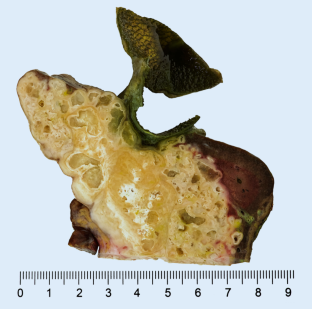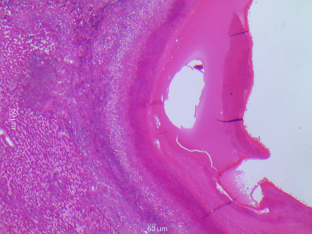 Literatur
1.

Brunetti E, Kern P, Vuitton DA et al (2010) Expert consensus for the diagnosis and treatment of cystic and alveolar echinococcosis in humans. Acta Trop 114:1–16

2.

Gottstein B, Stojkovic M, Vuitton DA et al (2015) Threat of alveolar echinococcosis to public health – a challenge for Europe. Trends Parasitol 31:407–412

3.

Huang X, Gruner B, Lechner CJ et al (2014) Distinctive cytokine, chemokine, and antibody responses in Echinococcus multilocularis-infected patients with cured, stable, or progressive disease. Med Microbiol Immunol 203:185–193

4.

Jorgensen P (2008) Underreporting of human alveolar echinococcosis, Germany. Emerg Infect. an der Heiden M, Kern P et al, Bd. 14, S 935–937

5.

Kern P, Ammon A, Kron M et al (2004) Risk factors for alveolar echinococcosis in humans. Emerg Infect Dis 10:2088–2093

6.

Kern P, Bardonnet K, Renner E et al (2003) European echinococcosis registry: human alveolar echinococcosis, Europe, 1982–2000. Emerg Infect Dis 9:343–349

7.

Kratzer W, Gruener B, Kaltenbach TE et al (2015) Proposal of an ultrasonographic classification for hepatic alveolar echinococcosis: Echinococcosis multilocularis Ulm classification-ultrasound. World J Gastroenterol 21:12392–12402

8.

Liu YH, Wang XG, Gao JS et al (2009) Continuous albendazole therapy in alveolar echinococcosis: long-term follow-up observation of 20 cases. Trans R Soc Trop Med Hyg 103:768–778

9.

Marcinkute A, Sarkunas M, Moks E et al (2015) Echinococcus infections in the Baltic region. Vet Parasitol 213:121–131

10.

Robert Koch-Institut (2017) Infektionsepidemiologisches Jahrbuch für 2016. Berlin

11.

Stojkovic M, Junghanss T, Veeser M et al (2016) Endoscopic Treatment of Biliary Stenosis in Patients with Alveolar Echinococcosis – Report of 7 Consecutive Patients with Serial ERC Approach. Plos Negl Trop Dis 10:e4278

12.

Stojkovic M, Mickan C, Weber TF et al (2015) Pitfalls in diagnosis and treatment of alveolar echinococcosis: a sentinel case series. Bmj Open Gastroenterol 2:e36

13.

Torgerson PR, Keller K, Magnotta M et al (2010) The global burden of alveolar echinococcosis. Plos Negl Trop Dis 4:e722

14.

Vuitton DA, Demonmerot F, Knapp J et al (2015) Clinical epidemiology of human AE in Europe. Vet Parasitol 213:110–120
Ethics declarations
Interessenkonflikt
M. Schreiner, A. von Brünneck, M. Schmelzle, T. Junghanss, M. Stojkovic, U. Baumgarten und B. Foroutan geben an, dass kein Interessenkonflikt besteht.
Dieser Beitrag beinhaltet keine von den Autoren durchgeführten Studien an Menschen oder Tieren. Für Bildmaterial oder anderweitige Angaben innerhalb des Manuskripts, über die Patienten zu identifizieren sind, liegt von ihnen und/oder ihren gesetzlichen Vertretern eine schriftliche Einwilligung vor.
Additional information
Redaktion
H. Haller, Hannover (Schriftleitung)
B. Salzberger, Regensburg
C.C. Sieber, Nürnberg
Caption Electronic Supplementary Material
Ergänzend zur Abb. 1 wird die sonographisch gesehene Leberläsion einer Alveolären Echinokokkose in zwei kurzen Videos gezeigt: im Interkostalschnitt rechts sowie im Subkostalschnitt
Ergänzend zur Abb. 1 wird die sonographisch gesehene Leberläsion einer Alveolären Echinokokkose in zwei kurzen Videos gezeigt: im Interkostalschnitt rechts sowie im Subkostalschnitt
About this article
Cite this article
Schreiner, M., von Brünneck, A., Schmelzle, M. et al. Große multizystische Leberraumforderung bei einer 19-jährigen Frau. Internist 59, 1321–1326 (2018). https://doi.org/10.1007/s00108-018-0465-7
Schlüsselwörter
Alveoläre Echinokokkose

Fuchsbandwürmer

Echinococcus multilocularis

Abdominaler Ultraschall

Leberresektion
Keywords
Alveolar echinococcosis

Tapeworms

Echinococcus multilocularis

Ultrasonography, abdominal

Hepatectomy