Zusammenfassung
Neben der Erfassung klinischer Symptome ist die Bestimmung des basalen Thyreoidea-stimulierenden Hormons (TSH) der wesentliche Schritt in der Diagnostik der Hypothyreose. Die subklinische Hypothyreose ist definiert durch eine TSH-Wert-Erhöhung bei normwertigen peripheren Schilddrüsenhormonwerten; bei der manifesten Hypothyreose sind zudem die peripheren Schilddrüsenhormonwerte erniedrigt. Ursachen der primären Hypothyreose sind insbesondere die chronische Autoimmunthyreoiditis sowie therapeutische Eingriffe, wie Schilddrüsenoperation und Radiojodtherapie. Klassische Symptome umfassen Müdigkeit, Bradykardie, Obstipation und Kälteintoleranz, wobei subklinische Funktionsstörungen häufig asymptomatisch sind. Die Einleitung einer Substitutionstherapie ist mitunter vom Ausmaß der TSH-Erhöhung, Patientenalter, Vorliegen einer Schwangerschaft und von Komorbiditäten abhängig. Die Behandlung der latenten Hypothyreose wird kontrovers diskutiert, wobei ein TSH-Spiegel > 10 mU/l außerhalb einer Schwangerschaft und bei Patienten ≤ 70 Jahre eine klare Therapieindikation ist. Goldstandard ist die Levothyroxin(T4)-Monotherapie mit dem Ziel eines TSH-Spiegels im Referenzbereich (0,4–4,0 mU/l). Dies gilt nicht bei einer sekundären Hypothyreose, bei der die T4-Dosis an den peripheren Schilddrüsenhormonwerten, vor allem am freien T4, ausgerichtet wird. Problematisch ist der beachtliche Patientenanteil mit inadäquater Substitutionsdosis, wobei insbesondere die Induktion einer subklinischen oder gar manifesten Hyperthyreose unbedingt zu vermeiden ist. Eine T4/-Liothyronin (T3) Kombinationstherapie wird kontrovers diskutiert und nicht als Standard empfohlen, kann aber bei persistierenden Hypothyreosesymptomen unter T4-Monotherapie individuell erwogen werden.
Abstract
The diagnosis of hypothyroidism is primarily based on clinical signs and symptoms as well as measurement of thyroid-stimulating hormone (TSH) concentration. Subclinical hypothyroidism is characterized by elevated TSH with normal serum free thyroxine (fT4) and triiodothyronine (fT3) levels, while in manifest hypothyroidism serum fT4 and fT3 levels are reduced. Common causes of primary hypothyroidism are autoimmune thyroiditis as well as therapeutic interventions, such as thyroid surgery or radioiodine therapy. Signs and symptoms of hypothyroidism include fatigue, bradycardia, constipation and cold intolerance. In subclinical hypothyroidism, symptoms may be absent. Initiation of levothyroxine (T4) therapy not only depends on the level of TSH elevation, but also on other factors, such as patient age, presence of pregnancy or comorbidities. Treatment of patients with subclinical hypothyroidism is still a controversial topic. In general, thyroid hormone replacement therapy in non-pregnant adults ≤ 70 years is clearly indicated if the TSH concentration is >10 mU/l. Standard of care for treatment of hypothyroidism is T4 monotherapy. The biochemical treatment goal for T4 replacement in primary hypothyroidism is a TSH level within the reference range (0.4–4.0 mU/l). In contrast, in secondary hypothyroidism, serum fT4 levels are the basis for adjusting thyroid hormone dosage. Inadequate replacement of T4 resulting in subclinical or even manifest hyperthyroidism should urgently be avoided. T4/liothyronine (T3) combination therapy is still a matter of debate and not recommended as standard therapy, but may be considered in patients with persistence of symptoms, despite optimal T4 treatment, based on expert opinion.
Access options
Buy single article
Instant access to the full article PDF.
USD 39.95
Price excludes VAT (USA)
Tax calculation will be finalised during checkout.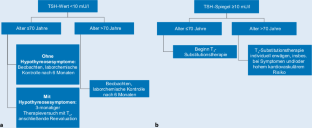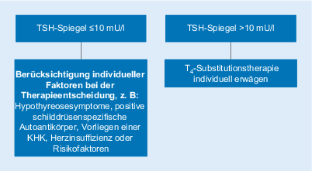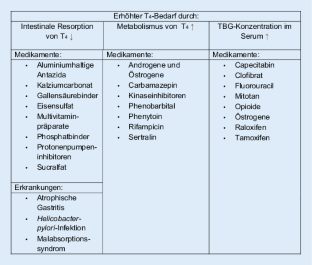 Literatur
Bauer DC, Ettinger B, Nevitt MC et al (2001) Risk for fracture in women with low serum levels of thyroid-stimulating hormone. Ann Intern Med 134:561–568

Biondi B (2012) Mechanisms in endocrinology: heart failure and thyroid dysfunction. Eur J Endocrinol 167:609–618

Cappola AR, Fried LP, Arnold AM et al (2006) Thyroid status, cardiovascular risk, and mortality in older adults. JAMA 295:1033–1041

Chait A, Bierman EL, Albers JJ (1979) Regulatory role of triiodothyronine in the degradation of lowdensity lipoprotein by cultured human skin fibroblasts. J Clin Endocrinol Metab 48:887–889

Chandurkar V, Shik J, Randell E (2008) Exacerbation of underlying hypothyroidism caused by proteinuria and induction of urinary thyroxine loss: case report and subsequent investigation. Endocr Pract 14:97–103

Fonseca V, Thomas M, Katrak A et al (1991) Can urinary thyroid hormone loss cause hypothyroidism? Lancet 338:475–476

Garber JR, Cobin RH, Gharib H et al (2012) Clinical practice guidelines for hypothyroidism in adults: cosponsored by the American Association of Clinical Endocrinologists and the American Thyroid Association. Thyroid 22:1200–1235

Gencer B, Collet TH, Virgini V et al (2012) Subclinical thyroid dysfunction and the risk of heart failure events: an individual participant data analysis from 6 prospective cohorts. Circulation 126:1040–1049

Gussekloo J, Van Exel E, De Craen AJ et al (2004) Thyroid status, disability and cognitive function, and survival in old age. JAMA 292:2591–2599

Hannemann A, Friedrich N, Haring R et al (2010) Thyroid function tests in patients taking thyroid medication in Germany: results from the population-based Study of Health In Pomerania (SHIP). BMC Res Notes 3:227

Henrichs J, Ghassabian A, Peeters RP et al (2013) Maternal hypothyroxinemia and effects on cognitive functioning in childhood: how and why? Clin Endocrinol (Oxf) 79:152–162

Jonklaas J, Bianco AC, Bauer AJ et al (2014) Guidelines for the treatment of hypothyroidism: prepared by the american thyroid association task force on thyroid hormone replacement. Thyroid 24:1670–1751

Pearce SH, Brabant G, Duntas LH et al (2013) 2013 ETA guideline: management of subclinical hypothyroidism. Eur Thyroid J 2:215–228

Pearce SH, Razvi S, Yadegarfar ME et al (2016) Serum thyroid function, mortality and disability in advanced old age: the Newcastle 85+ study. J Clin Endocrinol Metab 101:4385–4394

Peeters RP, Van Toor H, Klootwijk W et al (2003) Polymorphisms in thyroid hormone pathway genes are associated with plasma TSH and iodothyronine levels in healthy subjects. J Clin Endocrinol Metab 88:2880–2888

Razvi S, Ingoe L, Keeka G et al (2007) The beneficial effect of L‑thyroxine on cardiovascular risk factors, endothelial function, and quality of life in subclinical hypothyroidism: randomized, crossover trial. J Clin Endocrinol Metab 92:1715–1723

Razvi S, Weaver JU, Butler TJ et al (2012) Levothyroxine treatment of subclinical hypothyroidism, fatal and nonfatal cardiovascular events, and mortality. Arch Intern Med 172:811–817

Rodondi N, Den Elzen WP, Bauer DC et al (2010) Subclinical hypothyroidism and the risk of coronary heart disease and mortality. JAMA 304:1365–1374

Saravanan P, Simmons DJ, Greenwood R et al (2005) Partial substitution of thyroxine (T4) with tri-iodothyronine in patients on T4 replacement therapy: results of a large community-based randomized controlled trial. J Clin Endocrinol Metab 90:805–812

Slawik M, Klawitter B, Meiser E et al (2007) Thyroid hormone replacement for central hypothyroidism: a randomized controlled trial comparing two doses of thyroxine (T4) with a combination of T4 and triiodothyronine. J Clin Endocrinol Metab 92:4115–4122

Somwaru LL, Arnold AM, Joshi N et al (2009) High frequency of and factors associated with thyroid hormone over-replacement and under-replacement in men and women aged 65 and over. J Clin Endocrinol Metab 94:1342–1345

Spitzweg C, Reincke M, Gartner R (2017) Thyroid emergencies : thyroid storm and myxedema coma. Internist (Berl) 58:1011–1019

Tognini S, Polini A, Pasqualetti G et al (2012) Age and gender substantially influence the relationship between thyroid status and the lipoprotein profile: results from a large cross-sectional study. Thyroid 22:1096–1103

Walsh JP, Shiels L, Lim EM et al (2003) Combined thyroxine/liothyronine treatment does not improve well-being, quality of life, or cognitive function compared to thyroxine alone: a randomized controlled trial in patients with primary hypothyroidism. J Clin Endocrinol Metab 88:4543–4550

Werneck De Castro JP, Fonseca TL, Ueta CB et al (2015) Differences in hypothalamic type 2 deiodinase ubiquitination explain localized sensitivity to thyroxine. J Clin Invest 125:769–781

Wiersinga WM, Duntas L, Fadeyev V et al (2012) 2012 ETA guidelines: the use of L‑T4 + L‑T3 in the treatment of hypothyroidism. Eur Thyroid J 1:55–71
Ethics declarations
Interessenkonflikt
V.F. Koehler, M. Reincke und C. Spitzweg geben an, dass kein Interessenkonflikt besteht.
Dieser Beitrag beinhaltet keine von den Autoren durchgeführten Studien an Menschen oder Tieren.
Additional information
Redaktion
H. Lehnert, Lübeck
M. Reincke, München
About this article
Cite this article
Koehler, V.F., Reincke, M. & Spitzweg, C. Hypothyreose – wann und wie behandeln?. Internist 59, 644–653 (2018). https://doi.org/10.1007/s00108-018-0438-x
Published:

Issue Date:

DOI: https://doi.org/10.1007/s00108-018-0438-x
Schlüsselwörter
Subklinische Hypothyreose

Thyreoideastimulierendes Hormon

Thyroxin

Trijodthyronin

Autoimmunthyreoiditis
Keywords
Hypothyroidism, subclinical

Thyrotropin

Thyroxine

Triiodothyronine

Thyroiditis, autoimmune