Zusammenfassung
Die frische Thrombose venöser splanchnischer Gefäße ohne Vorliegen einer Leberzirrhose oder eines Malignoms ist nach dem Baveno-VI-Konsensus von 2015 als eine Thrombose der extrahepatischen Pfortader mit oder ohne Involvierung der Mesenterialvenen neu definiert worden. Aufgrund der unspezifischen Symptome mit abdominalen Schmerzen oder Diarrhö ist eine zeitnahe Diagnose oft herausfordernd, jedoch wegen drohender akuter und chronischer Komplikationen wie mesenterialer Ischämie und portaler Hypertonie äußerst wichtig. Entsprechend ist eine rasche Therapie essenziell. Wir präsentieren zwei schwere Fälle, die eine Therapie mit kathetergestützten lokalen Thrombolyseverfahren notwendig machten. Diese minimal-invasiven kathetergestützten Verfahren werden seit einigen Jahren bei ausgewählten Patienten mit gutem Erfolg eingesetzt. Hierzu geben wir einen Überblick der verfügbaren Literatur. Zusammenfassend ist die Therapie der frischen Thrombose venöser splanchnischer Gefäße individuell zu gestalten. Sie sollte an einem erfahrenen Zentrum erfolgen, das alle therapeutischen Optionen zur Verfügung hat. Transjuguläre, transhepatische kathetergestützte lokale Thrombolyseverfahren bieten bei richtiger Indikationsstellung eine sichere Therapie mit guten Ergebnissen.
Abstract
Recent non-cirrhotic and non-malignant splanchnic vein thrombosis is now defined as extrahepatic portal vein thrombosis with or without involvement of the mesenteric vein according to the Baveno VI consensus from 2015. An early diagnosis is often challenging due to unspecific symptoms with abdominal pain or diarrhea but extremely important because of the potential acute and chronic complications, such as mesenteric ischemia and portal hypertension; therefore, rapid treatment is crucial. We present two cases of severe splanchnic vein thrombosis, which were treated with catheter-directed local thrombolysis and thrombus aspiration. These minimally invasive catheter-directed techniques have recently been successfully used in selected patients. A review of the literature is provided in this article. In summary, the management of splanchnic vein thrombosis must be individually planned for each patient and should be performed at experienced centers, which can provide all therapeutic options. In selected cases with the correct indications transjugular transhepatic catheter-directed local thrombolysis is a safe option with a good outcome.
This is a preview of subscription content, log in to check access.
Access options
Buy single article
Instant access to the full article PDF.
US$ 39.95
Price includes VAT for USA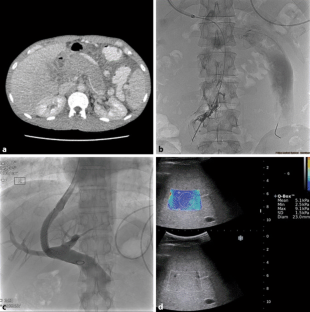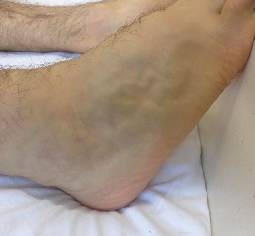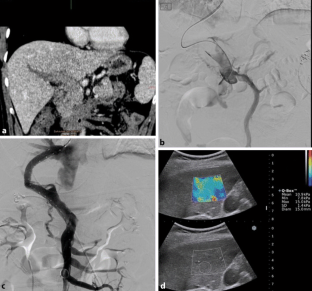 Literatur
1.

de Franchis R, Baveno VI Faculty (2015) Expanding consensus in portal hypertension: report of the Baveno VI consensus workshop: stratifying risk and individualizing care for portal hypertension. J Hepatol 63(3):743–752

2.

European Association for the Study of the Liver. Electronic address: easloffice@easloffice.eu (2016) EASL clinical practice guidelines: vascular diseases of the liver. J Hepatol 64(1):179–202. doi:10.1016/j.jhep.2015.07.040

3.

Primignani M (2010) Portal vein thrombosis, revisited. Dig Liver Dis 42(3):163–170. doi:10.1016/j.dld.2009.08.003

4.

Kreft B, Strunk H, Flacke S, Wolff M, Conrad R, Gieseke J et al (2000) Detection of thrombosis in the portal venous system: comparison of contrast-enhanced MR angiography with intraarterial digital subtraction angiography. Radiology 216(1):86–92

5.

Condat B, Pessione F, Hillaire S, Denninger MH, Guillin MC, Poliquin M et al (2001) Current outcome of portal vein thrombosis in adults: risk and benefit of anticoagulant therapy. Gastroenterology 120(2):490–497

6.

Hall TC, Garcea G, Metcalfe M, Bilku D, Dennison AR (2011) Management of acute non-cirrhotic and non-malignant portal vein thrombosis: a systematic review. World J Surg 35(11):2510–2520

7.

Plessier A, Darwish-Murad S, Hernandez-Guerra M, Consigny Y, Fabris F, Trebicka J et al (2010) Acute portal vein thrombosis unrelated to cirrhosis: a prospective multicenter follow-up study. Hepatology 51(1):210–218

8.

Turnes J, García-Pagán JC, González M, Aracil C, Calleja JL, Ripoll C et al (2008) Portal hypertension-related complications after acute portal vein thrombosis: impact of early anticoagulation. Clin Gastroenterol Hepatol 6(12):1412–1417. doi:10.1016/j.cgh.2008.07.031

9.

Condat B, Pessione F, Denninger HM, Hillaire S, Valla D (2000) Recent portal or mesenteric venous thrombosis: increased recognition and frequent recanalization on anticoagulant therapy. Hepatology 32(3):466–470

10.

Kumar S, Sarr MG, Kamath PS (2001) Mesenteric venous thrombosis. N Engl J Med 345(23):1683–1688

11.

Orr DW, Harrison PM, Devlin J, Karani JB, Kane PA, Heaton ND et al (2007) Chronic mesenteric venous thrombosis: evaluation and determinants of survival during long-term follow-up. Clin Gastroenterol Hepatol 5(1):80–86

12.

Nery F, Chevret S, Condat B, de Raucourt E, Boudaoud L, Rautou P‑E et al (2015) Causes and consequences of portal vein thrombosis in 1,243 patients with cirrhosis: results of a longitudinal study. Hepatology 61(2):660–667

13.

Amitrano L, Guardascione MA, Scaglione M, Pezzullo L, Sangiuliano N, Armellino MF et al (2007) Prognostic factors in noncirrhotic patients with splanchnic vein thromboses. Am J Gastroenterol 102(11):2464–2470

14.

Sogaard KK, Astrup LB, Vilstrup H, Gronbaek H (2007) Portal vein thrombosis; risk factors, clinical presentation and treatment. BMC Gastroenterol 7:34

15.

Lang SA, Loss M, Wohlgemuth WA, Schlitt HJ (2014) Clinical Management of Acute Portal/Mesenteric Vein Thrombosis. Viszeralmedizin 30(6):394–400

16.

Elkrief L, Corcos O, Bruno O, Larroque B, Rautou P‑E, Zekrini K et al (2014) Type 2 diabetes mellitus as a risk factor for intestinal resection in patients with superior mesenteric vein thrombosis. Liver Int 34(9):1314–1321

17.

Blum U, Haag K, Rössle M, Ochs A, Gabelmann A, Boos S et al (1995) Noncavernomatous portal vein thrombosis in hepatic cirrhosis: treatment with transjugular intrahepatic portosystemic shunt and local thrombolysis. Radiology 195(1):153–157

18.

Hollingshead M, Burke CT, Mauro MA, Weeks SM, Dixon RG, Jaques PF (2005) Transcatheter thrombolytic therapy for acute mesenteric and portal vein thrombosis. J Vasc Interv Radiol 16(5):651–661

19.

Kallini JR, Gabr A, Kulik L, Ganger D, Lewandowski R, Thornburg B et al (2016) Noncirrhotic complete obliterative portal vein thrombosis: Novel management using trans-splenic transjugular intrahepatic portosystemic shunt with portal vein recanalization. Hepatology 63(4):1387–1390

20.

Jun KW, Kim MH, Park KM, Chun HJ, Hong KC, Jeon YS et al (2014) Mechanical thrombectomy-assisted thrombolysis for acute symptomatic portal and superior mesenteric venous thrombosis. Ann Surg Treat Res 86(6):334–341

21.

Kim HS, Patra A, Khan J, Arepally A, Streiff MB (2005) Transhepatic catheter-directed thrombectomy and thrombolysis of acute superior mesenteric venous thrombosis. J Vasc Interv Radiol 16(12):1685–1691

22.

Ozkan U, Oğuzkurt L, Tercan F, Tokmak N (2006) Percutaneous transhepatic thrombolysis in the treatment of acute portal venous thrombosis. Diagn Interv Radiol 12(2):105–107

23.

Lorenz JM, Bennett S, Patel J, van Ha TG, Funaki B (2014) Combined pharmacomechanical thrombolysis of complete portomesenteric thrombosis in a liver transplant recipient. Cardiovasc Intervent Radiol 37(1):262–266

24.

Mancuso A, Watkinson A, Tibballs J, Patch D, Burroughs AK (2003) Budd-Chiari syndrome with portal, splenic, and superior mesenteric vein thrombosis treated with TIPS: who dares wins. Gut 52(3):438

25.

Ferro C, Rossi UG, Bovio G, Dahamane M, Centanaro M (2007) Transjugular intrahepatic portosystemic shunt, mechanical aspiration thrombectomy, and direct thrombolysis in the treatment of acute portal and superior mesenteric vein thrombosis. Cardiovasc Intervent Radiol 30(5):1070–1074

26.

Nakayama S, Murashima N, Isobe Y (2008) Superior mesenteric venous thrombosis treated by direct aspiration thrombectomy. Hepatogastroenterology 55(82–83):367–370

27.

Wang MQ, Liu FY, Duan F, Wang ZJ, Song P, Fan QS (2011) Acute symptomatic mesenteric venous thrombosis: treatment by catheter-directed thrombolysis with transjugular intrahepatic route. Abdom Imaging 36(4):390–398

28.

Tamaki I, Kami K, Yamamoto E, Morimoto T (2014) Catheter-directed thrombolysis through the operatively recanalized umbilical vein for acute extensive portal vein thrombosis: report of a case. Clin J Gastroenterol 7(4):376–380

29.

Miura K, Sato Y, Nakatsuka H, Yamamoto S, Oya H, Hara Y et al (2013) Catheter-directed continuous thrombolysis following aspiration thrombectomy via the ileocolic route for acute portal venous thrombosis: report of two cases. Surg Today 43(11):1310–1315

30.

Rosen MP, Sheiman R (2000) Transhepatic mechanical thrombectomy followed by infusion of TPA into the superior mesenteric artery to treat acute mesenteric vein thrombosis. J Vasc Interv Radiol 11(2 Pt 1):195–198

31.

Hechelhammer L, Crook DW, Widmer U, Wildermuth S, Pfammatter T (2004) Thrombosis of a superior mesenteric vein aneurysm: transarterial thrombolysis and transhepatic aspiration thrombectomy. Cardiovasc Intervent Radiol 27(5):551–555

32.

Safieddine N, Mamazza J, Common A, Prabhudesai V (2007) Splenic and superior mesenteric artery thrombolytic infusion therapy for acute portal and mesenteric vein thrombosis. Can J Surg 50(1):68–69

33.

Tsetis DK, Kochiadakis GE, Hatzidakis AA, Skalidis EI, Chryssou EG, Tritou IN et al (2002) Transcatheter thrombolysis with high-dose bolus tissue plasminogen activator in iatrogenic arterial occlusion after femoral arterial catheterization. Cardiovasc Intervent Radiol 25(1):36–41

34.

Koenigsberg RA, Wysoki M, Weiss J, Faro SH, Tsai FY (1999) Risk of clot formation in femoral arterial sheaths maintained overnight for neuroangiographic procedures. AJNR Am J Neuroradiol 20(2):297–299

35.

Janssen HL, Meinardi JR, Vleggaar FP, van Uum SH, Haagsma EB, van Der Meer FJ et al (2000) Factor V Leiden mutation, prothrombin gene mutation, and deficiencies in coagulation inhibitors associated with Budd-Chiari syndrome and portal vein thrombosis: results of a case-control study. Blood 96(7):2364–2368

36.

Qi X, Ren W, de Stefano V, Fan D (2014) Associations of coagulation factor V Leiden and prothrombin G20210A mutations with Budd-Chiari syndrome and portal vein thrombosis: a systematic review and meta-analysis. Clin Gastroenterol Hepatol 12(11):1801–1812.e7

37.

Trebicka J, Strassburg CP (2014) Etiology and complications of portal vein thrombosis. Viszeralmedizin 30(6):375–380

38.

Kiladjian J‑J, Cervantes F, Leebeek FWG, Marzac C, Cassinat B, Chevret S et al (2008) The impact of JAK2 and MPL mutations on diagnosis and prognosis of splanchnic vein thrombosis: a report on 241 cases. Blood 111(10):4922–4929

39.

Primignani M, Martinelli I, Bucciarelli P, Battaglioli T, Reati R, Fabris F et al (2005) Risk factors for thrombophilia in extrahepatic portal vein obstruction. Hepatol Baltim Md 41(3):603–608

40.

Valla D (2015) Splanchnic vein thrombosis. Semin Thromb Hemost 41(5):494–502

41.

Pereira K, Carrion AF, Martin P, Vaheesan K, Salsamendi J, Doshi M et al (2015) Current diagnosis and management of post-transjugular intrahepatic portosystemic shunt refractory hepatic encephalopathy. Liver Int 35(12):2487–2494

42.

Suhocki PV, Lungren MP, Kapoor B, Kim CY (2015) Transjugular intrahepatic portosystemic shunt complications: prevention and management. Semin Interv Radiol 32(2):123–132
Ethics declarations
Interessenkonflikt
M. Praktiknjo, C. Meyer, C.P. Strassburg und J. Trebicka geben an, dass kein Interessenkonflikt besteht.
Dieser Beitrag beinhaltet keine von den Autoren durchgeführten Studien an Menschen oder Tieren. Alle Patienten, die über Bildmaterial oder anderweitige Angaben innerhalb des Manuskripts zu identifizieren sind, haben hierzu ihre schriftliche Einwilligung gegeben.
Additional information
Redaktion
H. Haller, Hannover
B. Salzberger, Regensburg
C. Sieber, Nürnberg
About this article
Cite this article
Praktiknjo, M., Meyer, C., Strassburg, C.P. et al. Frische venöse Thrombose splanchnischer Gefäße. Internist 58, 82–89 (2017). https://doi.org/10.1007/s00108-016-0120-0
Schlüsselwörter
Pfortader

V. mesenterica superior

V. lienalis

Transjugulärer, intrahepatischer portosystemischer Shunt

Interventionelle radiologische Verfahren
Keywords
Portal vein

Superior mesenteric vein

Splenic vein

Portosystemic shunt, transjugular, intrahepatic

Interventional radiological procedures