Zusammenfassung
Unspezifischer Rückenschmerz ist ein häufiges Phänomen. Bildgebende Verfahren zeigen häufig keine eindeutige Ursache für die Genese von Rückenschmerzen auf und haben in der Regel keine Auswirkungen auf das therapeutische Prozedere. Dagegen sind spezifische Rückenschmerzen, bei denen eine morphologische Ursache vorliegt, seltener. In diesen Fällen ist die bildgebende Diagnostik indiziert, insbesondere die Magnetresonanztomographie. Die Indikation zur Bildgebung sollte sich an den sog. "red flags" orientieren, die auf ernste morphologische Veränderungen der Wirbelsäule hindeuten. Der Artikel geht auf häufig anzutreffende degenerative Veränderungen ein und beschreibt die Spondylodiszitis als wichtige Differenzialdiagnose zur erosiven Osteochondrose.
Abstract
Unspecific back pain is a common phenomenon. Imaging often shows no clear cause for the genesis of back pain and generally has no impact on the therapeutic procedure. In contrast specific back pain, where a morphological cause is present is more infrequent. In these cases imaging and especially magnetic resonance imaging (MRI) is indicated. The indications for imaging should be geared to the so-called red flags which suggest serious morphological changes of the spine. The article deals with often encountered degenerative changes of the spine and describes spondylodiscitis as an important differential diagnosis to erosive osteochondritis.
Access options
Buy single article
Instant access to the full article PDF.
US$ 39.95
Tax calculation will be finalised during checkout.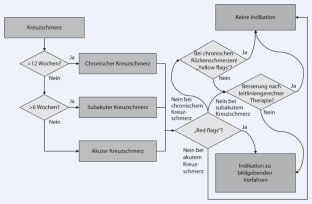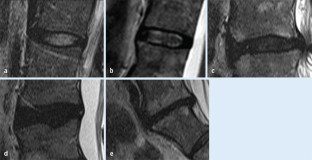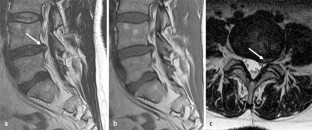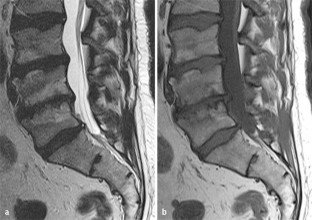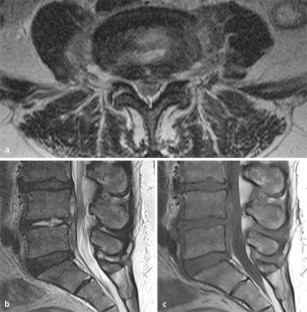 Literatur
1.

Amundsen T, Weber H, Lilleås F et al (1995) Lumbar spinal stenosis. Clinical and radiologic feature. Spine 20:1178–1186

2.

Bernhard-Ströl C, Hachenberger C, Trugenberger-Schnabel A et al (2012) Umweltradioaktivität und Strahlenbelastung: Jahresbericht 2010. Bundesministerium für Umwelt, Naturschutz und Reaktorsicherheit (BMU) (Hrsg). http://nbn-resolving.de/urn:nbn:de:0221-201206278814

3.

Bolm-Audorff U, Brandenburg S, Brüning T et al (2005) Medizinische Beurteilungskriterien zu bandscheibenbedingten Berufskrankheiten der Lendenwirbelsäule (I). Trauma Berufskrankh 7:211–252

4.

Bundesärztekammer (BÄK), Kassenärztliche Bundesvereinigung (KBV), Arbeitsgemeinschaft der Wissenschaftlichen Medizinischen Fachgesellschaften (AWMF) (2010) Nationale VersorgungsLeitlinie Kreuzschmerz – Kurzfassung. Version 1.2. 2010. http://www.versorgungsleitlinien.de/themen/kreuzschmerz. Zugegriffen: 25. August 2011

5.

Caterini R, Mancini F, Bisicchia S et al (2011) The correlation between exaggerated fluid in lumbar facet joints and degenerative spondylolisthesis: prospective study of 52 patients. J Orthop Traumatol 12:87–91

6.

Chaput C, Padon D, Rush J et al (2007) The significance of increased fluid signal on magnetic resonance imaging in lumbar facets in relationship to degenerative spondylolisthesis. Spine 32:1883–1887

7.

Chou R, Fu R, Carrino JA et al (2009) Imaging strategies for low-back pain: systematic review and meta-analysis. Lancet 373:463–472

8.

Doyle AJ, Merrilees M (2004) Synovial cysts of the lumbar facet joints in a symptomatic population: prevalence on magnetic resonance imaging. Spine 29:874–878

9.

Fardon DF, Milette PC (2001) Nomenclature and classification of lumbar disc pathology. Recommendations of the Combined Task Forces of the North American Spine Society, American Society of Spine Radiology, and American Society of Neuroradiology. Spine 26:E93–E113

10.

Frobin W, Brinckmann P, Kramer M et al (2001) Height of lumbar discs measured from radiographs compared with degeneration and height classified from MR images. Eur Radiol 11:263–269

11.

Friedrich KM, Nemec S, Peloschek P et al (2007) The prevalence of lumbar facet joint edema in patients with low back pain. Skeletal Radiol 36:755–760

12.

Grogan J, Nowicki BH, Schmidt TA et al (1997) Lumbar facet joint tropism does not accelerate degeneration of the facet joints. AJNR Am J Neuroradiol 18:1325–1329

13.

Hurri H, Karppinen J (2004) Discogenic pain. Pain 112:225–228

14.

Jarvik JG, Deyo RA (2000) Imaging of lumbar intervertebral disk degeneration and aging, excluding disk herniations. Radiol Clin North Am 38:1255–1266

15.

Jensen MC, Brant-Zawadzki MN, Obuchowski N et al (1994) Magnetic resonance imaging of the lumbar spine in people without back pain. N Engl J Med 331:69–73

16.

Jones A, Clarke A, Freeman BJ et al (2005) The Modic classification: inter- and intraobserver error in clinical practice. Spine 30:1867–1869

17.

Kendrick D, Fielding K, Bentley E et al (2001) Radiography of the lumbar spine in primary care patients with low back pain: randomised controlled trial. BMJ 322:400–405

18.

Kovacs FM, Arana E, Royuela A et al (2012) Vertebral endplate changes are not associated with chronic low back pain among Southern European subjects: a case control study. AJNR Am J Neuroradiol 33:1519–1524

19.

Ledermann HP, Schweitzer ME, Morrison WB et al (2003) MR imaging findings in spinal infections: rules or myths? Radiology 228:506–514

20.

Modic MT, Pavlicek W, Weinstein MA et al (1984) Magnetic resonance imaging of intervertebral disk disease. Clinical and pulse sequence considerations. Radiology 152:103–111

21.

Modic MT, Feiglin DH, Piraino DW et al (1985) Vertebral osteomyelitis: assessment using MR. Radiology 157:157–166

22.

Modic MT, Steinberg PM, Ross JS et al (1988) Degenerative disk disease: assessment of changes in vertebral body marrow with MR imaging. Radiology 166:193–199

23.

Pennekamp W (2009) Radiologische Differentialdiagnostik bei degenerativen Veränderungen der Wirbelsäule. Anasthesiol Intensivmed Notfallmed Schmerzther 44:32–38

24.

Pfirrmann CW, Metzdorf A, Zanetti M et al (2001) Magnetic resonance classification of lumbar intervertebral disc degeneration. Spine 26:1873–1878

25.

Scuderi GJ, Vaccaro AR, Brusovanik GV et al (2004) Conjoined lumbar nerve roots: a frequently underappreciated congenital abnormality. J Spinal Disord Tech 17:86–93

26.

Suri P, Miyakoshi A, Hunter DJ et al (2012) Does lumbar spinal degeneration begin with the anterior structures? A study of the observed epidemiology in a community-based population. BMC Musculoskelet Disord 12:202. DOI 10.1186/1471-2474-12-202

27.

Yoshida H, Fujiwara A, Tamai K et al (2002) Diagnosis of symptomatic disc by magnetic resonance imaging: T2-weighted and gadolinium-DTPA-enhanced T1-weighted magnetic resonance imaging. J Spinal Disord Tech 15:193–198

28.

Wiltse LL, Berger PE, McCulloch JA (1997) A system for reporting the size and location of lesions in the spine. Spine 22:1534–1537
Interessenkonflikt
Der korrespondierende Autor gibt an, dass kein Interessenkonflikt besteht. Es bestehen keine finanziellen oder rechtlichen Konflikte.
About this article
Cite this article
Pennekamp, W. Degenerative Veränderungen der Wirbelsäule. Internist 54, 818–826 (2013). https://doi.org/10.1007/s00108-012-3240-1
Schlüsselwörter
Unspezifischer Rückenschmerz

Alarmzeichen

Spezifischer Rückenschmerz

Osteochondrose

Spondylodiszitis
Keywords
Unspecific back pain

Red flags

Specific back pain

Osteochondrosis

Spondylodiscitis