Zusammenfassung
Die Sarkoidose ist die häufigste interstitielle Lungenerkrankung unbekannter Ätiologie und betrifft oft junge Menschen. In Deutschland ist ihre Inzidenz weitaus häufiger als die der Tuberkulose. Die Diagnose erfolgt über den histologischen Nachweis epitheloidzelliger, nicht-verkäsender Granulome im Lungenparenchym bei Ausschluss anderer Erkrankungen, die auch zu Granulomen führen können, wie z. B. einer Mykobakteriose, der Berylliose oder einer exogen-allergischen Alveolitis. Da es sich bei der Sarkoidose um eine Systemerkrankung handelt, kann prinzipiell jedes Organ betroffen sein. Da die Lunge fast immer beteiligt ist, erfolgt die Diagnosestellung am einfachsten über eine Bronchoskopie mit bronchoalveolärer Lavage und transbronchialer Biopsie. Die Sarkoidose nimmt häufig einen guten Spontanverlauf mit vollständiger Ausheilung. Bei 1/3 der Fälle ist jedoch mit einem chronischen Verlauf zu rechnen, bei dem eine systemische Kortikosteroidtherapie zum Einsatz kommt. Nicht selten reicht dann eine Monotherapie im Verlauf nicht aus, sodass eine Kombinationstherapie mit Azathioprin oder Methotrexat notwendig wird.
Abstract
Sarcoidosis is the most frequent interstitial lung disease of unknown origin affecting patients of younger age in many cases. In Germany its incidence is higher than that of tuberculosis. Diagnosis is made by demonstration of epitheloid, non-necrotizing granuloma in pulmonary parenchyma and by exclusion of other granulomatous disorders such as mycobacteriosis, berylliosis, or hypersensitivity pneumonitis. Its etiology is still elusive and since it is a systemic disease any organ can be involved. The lung is most frequently involved and, therefore, diagnosis can easily be made by bronchoscopy with transbronchial biopsy and bronchoalveolar lavage. Frequently a favorable spontaneous course takes place but in about one third of the cases a chronic course of disease is seen which requires systemic treatment with prednisolone. In progressive disease despite prednisolone treatment the combination with azathioprine or methotrexate might be helpful.
Access options
Buy single article
Instant access to the full article PDF.
USD 39.95
Price excludes VAT (USA)
Tax calculation will be finalised during checkout.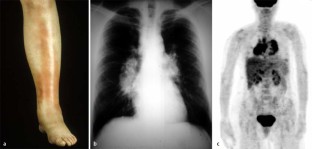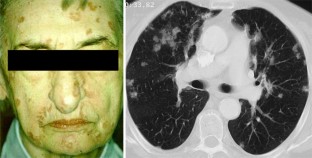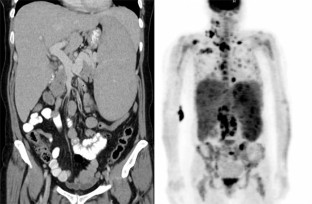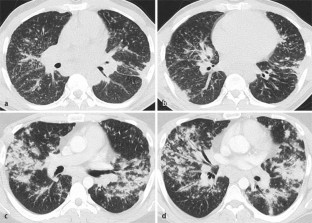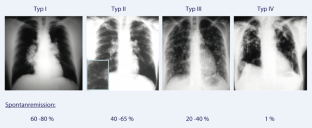 Literatur
Baughman RP, Costabel U, du Bois RM (2008) Treatment of sarcoidosis. Clin Chest Med 29: 533–548

Baughman RP, Drent M, Kavuru M et al.; Sarcoidosis Investigators (2006) Infliximab therapy in patients with chronic sarcoidosis and pulmonary involvement. Am J Respir Crit Care Med 174: 795–802

Baughman RP, Lower EE (2002) Therapy for extrapulmonary sarcoidosis. Semin Respir Crit Care Med 23: 589–596

Baughman RP, Lower EE, du Bois RM (2003) Sarcoidosis. Lancet 361: 1111–1118

Deng JC, Baughman RP, Lynch JP 3rd (2002) Cardiac involvement in sarcoidosis. Semin Respir Crit Care Med 23: 513–527

Ebert EC, Kierson M, Hagspiel KD (2008) Gastrointestinal and hepatic manifestations of sarcoidosis. Am J Gastroenterol 103: 3184–3192

Iannuzzi MC, Rybicki BA, Teirstein AS (2007) Sarcoidosis. N Engl J Med 357: 2153–2165

Kim JS, Judson MA, Donnino R et al. (2009) Cardiac sarcoidosis. Am Heart J 157: 9–21

Lynch JP (2003) Computed tomographic scanning in sarcoidosis. Semin Respir Crit Care Med 24: 393–418

Ma Y, Gal A, Koss MN (2007) The pathology of pulmonary sarcoidosis: update. Semin Diagn Pathol 24: 150–161

Müller-Quernheim J, Gaede KI, Prasse A, Zissel G (2007) Chronische Berylliose. Pneumologie 61: 109–116

Müller-Quernheim J, Schürmann M, Hofmann S et al. (2008) Genetics of sarcoidosis. Clin Chest Med 29: 391–414

Newman LS, Rose CS, Bresnitz EA et al. (2004) A case control etiologic study of sarcoidosis: environmental and occupational risk factors. ACCESS Research Group. Am J Respir Crit Care Med 170: 1324–1330

Nunes H, Brillet PY, Valeyre D et al. (2007) Imaging in sarcoidosis. Semin Respir Crit Care Med 28: 102–120

Prasse A, Katic C, Germann M et al. (2008) Phenotyping sarcoidosis from a pulmonary perspective. Am J Respir Crit Care Med 177: 330–336

Rybicki BA, Iannuzzi MC (2007) Epidemiology of sarcoidosis: recent advances and future prospects. Semin Respir Crit Care Med 28: 22–35

Seersholm N, Vestbo J, Viskum K (1997) Risk of malignant neoplasms in patients with pulmonary sarcoidosis. Thorax 52: 892–894

Teirstein AS, Machac J, Almeida O et al. (2007) Results of 188 whole-body fluorodeoxyglucose positron emission tomography scans in 137 patients with sarcoidosis. Chest 132: 1949–1953

Zissel G, Prasse A, Müller-Quernheim J (2007) Sarcoidosis – immunopathogenetic concepts. J Semin Respir Crit Care Med 28: 3–14
Interessenkonflikt
Der korrespondierende Autor gibt an, dass kein Interessenkonflikt besteht.
About this article
Cite this article
Prasse, A., Müller-Quernheim, J. Sarkoidose. Internist 50, 581–590 (2009). https://doi.org/10.1007/s00108-009-2382-2
Published:

Issue Date:

DOI: https://doi.org/10.1007/s00108-009-2382-2
Schlüsselwörter
Keywords