Zusammenfassung
Mit rund 64.000 Transplantationen in Europa seit 1988 ist die Lebertransplantation mittlerweile eine Standardtherapie für fortgeschrittene, anderweitig nicht heilbare chronische Lebererkrankungen. Die Hauptindikationsgruppe umfasst Leberzirrhosen verschiedener Ätiologien. In dieser Patientengruppe sind nach 5 Jahren 72% und nach 10 Jahren 62% der Patienten am Leben. Zu den wichtigsten Indikationen in Deutschland zählen dabei die alkoholische Zirrhose, in jüngster Zeit mit zunehmender Tendenz Tumorerkrankungen und viral induzierte Zirrhosen. Seit Dezember 2006 wird die Priorität für eine Lebertransplantation durch das "model for end stage liver disease" (MELD) und nicht durch die Wartezeit festgelegt. MELD ist ein statistisches Modell, das basierend auf dem Serumkreatinin, der Gerinnung und dem Serumbilirubin die 3-Monats-Mortalität eines potenziellen Transplantatempfängers beschreibt. Nicht alle Lebererkrankungen werden in ihrer Schwere durch MELD adäquat gewürdigt. Daher wird zusätzlich ein Regelwerk standardisierter Ausnahmen ("standard exceptions") verwendet, das zuletzt 2008 im Transplantationsgesetz novelliert wurde. Indikationsstellung, Empfängerauswahl und Wartelistenmanagement innerhalb der Transplantationshepatologie haben sich dadurch entscheidend gewandelt.
Abstract
After around 64 000 transplantations in Europe since 1988 liver transplantation has emerged as a standard treatment option for otherwise incurable chronic liver diseases. Cirrhosis of different etiologies represents the most frequent transplant indication. Overall survival in this group amounts to 72% after 5 years, and 62% after 10 years. In Germany, the main indications include alcoholic liver cirrhosis, tumors with increasing numbers in recent years, as well as viral diseases leading to cirrhosis. Since December 2006 the priority for liver transplantation is determined by the model for end stage liver disease (MELD) and not by the length of waiting time. MELD is a statistical model based on serum creatinine, serum bilirubin and coagulation, which describes the probability of 3-month mortality of a potential transplant candidate. Not all liver diseases are adequately represented by MELD necessitating the additional use of a defined number of standard exceptions that have been last updated in 2008. As a consequence of these developments indications, selection of recipients and the management of the waiting list have seen profound change.
Access options
Buy single article
Instant access to the full article PDF.
USD 39.95
Price excludes VAT (USA)
Tax calculation will be finalised during checkout.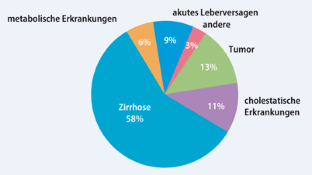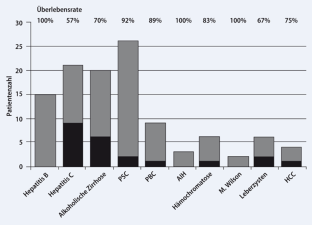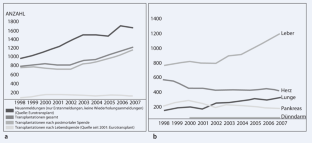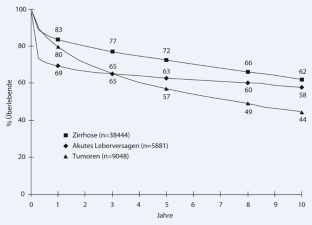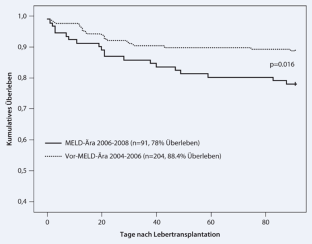 Literatur
Ahmad J, Downey KK, Akoad M et al. (2007) Impact of the MELD score on waiting time and disease severity in liver transplantation in United States veterans. Liver Transpl 13: 1564–1569

Austin MT, Poulose BK, Ray WA et al. (2007) Model for end-stage liver disease: Did the new liver allocation policy affect waiting list mortality? Arch Surg 142: 1079–1085

Berenguer M, Prieto M, San Juan F et al. (2002) Contribution of donor age to the recent decrease in patient survival among HCV-infected liver transplant recipients. Hepatology 36: 202–210

Bundesärztekammer (2008) Richtlinien zur Organtransplantation gemäß § 16 Transplantationsgesetz. Dtsch Artztebl 104: B1261–B1264

Burroughs AK, Sabin CA, Rolles K et al. (2006) 3-month and 12-month mortality after first liver transplant in adults in Europe: Predictive models for outcome. Lancet 367: 225–232

Cholongitas E, Marelli L, Shusang V et al. (2006) A systematic review of the performance of the model for end-stage liver disease (MELD) in the setting of liver transplantation. Liver Transpl 12: 1049–1061

Ciesek S, Manns M, Strassburg C (2006) Folgeerkrankungen nach Organtransplantation. Internist (Berl) 47: 252–260

Dellon ES, Galanko JA, Medapalli RK et al. (2006) Impact of dialysis and older age on survival after liver transplantation. Am J Transplant 6: 2183–2190

Freeman RB (2008) Model for end-stage liver disease (MELD) for liver allocation: A 5-year score card. Hepatology 47: 1052–1057

Grannas G, Neipp M, Hoeper MM et al. (2008) Indications for and outcomes after combined lung and liver transplantation: A single-center experience on 13 consecutive cases. Transplantation 85: 524–531

Greten TF, Papendorf F, Bleck JS et al. (2005) Survival rate in patients with hepatocellular carcinoma: a retrospective analysis of 389 patients. Br J Cancer 92: 1862–1868

Habib S, Berk B, Chang CC et al. (2006) MELD and prediction of post-liver transplantation survival. Liver Transpl 12: 440–447

Hoeper MM, Krowka MJ, Strassburg CP (2004) Portopulmonary hypertension and hepatopulmonary syndrome. Lancet 363: 1461–1468

Huo TI, Lee SD, Lin HC (2008) Selecting an optimal prognostic system for liver cirrhosis: The model for end-stage liver disease and beyond. Liver Int 28: 606–613

Kamath PS, Kim WR (2007) The model for end-stage liver disease (MELD). Hepatology 45: 797–805

Kamath PS, Wiesner RH, Malinchoc M et al. (2001) A model to predict survival in patients with end-stage liver disease. Hepatology 33: 464–470

Kirchner GI, Rifai K, Cantz T et al. (2006) Outcome and quality of life in patients with polycystic liver disease after liver or combined liver-kidney transplantation. Liver Transpl 12: 1268–1277

Kousoulas L, Neipp M, Barg-Hock H et al. (2008) Health-related quality of life in adult transplant recipients more than 15 years after orthotopic liver transplantation. Transpl Int 21: 1052–1058

Mazzaferro V, Regalia E, Doci R et al. (1996) Liver transplantation for the treatment of small hepatocellular carcinomas in patients with cirrhosis. N Engl J Med 334: 693–699

Nagler E, Van Vlierberghe H, Colle I et al. (2005) Impact of MELD on short-term and long-term outcome following liver transplantation: A European perspective. Eur J Gastroenterol Hepatol 17: 849–856

Neuberger J (2003) Treatment of hepatitis C virus infection in the allograft. Liver Transpl 9: 101–108

Rea DJ, Heimbach JK, Rosen CB et al. (2005) Liver transplantation with neoadjuvant chemoradiation is more effective than resection for hilar cholangiocarcinoma. Ann Surg 242: 451–458

Rosenau J, Hooman N, Hadem J et al. (2007) Failure of hepatitis B vaccination with conventional HBsAg vaccine in patients with continuous HBIG prophylaxis after liver transplantation. Liver Transpl 13: 367–373

Samuel D (2004) Management of hepatitis B in liver transplantation patients. Semin Liver Dis 24 (Suppl 1): 55–62

Schrem H, Till N, Becker T et al. (2008) Langzeit-Outcome nach Lebertransplantation. Chirurg 79: 121–129

Silberhumer GR, Hetz H, Rasoul-Rockenschaub S et al. (2006) Is MELD score sufficient to predict not only death on waiting list, but also post-transplant survival? Transpl Int 19: 275–281

Strassburg CP, Becker T, Klempnauer J et al. (2004) Lebertransplantation zwischen Indikation und Spenderallokation. Internist (Berl) 45: 1233–1245

Strassburg CP, Manns MP (2003) Transition of care between paediatric and adult gastroenterology. Autoimmune hepatitis. Best Pract Res Clin Gastroenterol 17: 291–306

Suneetha PV, Mederacke I, Heim A et al. (2008) Spontaneous clearance of chronic hepatitis C after liver transplantation: are hepatitis C virus-specific T cell responses the clue? Liver Transpl 14: 1225–1227

Tischendorf JJ, Meier PN, Strassburg CP et al. (2006) Characterization and clinical course of hepatobiliary carcinoma in patients with primary sclerosing cholangitis. Scand J Gastroenterol 41: 1227–1234

Vogel A, Heinrich E, Bahr MJ et al. (2004) Long-term outcome of liver transplantation for autoimmune hepatitis. Clin Transplant 18: 62–69

Weismuller TJ, Prokein J, Becker T et al. (2008) Prediction of survival after liver transplantation by pre-transplant parameters. Scand J Gastroenterol 43: 736–746

Weismuller TJ, Wedemeyer J, Kubicka S et al. (2008) The challenges in primary sclerosing cholangitis–aetiopathogenesis, autoimmunity, management and malignancy. J Hepatol 48 (Suppl 1): 38–57

Wiesner R, Edwards E, Freeman R et al. (2003) Model for end-stage liver disease (MELD) and allocation of donor livers. Gastroenterology 124: 91–96
Interessenkonflikt
Der korrespondierende Autor gibt an, dass kein Interessenkonflikt besteht.
About this article
Cite this article
Strassburg, C., Manns, M. Lebertransplantation. Internist 50, 550–560 (2009). https://doi.org/10.1007/s00108-008-2268-8
Published:

Issue Date:

DOI: https://doi.org/10.1007/s00108-008-2268-8
Schlüsselwörter
Keywords