Zusammenfassung
Die chronische Obstipation ist eine Volkskrankheit: bis zu 25% der Bevölkerung in den westlichen Industrienationen geben an, unter einer Obstipation zu leiden. Die Beschwerden können zu einer erheblichen Belastung mit Einschränkung der Lebensqualität führen, weswegen die Obstipation nicht als Befindlichkeitsstörung abgetan werden darf. Die Therapie der chronischen Obstipation richtet sich nach Art und Schweregrad der Obstipation. Patienten mit Normal-Transit-Obstipation können von therapeutischen Allgemeinmaßnahmen und diätetischen Maßnahmen profitieren. Der Grad der Evidenz ist jedoch bei diesen Empfehlungen spärlich. Gelbildner und einige Probiotika haben hier eine zufriedenstellende Evidenz (Grad B). Mitunter ist der Einsatz von osmotischen Laxanzien, wie Polyethylenglykol (Evidenzgrad A) erforderlich. Tegaserod, ein Serotonin- (5-HT4-) Rezeptoragonist besitzt einen Evidenzgrad A in der Therapie der chronischen Obstipation. Patienten mit Slow-Transit-Obstipation (Kolontransitzeit >72 h) sind auf eine medikamentöse Dauertherapie mit osmotischen Laxanzien (Polyethylenglycol; Evidenzgrad A) und stimulierenden Laxanzien (Bisacodyl; Evidenzgrad C) angewiesen. Liegt eine Entleerungsstörung (Outlet-Obstipation) vor, kommen Gelbildner (Evidenzgrad B) und lokale rektale Entleerungshilfen (z. B. CO2-bildende Suppositorien) zum Einsatz.
Abstract
Chronic constipation is a widespread disease affecting up to 25 percent of the population in western countries. The symptoms associated with constipation may lead to a heavy burden and a decrease in quality of life. The therapy of chronic constipation is based upon its type and severity. Patients with normal transit may benefit from lifestyle measures including dietetic advice. However, almost none of these measures has been validated in a controlled trial. Bulk forming laxatives such as psyllium seeds and probiotics have a moderate evidence (Grade B). In certain cases, the use of osmotic laxatives, e. g. polyethylene glycol solutions (Grade A), is necessary. Tegaserod, a selective agonist of the serotonine subtype 4 (5-HT4), has a good evidence to treat constipation (Grade A). Patients with slow-transit constipation (transit-time over 72 hours) are dependent on osmotic (polyethylene glycol solutions, Grade A) and stimulant laxatives (bisacodyl, Grade C). Patients who suffer from defecatory disorders (outlet constipation) should be treated with bulk forming laxatives (Grade B) together with suppositories (e. g. CO2-suppositories) and enemas.
Access options
Buy single article
Instant access to the full article PDF.
USD 39.95
Price includes VAT (USA)
Tax calculation will be finalised during checkout.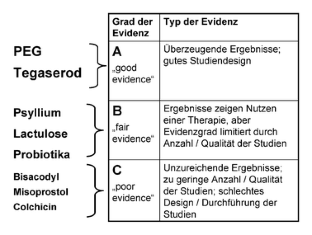 Literatur
1.

Attar A, Lemann M, Ferguson A et al. (1999) Comparison of a low dose polyethylene glycol electrolyte solution with lactulose for treatment of chronic constipation. Gut 44: 226–230

2.

Corazziari E, Badiali D, Bazzocchi G et al. (2000) Long term efficacy, safety, and tolerability of low daily doses of isosmotic polyethylene glycol electrolyte balanced solution (PMF-100) in the treatment of functional chronic constipation. Gut 46: 522–526

3.

DiPalma JA, DeRidder PH, Orlando RC, Kolts BE, Cleveland MB (2000) A randomized, placebo-controlled, multicenter study of the safety and efficacy of a new polyethylene glycol laxative. Am J Gastroenterol 95: 446–450

4.

Erckenbrecht JF (2000) Epidemiologie der Obstipation. Z Gastroenterologie (Suppl 1): 3–5

5.

Ewe K (1987) Effect of bisacodyl on intestinal electrolyte and water net transport and transit. Perfusion studies in men. Digestion 37: 247–253

6.

Hammer HF, Hammer J, Gasche C (2000) Polyäthylenglykol (Macrogol) — Übersicht über seine Verwendung in der Diagnostik gastroenterologischer Erkrankungen. Wien Klin Wochenschr 112: 53–60

7.

Hitzenberger G (1999) Konsensuspapier — Obstipation und Laxantien. Wien Med Wochenschr 149: 174–177

8.

Kamm MA, Muller-Lissner S, Talley NJ et al. (2005) Tegaserod for the treatment of chronic constipation: a randomized, double-blind, placebo-controlled multinational study. Am J Gastroenterol 100: 362–372

9.

Klauser AG, Peyerl C, Schindlbeck NE, Müller-Lissner SA (1992) Nutrition and physical activity in chronic constipation. Eur J Gastroenterol Hepatol 4: 227–233

10.

Krammer HJ, Schlieger F, Harder H, Franke A, Singer MV (2005) Probiotika in der Therapie des Reizdarmsyndroms. Z Gastroenterol 43: 467–471

11.

Mitznegg P, Schubert E, Domschke W, Strunz U, Schwemmle K, Demling L, Heim F (1975) Mode of action of bisacodyl (Dulcolax) on isolated muscles of human colon. Klin Wochenschr 15: 493–495

12.

Müller-Lissner SA (1988) Effect of wheat bran on weight of stool and gastrointestinal transit time: a meta-analysis. BMJ 296: 615–617

13.

Müller-Lissner SA (1992) Nebenwirkungen von Laxantien. Z Gastroenterol 30: 418–427

14.

Müller-Lissner SA, Kamm MA, Scarpignato C, Wald A (2005) Myths and misconceptions about chronic constipation. Am J Gastroenterol 100: 232–242

15.

Nyam DC, Pemberton JH, Ilstrup DM, Rath D (1997) Long-term results of surgery for chronic constipation. Dis Colon Rectum 40: 273–279

16.

Prather CM, Camilleri M, Zinsmeister AR, McKinzies S, Thomforde G (2000) Tegaserod accelerates orocaecal transit in patients with constipation-predominant irritable bowel syndrome. Gastroenterology 118: 463–468

17.

Ramkumar D, Rao SSC (2005) Efficacy and safety of traditional medical therapies for chronic constipation: Systemic review. Am J Gastroenterol 100: 936–971

18.

Schäfer R (2000) Ballaststoffe in der Therapie der Obstipation. Z Gastroenterol (Suppl 1): 28–32

19.

Thompson WG, Longstreth GF, Drossman DA, Heaton KW, Irvine EJ, Muller-Lissner SA (1999) Functional bowel disorders and functional abdominal pain. Gut 45 (Suppl 2): II43–47

20.

Verne GN, Eaker EY, Davis RH, Sninsky CA (1997) Colchicine is an effective treatment for patients with chronic constipation: an open-label trial. Dig Dis Sci 42: 1959–1963

21.

Wedel T, Spiegler J, Soellner S, Roblick UJ, Schiedeck THK, Bruch HP, Krammer HJ (2002) Enteric nerves and interstitial cells of Cajal are altered in patients with slow transit constipation and megacolon. Gastroenterology 123: 1459–1467

22.

Wiseman LR, Faulds D (1994) Cisapride. An updated review of its pharmacology and therapeutic efficacy as a prokinetic agent in gastrointestinal motility disorders. Drugs 47: 116–152
Interessenkonflikt:
Der Autor hat eine Studie zum Effekt von Lactobacillus casei Shirota durchgeführt. Trotz des möglichen Interessenkonflikts ist der Beitrag unabhängig und produktneutral.
About this article
Cite this article
Krammer, H., Schlieger, F. & Singer, M.V. Therapieoptionen der chronischen Obstipation. Internist 46, 1331–1338 (2005). https://doi.org/10.1007/s00108-005-1509-3
Schlüsselwörter
Chronische Obstipation

Laxanzien

Tegaserod

Probiotika

Polyethylenglykol
Keywords
Chronic constipation

Laxatives

Tegaserod

Probiotics

Polyethylene glycol