Zusammenfassung
Adenokarzinome der Gallenblase und Gallengänge entstehen durch maligne Transformation des Epithels im Sinne einer Dysplasie-Karzinom-Sequenz. Dabei nehmen die intrahepatischen Cholangiokarzinome ihren Ausgang in den kleinen, portalen, intralobulären Gallengängen. Extrahepatische Gallengangskarzinome entstehen in Ductus hepaticus, Ductus cysticus oder Ductus choledochus. Bei primärem Ursprung in der Bifurkation werden sie Klatskin-Tumoren genannt. Für die intrahepatischen Cholangiokarzinome gilt die UICC-TNM-Klassifikation der Lebertumoren, die extrahepatischen besitzen eine eigene UICC-TNM-Klassifikation. Ätiopathogenetisch sind Faktoren relevant, die mit einer chronischen Entzündungsreaktion einhergehen, wie parasitäre Erkrankungen (Schistosomisasis), Colitis ulcerosa mit konsekutiver primär sklerosierender Cholangitis oder konnatale Leberzysten. Die ätiopathegentische Relevanz von Gallensteinen ist wahrscheinlich. Histologisch handelt es sich um Adenokarzinome; mesenchymale Tumoren oder Melanome sind eine extreme Rarität. Eine ganze Reihe von ursächlichen genetischen Alterationen sind bisher identifiziert worden.
Abstract
Biliary tract cancers are a consequence of a stepwise malignant transformation of the biliary epithelium. Intrahepatic cholangiocarcinomas arises from any portions of the intrahepatic bile duct epithelium: the segmental or area ducts and their finer branches or intrahepatic small bile ducts. Cholangiocarcinoma arising from the hepatic ducts or near their junction are called hilar cholangiocarcinoma or Klatskin tumour, and are considered as extrahepatic lesiona. Cancer of extrahepatic bile ducts may also arise in the Ductus cysticus or choledochus as well as in the gall bladder. For intrahepatic cholangiocarcinoma, the UICC-TNM classification system of malignant liver tumors is applied, differing from the UICC-TNM staging system of extrahepatic bile ducts and gall bladder carcinomas. The cause of carcinomas of the bile ducts remains speculative in most cases. However, chronic inflammation due to sclerosing cholangitis, hepatolithiasis or parasites is associated with carcinogenesis. Histopathologically, the vast majority are adenocarcinomas; mesenchymal tumors and primary melanomas are extremely rare. Different genetic alterations are discussed to be of importance.
This is a preview of subscription content,
to check access.
Access this article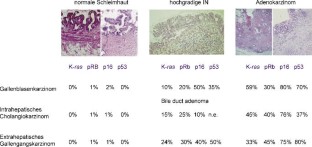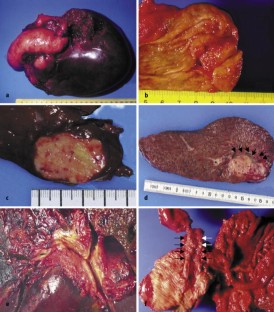 Literatur
Hamilton SR, Aaltonen LA (2000) WHO: pathology and genetics. Tumours of the digestive system. IARC Press Lyon, pp 173–180

Sharp GB, Cologne JB, Fukuhara T, Itakura H, Yamamoto M, Toku S (2001) Temporal changes in liver cancer incidence rates in Japan: accounting for death certificate inaccuracies and improving diagnostic techniques. Int J Cancer 93: 751–758

Anthony PP (1994) Tumors and tumor-like lesions of the liver and biliary tract. In: MacSween RNM, Anthony PP, Scheuer PJ (eds) Pathology of the liver, 3rd edn. Churchill Livingstone, pp 635–711

Sobin LH, Wittekind Ch (2002) UICC: TNM classification of malignant tumors, 6th edn. Wiley-Liss, New York

Tazuma S, Kajiyama G (2001) Carcinogenesis of malignant lesions of the gall bladder. The impact of chronic inflammation and gallstones. Langenbecks Arch Surg 386: 224–229

Vitetta L, Sali A, Little P, Mrazek L (2000) Gallstones and gall bladder carcinoma. Aust N Z J Surg 70: 667–673

Obara T, Tanno S, Fujii T, Izawa T, Mizukami Y, Yanagawa N, Ura Kohgo Y (1999) Epithelial cell proliferation and gene mutation in the mucosa gallbladder with pancreaticobiliary malunion and cancer. J Hepatobiliary Pancreat Surg 6: 229–236

Huang C, Lichtenstein DR (2002) Pancreatic and biliary tract disorders in inflammatory bowel disease. Gastointest Endosc Clin N Am 12: 535–559

Tanno S, Obara T, Fujii T, Mizukami Y, Yanagawa N, Izawa T, Ura Kohgo Y (1999) Epithelial hyperplasia of the gallbladder in children with anomalous pancreaticobiliary ductal union. Hepatogastroenterology 46: 3068–3073

Caygill CPJ, Hill MJ, Braddick M, Knowles R, Sharpe JC (1993) Excess cancer mortality in chronic typhoid and paratyphoid carriers. J Med Microbiol 39: 339

Leong RW, Sung JJ (2002) Helicobacter species and hepatobiliary disease. Aliment Pharmacol Ther 16: 1037–1045

North JH, Pack MS, Hong C, Rivera DE (1998) Prognostic factors for adenocarcinoma of the gallbladder: an analysis of 162 cases. Am Surg 64: 437–440

Wistuba II, Ashfaq R, Maitra A, Alvarez H, Riquelme E, Gazdar AF (2002) Fragile histidine triad gene abnormalities in the pathogenesis gallbladder carcinoma. Am J Pathol 160: 2073–2079

Bheerappa N, Sastry RA (2001) Pancreatico-biliary ductal union. Trop Gastroenterol 22: 190–193

Tanno S, Obara T, Fujii T et al. (1998) Proliferative potential and K-ras mutation in epithelial hyperplasia of the gallbladder in patients with anomalous pancreaticobiliary ductal union. Cancer 83: 267–275

Gores GJ (2003) Cholangiocarcinoma: current concepts and insights. Hepatology 37: 961–969

Tannapfel A, Wittekind Ch (2002) Genes involved in hepatocellular carcinoma: deregulation in cell cycling apoptisis. Virchows Arch 440: 345–352

Tannapfel A, Benicke M, Tatalinic A, Uhlmann D, Köckerling F, Hauss J, Wittekind C (2000) Frequency of p16 (INK4A) alterations and K-ras mutations in intrahepatic cholangiocarcinoma of the liver. Gut 47: 721–727

Wiedmann M, Caca K, Berr F et al. (2003) Neoadjuvant photodynamic therapy as a new approach to treating hilar cholangiocarcinoma: a phase II pilot study. Cancer 97: 2783–2790

Tannapfel A, Sommerer F, Benicke M et al. (2003) Mutations of the BRAF gene in cholangiocarcinoma but not in hepatocellular carcinoma. Gut 52: 706–712

Tannapfel A, Sommerer F, Benicke M et al. (2002) Genetic and epigenetic alterations of the INK4a-ARF pathway in cholangiocarcinoma. J Pathol 197: 624–631

Koch E, Fiedler W, Tannapfel A, Ballhausen WG (2003) Alteration of the fragile histidine triad gene in intrahepatic cholangiocarcinoma. Eur J Gastroenterol Hepatol 15: 907–913

Klatskin G (1965) Adenocarcinoma of the hepatic duct at is bifurcation within the porta hepatis. Am J Med 38: 241–256

Tannapfel A, Wittekind C (2001) Anatomy and pathology of intrahepatic and extrahepatic bile duct tumors. Pathologe 22: 114–123

Launois B, Terblanche J, Lakehal M et al. (1999) Proximal bile duct cancer: high resectability rate and 5-year survival. Ann Surg 230: 266–275

Bismuth H, Corlette MB (1975) Intrahepatic cholangioenteric anastomosis in carcinoma of the hilus of the liver. Surg Gynec Obstet 140: 170–178

Caca K, Feisthammel J, Klee K et al. (2002) Inactivation of the INK4a/ARF locus and p53 in sporadic extrahepatic bile duct cancers and bile tract cancer cell lines. Int Cancer 97: 481–488
About this article
Cite this article
Tannapfel, A., Wittekind, C. Gallenblasen- und Gallengangskarzinom. Internist 45, 33–41 (2004). https://doi.org/10.1007/s00108-003-1110-6
Issue Date:

DOI: https://doi.org/10.1007/s00108-003-1110-6
Schlüsselwörter
Keywords