Zusammenfassung
In den letzten Jahren wurde eine neue Klassifikation der früher unter dem Begriff "idiopathische Lungenfibrose" (IPF) zusammengefassten idiopathischen interstitiellen Pneumonien erarbeitet. Anhand histologischer Merkmale werden verschiedene Subentitäten mit unterschiedlicher prognostischer und klinischer Relevanz eingeteilt. Die Diagnostik verlangt eine Integration klinischer, radiologischer und histopathologischer Befunde. Mit Hilfe des HR-CT kann die Diagnose der häufigsten Subentität, der IPF/UIP, bei passenden klinischen Befunden auch ohne chirurgische Lungenbiopsie ausreichend sicher gestellt werden. Pathogenetisch wird heute das primäre Geschehen bei der IPF in einer Epithelschädigung mit Störung der normalen Wundheilung gesehen. Daraus ergibt sich das therapeutische Dilemma: mittels Immunsuppression ist die Hemmung der primären Fibroblastenaktivität nicht möglich. Da noch keine antifibrotischen Substanzen zur Verfügung stehen, wird als Standardtherapie eine Kombination aus Prednison mit Azathioprin oder Cyclophosphamid empfohlen. Erste antifibrotische Moleküle werden bereits in klinischen Studien geprüft.
Abstract
A new classification of the idiopathic interstitial pneumonia has recently been proposed, defining idiopathic pulmonary fibrosis (IPF) more rigorously and in contrast to further subentities. The new classification is of prognostic and clinical relevance. Diagnosis requires a combined clinical, radiological and pathological effort. In patients with characteristic clinical and HR-CT findings, the diagnosis of IPF can be made with sufficient confidence without surgical lung biopsy. Recent evidence suggests that the primary pathogenetic event in IPF involves epithelial injury and abnormal wound heeling. This explains the ineffectiveness of the usual anti-inflammatory therapy in the majority of patients. Since no antifibrotic drugs are available at present, the recommended standard therapy is a combination of prednisone with azathioprine or cyclophosphamide. New antifibrotic molecules are already tested in clinical trials.
This is a preview of subscription content,
to check access.
Access this article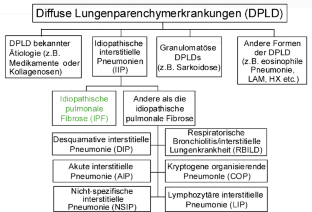 Literatur
Behr J (2001) Diagnostik der idiopathischen Lungenfibrose. Pneumologie 55: 144–148

Behr J, Mayer K, Degenkolb B et al. (1997) Antioxidative and clinical effects of high-dose N-acetylcysteine in fibrosing alveolitis. Am J Respir Crit Care Med 156: 1897–1901

Bjoraker JA, Ryu JH, Edwin MK, Myers JL, Tazelaar HD, Schroeder DS, Offord KP (1998) Prognostic significance of histopathologic subsets in idiopathic pulmonary fibrosis. Am J Respir Crit Care Med 157: 199–203

Bonaccorsi A, Cancellieri A, Chilosi M et al. (2003) Acute interstitial pneumonia: report of a series. Eur Respir J 21: 187–191

Costabel U (2000) Die neue Klassifikation der idiopathischen interstitiellen Pneumonien. Pneumologie 54: 447–453

Costabel U (2002) Idiopathische interstitielle Pneumonien—wozu schon wieder eine Konsensusklassifikation? Pneumologie 56: 279–280

Daniil ZD, Gilchrist FC, Nicholson AG, Hansell DM, Harris J, Colby TV, Du Bois RM (1999) A histologic pattern of nonspecific interstitial pneumonia is associated with a better prognosis than usual interstitial pneumonia in patients with cryptogenic fibrosing alveolitis. Am J Respir Crit Care Med 160: 899–905

Douglas WW, Ryu JH, Schroeder DR (2000) Idiopathic pulmonary fibrosis. Impact of oxygen and colchicine, prednisone, or no therapy on survival. Am J Respir Crit Care Med 161: 1172–1178

Flaherty KR, Toews GB, Travis WD et al. (2002) Clinical significance of histological classification of idiopathic interstitial pneumonia. Eur Respir J 19: 275–283

Flaherty KR, Travis WD, Colby TV et al. (2001) Histopathologic variability in usual and nonspecific interstitial pneumonias. Am J Respir Crit Care Med 164: 1722–1727

Gay SE, Kazerooni EA, Toews GB et al. (1998) Idiopathic pulmonary fibrosis: predicting response to therapy and survival. Am J Respir Crit Care Med 157: 1063–1072

Homolka J (2002) Idiopathische Lungenfibrose: schlechte Prognose beim beatmeten Patienten. Pneumologie 56: 161–162

Hunninghake GW, Costabel U, Ando M et al. (1999) ATS/ERS/WASOG Statement on Sarcoidosis. Sarcoidosis Vasc Diffuse Lung Dis 16: 149–173

Hunninghake GW, Zimmermann MB, Schwartz DA et al. (2001) Utility of a lung biopsy for the diagnosis of idiopathic pulmonary fibosis. Am J Respir Crit Care Med 164: 193–196

Ichikado K, Sua M, Müller NL et al. (2002) Acute interstitial pneumonia. Comparison of high-resolution computed tomography findings between survivors and nonsurvivors. Am J Respir Crit Care Med 165: 1551–1556

Johkoh T, Müller NL, Cartier Y et al. (1999) Idiopathic interstitial pneumonias: diagnostic accuracy of thin-section CT in 128 patients. Radiology 211: 555–560

Johnson MA, Kwan S, Snell NJ et al. (1989) Randomized controlled trial comparing prednisolone alone with cyclophosphamide and low-dose prednisolone in combination in cryptogenetic fibrosing alveolitis. Thorax 44: 280–288

Katzenstein ALA, Myers JL (1998) Idiopathic pulmonary fibrosis. Clinical relevance of pathologic classification. Am J Respir Crit Care Med 157: 1301–1315

King TE, Costabel U, Cordier JF et al. (2000) International Consensus Statement. Idiopathic pulmonary fibrosis: diagnosis and treatment. Am J Respir Crit Care Med 161: 646–664

King TE, Schwarz MI, Brown K et al. (2001) Idiopathic pulmonary fibrosis: relationship between histopathologic features and mortality. Am J Respir Crit Care Med 164: 1025–1032

Kroegel C, Reißig A, Bonner R et al. (2003) Aktuelle Entwicklungen in der Pneumologie 2002—Teil 1. Med Klin 98: 30–56

Lohr RH, Boland BJ, Douglas WW et al. (1997) Organizing pneumonia. Features and prognosis of cryptogenic, secondary, and focal variants. Arch Intern Med 157: 1323–1329

Nagai S, Kitaichi M, Ito H et al. (1998) Idiopathic nonspecific interstitial pneumonia/fibrosis: comparison with idiopathic pulmonary fibrosis and BOOP. Eur Respir J 12: 1010–1019

Nicholson AG, Colby TV, Dubois RM, Hansell DM, Wells AU (2000) The prognostic significance of the histologic pattern of interstitial pneumonia in patients presenting with the clinical entity of cryptogenic fibrosing alveolitis. Am J Respir Crit Care Med 162: 2213–2217

Nicholson AG, Fulford LG, Colby TV et al. (2002) The relationship between individual histologic features and disease progression in idiopathic pulmonary fibrosis. Am J Respir Crit Care Med 166: 173–177

Raghu G, Depaso WJ, Cain K et al. (1991) Azathioprine combined with prednisone in the treatment of idiopathic pulmonary fibrosis: a prospective double-blind, randomized, placebo-controlled clinical trial. Am Rev Respir Dis 144: 291–296

Raghu G, Johnson WG, Lockhart D, Mageto Y (1999) Treatment of idiopathic pulmonary fibrosis with a new antifibrotic agent, pirfenidon. Am J Respir Crit Care Med 159: 1061–1069

Raghu G, Mageto YN, Lockhart D et al. (1999) The accuracy of the clinical diagnosis of new-onset idiopathic pulmonary fibrosis and other interstitial lung disease. Chest 116: 1168–1174

Selman M, Carrillo G, Salas J et al. (1998) Cholchicine, D-penicillamine, and prednisone in the treatment of idiopathic pulmonary fibrosis. Chest 114: 507–512

Selman M, King TE, Pardo A (2001) Idiopathic pulmonary fibrosis: prevailing and evolving hypotheses about its pathogenesis and implication for therapy. Ann Intern Med 134: 136–151

Teschler H, Wessendorf TE (2002) Bronchiolitis obliterans mit organisierender Pneumonie (BOOP). Pneumologie 56: 798–806

Travis WD, King TE, Bateman ED et al. (2002) ATS/ERS international multidisciplinary consensus classificiation of idiopathic interstitial pneumonias. General principles and recommendations. Am J Respir Crit Care Med 165: 277–304

Travis WD, Matsui K, Moss JE, Ferrans VJ (2000) Idiopathic nonspecific inerstitial pneumonia: prognostic significance of cellular and fibrosing patterns. Survival comparison with usual interstitial pneumonia and desquamative interstitial pneumonia. Am J Surg Pathol 24: 19–33
About this article
Cite this article
Costabel, U., Guzman, J. Lungenfibrosen. Internist 44 (Suppl 1), S35–S43 (2003). https://doi.org/10.1007/s00108-003-0977-6
Published:

Issue Date:

DOI: https://doi.org/10.1007/s00108-003-0977-6
Schlüsselwörter
Keywords