Abstract
Alkali solution immersion is widely used as a pretreatment process during bamboo and wood product manufacturing. In this study, a surface analysis on bamboo chips pre-treated with sodium hydroxide (NaOH) at room temperature was performed. The influence of this treatment on the bamboo surface color, microstructure, surface chemical composition, and biological resistance was evaluated. The surface color rapidly became dark at 5% NaOH and became rough at 20% NaOH. After the alkali treatment, an absorption peak occurred near wavelengths of 390–410 nm in the Kubelka–Munk curve, owing to the presence of chromophore groups derived from lignin. Fourier transform infrared spectroscopy revealed that the conjugate structure of lignin-phenols changed after proton transfer in a hydroxyl radical solution. During the treatment, lignin and hemicellulose in the bamboo degraded to some extent, but cellulose was less affected. X-ray photoelectron spectroscopy demonstrated that the oxygen-carbon ratio and the oxygenated to unoxygenated carbon ratio increased with the treatment, indicating a decrease in the amount of extractives and lignin. X-ray diffraction results showed that the area of the crystallization zone increased rapidly at 5% NaOH and then decreased. Furthermore, upon reaching the crystalline region, the NaOH solution led to swelling of the cell wall, thereby increasing the accessibility of fungi and, hence, the susceptibility of the bamboo to fungi infection. The bamboo weight loss of decay after the alkaline treatment was larger than that of the control and was a maximum at 10% NaOH.
This is a preview of subscription content, log in to check access.
Access options
Buy single article
Instant access to the full article PDF.
US$ 39.95
Tax calculation will be finalised during checkout.
Subscribe to journal
Immediate online access to all issues from 2019. Subscription will auto renew annually.
US$ 199
Tax calculation will be finalised during checkout.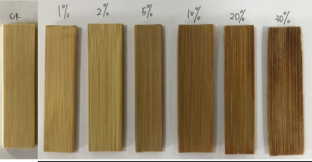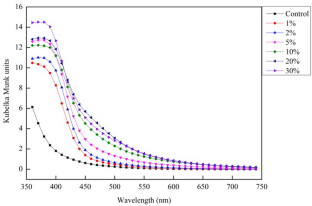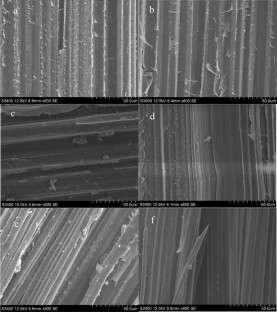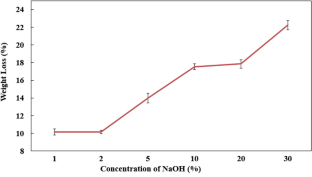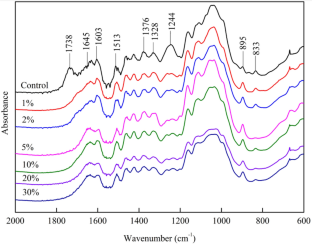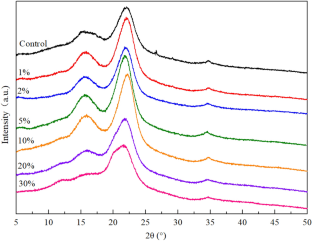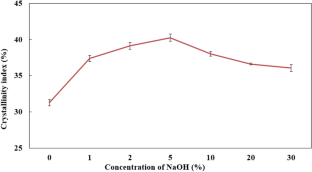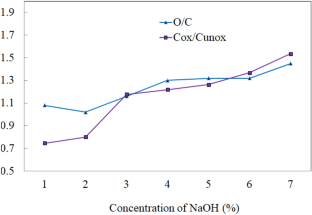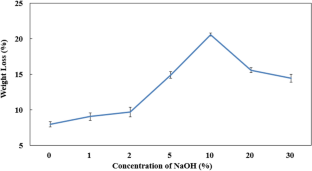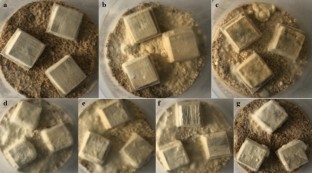 References
Chinese National Standard (2009) GB/T 13942 1 Method for laboratory test of natural decay resistance of woods. Chinese National Standard, Beijing

Goshadrou A, Karimi K, Taherzadeh MJ (2011) Bioethanol production from sweet sorghum bagasse by Mucor hiemalis. Ind Crops Prod 34:1219–1225. https://doi.org/10.1016/j.indcrop.2011.04.018

Jiang Y, Nie S, Ling D, Liang D, Zhang N, Wang S, Song X (2015) Effects of alkaline hydrogen peroxide pre-extraction on bamboo lignin chemistry and other bamboo chemical components. BioRes. 10(4):6332–6347. https://doi.org/10.15376/biores.10.4.6332-6347

Kacikova D, Kacik F, Cabalova I, Durkovic J (2013) Effects of thermal treatment on chemical, mechanical and colour traits in Norway spruce wood. Bioresour Technol. 144:669–674. https://doi.org/10.1016/j.biortech.2013.06.110

Kalia S, Kaith BS, Kaur I (2009) Pretreatments of natural fibers and their application as reinforcing material in polymer composites—a review. Polym Eng Sci 49(7):1253–1272. https://doi.org/10.1002/pen.21328

Keating J (2006) The nature of chromophores in high-extractives mechanical pulps: Western red cedar (Thuja plicata Donn) chemithermomechanical pulp(CTMP). Holzforschung 60(4):365–371. https://doi.org/10.1515/HF.2006.057

Kocaefe D, Huang X A, Kocaefe Y, Boluk Y (2012) Quantitative characterization of chemical degradation of heat-treated wood surfaces during artificial weathering using XPS. Sur Interface A nal 456–466

Ma XJ, Cao SL, Lin L, Luo XL, Chen LH, Huang LL (2013) Surface characterizations of moso bamboo substrates treated by hot water extraction. Bioresour Technol 136:757–760. https://doi.org/10.1016/j.biortech.2013.03.120

Nie SX, Zhang CY, Zhang Q, Zhang K, Zhang YH, Tao P, Wang SF (2018) Enzymatic and cold alkaline pretreatments of sugarcane bagasse pulp to produce cellulose nanofibrils using a mechanical method. Ind Crops Prod 124(15):435–441

Pastore TCM, Santos KO, Rubim JC (2004) A spectrocolorimetric study on the effect of ultraviolet irradiation of four tropical hardwoods. Bioresource Technol. 93:37–42. https://doi.org/10.1016/j.biortech.2003.10.035

Paulsson M, Li S, Lundquist K, Simonson R (1996) Chemical modification of lignin-rich paper, 3: acetylation of lignin model compounds representative of beta-o-4 structures of the beta-guaiacyl ether type. Acs Symp. https://doi.org/10.1021/bk-2000-0742.ch025

Safari A, Karimi K, Shafiei M (2017) Dilute alkali pretreatment of softwood pine: a biorefinery approach. Bioresour Technol 234:67–76. https://doi.org/10.1016/j.biortech.2017.03.030

Segal L, Creely JJ, Martin JE, Conrad CM (1959) An empirical method for estimating the degree of crystallinity of native cellulose using the X-ray diffractometer. Text Res J 29:786–794

Sghaier AEOB, Chaabouni Y, Msahli S, Sakli F (2012) Morphological and crystalline characterization of NaOH and NaOCL treated agave Americana l. Fiber Ind Crops Prod 36:257–266. https://doi.org/10.1016/j.indcrop.2011.09.012

Song XP, Jiang Y, Rong XJ, Wei W, Wang SF, Nie SX (2016) Surface characterization and chemical analysis of moso bamboo substrates pretreated by alkali hydrogen peroxide. Bioresour Technol 216:1098–1101. https://doi.org/10.1016/j.biortech.2016.06.026

Stark NM, Matuana LM (2007) Characterization of weathered wood–plastic composite surfaces using FTIR spectroscopy, contact angle, and XPS. Polym Degrad Stab 92:1883–1890. https://doi.org/10.1016/j.polymdegradstab.2007.06.017

Wang XQ, Ren HQ (2009) Surface deterioration of moso bamboo (Phyllostachys pubescens) induced by exposure to artificial sunlight. J Wood Sci. 55:47–52. https://doi.org/10.1007/s10086-008-0994-0

Williams RS (2005) Hand book of wood chemistry and wood composites Chapter 7 weathering of wood. USDA, Forest Service, Forest Products Laboratory, Madison

Xu GQ, Wang LH, Liu JL, Wu JZ (2013) FTIR and XPS analysis of the changes in bamboo chemical structure decayed by white-rot and brown-rot fungi. Appl Surf Sci 280:799–805. https://doi.org/10.1016/j.apsusc.2013.05.065

Yu HX, Pan X, Xu MP, Yang WM, Wang J, Zhuang XW (2018) Surface chemical changes analysis of UV-light irradiated Moso bamboo (Phyllostachys pubescens Mazel). R Soc Open Sci. 10.6084/m9.figshare.6143234

Yi YY, Jing QH, Guang PH (2015) Characterization of cellulose I/II hybrid fibers isolated from energy cane bagasse during the delignification process: morphology, crystallinity and percentage estimation. Carbohyd Polym 133:438–447. https://doi.org/10.1016/j.carbpol.2015.07.058

Yu YL, Huang XA, Yu WJ (2014) A novel process to improve yield and mechanical performance of bamboo fiber reinforced composite via mechanical treatments. Compos Part B. 56:48–53. https://doi.org/10.1016/j.compositesb.2013.08.007

Yu HX, Yu WJ, Yang L, Fang CR, Xu MP (2015) Surface color modification and lignin degradation fragments of UV-irradiated Moso bamboo (Phyllostachys pubescens Mazel). BioRes 10(1):1617–1626

Yu YL, Liu R, Huang YX, Meng FD, Yu WY (2017) Preparation, physical, mechanical, and interfacial morphological properties of engineered bamboo scrimber. Constr Buld Mater. https://doi.org/10.1016/j.conbuildmat.2017.09.185

Yuan ZY, Kapu NS, Beatson R, Chang XF, Martinez DM (2016) Effect of alkaline pre-extraction of hemicelluloses and silica on kraft pulping of bamboo (Neosinocalamus affinis Keng). Ind Crop Prod 91(30):66–75. https://doi.org/10.1016/j.indcrop.2016.06.019

Zhang Y, Huang X, Yu Y, Yu W (2019) Effects of internal structure and chemical compositions on the hygroscopic property of bamboo fiber reinforced composites. Appl Surf Sci 492(30):936–943. https://doi.org/10.1016/j.apsusc.2019.05.279
Acknowledgments
The work was supported by the Science Technology Department of Zhejiang Province (Grant numbers 2020SY09, 2017ZZY2-01, 2017C02042, 2019F1065 and LGG18C160001).
Additional information
Publisher's Note
Springer Nature remains neutral with regard to jurisdictional claims in published maps and institutional affiliations.
About this article
Cite this article
Yu, H., Zheng, H., Zhan, M. et al. Surface characterization and biodegradability of sodium hydroxide-treated Moso bamboo substrates. Eur. J. Wood Prod. (2020). https://doi.org/10.1007/s00107-020-01613-x
Received:

Accepted:

Published: