Abstract
The radical scavenging activity and the content of proanthocyanidins, tannins, flavonoids, and total phenolic compounds in water extracts from whole bark and outer bark of alder (Alnus glutinosa (L.) Gaertn.), oak (Quercus robur L.) and pine (Pinus sylvestris L.) trees growing in the coastal and continental zones in Kaliningrad region (Russia) were evaluated. The content of proanthocyanidins was highest in extracts from whole alder bark collected in continental zone (3.8 ± 1.2 mg g−1), which was 34–38 times more than in outer part. No significant difference in tannin content in alder and oak bark extracts was revealed. Pine bark samples had less tannins. The whole alder bark showed higher content of flavonoids (9.7–21.5 mg g−1), compared to oak bark (7.2–8.4 mg g−1) and, in particular, pine bark (2.1–5.2 mg g−1). The maximal total phenolic content was found in whole alder bark from continental zone (29.0 ± 5.3 mg g−1). High content of phenolic compounds was determined in whole oak bark (about 18.1 ± 3.5 mg g−1). All investigated species showed approximately 1.3–2.5 times lower total phenolic content in outer bark in comparison to whole bark. Maximal radical scavenging activity of alder extracts (up to 276 ± 29 mg g−1) and minimal of pine extracts (up to 23.8 ± 4.0 mg g−1) was established. A higher level of radical scavenging activity for all samples from continental zone in comparison to samples from coastal zone was revealed. Based on the results of a cluster analysis, it was first demonstrated that the phenolic compounds content and radical scavenging of bark extracts are influenced by a complex of factors, such as tree species, part of the bark and the place of growth. The results of this study proved that whole bark of alder may be considered as a valuable source of phenolic compounds with radical scavenging properties.
Access options
Buy single article
Instant access to the full article PDF.
US$ 39.95
Tax calculation will be finalised during checkout.
Subscribe to journal
Immediate online access to all issues from 2019. Subscription will auto renew annually.
US$ 119
Tax calculation will be finalised during checkout.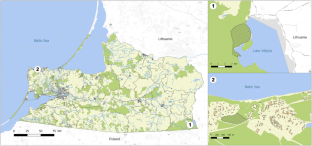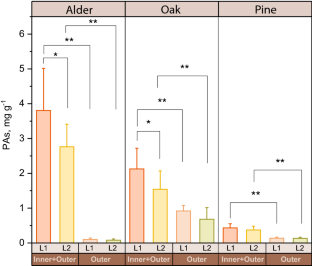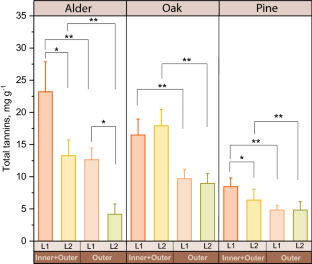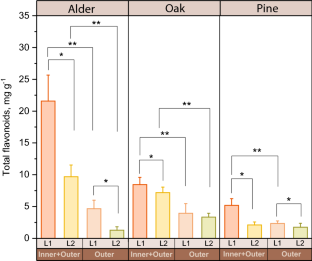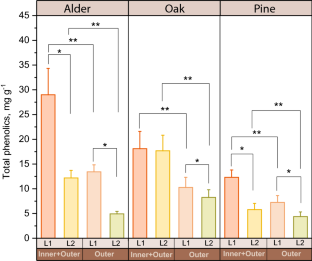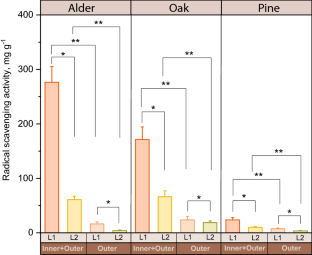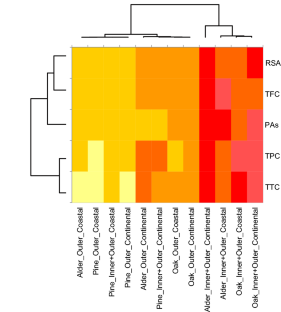 References
Akula R, Ravishankar GA (2011) Influence of abiotic stress signals on secondary metabolites in plants. Plant Signal Behav 6(11):1720–1731. https://doi.org/10.4161/psb.6.11.17613

Altınyay Ç, Süntar I, Altun L, Keleş H, Akkol EK (2016) Phytochemical and biological studies on Alnus glutinosa subsp. glutinosa, A. orientalis var. orientalis and A. orientalis var. pubescens leaves. J Ethnopharmacol 192:148–160. https://doi.org/10.1016/j.jep.2016.07.007

Ameer K, Shahbaz HM, Kwon JH (2017) Green extraction methods for polyphenols from plant matrices and their byproducts: a review. Compr Rev Food Sci Food Saf Banner 16(2):295–315. https://doi.org/10.1111/1541-4337.12253

Aroso IM, Araújo AR, Fernandes JP, Santos T, Batista MT, Pires RA, Mano JF, Reis RL (2017) Hydroalcoholic extracts from the bark of Quercus suber L. (Cork): optimization of extraction conditions, chemical composition and antioxidant potential. Wood Sci Technol 51(4):855–872. https://doi.org/10.1007/s00226-017-0904-y

Banerjee SK, Bonde CG (2011) Total phenolic content and antioxidant activity of extracts of Bridelia retusa Spreng Bark: impact of dielectric constant and geographical location. J Med Plants Res 5(5):817–822

Bautista I, Boscaiu M, Lidón A, Llinares JV, Lull C, Donat MP, Mayoral O, Vicente O (2016) Environmentally induced changes in antioxidant phenolic compounds levels in wild plants. Acta Physiol Plant 38(1):9. https://doi.org/10.1007/s11738-015-2025-2

Belščak-Cvitanović A, Durgo K, Huđek A, Bačun-Družina V, Komes D (2018) Overview of polyphenols and their properties. In: Galanakis CM (ed) Polyphenols: properties, recovery, and applications. Woodhead Publishing, Cambridge, pp 3–44

Bouras M, Chadni M, Barba FJ, Grimi N, Bals O, Vorobiev E (2015) Optimization of microwave-assisted extraction of polyphenols from Quercus bark. Ind Crop Prod 77:590–601. https://doi.org/10.1016/j.indcrop.2015.09.018

Chupakhina GN, Maslennikov PV, Skrypnik LN, Chupakhina NYu, Poltavskaya RL, Feduraev PV (2014) The influence of the Baltic region conditions on the accumulation of water-soluble antioxidants in plants. Russ Chem Bull 63(9):1946–1953. https://doi.org/10.1007/s11172-014-0684-6

Chupin L, Motillon C, Charrier-El Bouhtoury F, Pizzi A, Charrier B (2013) Characterisation of maritime pine (Pinus pinaster) bark tannins extracted under different conditions by spectroscopic methods, FTIR and HPLC. Ind Crop Prod 49:897–903. https://doi.org/10.1016/j.indcrop.2013.06.045

Coșarcă SL, Moacă EA, Tanase C, Muntean DL, Pavel IZ, Dehelean CA (2019) Spruce and beech bark aqueous extracts: source of polyphenols, tannins and antioxidants correlated to in vitro antitumor potential on two different cell lines. Wood Sci Technol 53(2):313–333. https://doi.org/10.1007/s00226-018-1071-5

Dahija S, Čakar J, Vidic D, Maksimović M, Parić A (2014) Total phenolic and flavonoid contents, antioxidant and antimicrobial activities of Alnus glutinosa (L.) Gaertn., Alnus incana (L.) Moench and Alnus viridis (Chaix) DC extracts. Nat Prod Res 28(24):2317–2320. https://doi.org/10.1080/14786419.2014.931390

De la Luz Cádiz-Gurrea M, Fernández-Arroyo S, Segura-Carretero A (2014) Pine bark and green tea concentrated extracts: antioxidant activity and comprehensive characterization of bioactive compounds by HPLC–ESI-QTOF-MS. Int J Mol Sci 15(11):20382–20402. https://doi.org/10.3390/ijms151120382

Dedrie M, Jacquet N, Bombeck PL, Hébert J, Richel A (2015) Oak barks as raw materials for the extraction of polyphenols for the chemical and pharmaceutical sectors: a regional case study. Ind Crop Prod 70:316–321. https://doi.org/10.1016/j.indcrop.2015.03.071

Dinić J, Ranđelović T, Stanković T, Dragoj M, Isaković A, Novaković M, Pešić M (2015) Chemo-protective and regenerative effects of diarylheptanoids from the bark of black alder (Alnus glutinosa) in human normal keratinocytes. Fitoterapia 105:169–176. https://doi.org/10.1016/j.fitote.2015.07.003

Dróżdż P, Pyrzynska K (2018) Assessment of polyphenol content and antioxidant activity of oak bark extracts. Eur J Wood Prod 76(2):793–795. https://doi.org/10.1007/s00107-017-1280-x

Durrant TH, de Rigo D, Caudullo G (2016a) Alnus glutinosa in Europe: distribution, habitat, usage and threats. European Atlas of forest tree species. Publication Office of the European Union, Luxembourg, pp 64–65

Durrant TH, de Rigo D, Caudullo G (2016b) Pinus sylvestris in Europe: distribution, habitat, usage and threats. European Atlas of forest tree species. Publication Office of the European Union, Luxembourg, pp 132–133

Eaton E, Caudullo G, Oliveira S, de Rigo D (2016) Quercus robur and Quercus petraea in Europe: distribution, habitat, usage and threats. European Atlas of Forest Tree Species. Publication Office of the European Union, Luxembourg, pp 160–163

Fernandes A, Sousa A, Mateus N, Cabral M, de Freitas V (2011) Analysis of phenolic compounds in cork from Quercus suber L. by HPLC–DAD/ESI–MS. Food Chem 125(4):1398–1405. https://doi.org/10.1016/j.foodchem.2010.10.016

Figueroa F, Marhuenda J, Gironés-Vilaplana A, Villaño D, Villaño A, Mulero J, Cerdá B, Zafrilla P (2017) Soil and climate determine antioxidant capacity of walnuts. Emir J Food Agric 29(7):557–561. https://doi.org/10.9755/ejfa.2016-10-1390

Gao H, Shupe TF, Eberhardt TL, Hse CY (2007) Antioxidant activity of extracts from the wood and bark of Port Orford cedar. J Wood Sci 53(2):147–152. https://doi.org/10.1007/s10086-006-0850-z

Ghitescu RE, Volf I, Carausu C, Bühlmann AM, Gilca IA, Popa VI (2015) Optimization of ultrasound-assisted extraction of polyphenols from spruce wood bark. Ultrason Sonochem 22:535–541. https://doi.org/10.1016/j.ultsonch.2014.07.013

Gokoglu N (2018) Novel natural food preservatives and applications in seafood preservation: a review. J Sci Food Agric. https://doi.org/10.1002/jsfa.9416

Gupta C, Verma R (2011) Visual estimation and spectrophotometric determination of tannin content and antioxidant activity of three common vegetable. Int J Pharm Sci Res 2(1):175–182

Hemingway RW (2018) Bark: its chemistry and prospects for chemical utilization. In: Goldstein IS (ed) Organic chemicals from biomass. CRC Press, Boca Raton, pp 189–248

Jablonsky M, Nosalova J, Sladkova A, Haz A, Kreps F, Valka J, Miertus S, Frecer V, Ondrejovic M, Sima J, Surina I (2017) Valorisation of softwood bark through extraction of utilizable chemicals. A review. Biotechnol Adv 35(6):726–750. https://doi.org/10.1016/j.biotechadv.2017.07.007

Janceva S, Lauberte L, Dizhbite T, Krasilnikova J, Telysheva G, Dzenis M (2017) Protective effects of proanthocyanidins extracts from the bark of deciduous trees in lipid systems. Holzforschung 71(7–8):675–680. https://doi.org/10.1515/hf-2016-0185

Katiyar SK, Pal HC, Prasad R (2017) Dietary proanthocyanidins prevent ultraviolet radiation-induced non-melanoma skin cancer through enhanced repair of damaged DNA-dependent activation of immune sensitivity. Semin Cancer Biol 46:138–145. https://doi.org/10.1016/j.semcancer.2017.04.003

Klarić M, Pervan S, Biošić M (2017) Influence of lyophilisation and oven-drying on extraction yield of oregonin from European black alder (Alnus glutinosa (L.) Gaertn.) bark. Drvna industrija 68(3):205–210

Krogell J, Holmbom B, Pranovich A, Hemming J, Willför S (2012) Extraction and chemical characterization of Norway spruce inner and outer bark. Nord Pulp Pap Res J 27(1):6–17

Lattanzio V (2013) Phenolic compounds: introduction. In: Ramawat K, Mérillon JM (eds) Natural products. Springer, Berlin, pp 1543–1580

Lavola A, Maukonen M, Julkunen-Tiitto R (2018) Variability in the composition of phenolic compounds in winter-dormant Salix pyrolifolia in relation to plant part and age. Phytochemistry 153:102–110. https://doi.org/10.1016/j.phytochem.2018.05.021

Li YY, Feng J, Zhang XL, Cui YY (2015) Pine bark extracts: nutraceutical, pharmacological, and toxicological evaluation. J Pharmacol Exp Ther 353(1):9–16. https://doi.org/10.1124/jpet.114.220277

Lima GPP, Vianello F, Corrêa CR, Campos RADS, Borguini MG (2014) Polyphenols in fruits and vegetables and its effect on human health. Food Nutr Sci 5(11):1065–1082. https://doi.org/10.4236/fns.2014.511117

Lin D, Xiao M, Zhao J et al (2016) An overview of plant phenolic compounds and their importance in human nutrition and management of type 2 diabetes. Molecules 21(10):1374. https://doi.org/10.3390/molecules21101374

Mármol I, Quero J, Jiménez-Moreno N, Rodríguez-Yoldi MJ, Ancín-Azpilicueta C (2018) A systematic review of the potential uses of pine bark in food industry and health care. Trends Food Sci Technol 88:558–566. https://doi.org/10.1016/j.tifs.2018.07.007

Miranda I, Lima L, Quilhó T, Knapic S, Pereira H (2016) The bark of Eucalyptus sideroxylon as a source of phenolic extracts with anti-oxidant properties. Ind Crop Prod 82:81–87. https://doi.org/10.1016/j.indcrop.2015.12.003

Moniodis J, Renton M, Jones CG, Barbour EL, Byrne M (2018) Genetic and environmental parameters show associations with essential oil composition in West Australian sandalwood (Santalum spicatum). Aust J Bot 66(1):48–58. https://doi.org/10.1071/BT17116

Moreira MM, Barroso MF, Boeykens A, Withouck H, Morais S, Delerue-Matos C (2017) Valorization of apple tree wood residues by polyphenols extraction: comparison between conventional and microwave-assisted extraction. Ind Crop Prod 104:210–220. https://doi.org/10.1016/j.indcrop.2017.04.038

Neiva DM, Araújo S, Gominho J, de Cassia Carneiro A, Pereira H (2018) An integrated characterization of Picea abies industrial bark regarding chemical composition, thermal properties and polar extracts activity. PloS One 13(11):e0208270. https://doi.org/10.1371/journal.pone.0208270

Nunes MA, Pimentel F, Costa AS, Alves RC, Oliveira MBP (2016) Cardioprotective properties of grape seed proanthocyanidins: an update. Trends Food Sci Technol 57:31–39. https://doi.org/10.1016/j.tifs.2016.08.017

Olas B (2018) Berry phenolic antioxidants—implications for human health? Front Pharmacol. https://doi.org/10.3389/fphar.2018.00078

Padhi EM, Liu R, Hernandez M, Tsao R, Ramdath DD (2017) Total polyphenol content, carotenoid, tocopherol and fatty acid composition of commonly consumed Canadian pulses and their contribution to antioxidant activity. J Funct Foods 38:602–611. https://doi.org/10.1016/j.jff.2016.11.006

Rajendran P, Nandakumar N, Rengarajan T, Palaniswami R, Gnanadhas EN, Lakshminarasaiah U, Gopas J, Nishigaki I (2014) Antioxidants and human diseases. Clin Chim Acta 436:332–347. https://doi.org/10.1016/j.cca.2014.06.004

Rees A, Dodd G, Spencer J (2018) The effects of flavonoids on cardiovascular health: a review of human intervention trials and implications for cerebrovascular function. Nutrients 10(12):1852. https://doi.org/10.3390/nu10121852

Ribeiro JS, Santos MJMC, Silva LKR, Pereira LCL, Santos IA, da Silva Lannes SC, Silva MV (2019) Natural antioxidants used in meat products: a brief review. Meat Sci 148:181–188. https://doi.org/10.1016/j.meatsci.2018.10.016

Royer M, Prado M, García-Pérez ME, Diouf PN, Stevanovic T (2013) Study of nutraceutical, nutricosmetics and cosmeceutical potentials of polyphenolic bark extracts from Canadian forest species. Pharm Nutr 1(4):158–167. https://doi.org/10.1016/j.phanu.2013.05.001

Sampaio BL, Edrada-Ebel R, Da Costa FB (2016) Effect of the environment on the secondary metabolic profile of Tithonia diversifolia: a model for environmental metabolomics of plants. Sci Rep 6:29265

Santos SA, Pinto PC, Silvestre AJ, Neto CP (2010) Chemical composition and antioxidant activity of phenolic extracts of cork from Quercus suber L. Ind Crop Prod 31(3):521–526. https://doi.org/10.1016/j.indcrop.2010.02.001

See I, Ee GCL, Mah SH, Jong VYM, Teh SS (2017) Effect of solvents on phytochemical concentrations and antioxidant activity of Garcinia benthamiana stem bark extracts. J Herbs Spices Med Plants 23(2):117–127. https://doi.org/10.1080/10496475.2016.1272523

Sevket ALP, Ercisli S, Jurikova T, Cakir O, Gozlekci S (2016) Bioactive content of rose hips of different wildly grown Rosa dumalis genotypes. Not Bot Horti Agrobo 44(2):472–476. https://doi.org/10.15835/nbha44210432

Sieniawska E (2015) Activities of tannins—from in vitro studies to clinical trials. Nat Prod Commun 10(11):1877–1884

Smeriglio A, Barreca D, Bellocco E, Trombetta D (2017) Proanthocyanidins and hydrolysable tannins: occurrence, dietary intake and pharmacological effects. Brit J Pharmacol 174(11):1244–1262. https://doi.org/10.1111/bph.13630

Sudheeran P, Feygenberg O, Maurer D, Alkan N (2018) Improved cold tolerance of mango fruit with enhanced anthocyanin and flavonoid contents. Molecules 23(7):1832. https://doi.org/10.3390/molecules23071832

Tănase C, Coşarcă S, Toma F, Mare A, Man A, Miklos A, Imre S, Boz I (2018) Antibacterial activities of beech bark (Fagus sylvatica L.) polyphenolic extract. Environ Eng Manag J 17(4):877–884

Todaro L, Russo D, Cetera P, Milella L (2017) Effects of thermo-vacuum treatment on secondary metabolite content and antioxidant activity of poplar (Populus nigra L.) wood extracts. Ind Crop Prod 109:384–390. https://doi.org/10.1016/j.indcrop.2017.08.052

Tõnutare T (2015) Possibilities to affect antioxidant properties of strawberries and some methodical aspects in their determination. Doctoral dissertation, Eesti Maaülikool

Valdés L, Cuervo A, Salazar N, Ruas-Madiedo P, Gueimonde M, González S (2015) The relationship between phenolic compounds from diet and microbiota: impact on human health. Food Funct 6(8):2424–2439. https://doi.org/10.1039/C5FO00322A

Valencia-Avilés E, García-Pérez M, Garnica-Romo M, Figueroa-Cárdenas J, Meléndez-Herrera E, Salgado-Garciglia R, Martínez-Flores H (2018) Antioxidant properties of polyphenolic extracts from Quercus laurina, Quercus Crassifolia, and Quercus scytophylla bark. Antioxidants 7(7):81. https://doi.org/10.3390/antiox7070081

Venkatesan A, Kathirvel A, Prakash S, Sujatha V (2017) Antioxidant, antibacterial activities and identification of bioactive compounds from Terminalia chebula bark extracts. Free Radic Antioxid 7(1):43–49

Vieira MC, Lelis RCC, da Silva BC, Oliveira GDL (2011) Tannin extraction from the bark of Pinus oocarpa var. oocarpa with sodium carbonate and sodium bisulfite. Floresta e Ambiente 18(1):1–8

Yesil-Celiktas O, Otto F, Parlar H (2009) A comparative study of flavonoid contents and antioxidant activities of supercritical CO2 extracted pine barks grown in different regions of Turkey and Germany. Eur Food Res Technol 229(4):671–677. https://doi.org/10.1007/s00217-009-1101-5

Zhao S, Liu JY, Chen SY, Shi LL, Liu YJ, Ma C (2011) Antioxidant potential of polyphenols and tannins from burs of Castanea mollissima Blume. Molecules 16(10):8590–8600. https://doi.org/10.3390/molecules16108590

Zidorn C (2018) Seasonal variation of natural products in European trees. Phytochem Rev 17:923–935. https://doi.org/10.1007/s11101-018-9570-4

Zuin VG, Ramin LZ (2018) Green and sustainable separation of natural products from agro-industrial waste: challenges, potentialities, and perspectives on emerging approaches. Top Curr Chem 376(1):3. https://doi.org/10.1007/s41061-017-0182-z
Ethics declarations
Conflict of interest
The authors declare that the research was conducted in the absence of any commercial or financial relationships that could be construed as a potential conflict of interest.
Additional information
Publisher's Note
Springer Nature remains neutral with regard to jurisdictional claims in published maps and institutional affiliations.
About this article
Cite this article
Skrypnik, L., Grigorev, N., Michailov, D. et al. Comparative study on radical scavenging activity and phenolic compounds content in water bark extracts of alder (Alnus glutinosa (L.) Gaertn.), oak (Quercus robur L.) and pine (Pinus sylvestris L.). Eur. J. Wood Prod. 77, 879–890 (2019). https://doi.org/10.1007/s00107-019-01446-3
Received:

Published:

Issue Date: