Abstract
In recent years there has been much development in the field of additive manufacturing technologies, but only a few attempts have been made to use natural materials like wood for 3D printing. In this research different ratios of wood powder were used as a component in adhesive mixtures for 3D printing. Polyvinyl acetate and urea–formaldehyde adhesives were used as binders, and the optimum mixture was determined by measuring the corresponding extrusion forces. Simple blocks were 3D printed and the bending properties of these blocks were investigated. The bending strength depended on the amount of wood powder in the mixture and on the type of adhesive.
Access options
Buy single article
Instant access to the full article PDF.
US$ 39.95
Tax calculation will be finalised during checkout.
Subscribe to journal
Immediate online access to all issues from 2019. Subscription will auto renew annually.
US$ 119
Tax calculation will be finalised during checkout.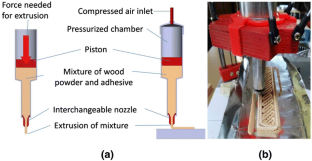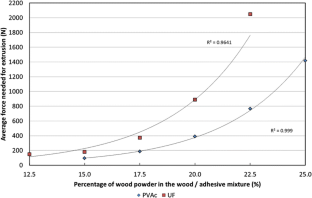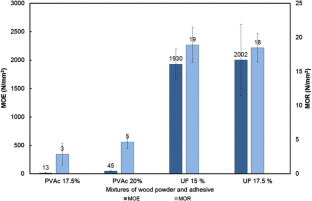 References
Campbell TA, Ivanova OS (2013) 3D printing of multifunctional nanocomposites. Nano Today 8:119–120

Conner BP, Manogharan GP, Martof AN, Rodomsky LM, Rodomsky CM, Jordan DC, Limperos JW (2014) Making sense of 3-D printing: creating a map of additive manufacturing products and services. Addit Manuf pp 1–29

Henke K, Treml S (2013) Wood based bulk material in 3D printing processes for applications in construction. Eur. J. Wood Prod 71:139–141

Hopkinson N, Hague RJM, Dickens PM (2006) Rapid manufacturing. An industrial revolution for the digital age. Wiley, Chichester

Ivanova O, Williams C, Campbell T (2013) Additive manufacturing (AM) and nanotechnology: promises and challenges. Rapid Prototyp J 19:353–364
Acknowledgments
The authors would like to thank the Slovenian Research Agency for financial support within the scope of the program P4-0015, as well as the Ministry RS of Education, Science and Sport within the framework of the WoodWisdom-Net+ project W3B Wood Believe, and Luka Žakelj for technical help.
About this article
Cite this article
Kariz, M., Sernek, M. & Kuzman, M.K. Use of wood powder and adhesive as a mixture for 3D printing. Eur. J. Wood Prod. 74, 123–126 (2016). https://doi.org/10.1007/s00107-015-0987-9
Received:

Published:

Issue Date:
Keywords
Polylactic Acid

Additive Manufacturing

PVAc

Acrylonitrile Butadiene Styrene

Extrusion Force