Abstract
Due to emerging markets for environmentally benign products there is an increasing need for reliable evaluation and transparent information. In this regard, products made of natural materials, like the wood polymer composites (WPC) examined in this study, have to meet particularly high performance levels. To be economically successful they have to prove themselves as products with lower environmental impact compared to alternatives. The required information can be provided by a comparative life cycle assessment (LCA). The purpose of the study at hand is to assess the competitiveness of WPC in environmental terms in its main market of terrace floorings. In this LCA study, two different types of WPC, differing in composition and geometry are compared to two wood decking materials, consisting either of bilinga (tropical wood) or of pressure-impregnated pine (regional wood) with an identical geometry. The functional unit is 1 m2 covered terrace. Process steps identical in all products process chains are excluded. The impact assessment is done with a standardized method for different impact categories. Cumulated energy demand (CED) is shown as separate inventory. Under the assumption of identical lifespans, results show that for all impact categories the terrace made of pine is the most environmentally benign one. Compared to tropical wood WPC is mostly advantageous. WPC terraces may show in particular higher lifespans than wooden terraces and could furthermore be recycled as well. Both would lead to improvements which could result in comparable environmental impacts of WPC and pine wood.
Access options
Buy single article
Instant access to the full article PDF.
USD 39.95
Price excludes VAT (USA)
Tax calculation will be finalised during checkout.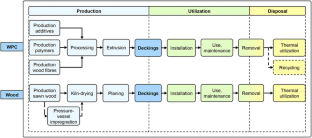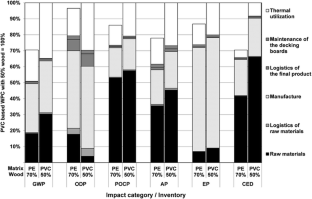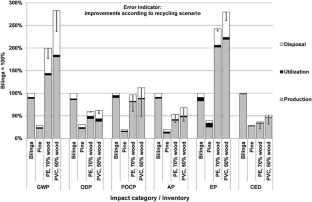 References
Bergman R, Han H, Oneil E, Eastin I (2013) Life-cycle assessment of redwood decking in the United States with a comparison to three other decking materials CORRIM final report. University of Washington, Seattle

Bolin CA, Smith ST (2011) Life cycle assessment of ACQ-treated lumber with comparison to wood plastic composite decking. J Clea Prod 19:620–629

Brueck C (2009) WPC—Produkte für einen wachsenden Markt (WPC—Products for a growing Market) (in German). http://www.nova-institut.de/ppnf/data/File/Dokumente/Kosche_Praesentation-Koeln-13022008-1-2.pdf. Accessed 24 Feb 2009

Dupui F (2011) Personal Message. Holzwelt Baier GmbH & Co, Würzburg

Frischknecht R, Jungbluth N, Althaus HJ, Doka G, Hellweg S, Hischier R, Nemecek T, Rebitzer G, Spielmann M (2007a) Overview and methodology. Ecoinvent report no. 1

Frischknecht R, Jungbluth N, Althaus HJ, Doka G, Dones R, Hellweg S, Hischier R, Nemecek T, Rebitzer G, Spielmann M (2007b) Code of practice. Ecoinvent report no. 2

Frischknecht R, Jungbluth N, Althaus HJ, Doka G, Dones R, Hirschier R, Hellweg S, Humbert S, Margni M, Nemecek T, Spielmann M (2007c) Implementation of life cycle impact assessment methods. Ecoinvent report no. 3

Ibach RE (2010) Durability of wood-plastic composite lumber. In: McGraw-Hill (ed) Yearbook of Science & Technology 2010. McGraw-Hill Companies, pp. 113–116

ISO 14040 (2006a) Environmental management—life cycle assessment—principles and framework

ISO 14044 (2006b) Environmental management—life cycle assessment—requirements and guidelines

Jungbluth N, Busser S, Frischknecht R, Flury K, Stucki M (2012) Feasibility of environmental product information based on life cycle thinking and recommendations for Switzerland. J Clea Prod 28:187–197

Kurt Obermeier GmbH & Co. KG (2010) Technisches Merkblatt Koralan Holzöl (Technical Bulletin Koralan Wood Oil) (in German). Status 07/2010

Müller M (2011) Personal Message. Universität Göttingen, Abteilung Holzbiologie und Holzprodukte

Nova (2012) Nova-Institut Pressemitteilung WPC-Kongress mit neuen Marktdaten WPC (Press release WPC-Congress with new Market Data WPC) (in German). http://www.wpc-kongress.de/wpc2011/data/uploads/File/12-01-10PMWPC.pdf. Accessed 21 Feb 2012

Osmo (2011) Volldeklaration Holz-Spezial-Öle (full declaration wood-special-oils) (in German). Osmo Holz und Color GmbH & Co, Warendorf

RÜTGERS Organics GmbH (2010) impralit®-KDS 4—Technisches Merkblatt (impralit®-KDS 4—Technical Bulletin) (in German) Mannheim

Schneckener H (2011) Personal Message. Fa Jenz GmbH Maschinen und Fahrzeugbau, Petershagen

Segerholm BK, Ibach RE, Wålinder EP (2012) Moisture sorption in artificially aged wood–plastic composites. BioResources 7(1):1283–1293

Soiné H (1995) Holzwerkstoffe—Herstellung und Verarbeitung (wood based panels—production and processing) (in German). DRW-Verlag, Leinfelden

Stark NM, Gardner DJ (2008) Outdoor durability of wood–polymer composites. In: Sain M, Oksman Niska K (eds) Wood–polymer composites. Woodhead Publishing/CRC Press, Cambridge/Boca Raton, pp 142–165

Vogt C, Karus M, Ortmann S, Schmidt C, Gahle C (2006) Wood–plastic-composite—Märkte in Nordamerika, Japan und Europa mit Schwerpunkt auf Deutschland (Wood-plastic-composite—Markets in North America. Japan and Europe with a focus on Germany) (in German), Hürth

Wagenführ R (2000) HOLZatlas-5, ergänzte und erweiterte Auflage (WOODatlas-5, amended and enlarged edition) (in German). Carl Hanser Verlag, München, Wien

Wegener G, Zimmer B, Nebel B (2004) Analyse der Transportketten von Holz, Holzwerkstoffen und Restholzsortimenten als Grundlage für Produktbezogene Ökobilanzen (Analysis of Transport Chains fo Wood, wood based panels and residual woods as basis of product-related life cycle assessments), München/Kuchl (in German)
Acknowledgments
The results presented here are part of a research project called 'Further Development of Methods for Life Cycle Management: Sustainability Benchmarking of WPC'. The joint industrial research project 16379 N of the research association Fördergemeinschaft für das Süddeutsche Kunststoff-Zentrum e.V. was funded by the German Federal Ministry of Economics and Technology via the Federation of Industrial Research Associations AiF on the basis of a resolution of the German Bundestag. The authors would like to thank the project partners, especially Dr. Andreas Krause and his team at Georg-August-Universität Göttingen, Abteilung Holzbiologie und Holzprodukte for their support.
About this article
Cite this article
Feifel, S., Stübs, O., Seibert, K. et al. Comparing wood–polymer composites with solid wood: the case of sustainability of terrace flooring. Eur. J. Wood Prod. 73, 829–836 (2015). https://doi.org/10.1007/s00107-015-0953-6
Received:

Published:

Issue Date:

DOI: https://doi.org/10.1007/s00107-015-0953-6
Keywords
Life Cycle Assessment

Impact Category

Wood Fiber

Cumulative Energy Demand

Ecoinvent Database