Abstract
Effect of short-term thermo-mechanical (STTM) densification temperature and pressure on the surface colour of veneer of four wood species—alder (Alnus glutinosa Gaertn.), beech (Fagus sylvatica L.), birch (Betula verrucosa Ehrh.), and pine (Pinus sylvestris L.) as well as possible correlations among all determined colour parameters (L*, a*, b*, h, C* and ∆E) were investigated. Veneer sheets were densified at temperatures of 100, 150 or 200 °C and pressures of 4, 8 or 12 MPa for 4 min. The results were compared with those of non-densified veneers. The colour change of the samples was evaluated by CIEL*a*b* and L*h*C* colour co-ordinate systems. The results indicated: the temperature and pressure of densification affected to a big extent the colour of the veneer samples, with the effect of densification temperature being more evident than that of pressure. After the densification process, the veneers darkened. Colour changes are most pronounced at the highest densification temperature of 200 °C and very small at the lower temperatures of 100 and 150 °C for all investigated wood species. The change in a* is more pronounced than the change in L* or b*. In general, alder and birch veneer samples are characterized by the highest values of total colour difference followed by pine and beech samples among the four species. The quadratic models can be used for the prediction of surface colour in the densification process. The results of this study indicate that it is possible to govern surface colouration of wood veneers during densification process on an industrial basis.
Access options
Buy single article
Instant access to the full article PDF.
US$ 39.95
Tax calculation will be finalised during checkout.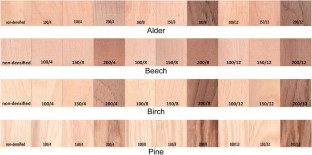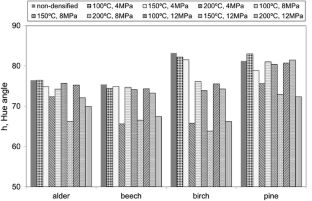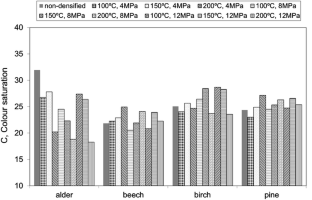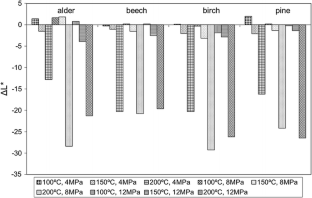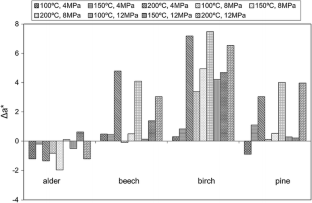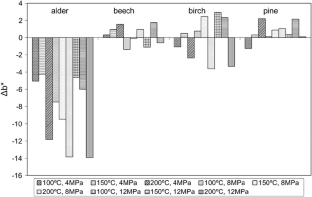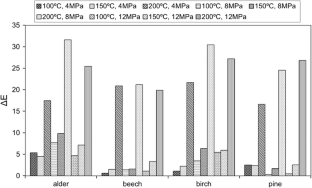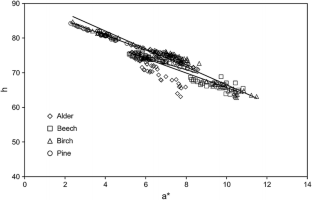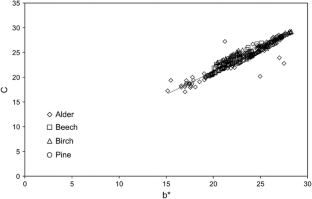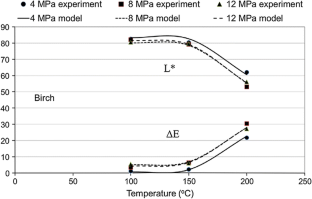 References
Akgul M, Korkut S (2012) The effect of heat treatment on some chemical properties and colour in Scots pine and Uludag fir wood. Int J Phys Sci 7(21):2854–2859

Aydin I (2004) Activation of wood surfaces for glue bonds by mechanical pretreatment and its effects on some properties of veneer surfaces and plywood panels. Appl Surf Sci 233:268–274

Aydin I, Colakoglu G (2005) Effects of surface inactivation, high temperature drying and preservative treatment on surface roughness and colour of alder and beech wood. Appl Surf Sci 252:430–440

Back EL (1998) Oxidative activation of wood surfaces for glue bonding. For Prod J 41(2):30–36

Bekhta PA, Marutzky R (2007) Reduction of glue consumption in the plywood production by using previously compressed veneer. Holz Roh-Werkst 65:87–88

Bekhta P, Niemz P (2003) Effect of high temperature on the change in colour, dimensional stability and mechanical properties of spruce wood. Holzforschung 57:539–546

Bekhta PA, Hiziroglu S, Shepelyuk O (2009) Properties of plywood manufactured from compressed veneer as building material. Mater Des 30:947–953

Bekhta PA, Niemz P, Sedliacik J (2012) Effect of pre-pressing of veneer on the glueability and properties of veneer-based products. Eur J Wood Prod 70:99–106

Bourgois PJ, Janin G, Guyonnet R (1991) The color measurement: a fast method to study and to optimize the chemical transformations undergone in the thermically treated wood. Holzforschung 45:377–382

Burtin P, Allemand CJ, Charpentier JP, Janin F (1998) Natural wood colouring process in Juglans sp. (J. nigra, J. regia and Hybrid J. nigra 23 x J. regia) depends on native phenolic compounds accumulated in transition zone between sapwood and heartwood. Trees 12:258–264

Charrier B, Charrier F, Janin G, Kamdem DP, Irmouli M, Goncalez J (2002) Study of industrial boiling process on walnut colour: experimental study under industrial conditions. Holz Roh-Werkst 60:259–264

Chen Y, Fan Y, Gao J (2012) Coloring characteristics of in situ lignin during heat treatment. Wood Sci Technol 46:33–40

Chow SZ (1971) Determining veneer surface inactivation by a reflectance colorimeter. For Prod J 21(2):19–24

Diouf PN, Stevanovic T, Cloutier A, Fang C-H, Blanchet P, Koubaa A, Mariotti N (2011) Effects of thermo-hygro-mechanical densification on the surface characteristics of trembling aspen and hybrid poplar wood veneers. Appl Surf Sci 257:3558–3564

Gerardin P, Petric M, Petrissans M, Lambert J, Ehrhrardt JJ (2007) Evolution of wood surface free energy after heat treatment. Polym Degrad Stabil 92:653–657

Gierlinger N, Jacques D, Grabner M, Wimmer R, Schwanninger M, Rozenberg P, Paques LE (2004) Colour of larch heartwood and relationships to extractives and brown-rot decay resistance. Trees 18(1):102–108

Gonzalez-Pena MM, Hale MDC (2009a) Colour in thermally modified wood of beech, Norway spruce and Scots pine. Part 1: colour evolution and colour changes. Holzforschung 63:385–393

Gonzalez-Pena MM, Hale MDC (2009b) Colour in thermally modified wood of beech, Norway spruce and Scots pine. Part 2: property prediction from colour changes. Holzforschung 63:394–401

Grekin M (2007) Color and color uniformity variation of Scots pine wood in the air-dry condition. Wood Fiber Sci 39(2):279–290

Hon DNS, Glasser W (1979) On possible chromophoric structures in wood and pulps. Polym Plast Technol 12:159–179

Huang X, Kocaefe D, Kocaefe Y, Boluk Y, Pichette A (2012) A spectrocolorimetric and chemical study on color modification of heat-treated wood during artificial weathering. Appl Surf Sci 258:5360–5369

Inari GN, Petrissans M, Lambert J, Ehrhardt JJ, Gerardin P (2006) XPS characterization of wood chemical composition after heat-treatment. Surf Interface Anal 38:1336–1342

Inari GN, Petrissans M, Gerardin P (2007) Chemical reactivity of heat-treated wood. Wood Sci Technol 41:157–168

Jennings JD, Zink-Sharp A, Frazier CE, Kamke FA (2006) Properties of compression densified wood: Part II. Surface energy. J Adhes Sci Technol 20:335–344

Johansson D, Morén T (2006) The potential of colour measurement for strength prediction of thermally treated wood. Holz Roh-Werkst 64:104–110

Klumpers J, Janin G, Becker M, Lévy G (1993) The influence of age, extractive content soil water on wood color in oak: the possible genetic determination of wood color. Ann Sci For 50(1):403–409

Mononen K, Alvila L, Pakkanen TT (2002) CIEL*a*b* measurements to determine the role of felling season, log storage and kiln drying on coloration of silver birch wood. Scand J For Res 17:179–191

Navi P, Sandberg D (2012) Thermo-hydro-mechanical processing of wood. EPEL Press, Switzerland

Nimz HH (1973) Chemistry of potential chromophoric groups in beech lignin. Tappi J 56(5):124–126

Persze L, Tolvaj L (2012) Photodegradation of wood at elevated temperature: colour change. J Photochem Photobiol B 108:44–47

Petrissans M, Gerardin P, El Bakali I, Serraj M (2003) Wettability of heat-treated wood. Holzforschung 57:301–307

Sernek M (2001) Inactivation of wood surfaces: a literature review. Virginia Tech. University, Wood-Based Composites Center, Technical Report No. 103, p 14

Sernek M, Kamke FA, Glasser WG (2004) Comparative analysis of inactivated wood surfaces. Holzforschung 58:22–31

Sundqvist B (2002) Color response of Scots pine (Pinus sylvestris), Norway spruce (Picea abies) and birch (Betula pubescens) subjected to heat treatment in capillary phase. Holz Roh-Werkst 60(2):106–114

Sundqvist B, Karlsson O, Westermark U (2006) Determination of formic-acid and acetic acid concentrations formed during hydrothermal treatment of birch wood and its relation to colour, strength and hardness. Wood Sci Technol 40:549–561

Temiz A, Yildiz UC, Aydin I, Eikenes M, Alfredsen G, Colakoglu G (2005) Surface roughness and color characteristics of wood treated with preservatives after accelerated weathering test. Appl Surf Sci 250:35–42

Tolvaj L, Mitsui K (2010) Correlation between hue angle and lightness of light irradiated wood. Polym Degrad Stab 95:638–642

Welzbacher CR, Wehsener J, Rapp AO, Haller P (2008) Thermo-mechanical densification combined with thermal modification of Norway spruce (Picea abies Karst) in industrial scale—dimensional stability and durability aspects. Holz Roh-Werkst 66:39–49

Yazaki Y, Collins PJ, Mccombe B (1994) Variations in hot water extractives content and density of commercial wood veneers from blackbutt (Eucalyptus pilularis). Holzforschung 48:107–111

Yildiz S, Yildiz UC, Tomak ED (2011) The effects of natural weathering on the properties of heat-treated alder wood. BioResources 6(3):2504–2521

Zhang J, Kamdem DP, Temiz A (2009) Weathering of copper–amine treated wood. Appl Surf Sci 256:842–846
Acknowledgments
The authors would like to thank the COST Action FP 1006 "Bringing new functions to wood through surface modification" for financial support within the frame of Short Term Scientific Mission (STSM).
About this article
Cite this article
Bekhta, P., Proszyk, S. & Krystofiak, T. Colour in short-term thermo-mechanically densified veneer of various wood species. Eur. J. Wood Prod. 72, 785–797 (2014). https://doi.org/10.1007/s00107-014-0837-1
Received:

Published:

Issue Date:
Keywords
Wood Species

Wood Surface

Colour Parameter

Surface Colour

Total Colour Difference