Abstract
Formaldehyde emissions from wood particleboards bonded with pine and wattle tannin-based adhesives, using hardeners paraformaldehyde, hexamethylenetetramine and TN (tris(hydroxyl)nitromethan), were measured by the perforator method (DIN EN 120—European Committee For Standardization 1991). All particleboards made using the wattle tannin systems with the three different hardeners were satisfied grade E1, while in the case of pine tannin only the use of the hexamine hardener led to grade E1 being satisfied. This tendency was attributed to the curing mechanism of the hardener, the reactivity of the tannin molecule toward formaldehyde and the fast reactivity toward formaldehyde of pine tannin, due to the inclusion of phloroglucinolic A-rings within its molecular structure. Hexamine was effective at reducing formaldehyde emission in tannin-based adhesives when used as the hardener. Being a more sensitive and advanced method, it was also used. The samples used for gas chromatography were gathered during the perforator method. The formaldehyde emission levels obtained from gas chromatography were similar to those obtained from the perforator method.
Zusammenfassung
Die Formaldehydabgabe von Spanplatten, die mit Klebern aus Kiefern- und Akazientannin gebunden waren, wurden mittels der Perforatormethode gemessen (DIN EN 120 1991). Als Härter wurden Paraformaldehyd, Hexamethylentetramin and TN (Tris(hydroxyl)nitromethan verwendet. Alle Spanplatten, die unter Gebrauch des Akazientannin-Systems mit drei verschiedenen Härtern hergestellt wurden, genügten Grad E1, während bei Kieferntannin nur der Gebrauch von Hexaminhärter zu Grad E1 führte. Diese Tendenz war dem Mechanismus des Aushärtens des Härters zuzuschreiben und zwar der Reaktivität der Tanninmoleküle gegenüber Formaldehyd und der schnellen Reaktivität des Kiefertannins gegenüber Formaldehyd, aufgrund der Einschlüsse von Phloroglucin-A-Ringen innerhalb der molekularen Struktur. Hexamin war wirksam, um die Formaldehydabgabe bei Tanninklebern zu reduzieren, wenn es als Härter verwendet wurde. Da es eine empfindlichere und fortgeschrittenere Methode war, wurde sie ebenfalls angewendet. Die Proben, die für die Gaschromatographie verwendet wurden, wurden während der Perforatormethode gesammelt. Die Werte der Formaldehydabgaben, die durch Einsatz der Gaschromatographie erhalten wurden, waren denjenigen ähnlich, die man mittels der Perforatormethode erhielt.
Access options
Buy single article
Instant access to the full article PDF.
US$ 39.95
Tax calculation will be finalised during checkout.
Subscribe to journal
Immediate online access to all issues from 2019. Subscription will auto renew annually.
US$ 119
Tax calculation will be finalised during checkout.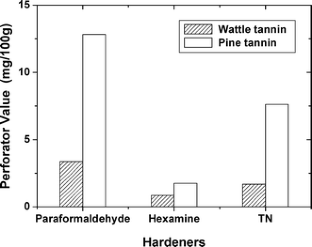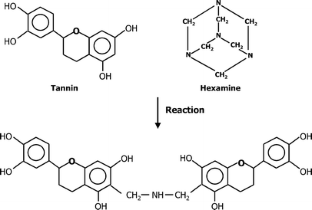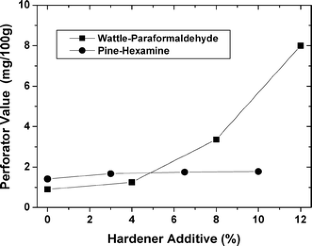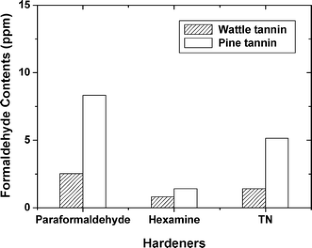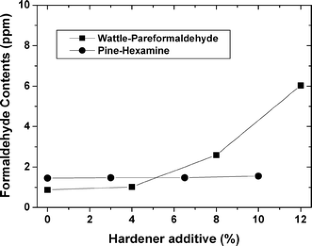 References
Baugh PJ (1993) Introduction to the theory of chromatographic separations with reference to gas chromatography. In: Bartle KD (ed) Gas chromatography; a practical approach. The Practical Approach Series, IRL press at Oxford university press, Oxford, pp 1–14

Carlson FE, Phillips EK, Tenhaeff SC, Detlefsen WD (1995) Study of formaldehyde and other organic emissions from pressing of laboratory oriented strandboard. For Prod J 45(3):71–77

Kim D-J (1994) Effects of Paper Sludge Addition on Formaldehyde Emission, and Physical and Mechanical Properties of UF-Particleboard. M.S. Thesis. Seoul National University, Seoul, Korea

Meyer B, Andrews BAK, Reinhardt RM (1986a) European formaldehyde regulations: a french view. In: Coutrot D (ed) Formaldehyde release from wood products. American Chemical Society Symposium Series No. 385, Washington, D.C., pp 209–216

Meyer B, Andrews BAK, Reinhardt RM (1986b) Formaldehyde release from wood panel products bonded with phenol formaldehyde adhesives. In: Emery JA (ed) Formaldehyde release from wood products. American Chemical Society Symposium Series No. 385, Washington, D.C., pp 26–39

Meyer B, Andrews BAK, Reinhardt RM (1986c) Formaldehyde Release Rate Coefficients from Selected Consumer Products. In: Pickrell JA, Griffis LC, Mokler BV, Hobbs CH, Kanapilly GM, Bathija A (eds) Formaldehyde release from wood products. American Chemical Society Symposium Series No.385, Washington, D.C., pp 40–51

Myers GE (1990) Formaldehyde liberation and cure behavior of urea-formaldehyde resins. Holzforschung 44:117–126

Pichelin F, Kamoun C, Pizzi A (1999) Hexamine hardener behaviour: effects on wood glueing, tannin and other wood adhesives. Holz Roh- Werkstoff 57:305–317

Pizzi A (1994) Tannin-based wood adhesives. In: Pizzi A (ed) Advanced wood adhesives technology. Marcel Dekker Inc., New York. pp 149–217

Pizzi A, Tekely P (1995) Mechanism of polyphenolic tannin resin hardening by hexamethylenetetramine: CP-MAS 13C-NMR. J Appl Polym Sci 56:1645–1650

Pizzi A, Valenezuela J, Westermeyer C (1994) Low formaldehyde emission, fast pressing, pine and pecan tannin adhesives for exterior particleboard. Holz Roh- Werkstoff 52:311–315

Roffael E (1978) Progress in the elimination of formaldehyde liberation from particleboards. In: Proceedings international particleboard composite materials symposium 12th Washington state Univ. Pullman, Washington, pp 233–249

Roffael E, Mehlhorn L (1980) Einfluβ der Randbedingungen bei der Bestimmung des extrahierbaren Formaldehyds in Holzspanplatten nach der Perforatormethode. Holz Roh- Werkstoff 38:85–88

Santos FJ, Galceran MT (2002) The application of gas chromatography to environmental analysis. TrAC Trend Anal Chem 21(9–10):672–685

Trosa A, Pizzi A (2001) A no-aldehyde emission hardener for tannin-based wood adhesives for exterior panels. Holz Roh- Werkstoff 59:266–271

Velikonja Š, Jarc I, Zupančič-Kralj L, Marsel J (1995) Comparison of gas chromatographic and spectrophotometric techniques for the determination of formaldehyde in water. J Chromatogr A 704(2):449–454

Wolcott JJ, Motter WK, Daisy NK, Tenhaeff SC, Detlefsen WD (1996) Investigation of variables affecting hot-press formaldehyde and methanol emissions during laboratory production of urea formaldehyde-bonded particleboard. Forest Prod J 46(9):62–68
Acknowledgements
This work was supported in part by the Brain Korea 21 Project in 2003.
About this article
Cite this article
Kim, S., Kim, HJ. Evaluation of formaldehyde emission of pine and wattle tannin-based adhesives by gas chromatography. Holz Roh Werkst 62, 101–106 (2004). https://doi.org/10.1007/s00107-003-0441-2
Keywords
Tannin

Volatile Organic Compound

Formaldehyde Emission

Hexamethylenetetramine

Wood Particle