Abstract
The objective of this study was to produce particleboards for general purpose use by utilizing cotton stalks grown in Turkey. The shortage of raw materials in the wood industry resulted in the search for new resources. This is especially true for the particleboard industry in Turkey. It is necessary to find alternative sources of raw material in order to reduce deforestation. Cotton stalks as a cheap raw material compared to woody sources can be used to produce the particleboards that can meet with the required standards. In this study, water absorption, thickness swelling, bending strength, and internal bond properties of particleboards produced with cotton stalks at various resin addition levels and density ranges were studied. It was found that the particleboards produced at a 0.60–0.70 g/cm3 density range showed technological properties acceptable to the standards.
Zusammenfassung
Ziel der Arbeit war die Herstellung von Holzwerkstoffplatten aus Baumwollstengeln für die allgemeine Verwendung in der Türkei. Die Knappheit an Rohmaterialien in der Holzindustrie führte zur Suche nach neuen Rohstoffquellen. Insbesondere in der Türkei ist es notwendig nach Alternativen zu suchen, um den Rückgang an Waldfläche zu verringern. Baumwollstengel können als billige Rohstoffquelle zur Herstellung von Spanplatten mit Standardeigenschaften genutzt werden. In dieser Arbeit werden Wasseraufnahme, Dickenquellung, Biegefestigkeit und Querzugfestigkeit von Platten aus Baumwollstengeln untersucht. Die Platten wurden mit unterschiedlichen Harzmengen und Dichten produziert. Es zeigte sich, dass Platten mit Dichten zwischen 0,60 und 0,70 g/cm3 technologische Eigenschaften aufwiesen, die den Normen genügen.
Access options
Buy single article
Instant access to the full article PDF.
USD 39.95
Price excludes VAT (USA)
Tax calculation will be finalised during checkout.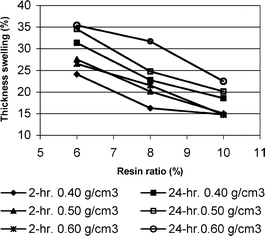 References
Anonymus (1999a) Turkish Ministry of Agriculture Regional Cotton Research Institute Archives, Nazilli

Anonymus (1999b) Variety of experimental cotton seeds. Pure cotton textile, industry and Commerce Company, Gaziantep, Turkey

Brooks H (1992) Personal communication. Brooks Associates. Ltd., Rochester Hills, MI

Gencer A, Eroglu H, Özen R (2001) Medium density fibreboard manufacturing from cotton stalks. Inpaper International, A publication on Wood Pulp and Paper Industry 5(2):26–28

Güler C (2001) Research on the production possibilities of the particleboard from cotton (Gossypium hirsitum L.) stalks. Ph. D. Thesis, Karaelmas University, Zonguldak, Turkey

Kalaycıoğlu H (1992) Utilization of annual plant residues in production of particleboard. ORENKO-92, 1st Forest Product Symposium, Trabzon, Turkey, pp 288–292

Kozlowski R, Mieleniak B, Przepiera A (1997) Particleboars and insulating board on base hemp shives and hemp straw. Natural Fibres—Wlókna Naturalne, Special Edition: Flax and other Bast Plants Symosium, Poznan, Poland, pp 92–100

Özen R (1980) Particleboard industry. Black Sea Technical University, Faculty of Forestry Issue: 30, Trabzon

TS-EN 310 (1999) Wood based panels—determination of modulus elasticity in bending and of bending strength. Ankara

TS-EN 317 (1999) Particleboards and fibreboards—determination of swelling in thickness after immersion in water. Ankara

TS-EN 319 (1999) Particleboards and fibreboards—determination of tensile strength perpendicular to the plane of the board. Ankara

TS-EN 312-2 (1999) Particleboards—specifications—part 2: Requirements for general-purpose boards for use in dry conditions. Ankara

TS 642-ISO 554 (1997) Conditioning and/or standard atmospheres for trial and standard reference atmosphere. Ankara
About this article
Cite this article
Guler, C., Ozen, R. Some properties of particleboards made from cotton stalks (Gossypium hirsitum L.). Holz Roh Werkst 62, 40–43 (2004). https://doi.org/10.1007/s00107-003-0439-9
Published:

Issue Date:

DOI: https://doi.org/10.1007/s00107-003-0439-9
Keywords