Zusammenfassung
Neurologische und neurophysiologische Kenntnisse über neuromuskuläre Erkrankungen verbinden sich in der Neurolaryngologie mit Erfahrungen aus der Laryngologie. Die Larynxelektromyographie (LEMG) ist das wichtigste diagnostische und prognostische Instrument in der Neurolaryngologie. Sie kann mit diagnostischer Elektrostimulation ergänzt werden. Das Interesse an der LEMG reicht heute über den M. thyroarytaenoideus hinaus und richtet sich auf alle erreichbaren Kehlkopfmuskeln. Die LEMG sollte nach einem standardisierten Protokoll durchgeführt und interpretiert werden. Hauptanwendungsgebiete der LEMG sind die Bestätigung, die Topodiagnostik und Prognoseabschätzung von Stimmlippenlähmungen. Frische Läsionen können von alten Läsionen genauso unterschieden werden wie mechanische Stimmlippenfixierungen von Paresen. Die Nadelführung bei spasmodischer Dysphonie und bei Augmentationen kann mittels LEMG, aber auch mittels Kehlkopfultraschall unterstützt werden. Der Therapiezeitpunkt für temporäre und permanente Augmentationen, Thyreoplastiken und Reinnervationsoperationen wird mit Erfahrungen aus der Neurolaryngologie besser bestimmbar. Der Einsatz der diagnostischen Neurostimulation kann das verbliebene aktive Bewegungspotenzial einer Stimmlippe aufzeigen und damit Kandidaten für zukünftige Kehlkopfschrittmacherbehandlungen erkennen helfen. Weitere Themenfelder der Neurolaryngologie sind die spasmodische Dysphonie und neurologische Grunderkrankungen, wie Schlaganfall, zentrale Stimmlippenlähmung, essenzieller Tremor und M. Parkinson. Laryngoskopische, klinische und LEMG-Charakteristika dieser Erkrankungen werden vorgestellt.
Abstract
Neurological and neurophysiological knowledge of neuromuscular diseases is combined in neurolaryngology with experience from laryngology. Laryngeal electromyography (LEMG) is the most important diagnostic and prognostic tool in neurolaryngology. It can be combined with diagnostic electrostimulation. Interest in LEMG today extends beyond the thyroarytenoid muscle to all accessible laryngeal muscles. LEMG should be performed and interpreted according to a standardized protocol. Main applications of LEMG are confirmation, topodiagnostic and prognostic assessment of vocal fold paralysis. It is possible to differentiate fresh from old recurrent laryngeal nerve lesions as well as mechanical vocal fold fixations from paralysis. Needle guidance for botulinum toxin injections in spasmodic dysphonia and for augmentation laryngoplasty can be supported by LEMG, but also by laryngeal ultrasound. The timing of therapy for temporary and permanent augmentations, thyroplasty and reinnervation surgery may be better defined with experience from neurolaryngology. The use of diagnostic neurostimulation can reveal any remaining active movement potential of a vocal fold and thus help identify candidates for future laryngeal pacemaker treatments. Other topics in neurolaryngology include spasmodic dysphonia and underlying neurological diseases such as stroke, central vocal fold paralysis, essential tremor and Parkinson's disease. Laryngoscopic, clinical and LEMG characteristics of these diseases are presented.
Access options
Buy single article
Instant access to the full article PDF.
USD 39.95
Price includes VAT (USA)
Tax calculation will be finalised during checkout.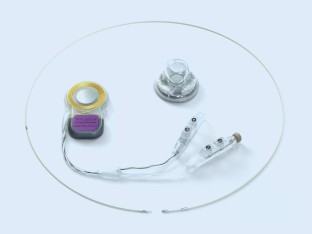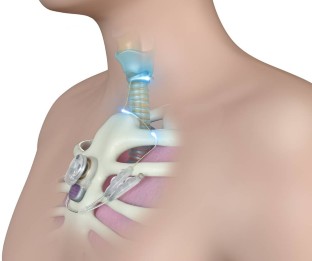 Literatur
1.

Bergmann K, Warzel H, Eckhardt HU et al (1988) Long-term implantation of a system of electrical stimulation of paralyzed laryngeal muscles in dogs. Laryngoscope 98:455–459

2.

Blitzer A, Crumley RL, Dailey SH et al (2009) Recommendations of the Neurolaryngology Study Group on laryngeal electromyography. Otolaryngol Head Neck Surg 140:782–793

3.

Blitzer A, Jahn AF, Keidar A (1996) Semon's law revisited: an electromyographic analysis of laryngeal synkinesis. Ann Otol Rhinol Laryngol 105:764–769

4.

Blumin JH, Pcolinsky DE, Atkins JP (2016) Laryngeal findings in advanced parkinson's disease. Ann Otol Rhinol Laryngol 113:253–258

5.

Crumley RL (1989) Laryngeal synkinesis: its significance to the laryngologist. Ann Otol Rhinol Laryngol 98:87–92

6.

Foerster G, Arnold D, Bischoff S et al (2016) Pre-clinical evaluation of a minimally invasive laryngeal pacemaker system in mini-pig. Eur Arch Otorhinolaryngol 273:151–158

7.

Foerster G, Schubert H, Arnold D, Scholle HC, Mueller AH (2011) Laryngeal pacemaker-acute and chronic minimal invasive electrode implantations in pig larynx. Abstracts from the 8th Congress of the European Laryngological Society, 1–4 September 2010, Vienna, Austria. Eur Arch Otorhinolaryngol 268(5):776. https://doi.org/10.1007/s00405-011-1544-8

8.

Giotakis AI, Pototschnig C (2020) Prognosis of congenital idiopathic abductor laryngeal paralysis with laryngeal electromyography. Laryngoscope 130:E252–E257

9.

Grillone GA, Chan T (2006) Laryngeal dystonia. Otolaryngol Clin North Am 39:87–100

10.

Ho GY, Leonhard M, Volk GF et al (2019) Inter-rater reliability of seven neurolaryngologists in laryngeal EMG signal interpretation. Eur Arch Otorhinolaryngol 276:2849–2856

11.

Isshiki N, Haji T, Yamamoto Y et al (2001) Thyroplasty for adductor spasmodic dysphonia: further experiences. Laryngoscope 111:615–621

12.

Koufman JA, Postma GN, Whang CS et al (2001) Diagnostic laryngeal electromyography: The Wake Forest experience 1995–1999. Otolaryngol Head Neck Surg 124:603–606

13.

Mueller AH, Synkinesis L (2020) A viable condition for laryngeal pacing. In: Remacle JM, Prasad V (Hrsg) Advances in neurolaryngology, Bd. 85. Karger, Basel, S 112 https://doi.org/10.1159/000456689

14.

Mueller AH, Hagen R, Foerster G et al (2016) Laryngeal pacing via an implantable stimulator for the rehabilitation of subjects suffering from bilateral vocal fold paralysis: a prospective first-in-human study. Laryngoscope 126:1810–1816

15.

Mueller AH, Hagen R, Pototschnig C et al (2017) Laryngeal pacing for bilateral vocal fold paralysis: voice and respiratory aspects. Laryngoscope 127:1838–1844

16.

Muller AH (2017) Treatment of recurrent laryngeal nerve paralysis. HNO 65:621–630

17.

Nawka T, Sittel C, Arens C et al (2015) Voice and respiratory outcomes after permanent transoral surgery of bilateral vocal fold paralysis. Laryngoscope 125:2749–2755

18.

Schuering JHC, Heijnen BJ, Sjogren EV et al (2020) Adductor spasmodic dysphonia: botulinum toxin a injections or laser thyroarytenoid myoneurectomy? A comparison from the patient perspective. Laryngoscope 130:741–746

19.

Sittel C, Stennert E, Thumfart WF et al (2001) Prognostic value of laryngeal electromyography in vocal fold paralysis. Arch Otolaryngol Head Neck Surg 127:155–160

20.

Statham MM, Rosen CA, Nandedkar SD et al (2010) Quantitative laryngeal electromyography: turns and amplitude analysis. Laryngoscope 120:2036–2041

21.

Sulica L (2004) Contemporary management of spasmodic dysphonia. Curr Opin Otolaryngol Head Neck Surg 12:543–548

22.

Volk GF, Hagen R, Pototschnig C et al (2012) Laryngeal electromyography: a proposal for guidelines of the European Laryngological Society. Eur Arch Otorhinolaryngol 269:2227–2245

23.

Wang CC, Chang MH, Jiang RS et al (2015) Laryngeal electromyography-guided hyaluronic acid vocal fold injection for unilateral vocal fold paralysis: a prospective long-term follow-up outcome report. JAMA Otolaryngol Head Neck Surg 141:264–271

24.

Woisard V, Liu X, Bes MCA et al (2017) Botulinum toxin injection in laryngeal dyspnea. Eur Arch Otorhinolaryngol 274:909–917

25.

Woodson G (2008) Management of neurologic disorders of the larynx. Ann Otol Rhinol Laryngol 117:317–326

26.

Yang Q, Xu W, Li Y et al (2015) Value of laryngeal electromyography in spasmodic dysphonia diagnosis and therapy. Ann Otol Rhinol Laryngol 124:579–583

27.

Zealear DL, Billante CR, Courey MS et al (2003) Reanimation of the paralyzed human larynx with an implantable electrical stimulation device. Laryngoscope 113:1149–1156

28.

Zealear DL, Dedo HH (1977) Control of paralysed axial muscles by electrical stimulation. Acta Otolaryngol 83:514–527
Danksagung
Der Autor dankt Herrn Dr. Gerhard Förster, der seine Erfahrung in der LEMG eingebracht und Abb. 1 erstellt hat.
Ethics declarations
Interessenkonflikt
A.H. Müller gibt an: Der Beitrag wurde durch Erstellung von Abb. 2 und 3 durch die Fa. MED-EL, Innsbruck, Österreich, unterstützt, mit der der Autor in einer Forschungskooperation zum Kehlkopfschrittmacher steht. Ein Interessenkonflikt zum dargestellten Inhalt des Beitrags besteht nicht.
Für diesen Beitrag wurden vom Autor keine Studien an Menschen oder Tieren durchgeführt. Für die aufgeführten Studien gelten die jeweils dort angegebenen ethischen Richtlinien.
About this article
Cite this article
Müller, A.H. Neurolaryngologie. HNO 69, 734–741 (2021). https://doi.org/10.1007/s00106-021-01064-7
Accepted:

Published:

Issue Date:
Schlüsselwörter
Kehlkopf

Neurophysiologie

Stimmlippenlähmung

Dysphonie

Implantierbare Neurostimulatoren
Keywords
Larynx

Neurophysiology

Vocal fold paralysis

Dysphonia

Implantable neurostimulators