Zusammenfassung
Die Bezeichnung "laryngeal framework surgery" (LFS), im Deutschen "Larynxskelettchirurgie", ist der Oberbegriff für alle phonochirurgischen Verfahren, mit denen das knorpelige Gerüst des Kehlkopfs und dadurch die Position und die Spannung der Stimmlippen verändert werden. Ziel ist die Stimmverbesserung. Die mit Abstand bekannteste und am häufigsten durchgeführte Operation ist die Thyroplastik Typ 1 nach Isshiki, die auch als Medialisierungsthyroplastik bekannt ist und deren Indikation die Glottisschlussinsuffizienz ist. Ihre Durchführung ist in Deutschland noch wenig verbreitet, auch wenn die erste Operation dieser Art von Payr bereits 1915 in Deutschland mit Erfolg durchgeführt wurde.
Abstract
Laryngeal framework surgery is an umbrella term for all phonosurgical procedures by which the cartilaginous structure of the larynx and thereby the position and tension of the vocal folds are changed. The aim is to improve the voice. By far the best known and most frequently performed operation is thyroplasty type 1 according to Isshiki, also known as medialization thyroplasty, which is indicated for treatment of glottic insufficiency. Although the first medialization thyroplasty was successfully performed by Payr in Germany in 1915, more than 100 years later, it is still not widely used in Germany.
Access options
Buy single article
Instant access to the full article PDF.
USD 39.95
Price includes VAT (USA)
Tax calculation will be finalised during checkout.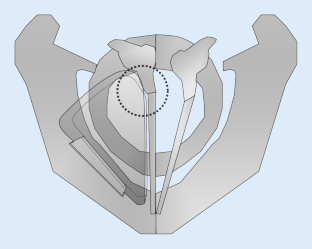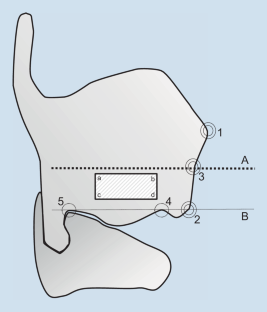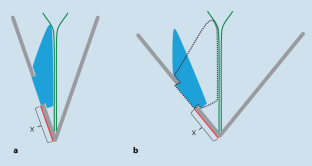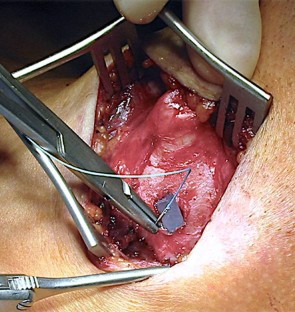 Literatur
1.

Benninger MS, Manzoor N, Ruda JM (2015) Short- and long-term outcomes after silastic medicalization laryngoplasty: are arytenoid procedures needed? J Voice 29(2):236–240

2.

Butskiy O, Mistry B, Chadha NK (2015) Surgical interventions for pediatric unilateral vocal cord paralysis: a systematic review. JAMA Otolaryngol Head Neck Surg 141(7):654–660

3.

Caloway CL, Bouhabel S, Hartnick CJ (2020) Lessons learned to aid the successful outcome of pediatric recurrent laryngeal nerve reinnervation. Int J Pediatr Otorhinolaryngol 128:109742

4.

Cates DJ, Venkatesan NN, Strong B et al (2016) Effect of vocal fold medialization on dysphagia in patients with unilateral vocal fold immobility. Otolaryngol Head Neck Surg 155(3):454–457. https://doi.org/10.1177/0194599816645765

5.

Crolley VE, Gibbins N (2017) One hundred years of external approach medialisation thyroplasty. J Laryngol Otol 131:202–208

6.

Dejonckere P, Bradley P, Clemente P et al (2001) A basic protocol for functional assessment of voice pathology, especially for investigating the efficacy of (phonosurgical) treatments and evaluating new assessment techniques. Eur Arch Otorhinolaryngol 258:77–82

7.

Desuter G, Dedry M, Schaar B, van Lith-Bijl JT, van Benthem PP, Sjögren EV (2019) Voice outcome indicators for unilateral vocal fold paralysis surgery: a survey among surgeons. Eur Ann Otorhinolaryngol Head Neck Dis 136(5):343–347

8.

Desuter G, Henrard S, Boucquey D et al (2015) Learning curve of medialization thyroplasty using a Montgomery™ implant. Eur Arch Otorhinolaryngol 272(2):385–390

9.

Dion GR, Fritz MA, Teng SE et al (2017) Impact of vocal fold augmentation and laryngoplasty on dyspnea in patients with glottal incompetence. Laryngoscope 128:427–429

10.

Elnashar I, El-Anwar M, Amer H, Quriba A (2015) Voice outcome after gore-tex medialization thyroplasty. Int Arch Otorhinolaryngol 19(3):248–254

11.

Friedrich G, de Jong F, Mahieu H et al (2001) Laryngeal framework surgery: a proposal for classification and nomenclature by the Phonosurgery Committee of the European Laryngological Society. Eur Arch Otorhinolaryngol 258:389–396

12.

Friedrich G, Remacle M, Birchall M et al (2007) Defining phonosurgery: a proposal for classification and nomenclature by the Phonosurgery Committee of the European Laryngological Society (ELS). Eur Arch Otorhinolaryngol 264(10):1191–1200

13.

Harries ML (1997) Laryngeal framework surgery (thyroplasty). J Laryngol Otol 111:103–105

14.

Hess M, Fleischer S (2018) Laryngoscopic techniques and office-based phonosurgery in neurolaryngological disorders. In: Sittel, Guntinas-Lichius O (Hrsg) Neurolaryngology. Springer, Berlin Heidelberg

15.

Hess M (2017) Future techniques in phonosurgery. In: Mohan S, Young K, Judd O (Hrsg) A practical guide to laryngeal framework surgery. Compton,

16.

Ho G, Leonhard M, Denk-Linnert D et al (2020) Pre- and intraoperative acoustic and functional assessment of the novel APrevent® VOIS implant during routine medialization thyroplasty. Eur Arch Otorhinolaryngol 277:809–817

17.

Isshiki N, Morita H, Okamura H, Hiramoto M (1974) Thyroplasty as a new phonosurgical technique. Acta Otolaryngol 78:451–457

18.

Isshiki N (1989) Phonosurgery: theory and practice. Springer, Heidelberg, S 77–80

19.

Koufman JA (1986) Laryngoplasty for vocal cord medialization: an alternative to Teflon. Laryngoscope 96:726–731

20.

Kumar R, Banumathy N, Sharma P, Panda NK (2019) Normalisation of voice parameters in patients with unilateral vocal fold palsy: is it realistic? J Laryngol Otol 133(12):1097–1102

21.

Maragos NE (2001) Revision thyroplasty. Ann Otol Rhinol Laryngol 110:1087–1092

22.

Marie JP, Hansen K, Brami P, Marronnier A, Bon-Mardion N (2020) Nonselective Reinnervation as a primary or salvage treatment of unilateral vocal fold palsy. Laryngoscope 130(7):1756–1763. https://doi.org/10.1002/lary.28324

23.

McCulloch TM, Hoffman HT (1998) Medialization laryngoplasty with expanded polytetrafluoroethylene: surgical technique and preliminary results. Ann Otol Rhinol Laryngol 107:427–432

24.

Montgomery WW, Montgomery SK, Warren MA (1993) Thyroplasty simplified. Oper Tech Otolaryngol Head Neck Surg 4:223–231

25.

Mueller AH, Pototschnig C (2020) Recurrent laryngeal nerve stimulator. Otolaryngol Clin North Am 53(1):145–156

26.

Mueller AH (2017) Therapie von Rekurrensparesen. HNO 65(7):621–630

27.

Nerurkar NK, Pawar SM, Dighe SN (2016) A comprehensive 6‑year retrospective study on medialisation thyroplasty in the Indian population. Eur Arch Otorhinolaryngol 273(7):1835–1840

28.

Parker NP, Barbu AM, Hillman RE et al (2015) Revision transcervical medialization laryngoplasty for unilateral vocal fold paralysis. Otolaryngol Head Neck Surg 153(4):593–598

29.

Patel J, Boon M, Spiegel J, Huntley C (2020) Safety of outpatient type 1 thyroplasty. Ear Nose Throat J 5:145561319894414

30.

Payr E (1915) Plastik am Schildknorpel zur Behebung der Folgen einseitiger Stimmbandlähmung. Dtsch Med Wochenschr 43:1265–1270

31.

Rosen CA, Mau T, Remacle M, Hess M, Eckel HE, Young VN, Hantzakos A, Yung KC, Dikkers FG (2016) Nomenclature proposal to describe vocal fold motion impairment. Eur Arch Otorhinolaryngol 273(8):1995–1999

32.

Rosen C, Simpson B (2008) Operative techniques in laryngology. Springer, Berlin Heidelberg

33.

Sagiv D, Eyal A, Mansour J et al (2016) Novel anatomic characteristics of the laryngeal framework: a computed tomography evaluation. Otolaryngol Head Neck Surg 154(4):674–678

34.

Schuster M, Eysholdt UU (2005) Therapie der einseitigen Stimmlippenparese. HNO 53:756–765

35.

Volk GF, Themel S, Gugatschka M et al (2018) Vocal fold paresis: medical specialists' opinions on standard diagnostics and laryngeal findings. Eur Arch Otorhinolaryngol 275:2535–2540

36.

Woo P (2000) Arytenoid adduction and medialization laryngoplasty. Otolaryngol Clin N Am 33:817–839

37.

Wu AP, Sulica L (2015) Diagnosis of vocal fold paresis: current opinion and practice. Laryngoscope 125:904–908
Ethics declarations
Interessenkonflikt
M. Hess und S. Fleischer geben an, dass kein Interessenkonflikt besteht.
Für diesen Beitrag wurden von den Autoren keine Studien an Menschen oder Tieren durchgeführt. Für die aufgeführten Studien gelten die jeweils dort angegebenen ethischen Richtlinien.
About this article
Cite this article
Hess, M., Fleischer, S. "Laryngeal framework surgery". HNO 69, 726–733 (2021). https://doi.org/10.1007/s00106-021-01054-9
Accepted:

Published:

Issue Date:
Schlüsselwörter
Phonochirurgie

Stimmstörung

Laryngoplastik

Thyroplastik

Arytänoidadduktion
Keywords
Phonosurgery

Voice disorders

Laryngoplasty

Thyroplasty

Arytenoid adduction