Abstract
A 64-year-old female patient presented with otalgia and hearing loss in the right ear. On otoscopy, the right tympanic membrane was highly vascularized and bulged into the anteroinferior quadrant. High-resolution computed tomography revealed an osteolytic lesion with occupation of the hypotympanum extending into the petrous apex and right parapharyngeal space as well as infiltration of the wall of the right internal carotid artery. MRI strengthened the suspicion of a jugulotympanic paraganglioma. The biopsy material obtained through exploratory tympanotomy was assessed as a low-grade polymorphic adenocarcinoma. The tumor was treated with definitive chemoradiotherapy. Posttherapeutic imaging after 4 months did not show any evidence of tumor progression.
Access options
Buy single article
Instant access to the full article PDF.
US$ 39.95
Tax calculation will be finalised during checkout.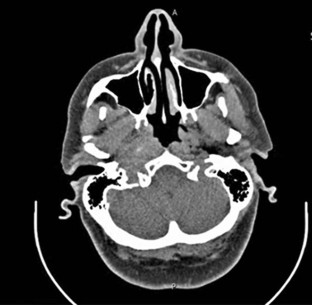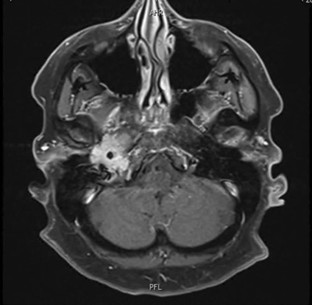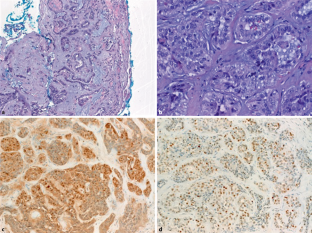 References
1.

Mimouni O, Sanjuan M, Giusiano S, Lavieille JP, Magnan J, Deveze A (2010) Mucoepidermoid carcinoma arising from the middle ear: a rare histopathologic condition. Otol Neurotol 31:858–860

2.

Magliulo G, Vingolo GM, Cristofari P, Natale AS (1993) Primary adenoid cystic carcinoma of the middle ear and mastoid. Acta Otorhinolaryngol Belg 47:39–42

3.

Ruiz-Godoy L, Suarez L, Mosqueda A, Meneses A (2007) Polymorphous low-grade adenocarcinoma of the parotid gland. Case report and review of the literature. Med Oral Patol Oral Cir Bucal 12:E30–E33

4.

Charous DD, Cunnane MF, Rosen MR, Keane WM (2005) Recurrent polymorphous low-grade adenocarcinoma manifesting as a sinonasal mass: a case report. Ear Nose Throat J 84:354–356–357

5.

Wang CH, Li YY, Han FY (2011) Polymorphous low-grade adenocarcinoma of ear: one case report. Zhonghua Er Bi Yan Hou Tou Jing Wai Ke Za Zhi 46:156–157
Ethics declarations
Conflict of interest
K. Mantsopoulos, L. Taha, R. Fietkau, J. Hornung, A. Agaimy and H. Iro declare that they have no competing interests.
For this article no studies with human participants or animals were performed by any of the authors. All studies performed were in accordance with the ethical standards indicated in each case. Additional written informed consent was obtained from all individual participants or their legal representatives for whom identifying information is included in this article.
The supplement containing this article is not sponsored by industry.
About this article
Cite this article
Mantsopoulos, K., Taha, L., Fietkau, R. et al. Low-grade (polymorphous) adenocarcinoma of the middle ear mimicking a jugulotympanic paraganglioma. HNO (2021). https://doi.org/10.1007/s00106-021-01028-x
Keywords
Otologic surgical procedures

Salivary gland diseases

Tympanic membrane

Radiotherapy

Antineoplastic agents