Zusammenfassung
Hintergrund
Die Tonsillektomie (TE) zielt darauf ab, die Gaumenmandeln als Ursache von rezidivierenden akuten Tonsillitiden zu entfernen, wenn diese konservativen Maßnahmen nicht zugänglich sind. Konsentierte Leitlinienempfehlungen hierzu wurden in Deutschland im Jahr 2015 publiziert. Die vorliegende Studie zielte darauf ab, dem Effekt dieser Leitlinie auf die Indikationsstellung der TE unter Nutzung von individuellen Patientendaten nachzugehen.
Methode
Anonymisierte Abrechnungsdaten der Allgemeinen Ortskrankenkassen aus stationärer und ambulanter Behandlung sowie Arzneiverordnungsdaten der Jahre 2012–2018 wurden personenbezogen zusammengeführt und ausgewertet. Über die Operationscodierung wurden alle Tonsillektomiefälle erfasst, die wegen einer "chronischen Tonsillitis" ausgeführt worden waren. Die ambulante Vorbehandlung wegen Halsschmerzepisoden wurde mittels der relevanten ICD-10-Diagnoseschlüssel und die Arzneiverordnungen anhand des anatomisch-therapeutisch-chemischen Systems identifiziert.
Ergebnis
Zur Auswertung waren 109.895 Krankenhausfälle geeignet, die einen Fallzahlrückgang von 50,3 % innerhalb des Beobachtungszeitraums ergab. Der kontinuierliche Rückgang erhielt einen Akzent nach 2015. Besonders stark waren davon die unter 10-Jährigen betroffen (−65,7 %). Bei etwa der Hälfte aller Tonsillektomierten fanden sich in keinem oder nur einem Quartal ambulante antibiotische Vorbehandlungen.
Schlussfolgerungen
Auf die Fallzahlentwicklung und gängige Praxis bei der Behandlung von Halsschmerzen ließ sich nur ein sehr limitierter Leitlinieneffekt nachweisen. Antibiotikaverordnungen spielen bei der Indikationsstellung der TE als Therapie von Halsschmerzen eine untergeordnete Rolle.
Abstract
Background
Tonsillectomy is a reasonable indication in the management of sore throat not responding to antibiotic treatment. This longitudinal patient-level study was conducted to estimate the impact of the German guideline for the management of tonsillitis which was published in 2015.
Methods
Data of inpatient and outpatient healthcare were retrieved from a database provided by one of the largest German health insurance companies (i.e., Allgemeine Ortskrankenkassen). Procedures for the management of chronic tonsillitis (code: J35.0) between 2012 and 2018 were identified by operation codes (5-281.0; 5‑282.0). Primary care data concerning sore throat were identified by ICD-10 codes (J02; J03; J35.0) including antibiotic prescribing by associated data of the anatomic–therapeutic–chemical classification.
Results
A total of 109,895 cases were eligible for analysis. The annual number of procedures had decreased by 50.3% within the study period. The continuous decrease was emphasized after 2015. The strongest decrease was registered in children (<10 years; −65.7%). Every second patients had received conservative treatment at the most in only one preoperative quarter.
Conclusions
The impact of the German guideline on the management of sore throat on the annual number of tonsillectomies and common medical practice was limited. Antibiotic treatment appears not to play a major role when tonsillectomy is indicated.
Access options
Buy single article
Instant access to the full article PDF.
USD 39.95
Price includes VAT (USA)
Tax calculation will be finalised during checkout.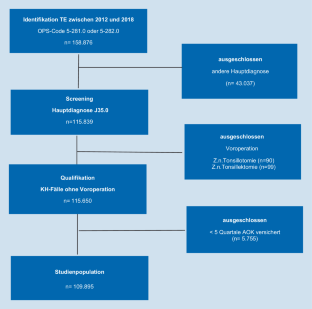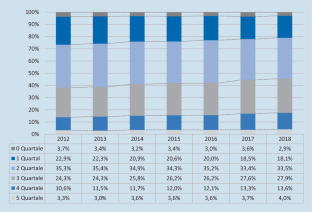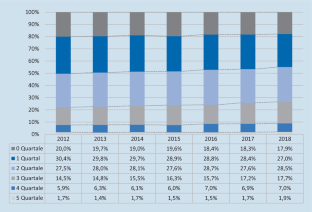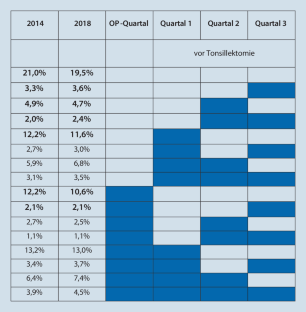 Literatur
1.

Alho OP, Koivunen P, Penna T et al (2007) Tonsillectomy versus watchful waiting in recurrent streptococcal pharyngitis in adults: randomised controlled trial. Clin Otolaryngol 32:285

2.

Borgstrom A, Nerfeldt P, Friberg D et al (2017) Trends and changes in paediatric tonsil surgery in Sweden 1987–2013: a population-based cohort study. BMJ Open 7:e13346

3.

Burton MJ, Glasziou PP, Chong LY et al (2014) Tonsillectomy or adenotonsillectomy versus non-surgical treatment for chronic/recurrent acute tonsillitis. Cochrane Database Syst Rev 11:CD1802. https://doi.org/10.1002/14651858.CD001802.pub3

4.

Franzen AM, Jungehulsing M, Berthold U et al (2019) Operationen an den Gaumenmandeln im Land Brandenburg – Entwicklungen von 2013 bis 2017. HNO 67:606–611

5.

Gemeinsamer Bundesausschuss (2018) Richtlinie zum Zweitmeinungsverfahren (Zm-RL). www.g-ba.de/informationen/richtlinien/107/#details/3079. Zugegriffen: 1. Apr. 2019

6.

Koskenkorva T, Koivunen P, Koskela M et al (2013) Short-term outcomes of tonsillectomy in adult patients with recurrent pharyngitis: a randomized controlled trial. CMAJ 185:E331–E336

7.

Lock C, Wilson J, Steen N et al (2010) North of England and Scotland Study of Tonsillectomy and Adeno-tonsillectomy in Children(NESSTAC): a pragmatic randomised controlled trial with a parallel non-randomised preference study. Health Technol Assess 14:1–164, iii–iv

8.

Mitchell RB, Archer SM, Ishman SL et al (2019) Clinical practice guideline: tonsillectomy in children (update). Otolaryngol Head Neck Surg 160:S1–S42

9.

Ostvoll E, Sunnergren O, Stalfors J (2019) Does tonsillectomy reduce medical care visits for pharyngitis/tonsillitis in children and adults? Retrospective cohort study from Sweden. BMJ Open 9:e33817

10.

Paradise JL, Bluestone CD, Bachman RZ et al (1984) Efficacy of tonsillectomy for recurrent throat infection in severely affected children. Results of parallel randomized and nonrandomized clinical trials. N Engl J Med 310:674–683

11.

Paradise JL, Bluestone CD, Colborn DK et al (2002) Tonsillectomy and adenotonsillectomy for recurrent throat infection in moderately affected children. Pediatrics 110:7–15

12.

Song Y, Skinner J, Bynum J et al (2010) Regional variations in diagnostic practices. N Engl J Med 363:45–53

13.

Sumilo D, Nichols L, Ryan R et al (2019) Incidence of indications for tonsillectomy and frequency of evidence-based surgery: a 12-year retrospective cohort study of primary care electronic records. Br J Gen Pract 69:e33–e41

14.

Van Staaij BK, Van Den Akker EH, Rovers MM et al (2004) Effectiveness of adenotonsillectomy in children with mild symptoms of throat infections or adenotonsillar hypertrophy: open, randomised controlled trial. BMJ 329:651

15.

Windfuhr JP, Chen YS (2020) Tonsillenchirurgie in den Bundesländern: Unterschiede und Gemeinsamkeiten. HNO 68:414–425

16.

Windfuhr JP, Savva K (2017) Aktuelle Studienlage zur Tonsillotomie. HNO 65:30–40

17.

www.awmf.org/leitlinien/detail/ll/017-024.html (abgerufen 18. Sept. 2019) Entzündliche Erkrankungen der Gaumenmandeln / Tonsillitis, Therapie.
Ethics declarations
Interessenkonflikt
J.P. Windfuhr, C. Schmuker und C. Günster geben an, dass kein Interessenkonflikt besteht.
Für diesen Beitrag wurden von den Autoren keine Studien an Menschen oder Tieren durchgeführt. Für die aufgeführten Studien gelten die jeweils dort angegebenen ethischen Richtlinien. Das Einholen eines Ethikvotums war gemäß der Berufsordnung (§15, Abs. 1) der zuständigen Landesärztekammer Nordrhein nicht erforderlich.
About this article
Cite this article
Windfuhr, J.P., Schmuker, C. & Günster, C. Halsschmerzen als Operationsindikation vor und nach Publikation der Tonsillitis-Leitlinie. HNO 69, 742–749 (2021). https://doi.org/10.1007/s00106-020-00944-8
Accepted:

Published:

Issue Date:
Schlüsselwörter
Tonsillektomie

Tonsillotomie

Tonsillitis

Tonsillenhyperplasie

Leitlinie

Routinedatenanalyse

Sekundärdatenanalyse
Keywords
Tonsillectomy

Tonsillotomy

Tonsillitis

Tonsil hyperplasia

Guideline

Routine data analysis

Secondary data analysis