Zusammenfassung
Tumoren im Bereich des Oropharynx können zu schweren Funktionsstörungen führen. Diese werden zumeist durch die operative Therapie und/oder Radiotherapie verstärkt. Dabei sind der Schweregrad und die Art der Funktionsstörung abhängig vom Resektionsausmaß und ihrer Lokalisation. Komplette Organentfernungen führen generell zu einer stärkeren Beeinträchtigung als Teilresektionen. Aber auch Teilresektionen können ab einer bestimmten Größe zu nachhaltigen Störungen der genannten Funktionen führen. Mithilfe der plastisch-rekonstruktiven Chirurgie lassen sich die spezifischen Funktionen erhalten bzw. wiederherstellen. Die verschiedenen Operationstechniken mit unterschiedlichen Gewebetransplantaten und Lappen werden beschrieben und die Indikationen in Abhängigkeit von den Funktionsausfällen, der Defektlokalisation und dem Resektionsausmaß (Teil‑/Organresektion) dargestellt.
Abstract
Oropharyngeal tumors can cause severe dysfunctions, which are often worsened by surgical and/or radiotherapy. The severity and type of dysfunction depends on the extent and localization of the resection. In general, entire organ resections lead to greater impairment than partial resections, whereas extended partial resection often equates to total resection. Plastic reconstructive surgery can help to preserve and reconstruct specific functions. Herein, the various surgical techniques with different flaps and tissue grafts are described, and the indications are presented depending on the dysfunctions, the defect location, and the extent of resection (partial versus total).
Access options
Buy single article
Instant access to the full article PDF.
US$ 39.95
Tax calculation will be finalised during checkout.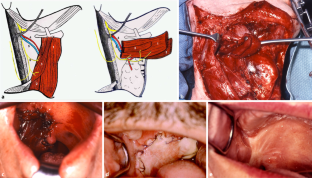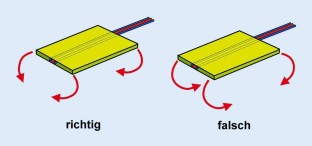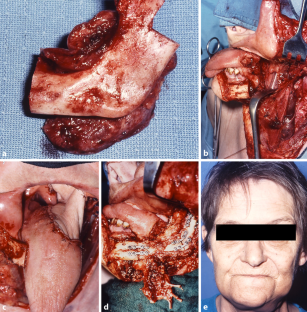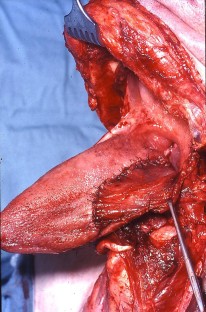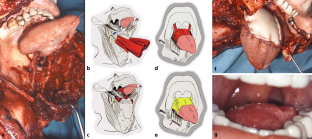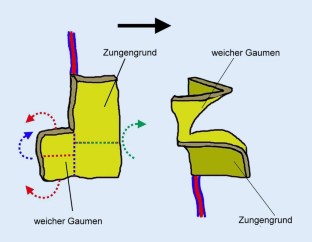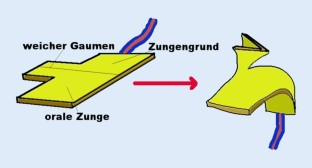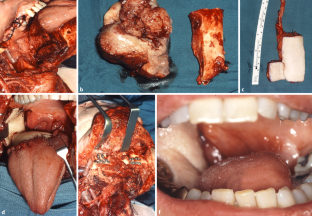 Literatur
1.

Aguilar NV, Olson ML, Shedd DP (1979) Rehabilitation of deglutition problems in patients with head and neck cancer. Am J Surg 138:501–506

2.

Aviv J, Keen M, Rodriguez H et al (1994) Bilobed radial forearm free flap for functional reconstruction of near- or total glossectomy defects. Laryngoscope 104:893–900

3.

Bootz F (1988) Der freie Unterarmlappen zur Defektdeckung im Pharynx und Mundhöhlenbereich. HNO 36:462–466

4.

Bootz F, Becker D, Fliesek J (1993) Funktionelle Ergebnisse und Überlebenswahrscheinlichkeiten bei Tumorpatienten nach Rekonstruktion in Mundhöhle und Oropharynx mit Hilfe des mikrovaskularisierten radialen Unterarmlappens. HNO 41:380–384

5.

Conley J (1970) Concepts in Head and Neck Surgery. Thieme, Stuttgart

6.

Drommer RB (1986) Die Rekonstruktion von großen Mundhöhlendefekten mit Hilfe des mikrovaskulär anastomosierten forearm flap. Schweiz Monatsschr Zahnmed 96:774–778

7.

Edgerton MT, Duncan MM (1959) Reconstruction with loss of the hyomandibular complex in excision of large cancers. Arch Surg 78:77–88

8.

Hirano M, Kuroiwa Y, Tanaka S et al (1992) Dysphagia following various of surgical resection for oral cancer. Ann Otol Rhinol Laryngol 101:138–141

9.

Jacobson M (1993) Functional assessment after oral cavity reconstruction. Head Neck Surg 4:123–131

10.

Jahnke V (1976) Die Chirurgie der Zungen-Mundbodentumoren. Arch Otorhinolaryngol 210:435–438

11.

Marchetta F (1976) Function and appearance following surgery for intraoral cancer. Clin Plast Surg 3:52–57

12.

McConnel FM (1988) Analysis of pressure generation and bolus transit during pharyngeal swallowing. Laryngoscope 98:718–724

13.

Michi K, Imai S, Yamashita Y et al (1989) Improvement of speech intelligibility by a secondary operation to mobilize the tongue after glossectomy. J Craniofac Surg 17:162–166

14.

Remmert S, Majocco A, Sommer K et al (1994) Neue Methode der Zungenrekonstruktion mit innervierten Infrahyoidalmuskellappen. Laryngorhinootologie 73:198–201

15.

Remmert S, Sommer K, Krappen S et al (1997) Plastische Rekonstruktion von Defekten im Bereich des weichen Gaumens – Funktionelle und onkologische Aspekte. Laryngorhinootologie 76:169–177

16.

Remmert S (2000) Moderne Rekonstruktionsverfahren zur Wiederherstellung der Stimm- und Schluckfunktion nach ausgedehnten Tumorresektionen im oberen Aerodegestivtrakt. Shaker, Aachen

17.

Remmert S (2017) Expertise Plastische Chirurgie: Funktionelle Wiederherstellung der oberen Luft- und Speisewege. Thieme, Stuttgart

18.

Robertson MS, Robinson JM, Horsfall RM (1987) A technique of tongue reconstruction following near-total glossectomy. J Laryngol Otol 101:260–265

19.

Sessions DG, Zill R, Schwartz SL (1979) Deglutition after conservation surgery for cancer of the larynx and hypopharynx. Otolaryngol Head Neck Surg 87:779–783

20.

Summers GW (1974) Physiologic problems following ablative surgery of the head and neck. Clin North Am 7:217–223

21.

Urken M, Moscoso J, Lawson W et al (1994) A systematic approach to the functional reconstruction of the oral cavity following partial and total glossectomy. Arch Otolaryngol Head Neck Surg 46:589–601

22.

Walther EK, Rödel R, Deroover M (1990) Rehabilitation der Schluckfunktion bei Patienten mit Pharynxkarzinomen. Laryngorhinootolgie 69:360–368
Ethics declarations
Interessenkonflikt
S. Remmert und S. Hasenberg geben an, dass kein Interessenkonflikt besteht.
Für diesen Beitrag wurden von den Autoren keine Studien an Menschen oder Tieren durchgeführt. Für die aufgeführten Studien gelten die jeweils dort angegebenen ethischen Richtlinien.
Additional information
Teile dieses Beitrags sind bereits erschienen in: Remmert S (2017) Expertise Plastische Chirurgie: Funktionelle Wiederherstellung der oberen Luft- und Speisewege. Thieme, Stuttgart. Publikation mit freundl. Genehmigung © Georg Thieme Verlag KG.
About this article
Cite this article
Remmert, S., Hasenberg, S. Rekonstruktive Chirurgie beim Oropharynxkarzinom. HNO 69, 101–109 (2021). https://doi.org/10.1007/s00106-020-00933-x
Schlüsselwörter
Kopf-Hals-Neoplasien

Rekonstruktive chirurgische Verfahren

Freie Gewebelappen

Funktionsstörungen der Kommunikation

Chirurgische Lappen
Keywords
Head and neck neoplasms

Reconstructive surgical procedures

Free tissue flaps

Communicative Dysfunction

Surgical flaps