Zusammenfassung
In der klinischen Versorgung von Patienten mit obstruktiver Schlafapnoe (OSA) nehmen Fachärzte für Hals‑, Nasen- und Ohrenheilkunde eine wichtige Rolle ein, insbesondere in der ambulanten Diagnostik und in der konservativen und operativen Versorgung von Patienten mit Intoleranz gegenüber einer nächtlichen Ventilationstherapie. Während die differenzierte Indikationsstellung für operative Eingriffe und die Durchführung der notwendigen endoskopischen Zusatzdiagnostik bei schlafbezogenen Atmungsstörungen zu den Kernkompetenzen der HNO-Ärzte zählen, stellen differenzialdiagnostische Erwägungen und die Erkennung komorbider Schlafstörungen für HNO-Ärzte eine besondere Herausforderung dar, sofern sie nicht umfangreich schlafmedizinisch qualifiziert bzw. tätig sind. Gerade bei der Indikationsstellung für operative Maßnahmen sind jedoch differenzialdiagnostische Erwägungen von besonderer Bedeutung. Auch wenn die Tagesschläfrigkeit das klassische Symptom der OSA darstellt, sind entsprechend andere hypersomnische Störungen bei der Abklärung zu berücksichtigen. Insbesondere bei bestehender Schlafapnoe können begleitende hypersomnische Störungen übersehen und dadurch Fehlindikationen begünstigt werden. Anhand zweier Fallbeispiele soll die Narkolepsie als komorbide Störung und Differenzialdiagnose vorgestellt werden.
Abstract
Otorhinolaryngologists play a vital role in the management of patients with obstructive sleep apnea (OSA) in Germany, particularly with regards to outpatient diagnostics as well as conservative and surgical treatment of patients with intolerance to ventilation therapy. Although establishment of differential indications for surgical therapy and performance of additional preoperative drug-induced sleep endoscopy in patients with sleep-disordered breathing are among the core competencies of otorhinolaryngologists, differential diagnostic considerations and detection of comorbid sleep disorders can be challenging, particularly for those without extensive sleep medicine training and experience. However, detection of comorbid sleep disorders is of particular importance when permanent surgical treatment is considered. Daytime sleepiness is the typical leading symptom of OSA; nevertheless, other disorders of hypersomnolence need to be considered in these patients and can easily be overlooked. This may lead to inadequate indications for surgical treatment. Based on two case reports, narcolepsy is presented as a comorbid disorder and differential diagnosis in patients with OSA.
Access options
Buy single article
Instant access to the full article PDF.
US$ 39.95
Tax calculation will be finalised during checkout.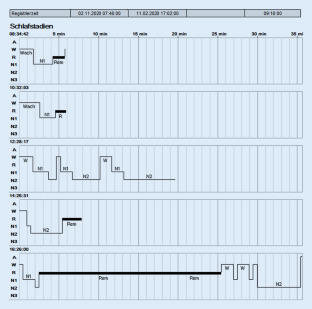 Literatur
Verwendete Literatur
1.

Geisler P (2009) Hypersomnie, Narkolepsie und Tagesmüdigkeit. UNI-MED, Bremen

2.

Gerloff C (2012) S1-Leitlinie "Narkolepsie", Stand: September 2012, gültig bis: Dezember 2017. Leitlinien für Diagnostik und Therapie in der Neurologie. Deutsche Gesellschaft für Neurologie (DGN), Berlin

3.

Johns MW (1991) A new method for measuring daytime sleepiness: the Epworth sleepiness scale. Sleep 14:540–545

4.

Littner MR, Kushida C, Wise M et al (2005) Practice parameters for clinical use of the multiple sleep latency test and the maintenance of wakefulness test. An American Academy of Sleep Medicine report. AASM practice parameters. Sleep 28(1):113–121

5.

Mayer G (2016) Neues von Diagnostik, Pathogenese und Therapie der Narkolepsie. Neurotransmitter 27:24–28

6.

Mayer G, Pollmächter T (2007) Narkolepsie – Neue Chancen in Diagnostik & Therapie. Thieme, Stuttgart, S 16–27

7.

Müller U, Rowe J, Rittman T et al (2013) Effects of modafinil on non-verbal cognition, task enjoyment and creative thinking in healthy volunteers. Neuropharmacology 64:490–495

8.

Sateia MJ (2014) International classification of sleep disorders. Chest 146:1387–1394

9.

Sullivan SS, Guilleminault C (2015) Emerging drugs for common conditions of sleepiness: obstructive sleep apnea and narcolepsy. Expert Opin Emerg Drugs 20:571–582

10.

Weeß H (2016) Die seltene Erkrankung Narkolepsie. Pitolisant aus Expertensicht. Arzneimitteltherapie 34:418–420
Weiterführende Literatur
11.

Stuck BA, Maurer JT, Schlarb AA et al (2017) Praxis der Schlafmedizin: Diagnostik, Differenzialdiagnostik und Therapie bei Erwachsenen und Kindern. Springer, Berlin
Ethics declarations
Interessenkonflikt
B. A. Stuck hat finanzielle Unterstützung für Forschungsarbeiten, Berater- und Referentenhonorare und/oder finanzielle Unterstützung von Veranstaltungen von folgenden Firmen erhalten: Sutter Medizintechnik, Neuwirth Medical Products, Itamar Medical, Inspire Medical und Löwenstein Medical. H. G. Weeß hat finanzielle Unterstützung für die Durchführung von Fortbildungsveranstaltungen erhalten von UCB. W. Cassel hat Referenten- und Beraterhonorare von folgenden Firmen erhalten: Medice Pharma Pütter, Vanda Pharmaceuticals Germany, Amgen. C. Viniol und R. Birk geben an, dass kein Interessenkonflikt besteht.
Für diesen Beitrag wurden von den Autoren keine Studien an Menschen oder Tieren durchgeführt. Für die aufgeführten Studien gelten die jeweils dort angegebenen ethischen Richtlinien.
About this article
Cite this article
Stuck, B.A., Weeß, H.G., Viniol, C. et al. Differenzialdiagnostik der Hypersomnie in der operativen Schlafmedizin – mehr als nur Schlafapnoe!. HNO 69, 140–145 (2021). https://doi.org/10.1007/s00106-020-00927-9
Schlüsselwörter
Schlafbezogene Atmungsstörung

CPAP-Intoleranz

Narkolepsie

Tagesschläfrigkeit
Keywords
Sleep disordered breathing

CPAP intolerance

Narcolepsy

Daytime sleepiness