Zusammenfassung
Hintergrund
Schon seit vielen Jahrzenten stellt die Frage nach der "wahren" Funktion der Kieferhöhle bzw. den Nasennebenhöhlen (NNH) einen Streitpunkt in der Literatur dar und hat zu vielen kontroversen Diskussionen sowie Spekulationen geführt.
Ziel
Das Review fasst kurz verschiedene Theorien über die mögliche Physiologie und mögliche Funktionen der Kieferhöhle/NNH zusammen, die über die Jahrhunderte bis heute diskutiert wurden.
Material und Methoden
Eine Literaturrecherche bei PubMed wurde mit einer Kombination der Suchbegriffe "Physiologie", "Funktion", "Kieferhöhle" und "Nasennebenhöhle" durchgeführt.
Ergebnisse
Die aktuellen und möglichst wissenschaftlich belegten Theorien werden beschrieben. Die "Sinusologie" ist die Wissenschaft der NNH. Die Kieferhöhlen können einfach nur dazu dienen, die respiratorische Funktion der Nase zu verbessern. Eine Durchströmung mit inspiratorischer Luft findet nicht statt. Die Kieferhöhlen sind an der Produktion von Stickstoffmonoxid (NO) und damit der Unterstützung der Immunabwehr der Nasenhöhle entscheidend beteiligt. Die Mukosa der Kieferhöhle synthetisiert kontinuierlich NO und dient damit als Reservoir von NO. Weitere wichtige Funktionen sind der Schutz der Orbita und des Gehirn bei Schädelfrakturen sowie eine Gewichtsreduktion des Schädels.
Schlussfolgerung
Die verschiedenen Theorien über die Funktion der Nasennebenhöhlen werfen auch heute noch viele Fragen auf, und die wahre Funktion ist nicht vollständig geklärt. Mögliche Funktionen der Kieferhöhlen bestehen bei der lokalen Immunabwehr durch die Produktion von NO. Die NNH dienen als "Knautschzone" im Rahmen von Schädel-Hirn-Traumata.
Abstract
Background
The question of the "true" function of the maxillary sinus and the paranasal sinuses (PS) has been a controversial issue in the literature for decades, leading to many discussions and speculations.
Objective
This review briefly summarizes various theories on the possible physiology and functions of the maxillary sinus/PS that have been discussed over the centuries.
Materials and methods
A literature search was conducted in PubMed using a combination of the search terms "physiology," "function," "maxillary sinus," and "paranasal sinuses."
Results
Current and scientifically evidenced theories are described. "Sinusology" is the science of the PS. The maxillary sinuses might simply serve to improve the respiratory function of the nose. A flow of inspiratory air does not occur. The maxillary sinuses are decisively involved in the production of nitrogen monoxide (NO) and thus in supporting the immune defense of the nasal cavity. The mucosa of the maxillary sinus continuously synthesizes NO and serves as a reservoir of NO. Other important functions are protection of the orbit and the brain in case of skull fractures, as well as weight reduction of the skull.
Conclusion
The various theories about the function of the PS still raise many questions and their true function is yet not fully understood. Possible functions of the maxillary sinuses are local immune defense through the production of NO. The PS serve as a crumple zone for vital cerebral structures in the context of craniocerebral traumas.
Access options
Buy single article
Instant access to the full article PDF.
US$ 39.95
Tax calculation will be finalised during checkout.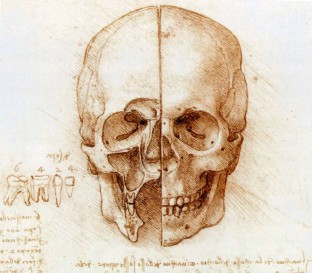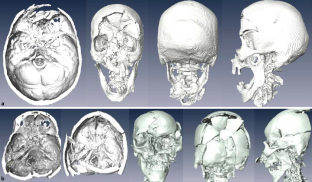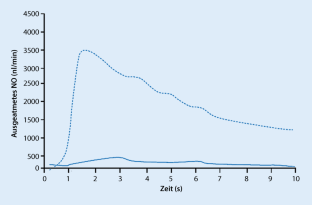 Literatur
1.

Alnafisah AM, Hameed S (2020) Aplasia of the maxillary sinus, a large periapical cyst in the maxillary arch, and a swimming and kissing molar. A rare case report. Cureus 12(2):e6859

2.

Amine K, Slaoui S, Kanice F‑Z, Kissa J (2020) Evaluation of maxillary sinus anatomical variations and lesions. A retrospective analysis using cone beam computed tomography. J Stomatol Oral Maxillofac Surg. https://doi.org/10.1016/j.jormas.2019.12.021

3.

Aust R, Stierna P, Drettner B (1994) Basic experimental studies of ostial patency and local metabolic environment of the maxillary sinus. Acta Otolaryngol 114(sup515):7–10 (discussion 11)

4.

Baykara M, Erdogan N, Öztürk M, Erkan M (2002) Maxillary sinus aplasia. Turk J Med Sci 32:273–275

5.

Biggs NL, Blanton PL (1970) The role of paranasal sinuses as weight reducers of the head determined by electromyography of postural neck muscles. J Biomech 3(3):255–262

6.

Bolger WE, Woodruff WW, Morehead J, Parsons DS (1990) Maxillary sinus hypoplasia. Classification and description of associated uncinate process hypoplasia. Otolaryngol Head Neck Surg 103(5):759–765

7.

Chrcanovic BR, Freire-Maia B (2010) Maxillary sinus aplasia. Oral Maxillofac Surg 14(3):187–191

8.

Chung S‑K, Kim D‑W, Na Y (2016) Numerical study on the effect of uncinectomy on airflow modification and ventilation characteristics of the maxillary sinus. Respir Physiol Neurobiol 228:47–60

9.

Cloquet H (1830) A system of human anatomy. Wells and Lilly, Boston

10.

Croen KD (1993) Evidence for antiviral effect of nitric oxide. Inhibition of herpes simplex virus type 1 replication. J Clin Invest 91(6):2446–2452

11.

Skillern RH (1920) Accessory sinuses of the nose, 2. Aufl. Lippincott, Philadelphia (cited from Da Vinci L (1452))

12.

Da Vinci L (1489) The skull sectioned. https://www.rct.uk/collection/search#/1/collection/919058/recto-the-cranium-sectioned-verso-the-skull-sectioned. Zugegriffen: 1. Apr. 2020

13.

Flottes L, Clere P, Rui R, Devilla F (1960) La Physiologie des Sinus (Societe Francaise D'Oto-Rhino-Laryngologie). Libraire Arnette, Paris, S 359–360

14.

Formby ML (1960) The maxillary sinus. Proc R Soc Med 53:163–168

15.

Förstermann U, Closs EI, Pollock JS, Nakane M, Schwarz P, Gath I, Kleinert H (1994) Nitric oxide synthase isozymes. Characterization, purification, molecular cloning, and functions. Hypertension 23(6 Pt 2):1121–1131

16.

Galen (1968) Galen De Usu Partium, 1x, 2 et. seq. (Kuhn) III. Cornell University Press, New York, S 691 (Translation by Tallamadge M.)

17.

Güçlü O, Uludağ A, Akçali A, Tekin K, Erdoğan H, Silan F, Dereköy FS (2012) Does the maxillary sinus have a triggering role in nasal nitric oxide synthesis? Rhinology 50(4):402–407

18.

Haller A (1763) Elementa physiologiae corporis humani. Liber XIV. 5, p180, (cited by Wright J (1914) A history of laryngology and rhinology, 2nd edn., Lea and Febiger, New York, 169)

19.

Hardy A (1960) Was man more aquatic in the past? New Sci 7:642–645

20.

Highmore N (1651) Corp human disquisition Anatom, Hagae

21.

Hippocrates (1992) Collected writings Bd. 4. Cactus, Athens

22.

Holden WE, Wilkins JP, Harris M, Milczuk HA, Giraud GD (1999) Temperature conditioning of nasal air. Effects of vasoactive agents and involvement of nitric oxide. J Appl Physiol (1985) 87(4):1260–1265

23.

Howell HP (1917) Voice production from the standpoint of the laryngologist. Ann Otol Rhinol Laryngol 26:643–655

24.

Jain B, Rubinstein I, Robbins RA, Leise KL, Sisson JH (1993) Modulation of airway epithelial cell ciliary beat frequency by nitric oxide. Biochem Biophys Res Commun 191(1):83–88

25.

Jankowski R (2013) The evo-devo origin of the nose, anterior skull base and midface. Springer, Paris

26.

Jankowski R, Nguyen DT, Poussel M, Chenuel B, Gallet P, Rumeau C (2016) Sinusology. Eur Ann Otorhinolaryngol Head Neck Dis 133(4):263–268

27.

Keir J (2009) Why do we have paranasal sinuses? J Laryngol Otol 123(1):4–8

28.

Kellman RM, Schmidt C (2009) The paranasal sinuses as a protective crumple zone for the orbit. Laryngoscope 119(9):1682–1690

29.

Kirihene R, Rees G, Wormald PJ (2002) The influence of the size of the maxillary sinus ostium on the nasal and sinus nitric oxide levels. Am J Rhinol 16(5):261–264

30.

Koertvelyessy T (1972) Relationships between the frontal sinus and climatic conditions. A skeletal approach to cold adaptation. Am J Phys Anthropol 37(2):161–172

31.

Koo SK, Kwon SB, Chon KM, Kim YJ, Kim YJ (2015) The role of the maxillary sinus on the voice. Eur Arch Otorhinolaryngol 272(9):2347–2350

32.

Lee TS, Kellman RM, Darling A (2014) Crumple zone effect of nasal cavity and paranasal sinuses on posterior cranial fossa. Laryngoscope 124(10):2241–2246

33.

Levine H, Clemente MP (2005) Sinus surgery: endoscopic and microscopic approaches. Thieme, Stuttgart, S 57–62

34.

Lindberg S, Cervin A, Runer T (1997) Nitric oxide (NO) production in the upper airways is decreased in chronic sinusitis. Acta Otolaryngol 117(1):113–117

35.

Lindemann J, Brambs H‑J, Keck T, Wiesmiller KM, Rettinger G, Pless D (2005) Numerical simulation of intranasal airflow after radical sinus surgery. Am J Otolaryngol 26(3):175–180

36.

Lundberg JO (2008) Nitric oxide and the paranasal sinuses. Anat Rec (Hoboken) 291(11):1479–1484

37.

Lundberg JO, Rinder J, Weitzberg E, Lundberg JM, Alving K (1994) Nasally exhaled nitric oxide in humans originates mainly in the paranasal sinuses. Acta Physiol Scand 152(4):431–432

38.

Lundberg JO, Farkas-Szallasi T, Weitzberg E, Rinder J, Lidholm J, Anggåard A, Hökfelt T, Lundberg JM, Alving K (1995) High nitric oxide production in human paranasal sinuses. Nat Med 1(4):370–373

39.

Mancinelli RL, McKay CP (1983) Effects of nitric oxide and nitrogen dioxide on bacterial growth. Appl Environ Microbiol 46(1):198–202

40.

Maniscalco M, Weitzberg E, Sundberg J, Sofia M, Lundberg JO (2003) Assessment of nasal and sinus nitric oxide output using single-breath humming exhalations. Eur Respir J 22(2):323–329

41.

Mavrodi A, Paraskevas G (2013) Evolution of the paranasal sinuses' anatomy through the ages. Anat Cell Biol 46(4):235–238

42.

Mygind N, Winther B (1987) Immunological barriers in the nose and paranasal sinuses. Acta Otolaryngol 103(5-6):363–368

43.

Naraghi M, Deroee AF, Ebrahimkhani M, Kiani S, Dehpour A (2007) Nitric oxide: a new concept in chronic sinusitis pathogenesis. Am J Otolaryngol 28(5):334–337

44.

Negus V (1957) The function of the paranasal sinuses. AMA Arch Otolaryngol 66(4):430–442

45.

Nogueira JF, Hermann DR, dos ReisAmérico R, Barauna Filho IS, Stamm AEC, Pignatari SSN (2007) A brief history of otorhinolaryngolgy. Otology, laryngology and rhinology. Braz J Otorhinolaryngol 73(5):693–703

46.

O'Malley CD, Saunders JC (1952) Leonardo da Vinci on the human body: the anatomical physiological and embryological drawings of Leonardo da Vinci. H. Schuman, New York

47.

Proetz AW (1922) Observations upon the formation and function of the accessory nasal sinuses and the mastoid air cells. Ann Otol Rhinol Laryngol 31:1083–1100

48.

Proetz AW (1953) Applied physiology of the nose, 2. Aufl. Annales Publishing, Saint Louis, S 7–68

49.

Rhŷs Evans PH (1992) The paranasal sinuses and other enigmas. An aquatic evolutionary theory. J Laryngol Otol 106(3):214–225

50.

Shiki K, Tanaka T, Kito S, Wakasugi-Sato N, Matsumoto-Takeda S, Oda M, Nishimura S, Morimoto Y (2014) The significance of cone beam computed tomography for the visualization of anatomical variations and lesions in the maxillary sinus for patients hoping to have dental implant-supported maxillary restorations in a private dental office in Japan. Head Face Med 10:20

51.

Tillier AM (1975) Les Sinus Craniens chez les Hommes Actuels et Fossils: Essai d'Interprétation, PhD thesis, Paris: University of Paris

52.

Vesalius A (1542) De Humani Corporis Fabrica, Lib 1, Cap VI-IX (cited by Wright, ibid, 168)

53.

Watelet JB, van Cauwenberge P (1999) Applied anatomy and physiology of the nose and paranasal sinuses. Allergy 54(Suppl 57):14–25

54.

Williams PL, Warwick R (1980) Gray's anatomy, 36. Aufl. Churchill Livingstone, Edinburgh

55.

Zang H, Wu J, Hu C, Li L, Liu Y, Yu S, Zhou B, Han D (2015) Study on the correlation between the ostia diameter changes and airflow characteristics in maxillary sinus. Zhonghua Er Bi Yan Hou Tou Jing Wai Ke Za Zhi 50(10):805–809
Ethics declarations
Interessenkonflikt
H.L. Sieron, F. Sommer, T.K. Hoffmann, A.-S. Grossi, M.O. Scheithauer, F. Stupp und J. Lindemann geben an, dass kein Interessenkonflikt besteht.
Für diesen Beitrag wurden von den Autoren keine Studien an Menschen oder Tieren durchgeführt. Für die aufgeführten Studien gelten die jeweils dort angegebenen ethischen Richtlinien.
About this article
Cite this article
Sieron, H.L., Sommer, F., Hoffmann, T.K. et al. Funktion und Physiologie der Kieferhöhle. HNO 68, 566–572 (2020). https://doi.org/10.1007/s00106-020-00869-2
Schlüsselwörter
Nasennebenhöhlen

Trauma

Respiratorisches System

Stimme

Stickstoffmonoxid
Keywords
Paranasal sinuses

Trauma

Respiratory system

Voice

Nitrogen monoxide