Zusammenfassung
Hintergrund
Die operative Therapie von Karzinomen des Oropharynx mir Beteiligung des weichen Gaumens kann Einschränkungen in Bezug auf die Schluck‑, Stimm- und Sprechkompetenz hervorrufen. Die Rekonstruktion der resezierten Strukturen kann dazu beitragen, die Funktionalität posttherapeutisch wiederherzustellen.
Ziel der Arbeit
Ziel der durchgeführten Studie war es, die Veränderung der Stimm‑/Sprechcharakteristika durch Resektion und Rekonstruktion des weichen Gaumens mittels Frequenzanalyse im posttherapeutischen Verlauf zu evaluieren.
Material und Methoden
Bei 18 Patienten mit Oropharynxkarzinom mit Beteiligung des weichen Gaumens erfolgte die Resektion und Rekonstruktion mit einem freien Radialistransplantat (FRT) und eine adjuvante Radio(chemo)therapie. Im Verlauf wurden per Frequenzanalyse die Intensitätsmaxima der Zahlwörter "eins", "zwei", "drei", "vier", "fünf" ermittelt und der Status der Kostaufnahme und die Notwendigkeit des angelegten Tracheostomas ermittelt.
Ergebnisse
Die Frequenzintensitätsmaxima stiegen nach Operation und Radiatio von 150–300 Hz auf über 1000 Hz an. Die Maxima normalisierten sich 2 Jahre nach Therapie auf Werte vergleichbar zu vor der Therapie. Die komplette orale Kostaufnahme war ein Jahr nach Therapie bei 2/3 der Patienten wieder möglich, und das Tracheostoma war zu diesem Zeitpunkt in 80 % der Fälle wieder verschlossen.
Schlussfolgerung
Die Rekonstruktion des weichen Gaumens mittels freiem Radialistransplantat im Rahmen der Therapie eines Oropharynxkarzinoms ermöglicht die Wiederherstellung der Funktionalität in Bezug auf die Sprech- und Schluckkompetenz. In vielen Fällen ist es möglich, nach Ablauf von 1–2 Jahren nach Tumortherapie ein Funktionsniveau vergleichbar zu vor der Tumorerkrankung zu erreichen.
Abstract
Background
Surgery of the soft palate in patients with oropharyngeal cancer can result in functional deficiencies of swallowing and speech. Reconstruction of the resected structures can contribute to regaining sufficient functionality after therapy.
Objective
The current study used frequency analysis to evaluate the change in speech characteristics after resection and reconstruction of the soft palate during post-therapeutic follow-up.
Materials and methods
In 18 patients with oropharyngeal carcinoma and involvement of the soft palate, resection and reconstruction by free radial forearm graft (FRFG) and adjuvant chemoradiotherapy was conducted. The spoken German numbers "eins", "zwei", "drei", "vier", "fünf" were recorded during follow-up and objectively assessed by frequency analysis. Additionally, food intake status and the necessity of a tracheostomy were evaluated.
Results
The maximum peak frequencies of the numbers analysed increased from 150–300 Hz before up to 1000 Hz after therapy. Two years post therapy, the peak frequencies again declined to levels comparable to those before tumour therapy. One year after therapy, complete oral nutrition was possible in two thirds of patients and the tracheostomy was closed in 80%.
Conclusion
Reconstruction of the soft palate by FRFG during the course of oropharyngeal cancer treatment allows function to be regained with respect to speech and swallowing. In the majority of patients, it is possible to reach a level of function comparable to the state before tumour treatment.
Access options
Buy single article
Instant access to the full article PDF.
US$ 39.95
Tax calculation will be finalised during checkout.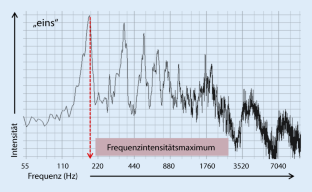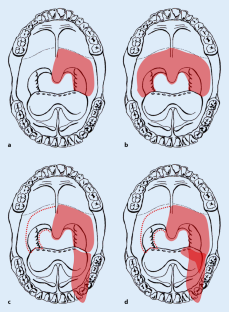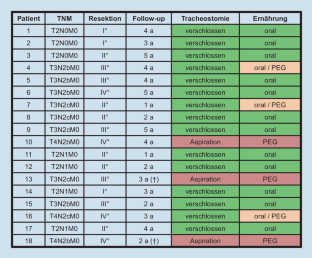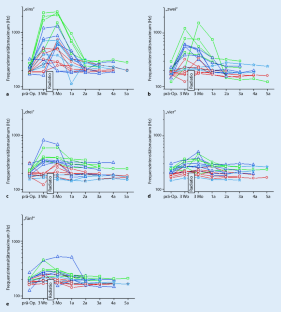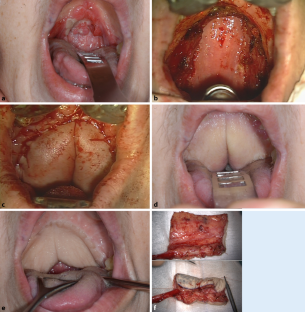 Literatur
1.

Archontaki M, Athanasiou A, Stavrianos SD et al (2010) Functional results of speech and swallowing after oral microvascular free flap reconstruction. Eur Arch Otorhinolaryngol 267(11):1771–1777. https://doi.org/10.1007/s00405-010-1275-2

2.

Barata LF, de Carvalho GB, Carrara-de Angelis E, de Faria JCM, Kowalski LP (2013) Swallowing, speech and quality of life in patients undergoing resection of soft palate. Eur Arch Otorhinolaryngol 270(1):305–312. https://doi.org/10.1007/s00405-012-2006-7

3.

Bozec A, Demez P, Gal J et al (2018) Long-term quality of life and psycho-social outcomes after oropharyngeal cancer surgery and radial forearm free-flap reconstruction: A GETTEC prospective multicentric study. Surg Oncol 27(1):23–30. https://doi.org/10.1016/j.suronc.2017.11.005

4.

Brown JS, Zuydam AC, Jones DC, Rogers SN, Vaughan ED (1997) Functional outcome in soft palate reconstruction using a radial forearm free flap in conjunction with a superiorly based pharyngeal flap. Head Neck 19(6):524–534

5.

de Bruijn MJ, ten Bosch L, Kuik DJ et al (2009) Objective acoustic-phonetic speech analysis in patients treated for oral or oropharyngeal cancer. Folia Phoniatr Logop 61(3):180–187. https://doi.org/10.1159/000219953

6.

Carmignani I, Locatello LG, Desideri I et al (2018) Analysis of dysphagia in advanced-stage head-and-neck cancer patients: impact on quality of life and development of a preventive swallowing treatment. Eur Arch Otorhinolaryngol 275(8):2159–2167. https://doi.org/10.1007/s00405-018-5054-9

7.

Chung E‑J, Lee D‑J, Kang H‑D, Park M‑I, Chung C‑H, Rho Y‑S (2011) Prospective speech outcome study in patients with soft palate reconstruction in tonsillar cancer. Oral Oncol 47(10):988–992. https://doi.org/10.1016/j.oraloncology.2011.07.022

8.

Gehanno P, Guédon C, Véber F, Perreau P, Alalouf P, Moisy N (1985) Réhabilitation vélo-pharyngée après bucco-pharyngectomie-transmaxillaire élargie à la région vélo-palatine [Velopharyngeal rehabilitation after transmaxillary buccopharyngectomy extending to the soft palate]. Ann Otolaryngol Chir Cervicofac 102(3):135–137

9.

Hamahata A, Beppu T, Tokumaru T, Yamaki T, Sakurai H (2017) A comparison of large soft palate defect reconstruction using the new "tunnel structure" and traditional "port structure" methods. J Reconstr Microsurg 33(1):70–76. https://doi.org/10.1055/s-0036-1592296

10.

Herberhold S, Bootz F (2013) Rekonstruktion im Oropharynx. Geeignete freie und gestielte Transplantate [Oropharynx reconstruction. Use of free and pedicled flaps]. HNO 61(7):580–583. https://doi.org/10.1007/s00106-013-2703-6

11.

Inoue T, Nagata M, Yukawa H et al (2012) Evaluation of postoperative function in patients undergoing reconstruction following resection of superior and lateral oropharyngeal cancer: long-term outcomes of reconstruction with the Gehanno method. Int J Oral Maxillofac Surg 41(1):9–16. https://doi.org/10.1016/j.ijom.2011.10.003

12.

Kang HG, Park MC, Lim H, Kim JH, Lee IJ (2013) Modified folding radial forearm flap in soft palate and tonsillar fossa reconstruction. J Craniofac Surg 24(2):458–460. https://doi.org/10.1097/SCS.0b013e31826cfecf

13.

Kim J‑H, Chu H‑R, Kang J‑M et al (2008) Functional benefit after modification of radial forearm free flap for soft palate reconstruction. Clin Exp Otorhinolaryngol 1(3):161–165. https://doi.org/10.3342/ceo.2008.1.3.161

14.

Kimata Y, Uchiyama K, Ebihara S et al (2000) Postoperative complications and functional results after total glossectomy with microvascular reconstruction. Plast Reconstr Surg 106(5):1028–1035

15.

Kimata Y, Uchiyama K, Sakuraba M et al (2002) Velopharyngeal function after microsurgical reconstruction of lateral and superior oropharyngeal defects. Laryngoscope 112(6):1037–1042. https://doi.org/10.1097/00005537-200206000-00019

16.

Lacombe V, Blackwell KE (1999) Radial forearm free flap for soft palate reconstruction. Arch Facial Plast Surg 1(2):130–132

17.

Lv M, Shen Y, Li J, Zhang C, Zhu H, Sun J (2014) Immediate reconstruction of soft palate defects after ablative surgery and evaluation of postoperative function: an analysis of 45 consecutive patients. J Oral Maxillofac Surg 72(7):1397–1406. https://doi.org/10.1016/j.joms.2014.01.012

18.

Markkanen-Leppänen M, Isotalo E, Mäkitie AA, Suominen E, Asko-Seljavaara S, Haapanen M‑L (2005) Speech aerodynamics and nasalance in oral cancer patients treated with microvascular transfers. J Craniofac Surg 16(6):990–995 (discussion 996)

19.

McCombe D, Lyons B, Winkler R, Morrison W (2005) Speech and swallowing following radial forearm flap reconstruction of major soft palate defects. Br J Plast Surg 58(3):306–311. https://doi.org/10.1016/j.bjps.2004.09.007

20.

Mercante G, Masiello A, Sperduti I, Cristalli G, Pellini R, Spriano G (2015) Quality of life and functional evaluation in patients with tongue base tumors treated exclusively with transoral robotic surgery: a 1‑year follow-up study. J Craniomaxillofac Surg 43(8):1561–1566. https://doi.org/10.1016/j.jcms.2015.06.024

21.

Remmert S, Sommer K, Krappen S, Gehrking E (1997) Plastische Rekonstruktion von Defekten im Bereich des weichen Gaumens – Funktionelle und onkologische Aspekte [Plastic reconstructive surgery of soft palate defects—functional and oncological aspects]. Laryngorhinootologie 76(3):169–177. https://doi.org/10.1055/s-2007-997407

22.

Schutte HK, Miller DG (1986) Transglottal pressures in professional singing. Acta Otorhinolaryngol Belg 40(2):395–404

23.

Schutte HK, Miller DG (1988) Resonanzspiele der Gesangsstimme in ihren Beziehungen zu supra- und subglottalen Druckverläufen: Konsequenzen für die Stimmbildungstheorie [Resonance spectrum of the singing voice relative to supra- and sub-glottal pressure changes; consequences for the theory of voice production]. Folia Phoniatr 40(2):65–73

24.

Seikaly H, Rieger J, Wolfaardt J, Moysa G, Harris J, Jha N (2003) Functional outcomes after primary oropharyngeal cancer resection and reconstruction with the radial forearm free flap. Laryngoscope 113(5):897–904. https://doi.org/10.1097/00005537-200305000-00023

25.

Seikaly H, Rieger J, Zalmanowitz J et al (2008) Functional soft palate reconstruction: a comprehensive surgical approach. Head Neck 30(12):1615–1623. https://doi.org/10.1002/hed.20919

26.

Sinha UK, Young P, Hurvitz K, Crockett DM (2004) Functional outcomes following palatal reconstruction with a folded radial forearm free flap. Ear Nose Throat J 83(1):45–48

27.

Whitehill TL, Ciocca V, Chan JC‑T, Samman N (2006) Acoustic analysis of vowels following glossectomy. Clin Linguist Phon 20(2–3):135–140. https://doi.org/10.1080/02699200400026694

28.

Yoshida H, Michi K, Yamashita Y, Ohno K (1993) A comparison of surgical and prosthetic treatment for speech disorders attributable to surgically acquired soft palate defects. J Oral Maxillofac Surg 51(4):361–365
Ethics declarations
Interessenkonflikt
M. Herzog, D. Grafmans, S. K. Plontke, S. Bartel und S. Plößl geben an, dass kein Interessenkonflikt besteht.
Für diesen Beitrag wurden von den Autoren keine Studien an Menschen oder Tieren durchgeführt. Für die aufgeführten Studien gelten die jeweils dort angegebenen ethischen Richtlinien.
About this article
Cite this article
Herzog, M., Grafmans, D., Plontke, S.K. et al. Funktionelle Ergebnisse nach Rekonstruktion des weichen Gaumens bei Patienten mit Oropharynxkarzinom. HNO 69, 122–130 (2021). https://doi.org/10.1007/s00106-020-00839-8
Schlüsselwörter
Frequenzanalyse

Rekonstruktion

Radialistransplantat

Tracheostoma

Stimmqualität
Keywords
Frequency analysis

Reconstruction

Radial forearm graft

Tracheostomy

Voice quality