Abstract
In the current first report, it is shown how a post-laryngectomy pharyngocutaneous fistula was successfully closed by endoscopic negative pressure therapy (ENPT; also termed endoscopic vacuum therapy, EVT). The duration of negative pressure treatment was 14 days. Up until now, ENPT has been used for treatment of transmural defects in the rectum and esophagus. The new endoscopic method can also be used in the ENT field for closure of pharyngocutaneous fistulas.
Access options
Buy single article
Instant access to the full article PDF.
USD 39.95
Price excludes VAT (USA)
Tax calculation will be finalised during checkout.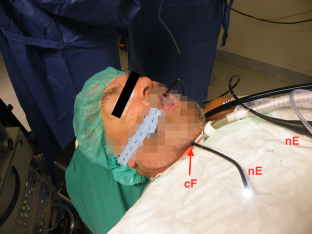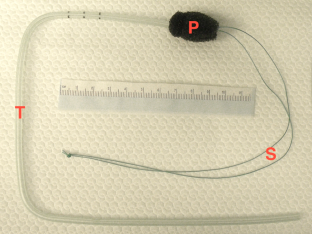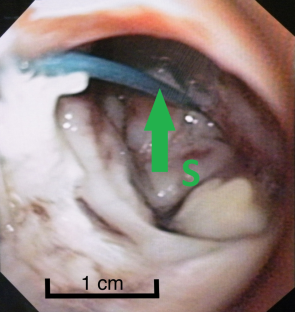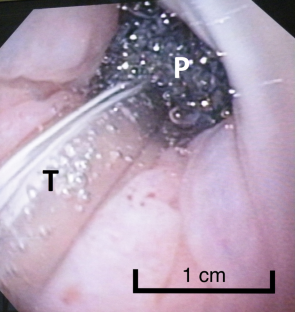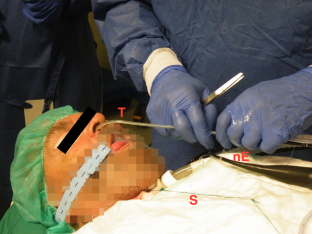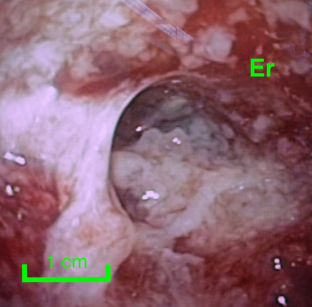 References
Kuehn F, Loske G, Schiffmann L, Gock M, Klar E (2017) Endoscopic vacuum therapy for various defects of the upper gastrointestinal tract. Surg Endosc 31(9):3449–3458

Loske G, Schorsch T, Müller C (2011) Intraluminal and intracavitary vacuum therapy for esophageal leakage: a new endoscopic minimally invasive approach. Endoscopy 43(6):540–544

Loske G, Schorsch T, Rucktäschel F, Schulze W, Riefel B, van Ackeren V, Müller C (2018) Open-Pore Film Drainage (OFD)—a new multipurpose tool for Endoscopic Negative Pressure Therapy (ENPT). Endosc Int Open 6(7):E865–E871. https://doi.org/10.1055/a-0599-5886

Wallstabe I, Tiedemann A, Schiefke I (2012) Endoscopic vacuum-assisted therapy of infected pancreatic pseudocyst using a coated sponge. Endoscopy 44(Suppl 2):E49–E50

Sayles M, Grant DG (2014) Preventing Pharyngo-Cutaneous Fistula in total laryngectomy: a systematic review and meta-analysis. Laryngoscope 124(5):1150–1163

Boscolo-Rizzo P, De Cillis G, Marchiori C, Carpenè S, Da Mosto MC (2008) Multivariate analysis of risk factors for Pharyngocutaneous Fistula after total laryngectomy. Eur Arch Otorhinolaryngol 265(8):929–936

Reiter M, Harréus U (2013) Vacuum assisted closure in the management of wound healing disorders in the head and neck: a retrospective analysis of 23 cases. Am J Otolaryngol 34(5):411–415

Loske G, Müller CT (2019) Tips and tricks for endoscopic negative pressure therapy. Chirurg 90(Suppl 1):7–14. https://doi.org/10.1007/s00104-018-0725-z
Acknowledgements
We would like to thank the nursing staff at the interdisciplinary endoscopic unit and our colleagues in the department of anaesthesiology.
Ethics declarations
Conflict of interest
G. Loske is a consultant for Lohmann & Rauscher GmbH & Co. KG. J. Loeck, H.-J. von Lücken and W. Kehrl declare that they have no competing interests.
This article does not contain any studies with human participants or animals performed by any of the authors. Consent was obtained from all patients identifiable from images or other information within the manuscript. In the case of underage patients, consent was obtained from a parent or legal guardian.
The supplement containing this article is not sponsored by industry.
Additional information
Redaktion
C. Matthias, Mainz
About this article
Cite this article
Loeck, J., von Lücken, HJ., Kehrl, W. et al. Endoscopic negative pressure therapy (ENPT) of a post-laryngectomy pharyngocutaneous fistula: first report of a new treatment method. HNO 67 (Suppl 2), 77–79 (2019). https://doi.org/10.1007/s00106-019-0653-3
Published:

Issue Date:

DOI: https://doi.org/10.1007/s00106-019-0653-3
Keywords
Respiratory tract fistula

Cutaneous fistula

Wound closure techniques

Negative-pressure wound therapy

Drainage