Zusammenfassung
In der vorliegenden Erstbeschreibung wird dargestellt, wie mit der endoskopischen Unterdrucktherapie (EUT), auch endoskopische Vakuumtherapie (EVT) genannt, eine pharyngokutane Fistel nach Laryngektomie erfolgreich verschlossen wurde. Die Dauer der Unterdruckbehandlung betrug 14 Tage. Bislang wurde die EUT bei transmuralen Defekten im Rektum und Ösophagus eingesetzt. Das neue endoskopische Verfahren kann auch in der HNO-Heilkunde zur Behandlung von pharyngokutanen Fisteln verwendet werden.
Abstract
In the current first report, it is shown how a post-laryngectomy pharyngocutaneous fistula was successfully closed by endoscopic negative pressure therapy (ENPT; also termed endoscopic vacuum therapy, EVT). The duration of negative pressure treatment was 14 days. Up until now, ENPT has been used for treatment of transmural defects in the rectum and esophagus. The new endoscopic method can also be used in the ENT field for closure of pharyngocutaneous fistulas.
Access options
Buy single article
Instant access to the full article PDF.
USD 39.95
Price excludes VAT (USA)
Tax calculation will be finalised during checkout.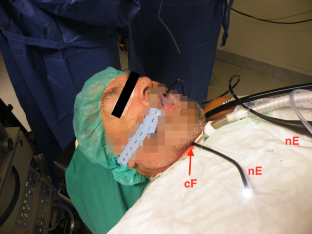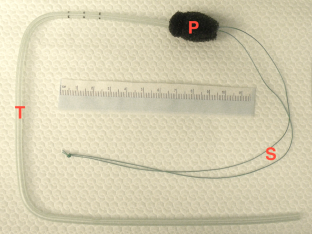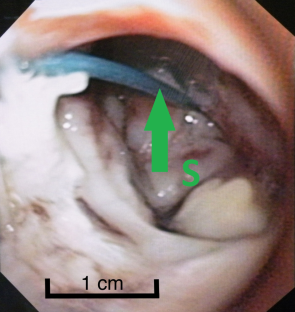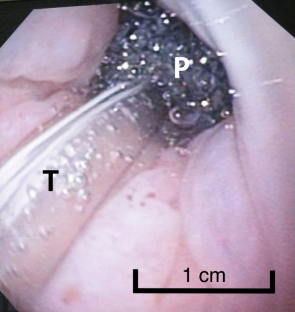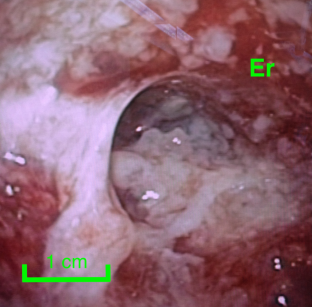 Literatur
Kuehn F, Loske G, Schiffmann L, Gock M, Klar E (2017) Endoscopic vacuum therapy for various defects of the upper gastrointestinal tract. Surg Endosc 31(9):3449–3458

Loske G, Schorsch T, Müller C (2011) Intraluminal and intracavitary vacuum therapy for esophageal leakage: a new endoscopic minimally invasive approach. Endoscopy 43(6):540–544

Loske G, Schorsch T, Rucktäschel F, Schulze W, Riefel B, van Ackeren V, Müller C (2018) Open-Pore Film Drainage (OFD)—a new multipurpose tool for Endoscopic Negative Pressure Therapy (ENPT). Endosc Int Open 6(7):E865–E871. https://doi.org/10.1055/a-0599-5886

Wallstabe I, Tiedemann A, Schiefke I (2012) Endoscopic vacuum-assisted therapy of infected pancreatic pseudocyst using a coated sponge. Endoscopy 44(Suppl 2):E49–E50

Sayles M, Grant DG (2014) Preventing Pharyngo-Cutaneous Fistula in total laryngectomy: a systematic review and meta-analysis. Laryngoscope 124(5):1150–1163

Boscolo-Rizzo P, De Cillis G, Marchiori C, Carpenè S, Da Mosto MC (2008) Multivariate analysis of risk factors for Pharyngocutaneous Fistula after total laryngectomy. Eur Arch Otorhinolaryngol 265(8):929–936

Reiter M, Harréus U (2013) Vacuum assisted closure in the management of wound healing disorders in the head and neck: a retrospective analysis of 23 cases. Am J Otolaryngol 34(5):411–415

Loske G, Müller CT (2019) Tips and tricks for endoscopic negative pressure therapy. Chirurg 90(Suppl 1):7–14. https://doi.org/10.1007/s00104-018-0725-z
Danksagung
Die Autoren danken dem Assistenzpersonal der interdisziplinären Endoskopie und den Kollegen der Abteilung für Anästhesiologie, Intensivmedizin und Schmerztherapie.
Ethics declarations
Interessenkonflikt
G. Loske ist Berater der Fa. Lohmann & Rauscher GmbH & Co.KG. J. Loeck, H.-J. von Lücken und W. Kehrl geben an, dass kein Interessenkonflikt besteht.
Für diesen Beitrag wurden von den Autoren keine Studien an Menschen oder Tieren durchgeführt. Für die aufgeführten Studien gelten die jeweils dort angegebenen ethischen Richtlinien. Für Bildmaterial oder anderweitige Angaben innerhalb des Manuskripts, über die Patienten zu identifizieren sind, liegt von ihnen und/oder ihren gesetzlichen Vertretern eine schriftliche Einwilligung vor.
Additional information
Redaktion
C. Matthias, Mainz
About this article
Cite this article
Loeck, J., von Lücken, HJ., Kehrl, W. et al. Endoskopische Unterdrucktherapie einer pharyngokutanen Fistel nach Laryngektomie – Erstbeschreibung eines neuen Therapieverfahrens. HNO 67, 706–709 (2019). https://doi.org/10.1007/s00106-019-0651-5
Published:

Issue Date:

DOI: https://doi.org/10.1007/s00106-019-0651-5
Schlüsselwörter
Atemwegsfistel

Kutane Fistel

Wundverschlusstechniken

Unterdruckwundtherapie

Drainage
Keywords
Respiratory tract fistula

Cutaneous fistula

Wound closure techniques

Negative-pressure wound therapy

Drainage