Zusammenfassung
Hintergrund
Psychische Komorbiditäten bei Tinnituspatienten sind häufig und ihre Diagnostik ist wichtig für Interventionen und Therapieerfolg. Hierbei ist die Auswahl geeigneter Fragebögen entscheidend. Ziel dieser Studie war es, das ICD-10-Symptom-Rating (ISR) für die Diagnostik psychologischer Komorbiditäten zu untersuchen.
Methode
In der vorliegende Studie wurden Tinnitusbelastung und psychische Komorbidität bei n = 311 Patienten mit chronischem Tinnitus untersucht, die eine 7‑tägige multimodale tinnitusspezifische Intensivtherapie absolvierten. Zur Messung der Tinnitusbelastung wurde die deutsche Version des Tinnitus-Fragebogens (TF) eingesetzt. Psychische Komorbidität wurde mit dem ISR (Gesamtbelastung, depressives Syndrom, Angstsyndrom, Zwangssyndrom, somatoformes Syndrom, Essstörungssyndrom), Perceived Stress Questionnaire (PSQ: Gesamtwert für subjektive Stressbelastung, "Anspannung", "Sorgen", "Freude" und "Anforderungen") sowie der Allgemeinen Depressionsskala (ADS) gemessen.
Ergebnisse
Bei 65 % der Patienten bestanden psychische Komorbiditäten. Die Gesamtwerte des TF, ISR, PSQ und ADS zeigten signifikante Verbesserungen nach der Therapie. Zu Beginn der Therapie fanden sich signifikante Korrelationen der eingesetzten Messinstrumente, d. h., die Tinnitusbelastung konnte durch ISR-Gesamtbelastung, -Zwangssyndrom und PSQ-Anspannung vorhergesagt werden. Nach der Therapie wurde die – nun verringerte – Tinnitusbelastung zusätzlich durch die ISR-Unterskalen "Depression" und "Esstörungssyndrom" vorhergesagt.
Schlussfolgerung
Der ISR ist zur Erfassung komorbider psychischer Belastung bei Patienten mit chronischem Tinnitus und zur Erfassung kurzfristiger Therapieeffekte geeignet. Bei der Therapie des chronischen Tinnitus sollten stressassoziierte Anspannung, depressives Erleben und dysfunktionales Coping, z. B. über maladaptives Essverhalten, berücksichtigt werden.
Abstract
Background
Psychological comorbidities are frequent in tinnitus patients and their diagnosis is important for both interventions as well as treatment success. The selection of suitable questionnaires is thus crucial. The present study aimed to investigate the ICD-10 Symptom Rating (ISR) questionnaire for the diagnosis of psychological comorbidities.
Methods
The current study investigated tinnitus burden and psychological comorbidities in a sample of n = 311 patients with chronic tinnitus. All participants completed an intensive 7‑day multimodal tinnitus-specific therapy. Tinnitus burden was measured using the German version of the Tinnitus Questionnaire (TQ). Psychological comorbidities were measured using the ISR (total score, depressive disorder, anxiety disorder, obsessive–compulsive disorder, somatoform disorder, and eating disorder), the Perceived Stress Questionnaire (PSQ; total score, tension, worries, joy, and demands), and the General Depression Scale (Allgemeine Depressionsskala, ADS).
Results
Psychological comorbidities were suffered by 65% of participants. Treatment response comprised improvements in TQ, ISR, PSQ, and ADS. At baseline, tinnitus burden correlated with the ISR total, ISR obsessive–compulsive disorder, and PSQ tension scores. Post-treatment, the now reduced tinnitus burden was also predicted by the ISR depressive and eating disorder scores.
Conclusion
The ISR is a useful tool for measuring psychological comorbidities in patients with chronic tinnitus as well as for assessing short-term treatment response. Therapeutic approaches for chronic tinnitus should also consider stress-related tension, depressive symptomatology, and coping strategies such as maladaptive eating behaviors.
Access options
Buy single article
Instant access to the full article PDF.
US$ 39.95
Tax calculation will be finalised during checkout.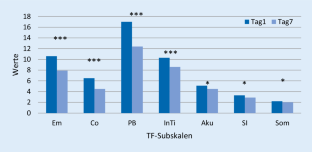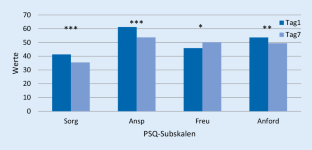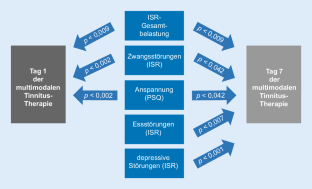 Literatur
1.

Hesse G (2008) Neurootologic and psychosomatic habituation therapy. Treatment approaches in chronic tinnitus. HNO 56(7):686–693

2.

Langguth B et al (2013) Tinnitus: causes and clinical management. Lancet Neurol 12(9):920–930

3.

Zirke N et al (2013) Analysis of mental disorders in tinnitus patients performed with Composite International Diagnostic Interview. Qual Life Res 22(8):2095–2104

4.

Salviati M et al (2014) Tinnitus: clinical experience of the psychosomatic connection. Neuropsychiatr Dis Treat 10:267–275

5.

Malakouti S et al (2011) Comorbidity of chronic tinnitus and mental disorders. Int Tinnitus J 16(2):118–122

6.

Sahlsten H et al (2018) Psychiatric (Axis I) and personality (Axis II) disorders and subjective psychiatric symptoms in chronic tinnitus. Int J Audiol 57(4):302–312

7.

Folmer RL, Griest SE, Martin WH (2008) Obsessive-compulsiveness in a population of tinnitus patients. Int Tinnitus J 14(2):127–130

8.

Leaver AM, Seydell-Greenwald A, Rauschecker JP (2016) Auditory-limbic interactions in chronic tinnitus: challenges for neuroimaging research. Hear Res 334:49–57

9.

Zirke N et al (2013) Psychological comorbidity in patients with chronic tinnitus: analysis and comparison with chronic pain, asthma or atopic dermatitis patients. Qual Life Res 22(2):263–272

10.

Tritt K et al (2008) Development of the "ICD-10-Symptom-Rating"(ISR) questionnaire. Z Psychosom Med Psychother 54(4):409–418

11.

Dilling H, Dittmann V (1990) Psychiatric diagnosis following the 10th revision of the International Classification of Diseases (ICD-10). Nervenarzt 61(5):259–270

12.

Seydel C et al (2013) Gender and chronic tinnitus: differences in tinnitus-related distress depend on age and duration of tinnitus. Ear Hear 34(5):661–672

13.

Seydel C et al (2015) Three years later: report on the state of well-being of patients with chronic tinnitus who underwent modified tinnitus retraining therapy. Audiol Neurootol 20(1):26–38

14.

Goebel G, Hiller W (1994) The tinnitus questionnaire. A standard instrument for grading the degree of tinnitus. Results of a multicenter study with the tinnitus questionnaire. HNO 42(3):166–172

15.

Fischer HF et al (2010) Factor structure and psychometric properties of the ICD-10-symptom-rating (ISR) in samples of psychosomatic patients. Psychother Psychosom Med Psychol 60(8):307–315

16.

Fischer HF et al (2011) Retest-reliability and Sertsitivity to change of the ICD-10-symptom-rating (ISR) in different samples. Psychother Psychosom Med Psychol 61(3–4):162–169

17.

Fischer HF et al (2011) How to compare scores from different depression scales: equating the patient health questionnaire (PHQ) and the ICD-10-symptom rating (ISR) using item response theory. Int J Methods Psychiatr Res 20(4):203–214

18.

Levenstein S et al (1993) Development of the Perceived Stress Questionnaire: a new tool for psychosomatic research. J Psychosom Res 37(1):19–32

19.

Fliege H et al (2005) The Perceived Stress Questionnaire (PSQ) reconsidered: validation and reference values from different clinical and healthy adult samples. Psychosom Med 67(1):78–88

20.

Hautzinger M (2008) Psychotherapy of depression. Bundesgesundheitsblatt Gesundheitsforschung Gesundheitsschutz 51(4):422–429

21.

Goebel G (2015) Tinnitus and psychiatric comorbidities. HNO 63(4):272–282

22.

Kratzsch V, Goebel G (2018) Current aspects of tinnitus and depression. HNO 66(3):188–197

23.

Langguth B (2011) A review of tinnitus symptoms beyond 'ringing in the ears': a call to action. Curr Med Res Opin 27(8):1635–1643

24.

Langguth B (2015) Treatment of tinnitus. Curr Opin Otolaryngol Head Neck Surg 23(5):361–368

25.

Mazurek B et al (2010) The significance of stress: its role in the auditory system and the pathogenesis of tinnitus. HNO 58(2):162–172

26.

Mazurek B, Szczepek AJ, Hebert S (2015) Stress and tinnitus. HNO 63(4):258–265

27.

Bruggemann P et al (2016) Impact of multiple factors on the degree of Tinnitus distress. Front Hum Neurosci 10:341

28.

Cima RF et al (2014) Cognitive-behavioral treatments for tinnitus: a review of the literature. J Am Acad Audiol 25(1):29–61

29.

Biesinger E et al (1998) Strategies in ambulatory treatment of tinnitus. HNO 46(2):157–169

30.

Bruggemann P et al (2018) Long-term changes in multimodal intensive tinnitus therapy : a 5year follow-up. HNO 66(Suppl 1):34–38
Ethics declarations
Interessenkonflikt
P. Brueggemann, A. J. Szczepek, C. Seydel, C. Schaefer, N. Amarjargal, B. Boecking, M. Rose und B. Mazurek geben an, dass kein Interessenkonflikt besteht.
Dieser Beitrag beinhaltet keine von den Autoren durchgeführten Studien an Menschen oder Tieren. Alle Patienten willigten nach umfassender Aufklärung vor Therapiebeginn schriftlich ein, dass ihre Daten in anonymisierter Form für die Lehre und Forschung an der Charité verwendet werden dürfen.
About this article
Cite this article
Brueggemann, P., Szczepek, A.J., Seydel, C. et al. ICD-10-Symptom-Rating-Fragebogen zur Beurteilung psychischer Komorbiditäten bei Patienten mit chronischem Tinnitus. HNO 67, 178–183 (2019). https://doi.org/10.1007/s00106-019-0618-6
Schlüsselwörter
Tinnitus

Depressives Syndrom

Psychische Komorbidität

Angstsyndrom

Zwangsyndrom
Keywords
Chronis tinnitus

Depressive disorders

Psychological comorbidities

Anxiety disorders

Obsessive-compulsive disorder