Zusammenfassung
Hintergrund
Schwerhörigkeit wird häufig durch berufliche Lärmexposition verursacht und führt zu einem Anstieg der Hörschwelle sowie einer Abnahme otoakustischer Emissionen (OAE), am ehesten bedingt durch metabolische Dekompensation der Haarzellen.
Ziel der Studie
Primäres Zielkriterium ist der Anstieg der durchschnittlichen Reintonschwellen nach Ende der Beschallung, sekundär wird die Abnahme der distorsionsprodukt- und klickevozierten OAE sowie die Abnahme von deren kontralateraler Supprimierbarkeit gemessen.
Probanden und Methoden
Das vorliegende Studiendesign beschreibt die Überprüfung antioxidativer und neuroprotektiver Eigenschaften von EGb 761® durch Evaluation der cochleären Protektion bei Lärmeinwirkung sowie der Sicherheit und Verträglichkeit an 202 gesunden männlichen Probanden. Diese werden zu gleichen Anteilen doppelt verblindet auf eine Verum- und eine Placebogruppe verteilt, nach Voruntersuchung und Medikation der Beschallung zugeführt und bis 10 min danach sowie nach 4 Wochen nachuntersucht.
Schlussfolgerung
Die vorgestellte Zusammenfassung des Prüfplans verdeutlicht den Aufwand einer sorgfältigen und genauen Planung einer nach den Kriterien der europäischen Regulierungsbehörde EMA (EudraCT) aufgelegten Studie. Wesentliche Punkte sind dabei die Begründung für die gewählte Intervention, das Design mit Ein- und Ausschlusskriterien, die Fallzahlschätzung sowie die Festlegung der Untersuchungsmethoden, um die Zielkriterien optimal beschreiben zu können.
Abstract
Background
Hearing loss is frequently induced by occupational noise exposure and leads to rising hearing thresholds as well as reduced otoacoustic emissions (OAE), mostly caused by metabolic hair cell decompensation.
Objective
Primary endpoint is the increase in average pure tone thresholds after noise exposure, secondary endpoints are loss of distortion product and click-evoked OAE as well as reduction of their contralateral suppression.
Participants and methods
The present study design describes the verification of the anti-oxidant and neuroprotective properties of EGb 761® by evaluation of cochlear protection from noise impact as well as its safety and tolerance in 202 healthy male participants distributed equally to verum and placebo groups in a double-blind manner. Participants were assessed, medicated, exposed to noise, and then examined at timepoints up to 10 min and 4 weeks thereafter.
Conclusion
This summary of the verification study protocol highlights the complexity of diligent and precise planning according to the European Medicines Agency criteria for controlled trials (EudraCT). Key points are the intervention rationale, definitions of in- and exclusion criteria, estimation of subject numbers, and examination method setting in terms of optimum endpoint description.
This is a preview of subscription content, log in to check access.
Access options
Buy single article
Instant unlimited access to the full article PDF.
US$ 39.95
Price includes VAT for USA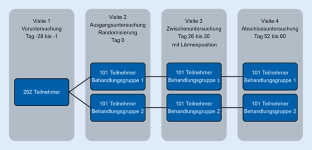 Literatur
1.

Attias J, Sapir S, Bresloff I, Reshef-Haran I, Ising H (2004) Reduction in noise-induced temporary threshold shift in humans following oral magnesium intake. Clin Otolaryngol 29:635–641

2.

Axelsson A, Lindgren F (1986) The effect of buflomedilhydrochloride (Loftyl) on temporary hearing threshold shift. Scand Audiol Suppl 26:37–40

3.

Clifford RE, Rogers RA (2009) Impulse noise: theoretical solutions to the quandary of cochlear protection. Ann Otol Rhinol Laryngol 118(6):417–427

4.

De Feudis FV (1998) Ginkgo biloba extract (EGB 761) : from chemistry to the clinic. Ullstein Medical, Wiesbaden

5.

Eckert A (2012) Mitochondrial effects of Ginkgo biloba extract. Int Psychogeriatr 24(Suppl 1):S18–S20

6.

Ge Z, Ma S, Jia X, Song L (2011) Study of protective effects on noise-induced hearing loss using N‑acetyl-cysteine. Lin Chung Er Bi Yan Hou Tou Jing Wai Ke Za Zhi 25(22):1040–1041

7.

Grass-Kapanke B, Busmane A, Lasmanis A, Hoerr R, Kaschel R (2011) Effects of Ginkgo biloba special extract EGb 761® in very mild cognitive impairment (vMCI). Neurosci Med 2:48–56

8.

Guitton MJ (2012) Tinnitus: pathology of synaptic plasticity at the cellular and system levels. Front Syst Neurosci 6:12

9.

Hesse G, Kastellis G (2019) "Hidden Hearing Loss" – Schäden der Hörverarbeitung auch bei niedereschwelliger Lärmbelastung? Hno 67:417–424. https://doi.org/10.1007/s00106-019-0640-8

10.

Ihl R (2012) Gingko biloba extract EGb 761®: clinical data in dementia. Int Psychogeriatr 24(Suppl 1):S35–S40

11.

Kramer S, Dreisbach L, Lockwood J, Baldwin K, Kopke R, Scranton S, O'Leary M (2006) Efficacy of the antioxidant N‑acetylcysteine (NAC) in protecting ears exposed to loud music. J Am Acad Audiol 17(4):265–278

12.

Kelly AC, Boyd SM, Henehan GT, Chambers G (2012) Occupational noise exposure of nightclub bar employees in Ireland. Noise Health 14(59):148–154

13.

Le Prell CG, Folan DF, Bennett DC, Boxer PA (2011) Nutritient plasma levels achieved during treatment that reduces noise-induced hearing loss. Transl Res 158(1):54–70

14.

Le Prell CG, Yamashita D, Minami SB, Yamasoba T, Miller JM (2007) Mechanisms of noise-induced hearing loss implicate multiple methods of prevention. Hear Res 226(1-2):22–43

15.

Liberman MC, Epstein MJ, Cleveland SS, Wang H, Maison SF (2016) Toward a differential diagnosis of hidden earing loss in humans. PLoS ONE 11(9):e162726. https://doi.org/10.1371/journal.pone.0162726

16.

Lin CY, Wu JL, Shih TS, Tsai PJ, Sun YM, Ma MC, Guo YL (2010) N‑Acetyl-cysteine against noise-induced temporary threshold shift in male workers. Hear Res 269(1-2):42–47

17.

Ordoñez R, Hammershøi D (2011) Time and frequency characteristics of temporary threshold shifts caused by pure tone exposures. Acta Acust United Acust 97:809–818

18.

Ordoñez R (2005) Temporary changes in human hearing caused by intense sounds. Ph.D. Thesis. Aalborg University, Aalborg

19.

Pettersson H, Burström L, Nilsson T (2011) The effect on the temporary threshold shift in hearing acuity from combined exposure to authentic noise and hand-arm vibration. Int Arch Occup Environ Health 84:951–957

20.

Quaranta A, Scaringi A, Bartoli R, Margarito MA, Qraranta N (2004) The effects of "supra-physiological" vitamin B12 administration on temporary threshold shift. Int J Audiol 43:162–165

21.

Rangel-Ordóñez L, Nöldner M, Schubert-Zsilavecz M, Wurglics M (2010) Plasma levels and distribution of Flavonoids in rat brain after single and repeated doses of standardized ginkgo biloba extract Egb 761®. Planta Med 76:1683–1690

22.

Schulze H, Korn S, Ahlf S, Tziridis K (2011) Mögliche protektive Wirkung des Ginkgo biloba-Extraktes EGb 761® auf die Entwicklung von zentralem Tinnitus. Vorgestellt auf der 82. Jahresversammlung der Deutschen Gesellschaft für Hals-Nasen-Ohren-Heilkunde, Kopf- und Hals-Chirurgie e. V., Freiburg, 3. Juni 2011. Poster #355

23.

Sliwinska-Kowalska M, Davis A (2012) Noise-induced hearing loss. Noise Health 14(61):274–280

24.

Streppel M, Walger M, von Wedel H, Gaber E (2006) Hörstörungen und Tinnitus. Robert-Koch Institut. Gesundheitsberichterstattung des Bundes, Heft 29. Rober-Koch-Institut, Berlin

25.

Verbeek JH, Kateman E, Morata TC, Dreschler W, Sorgdrager B (2012) Interventions to prevent occupational noise induced hearing loss. Cochrane Database Syst Rev. https://doi.org/10.1002/14651858.CD006396.pub2

26.

Xiong M, He Q, Lai H, Huang W, Wang L, Yang C, Wang J (2011) Radix Astragali injection enhances recovery from acute acoustic trauma. Acta Otolaryngol 131(10):1069–1073

27.

Zelle D, Dalhoff E, Gummer AW (2017) Objective audiometry with DPOAEs. New findings for generation mechanisms and clinical applications. HNO 65(Suppl 2):122–129. https://doi.org/10.1007/s00106-016-0267-y.Review
Förderung
Diese klinische Prüfung wird finanziert durch Fa. Dr. Willmar Schwabe GmbH & Co. KG, Karlsruhe. Für die Teilnahme an dieser klinischen Studie erhalten die Probanden eine Aufwandsentschädigung in Höhe von 200 €.
Ethics declarations
Interessenkonflikt
M. Tisch weist auf folgende Beziehungen hin: Erhalt von Vortragshonoraren von der Firma Schwabe in der Vergangenheit. G. Mühlmeier, A. Schweikert, S. Schramm und M. Burkhart geben an, dass kein Interessenkonflikt besteht.
Alle beschriebenen Untersuchungen am Menschen oder an menschlichem Gewebe wurden mit Zustimmung der zuständigen Ethikkommission, im Einklang mit nationalem Recht sowie gemäß der Deklaration von Helsinki von 1975 (in der aktuellen, überarbeiteten Fassung) durchgeführt. Von allen beteiligten Patienten liegt eine Einverständniserklärung vor.
Additional information
Bei dem vorliegenden Beitrag handelt es sich um einen Auszug wesentlicher Elemente aus dem Prüfplan.
About this article
Cite this article
Mühlmeier, G., Schweikert, A., Schramm, S. et al. Prüfplan für die monozentrische prospektive randomisierte placebokontrollierte doppelblinde Phase-II-Studie zur Exploration protektiver Effekte des Ginkgo-biloba-Spezialextrakts EGb 761® vor einer vorübergehenden Hörschädigung durch Lärm. HNO (2020) doi:10.1007/s00106-019-00807-x
Schlüsselwörter
Neuroprotektive Substanzen

Cochlea

Innere auditorische Haarzellen

Äußere auditorische Haarzellen

Otoakustische Emissionen, spontane
Keywords
Neuroprotective agents

Cochlea

Inner auditory hair cells

Outer auditory hair cells

Otoacoustic emissions, spontaneous