Zusammenfassung
In den letzten Jahren werden vermehrt Anwendungen für medizinische Zwecke entwickelt und vorgestellt, so auch Applikationen ("Apps"), mit denen sich in Verbindung mit Mobiltelefonen (Smartphones) eine Diagnostik und Dokumentation von Hörproblemen wie Schwerhörigkeit und Tinnitus durchführen lässt. Auch Smartphone-Apps zur Therapie, besonders für Tinnitus, wurden auf den Markt gebracht. In dieser Übersichtsarbeit wird die bislang vorliegende wissenschaftliche Literatur zu diesen Smartphone-Applikationen erörtert. Für die Tinnitustherapie wurden internetbasierte und evaluierte Angebote der Verhaltenstherapie entwickelt. Zur Behandlung von Tinnitus vorgestellte Apps verbinden akustische Stimulation und Musik oder dienen der akustischen Stimulation kortikaler Regionen im Bereich der Tinnitusfrequenz. Sie gelten zwar als sehr innovativ, jedoch wurde bislang der wissenschaftliche Nutzen ihrer Wirksamkeit noch nicht erbracht. Ein generelles Problem bezüglich der Anwendung von Smartphone-Applikationen liegt in ihrer tatsächlichen Sicherheit in Bezug auf mögliche Nebenwirkungen wie auch bezüglich des persönlichen Datenschutzes. Dennoch können Internetangebote und Apps eine sinnvolle Ergänzung multimodaler Therapieformen bilden.
Abstract
In recent years, applications (apps) for medical purposes have been developed and introduced, including apps that perform diagnostics and documentation for hearing loss and tinnitus in combination with smartphones. Even therapeutic apps, particularly for chronic tinnitus, have been launched. This review discusses the existing scientific literature for these smartphone applications. For tinnitus, Internet-based cognitive behavioral therapy has been developed and evaluated. For tinnitus therapy, introduced apps combine acoustic stimulation and music, or serve acoustic stimulation of cortical regions around the tinnitus frequency. Although these apps appear very innovative, their effectiveness has not yet been scientifically proven. A general problem associated with using smartphone apps lies in their safety in terms of possible side effects and personal data protection. However, Internet programs and apps can be a useful supplement to multimodal tinnitus therapies.
Access options
Buy single article
Instant access to the full article PDF.
USD 39.95
Price includes VAT (USA)
Tax calculation will be finalised during checkout.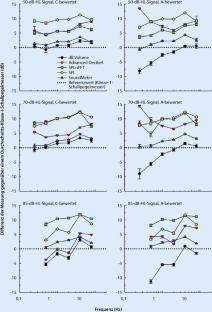 Literatur
1.

Abrams HB, Bock K, Irey RL (2015) Can a remotely delivered auditory training program improve speech-in-noise understanding? Am J Audiol 24:333–337

2.

Andersson G (2015) Clinician-supported Internet-delivered psychological treatment of tinnitus. Am J Audiol 24:299–301

3.

Andersson G, Cuijpers P, Carlbring P et al (2014) Guided Internet-based vs. face-to-face cognitive behavior therapy for psychiatric and somatic disorders: a systematic review and meta-analysis. World Psychiatry 13:288–295

4.

AWMF (2015) Leitlinie Tinnitus. Leitlinien der Dt. Ges. f. Hals-Nasen-Ohren-Heilkunde, Kopf- und Halschirurgie Leitlinie 017/064:1–16

5.

Beerheide R (2016) Gesundheits-Apps: Viel Chancen, wenig Evidenz. Dtsch Arztebl 113:1040–1041

6.

Beukes EW, Allen PM, Manchaiah V et al (2017) Internet-based intervention for tinnitus: outcome of a single-group open trial. J Am Acad Audiol 28:340–351

7.

Bright T, Pallawela D (2016) Validated smartphone-based apps for ear and hearing assessments: a review. Jmir Rehabil Assist Technol 3:e13

8.

Danino J, Muzaffar J, Mitchell-Innes A et al (2016) Quality of information available via the internet for patients with otological conditions. Otol Neurotol 37:1063–1065

9.

Frankfurter Allgemeine Sonntagszeitung v. 26.11.2017

10.

Ferguson M, Brandreth M, Brassington W et al (2016) A randomized controlled trial to evaluate the benefits of a multimedia educational program for first-time hearing aid users. Ear Hear 37:123–136

11.

Goebel G, Biesinger E, Hiller W et al (2005) Der Schwergegrad des Tinnitus. In: Biesinger E, Iro H (Hrsg) HNO Praxis heute. Springer, Heidelberg, S 19–42

12.

Greenwell K, Sereda M, Coulson N et al (2016) Understanding user reactions and interactions with an Internet-based intervention for tinnitus self-management: mixed-methods process evaluation protocol. JMIR Res Protoc 5:e49

13.

Hall D, Hoare D (2014) End of Study Report. NHS Trust Nottingham University Hospitals, S 1–30

14.

Haller M, Hall DA (2017) Evaluation of the acoustic coordinated reset (CR(R)) neuromodulation therapy for tinnitus: update on findings and conclusions. Front Psychol 8:1893

15.

Henry JA, Mcmillan G, Dann S et al (2017) Tinnitus management: randomized controlled trial comparing extended-wear hearing aids, conventional hearing aids, and combination instruments. J Am Acad Audiol 28:546–561

16.

Henry JA, Thielman E, Zaugg T et al (2017) Development and field testing of a smartphone "app" for tinnitus management. Int J Audiol 56:784–792

17.

Hesse G (2007) Musiktherapie bei Tinnitus. HNO 55:328–330

18.

Hesse G (2015) Neueste Behandlungsansätze bei chronischem Tinnitus. HNO 63:283–290

19.

Hiller W, Goebel G (2007) When tinnitus loudness and annoyance are discrepant: audiological characteristics and psychological profile. Audiol Neurootol 12:391–400

20.

Hoare DJ, Pierzycki RH, Thomas H et al (2013) Evaluation of the acoustic coordinated reset (CR (R)) neuromodulation therapy for tinnitus: study protocol for a double-blind randomized placebo-controlled trial. Trials 14:207

23.

Jastreboff PJ (2015) 25 Years of tinnitus retraining therapy. HNO 63:307–311

24.

Kardous CA, Shaw PB (2013) So how good are these smartphone sound measurement apps? Update Counc Accredit Occup Hearing Conserv 25:1–2

25.

Loy JS, Ali EE, Yap KY (2016) Quality assessment of medical apps that target medication-related problems. J Manag Care Spec Pharm 22:1124–1140

26.

Martinez-Perez B, De La Torre-Diez I, Lopez-Coronado M (2013) Mobile health applications for the most prevalent conditions by the World Health Organization: review and analysis. J Med Internet Res 15:e120

27.

Mielke M, Brueck R (2015) Design and evaluation of a smartphone application for non-speech sound awareness for people with hearing loss. Conference proceedings:  Annual International Conference of the IEEE Engineering in Medicine and Biology Society. IEEE Engineering in Medicine and Biology Society. Annual Conference 2015, S 5008–5011

28.

Nast DR, Speer WS, Le Prell CG (2014) Sound level measurements using smartphone "apps": useful or inaccurate? Noise Health 16:251–256

29.

Paglialonga A, Tognola G, Pinciroli F (2015) Apps for hearing healthcare. Stud Health Technol Inform 210:666–668

30.

Paglialonga A, Tognola G, Pinciroli F (2015) Apps for hearing science and care. Am J Audiol 24:293–298

31.

Pantev C, Okamoto H, Teismann H (2012) Tinnitus: the dark side of the auditory cortex plasticity. Ann N Y Acad Sci 1252:253–258

32.

Probst T, Pryss R, Langguth B et al (2016) Emotional states as mediators between tinnitus loudness and tinnitus distress in daily life: results from the "TrackYourTinnitus" application. Sci Rep 6:20382

33.

Rucker G, Antes G (2013) Reply to Tass et al on "Counteracting tinnitus by acoustic coordinated reset Neuromodulation" Restorative Neurology and Neuroscience Vol. 30 (2), 2012. Restor Neurol Neurosci 31(3):233–234. https://doi.org/10.3233/RNN-120275

34.

Schlee W, Pryss RC, Probst T et al (2016) Measuring the moment-to-moment variability of tinnitus: the TrackYourTinnitus smart phone app. Front Aging Neurosci 8:294

35.

Stein A, Wunderlich R, Lau P et al (2016) Clinical trial on tonal tinnitus with tailor-made notched music training. BMC Neurol 16:38

36.

Tass P, Adamchic I, Freund H et al (2012) Counteracting tinnitus by acoustic coordinated reset neuromodulation. Restor Neurol Neurosci 30(2):137–159

37.

Teismann H, Okamoto H, Pantev C (2011) Short and intense tailor-made notched music training against tinnitus: the tinnitus frequency matters. PLoS ONE 6:e24685

38.

Teismann H, Wollbrink A, Okamoto H et al (2014) Combining transcranial direct current stimulation and tailor-made notched music training to decrease tinnitus-related distress – a pilot study. PLoS ONE 9:e89904

39.

Wegger M, Ovesen T, Larsen DG (2017) Acoustic coordinated reset neuromodulation: a systematic review of a novel therapy for tinnitus. Front Neurol 8:36

40.

Weise C, Kleinstauber M, Andersson G (2016) Internet-delivered cognitive-behavior therapy for tinnitus: a randomized controlled trial. Psychosom Med 78(4):501–510. https://doi.org/10.1097/PSY.0000000000000310

41.

Wilson MB, Kallogjeri D, Joplin CN et al (2015) Ecological momentary assessment of tinnitus using smartphone technology: a pilot study. Otolaryngol Head Neck Surg 152(5):897–903. https://doi.org/10.1177/0194599815569692

42.

Wise K, Kobayashi K, Magnusson J et al (2016) Randomized controlled trial of a perceptual training game for tinnitus therapy. Games Health J 5(2):141–149. https://doi.org/10.1089/g4h.2015.0068

43.

Wunderlich R, Lau P, Stein A et al (2015) Impact of spectral notch width on neurophysiological plasticity and clinical effectiveness of the tailor-made notched music training. PLoS ONE 10:e138595
Ethics declarations
Interessenkonflikt
G. Hesse gibt an, dass kein Interessenkonflikt besteht.
Dieser Beitrag beinhaltet keine von den Autoren durchgeführten Studien an Menschen oder Tieren.
About this article
Cite this article
Hesse, G. Smartphone-App-gestützte Ansätze in der Tinnitusbehandlung. HNO 66, 350–357 (2018). https://doi.org/10.1007/s00106-018-0474-9
Schlüsselwörter
Schwerhörigkeit

Hyperakusis

Kognitive Verhaltenstherapie

Hörgeräte

Musiktherapie
Keywords
Hearing loss

Hyperacusis

Cognitive behavioral therapy

Hearing aids

Music therapy