Abstract
Background
Postoperative swallowing pain is one of the most unpleasant after-effects of tonsillectomy. During recent years, the demand for alternatives to drug-based pain therapy has continued to grow, although the topic has received little research attention until now.
Materials and methods
A total of 46 patients were randomized into verum acupuncture, control acupuncture, and drug-based treatment groups. All patients received nonsteroidal antirheumatic drugs (NSAIDs). One hour after drug intake, the verum group also received acupuncture according to classical acupuncture rules (S34, S44 and PC5). The control group had acupuncture needles placed at nonspecific acupuncture points in the midaxillary line. Acupuncture was performed by a blinded acupuncturist, who had learnt exclusively these techniques in the run up to the study. Patients were asked to evaluate their pain before, and at intervals of 20 min, 1 h, 2 h, and 3 h after drug intake/acupuncture treatment using a visual analog scale (VAS).
Results
The analgesic effect of acupuncture was significant up to 3 hours in the verum group (p < 0.05). The analgesic effect in the control acupuncture group was significant for up to 1 h after acupuncture (p < 0.05). With reference to the time point before acupuncture, the differences between both acupuncture groups and the drug group were significant (p < 0.01) over the whole time.
Conclusion
Acupuncture is an effective complement to NSAIDs in the treatment of posttonsillectomy pain. Particularly patients with allergies, drug intolerance, or reduced response to the commonly administered drugs may benefit from acupuncture.
Access options
Buy single article
Instant access to the full article PDF.
US$ 39.95
Tax calculation will be finalised during checkout.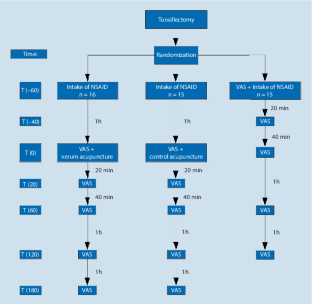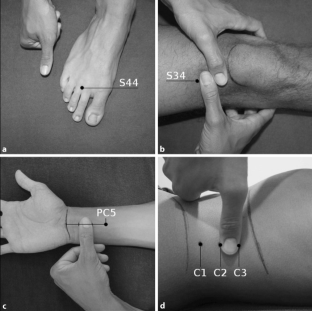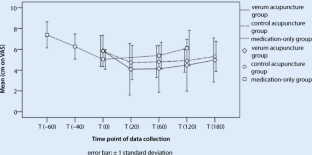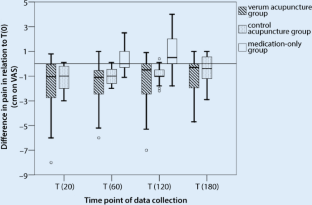 References
1.

Albrecht T, Wu S, Baumann I et al (2015) Measurable impact of acupuncture on mucosal swelling of inferior turbinates: a prospective, randomized, controlled study. Acta Otolaryngol 135:169–176

2.

Alhamarneh O, Raja H, England RJ (2008) Inadequate analgesic prescription increases secondary post-tonsillectomy bleed rates: a completed audit loop. J Laryngol Otol 122:719–721

3.

Bhattacharyya N, Kepnes LJ (2013) Revisits and postoperative hemorrhage after adult tonsillectomy. Laryngoscope 124:1554–1556

4.

Bullock ML, Pheley AM, Kiresuk TJ et al (1997) Characteristics and complaints of patients seeking therapy at a hospital-based alternative medicine clinic. J Altern Complement Med 3:31–37

5.

Cummings M (2009) Modellvorhaben Akupunktur – a summary of the ART, ARC and GERAC trials. Acupunct Med 27:26–30

6.

Diener HC, Kronfeld K, Boewing G et al (2006) Efficacy of acupuncture for the prophylaxis of migraine: a multicentre randomised controlled clinical trial. Lancet Neurol 5:310–316

7.

Gilbey P, Bretler S, Avraham Y et al (2015) Acupuncture for posttonsillectomy pain in children: a randomized, controlled study. Paediatr Anaesth 25:603–609

8.

Greten HJ (2007) Kursbuch Traditionelle Chinesische Medizin: TCM verstehen und richtig anwenden. Thieme, Stuttgart, p XVI

9.

Haake M, Muller HH, Schade-Brittinger C et al (2007) German Acupuncture Trials (GERAC) for chronic low back pain: randomized, multicenter, blinded, parallel-group trial with 3 groups. Arch Intern Med 167:1892–1898

10.

Majer EH, Bischko J (1973) Proceedings: Acupuncture analgesia in tonsillar surgery. Arch Klin Exp Ohren Nasen Kehlkopfheilkd 205:280–282

11.

Porkert M, Hempen C‑H (1995) Classical acupuncture: the standard textbook. Phainon Editions and Media, Acta Medicinae Sinensis, Dinkelscherben, pp 59–410

12.

Sarny S, Habermann W, Ossimitz G et al (2012) Significant post-tonsillectomy pain is associated with increased risk of hemorrhage. Ann Otol Rhinol Laryngol 121:776–781

13.

Sertel S, Bergmann Z, Ratzlaff K et al (2009) Acupuncture for nasal congestion: a prospective, randomized, double-blind, placebo-controlled clinical pilot study. Am J Rhinol Allergy 23:e23–e28

14.

Sertel S, Herrmann S, Greten HJ et al (2009) Additional use of acupuncture to NSAID effectively reduces post-tonsillectomy pain. Eur Arch Otorhinolaryngol 266:919–925

15.

Statistisches Bundesamt (2014) Fallpauschalenbezogene Krankenhausstatistik (DRG-Statistik). Operationen und Prozeduren der vollstationären Patientinnen und Patienten in Krankenhäusern. https://www.destatis.de/DE/Publikationen/Thematisch/Gesundheit/Krankenhaeuser/OperationenProzeduren5231401127014.pdf?__blob=publicationFile Zugegriffen am 10. Februar 2016.

16.

Streitberger K, Kleinhenz J (1998) Introducing a placebo needle into acupuncture research. Lancet 352:364–365

17.

Streitberger K, Mansmann U, Victor N (2007) GERAC-Studie zu Akupunktur bei Gonarthrose. Trauma Berufskrankh 9:S365–S369

18.

Treister-Goltzman Y, Peleg R (2015) Trends in publications on complementary and alternative medicine in the medical literature. J Complement Integr Med 12:111–115

19.

Tsao GJ, Messner AH, Seybold J et al (2015) Intraoperative acupuncture for posttonsillectomy pain: a randomized, double-blind, placebo-controlled trial. Laryngoscope 125:1972–1978
Funding
The supplement containing this article is not sponsored by industry.
Ethics declarations
Conflict of interest
J. Dingemann, B. Plewig, I. Baumann, P.K. Plinkert and S. Sertel declare that they have no competing interests.
All procedures performed in studies involving human participants were in accordance with the ethical standards of the institutional and/or national research committee and with the 1964 Helsinki declaration and its later amendments or comparable ethical standards. Informed consent was obtained from all individual participants included in the study. .
About this article
Cite this article
Dingemann, J., Plewig, B., Baumann, I. et al. Acupuncture in posttonsillectomy pain. HNO 65, 73–79 (2017). https://doi.org/10.1007/s00106-016-0289-5
Keywords
Acupuncture

Tonsil

Tonsillectomy

Posttonsillectomy pain

Swallowing pain