Abstract
Background
Cochlear implants (CI) are the preferred method of treatment for patients with severe to profound bilateral sensorineural hearing loss and unilateral deafness. For many years, because of the magnetic field applied during magnetic resonance imaging (MRI) examinations, MRI examinations were contraindicated for CI patients or feasible only under specific circumstances. MRI examinations of CI recipients entail complications and therefore preventive measures have to be considered. The aim of this study was to evaluate the prevalence of MRI scans in CI recipients and the occurrence of complications and furthermore to investigate the preventive measures taken in radiological daily routine.
Materials and methods
A retrospective questionnaire was sent to 482 patients that received CIs from 1999–2013. Details of the MRI examination and subjective and objective incidents during and after the MRI scan were evaluated.
Results
A total of 204 CI recipients answered the retrospective questionnaire (42.3 %). Twenty patients (9.8 %) with 23 implants underwent a total of 33 MRI scans with their cochlear implant in place. In 16 cases the scanned region was the head (49 %). Preventive measures in the form of head bandages were taken in 20 cases (61 %). The most common complication was pain in 23 cases (70 %) and the most serious complication was the dislocation of the internal magnet in 3 cases (9 %).
Conclusions
The number of CI recipients undergoing MRI scans is high. Possible complications and preventive measures attract too little attention in radiological daily routine.
This is a preview of subscription content,
to check access.
Access this article
We're sorry, something doesn't seem to be working properly.
Please try refreshing the page. If that doesn't work, please contact support so we can address the problem.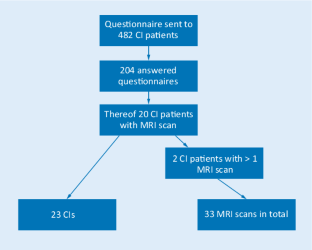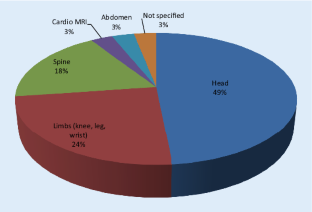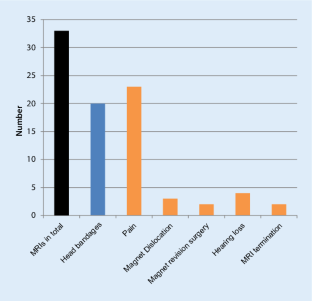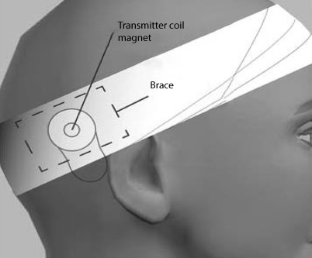 References
Crane BT, Gottschalk B, Kraut M et al (2010) Magnetic resonance imaging at 1.5 T after cochlear implantation. Otol Neurotol 31:1215–1220

Gubbels SP, Mcmenomey SO (2006) Safety study of the Cochlear Nucleus 24 device with internal magnet in the 1.5 Tesla magnetic resonance imaging scanner. Laryngoscope 116:865–871

Hassepass F, Stabenau V, Arndt S et al (2014) Magnet dislocation: an increasing and serious complication following MRI in patients with cochlear implants. Rofo 186:680–685

Hassepass F, Stabenau V, Maier W et al (2014) Revision surgery due to magnet dislocation in cochlear implant patients: an emerging complication. Otol Neurotol 35:29–34

http://www.cochlear.com/wps/wcm/connect/d4c7f616-4345-4bd2-b91b-0d3526e5165f/de_global_warnings_german_234569_iss6_mar13_translation_of_249170_iss6_545kb.pdf?mod=ajperes&convert_to=url&cacheid=d4c7f616-4345-4bd2-b91b-0d3526e5165f. Accessed: 21.06.2015

http://www.Medel.com/de/Cochlear-Implants. Accessed: 29.06.2015

Majdani O, Leinung M, Rau T et al (2008) Demagnetization of cochlear implants and temperature changes in 3.0T MRI environment. Otolaryngol Neck Surg 139:833–839

Majdani O, Rau TS, Gotz F et al (2009) Artifacts caused by cochlear implants with non-removable magnets in 3T MRI: phantom and cadaveric studies. Eur Arch Otorhinolaryngol 266:1885–1890

Mukherjee P, Ramsden JD, Donnelly N et al (2013) Cochlear implants to treat deafness caused by vestibular schwannomas. Otol Neurotol 34:1291–1298

Portnoy WM, Mattucci K (1991) Cochlear implants as a contraindication to magnetic resonance imaging. Ann Otol Rhinol Laryngol 100:195–197

Risi F, Saldanha A, Leigh R et al (2004) Magnetic resonance imaging safety of NucleusR 24 cochlear implants at 3.0T International Congress Series 1273. Elsevier, Oxford, pp 394–398

Shellock FG, Woods TO, Crues JV 3rd (2009) MR labeling information for implants and devices: explanation of terminology. Radiology 253:26–30

Teissl C, Kremser C, Hochmair ES et al (1999) Magnetic resonance imaging and cochlear implants: compatibility and safety aspects. J Magn Reson Imaging 9:26–38

Todt I, Rademacher G, Mittmann P et al (2015) MRI Artifacts and Cochlear Implant Positioning at 3 T In Vivo. Otol Neurotol 36:972–976

Todt I, Wagner J, Goetze R et al (2011) MRI scanning in patients implanted with a Vibrant Soundbridge. Laryngoscope 121:1532–1535

Walton J, Donnelly NP, Tam YC et al (2014) MRI without magnet removal in neurofibromatosis type 2 patients with cochlear and auditory brainstem implants. Otol Neurotol 35:821–825

Wild C, Allum J, Probst R et al (2010) Magnet displacement: a rare complication following cochlear implantation. Eur Arch Otorhinolaryngol 267:57–59
Ethics declarations
Conflict of interest
G. Grupe, J.Wagner, S. Hofmann, A. Stratmann, P. Mittmann, A. Ernst und I. Todt declare that this study was supported by Cochlear Ltd., Sydney, Australia.
Ethical approval has been obtained (IRB-HNO-ukb-2015/02). Laws governing data protection and data security were complied with.
Additional information
Redaktion
P.K. Plinkert, Heidelberg
B. Wollenberg, Lübeck
About this article
Cite this article
Grupe, G., Wagner, J., Hofmann, S. et al. Prevalence and complications of MRI scans of cochlear implant patients. HNO 65 (Suppl 1), 35–40 (2017). https://doi.org/10.1007/s00106-016-0129-7
Published:

Issue Date:

DOI: https://doi.org/10.1007/s00106-016-0129-7
Keywords