Zusammenfassung
Hintergrund
Zur apparativen Hörrehabilitation von Patienten mit kombiniertem Hörverlust gibt es verschiedene Hörsysteme. Mit dem kürzlich eingeführten objektiven Vergleichskriterium "maximum output" (maximaler Ausgangspegel, den ein Hörgerät leisten kann), ist es gut möglich, die Indikationsbereiche dieser Systeme abzuschätzen.
Ziel der Arbeit
Die für die Geräteauswahl wichtigen Begriffe wie Verstärkung ("gain"), Dynamikbereich und maximaler Ausgangspegel werden systematisch eingeführt. Im experimentellen Teil werden in dieser Arbeit die Leistungsdaten aller wesentlichen heute verfügbaren Hörsysteme verglichen und der maximale Indikationsbereich in Bezug auf die Knochenleitungshörschwelle bestimmt.
Material und Methoden
Die in der Literatur verfügbaren maximalen, frequenzspezifischen Ausgangspegel von Baha Cordelle 2, Sophono Alpha 2 und Bonebridge (am Schädelsimulator ermittelt), Codacs und Soundbridge (In-vivo-Messungen) wurden mit den Ausgangskraftpegeln aus den Datenblättern von BP110 Power, Baha Cordelle 2, Bonebridge, Codacs, Ponto Pro Power und Sophono Alpha 2 verglichen. Durch Verwendung jeweils geeigneter Korrekturfaktoren wurde der maximal verfügbare Dynamikbereich und daraus die Indikationsgrenzen in Bezug auf die Knochenleitungsschwelle bestimmt.
Ergebnisse
Bei geringgradiger sensorineuraler Schwerhörigkeit sind passive transkutane Hörimplantate oder die Bonebridge nützlich. Im Übergangsbereich zu mittelgradigem Hörverlust sind die perkutanen Systeme gut geeignet. Kombinierte Hörverluste mit ausgeprägterem cochleärem Hörverlust sind am günstigsten mit der Soundbridge oder dem Codacs zu versorgen. Hierbei muss das cochleäre Potenzial für das Sprachverstehen ermittelt und ggf. das Cochleaimplantat als Alternative diskutiert werden.
Abstract
Background
Various different hearing systems are available for device-supported hearing rehabilitation of patients with mixed hearing loss. Using the recently introduced objective comparison criterion "maximum output" (i. e., the maximum output level of a hearing device), the indications for different hearing devices can be compared.
Objective
This article reviews important terms such as gain, dynamic range, and maximum output level—all of which are relevant for the selection of a hearing device. The experimental part of this study compares all currently available hearing devices and determines the range of their indication with respect to the maximum bone-conduction hearing threshold.
Materials and methods
The maximum frequency-specific output levels reported in the literature for the Baha Cordelle 2, the Sophono Alpha 2, and the Bonebridge (measured at the skull simulator), as well as those of the Codacs and the Soundbridge (in-vivo measurements) are compared to the maximum output levels given in the datasheets of the BP110 Power, the Baha Cordelle 2, the Bonebridge, the Codacs, the Ponto Pro Power, and the Sophono Alpha 2. Using appropriate correction factors, the maximum dynamic range and thus the maximum indication based on the bone-conduction threshold was determined.
Results
In patients with mild sensorineural hearing loss, passive transcutaneous hearing or Bonebridge implants can achieve good audiological results. In the transition region to moderate hearing loss, percutaneous devices are applicable. Combined hearing loss with more pronounced sensorineural hearing loss is best treated with a Soundbridge or Codacs implant. In the latter case, the cochlear potential for speech recognition has to be explored and, where appropriate, cochlear implants considered as an alternative.
Access options
Buy single article
Instant access to the full article PDF.
USD 39.95
Price includes VAT (USA)
Tax calculation will be finalised during checkout.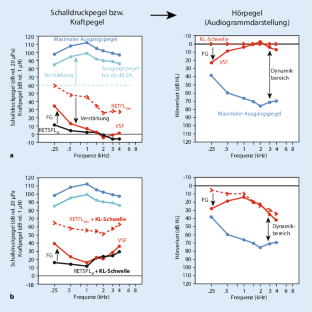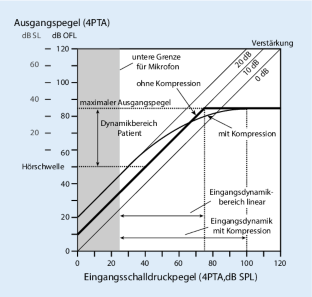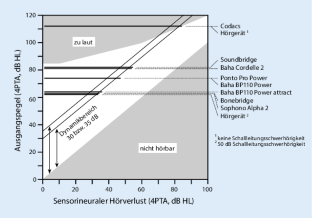 Abbreviations
InputSPL :

Eingangsschalldruckpegel

KL-Schwelle:

Individuelle Knochenleitungshörschwelle für Reintöne

Max-SLKL :

Maximal erreichbarer Empfindungspegel für Knochenleitungsstimulation

MO:

Maximaler Ausgangspegel ("maximum output")

OFL:

Ausgangskraftpegel ("output force level")

PTA:

Pure Tone Average

RETFLDKL :

Äquivalenter Bezugsschwellenkraftpegel ("reference equivalent threshold force level") für direkte Knochenleitungsstimulation

RETSPLSF :

Äquivalenter Bezugsschwellenschalldruckpegel ("reference equivalent threshold sound pressure level") für freies Schallfeld

SLKL :

Empfindungspegel ("sensation level") bei Knochenleitungsstimulation

V:

Verstärkung

VReferenz :

Referenzverstärkung; Quotient der Referenzbezugsschalldrücke für Ausgang und Eingang

VSF:

Versorgte Hörschwelle im freien Schallfeld
Literatur
1.

Håkansson B, Tjellstrom A, Rosenhall U (1984) Hearing thresholds with direct bone conduction versus conventional bone conduction. Scand Audiol 13:3–13

2.

Clamp PJ, Briggs RJS (2015) The Cochlear Baha 4 Attract System - design concepts, surgical technique and early clinical results. Expert Rev Med Devices 12:223–230

3.

Siegert R, Kanderske J (2013) A new semi-implantable transcutaneous bone conduction device: clinical, surgical, and audiologic outcomes in patients with congenital ear canal atresia. Otol Neurotol 34:927–934

4.

Huber AM, Sim JH, Xie YZ, Chatzimichalis M, Ullrich O, Roeoesli C (2013) The Bonebridge: Preclinical evaluation of a new transcutaneously-activated bone anchored hearing device. Hear Res 301:93–99

5.

Adamson R, Bance M, Brown J (2010) A piezoelectric bone-conduction bending hearing actuator. J Acoust Soc Am 128:2003–2008

6.

Reinfeldt S, Håkansson B, Taghavi H, Fredén JK, Eeg-Olofsson M (2015) The bone conduction implant: Clinical results of the first six patients. Int J Audiol 54(6):408–416

7.

Colletti V, Soli SD, Carner M, Colletti L (2006) Treatment of mixed hearing losses via implantation of a vibratory transducer on the round window. Int J Audiol 45:600–608

8.

Lenarz T, Zwartenkot JW, Stieger C, Schwab B, Mylanus EAM, Caversaccio M et al (2013) Multicenter study with a Direct Acoustic Cochlear Implant. Otol Neurotol 34:1215–1225

9.

Braun K, Zenner H, Friese N, Tropitzsch A (2015) Differenzialindikation aktiver Mittelohrimplantate. HNO 63:402–418

10.

Carlsson PU, Håkansson B (1997) The bone-anchored hearing aid: Reference quantities and functional gain. Ear Hear 18:34–41

11.

DIN Deutsches Institut für Normung e.V. (1998) Standard-Bezugspegel für die Kalibrierung audiometrischer Geräte – Teil 3: Äquivalente Bezugs-Schwellenkraftpegel für reine Töne und Knochenleitungshörer

12.

DIN Deutsches Institut für Normung e.V. (1996) Standard-Bezugspegel für die Kalibrierung audiometrischer Geräte, Teil 2: Äquivalante Bezugs-Schwellenschalldruckpegel für reine Töne und Einsteckhörer

13.

DIN Deutsches Institut für Normung e.V. (2000) Standard-Bezugspegel für die Kalibrierung audiometrischer Geräte, Teil 1: Äquivalente Bezugs-Schwellenschalldruckpegel für reine Töne und supra-aurale Kopfhörer

14.

Carlsson P, Håkansson B, Ringdahl A (1995) Force threshold for hearing by direct bone conduction. J Acoust Soc Am 97:1124–1129

15.

Gründer I, Seidl RO, Ernst A, Todt I (2008) Relative value of BAHA testing for the postoperative audiological outcome. HNO 56:1020–1024

16.

Stenfelt S, Goode RL (2005) Transmission properties of bone conducted sound: Measurements in cadaver heads. J Acoust Soc Am 118:2373–2391

17.

Mertens G, Desmet J, Snik, Ad FM, Van de Heyning P (2014) An experimental objective method to determine maximum output and dynamic range of an active bone conduction implant: the Bonebridge. Otol Neurotol 35:1126–1130

18.

Reinfeldt S, Håkansson B, Taghavi H, Eeg-Olofsson M (2015) New developments in bone-conduction hearing implants: a review. Med Devices 8:79–93

19.

Zwartenkot JW, Snik A, Mylanus EAM, Mulder JS (2014) Amplification options for patients with mixed hearing loss. Otol Neurotol 35:221–226

20.

Cornisse L, Gagné JP, Seewald RC (1991) Ear level recordings of the long-term average spectrum of speech. Ear Hear 12:47–54

21.

Mueller HG, Killion MC (1990) An easy method for calculating the articulation index. Hear J 43:1–4

22.

Stenfelt S, Håkansson B (2002) Air versus bone conduction: an equal loudness investigation. Hear Res 167:1–12

23.

Dillon H, Storey L (1998) The National Acoustic Laboratories' procedure for selecting the saturation sound pressure level of hearing aids: theoretical derivation. Ear Hear 19:255–266

24.

Stenfelt S (2012) Transcranial Attenuation of Bone-Conducted Sound When Stimulation Is at the Mastoid and at the Bone Conduction Hearing Aid Position. Otol Neurotol 33:105–114

25.

Hoppe U, Hast A, Hocke T (2015) Audiometry-based screening procedure for cochlear implant candidacy. Otol Neurotol 36(3):1001–1005

26.

Halpin C, Rauch SD (2009) Clinical implications of a damaged cochlea: pure tone thresholds vs information-carrying capacity. Otolaryngol Head Neck Surg 140:473–476
Ethics declarations
Interessenkonflikt
T. Rahne gibt Folgendes an: Fa. Med-El, Innsbruck, Österreich: finanzielle Unterstützung für Forschung, Reisekostenerstattung, persönliches Honorar für wissenschaftliche Beratertätigkeit; Fa. Cochlear Ltd, Australien: finanzielle Unterstützung für Forschung, Reisekostenerstattung; Fa. Advanced Bionics, Boulder, USA: Reisekostenerstattung.
S. Plontke gibt Folgendes an: Fa. AudioCure GmbH, Berlin, Deutschland: persönliches Honorar für wissenschaftliche Beratertätigkeit; Fa. Otonomy Inc., San Diego, USA: persönliches Honorar für Beratertätigkeit; Bundesministerium für Bildung und Forschung (BMBF): Förderung einer klinischen Studie zum Hörsturz; Deutsche Fortbildungsgesellschaft der Hals-Nasen-Ohrenärzte mbH: Vortragshonorar.
Dieser Beitrag beinhaltet keine Studien an Menschen oder Tieren.
Additional information
Redaktion
P.K. Plinkert, Heidelberg
B. Wollenberg, Lübeck
Glossar
Articulation index

Dimensionsloses Maß (0–1) für die Bewertung der Sprachverständlichkeit bei Verwendung von Sprachkommunikationssystemen mit nichtlinearem Zusammenhang mit dem Sprachverstehen (AI = 0,5: subjektiv gutes Sprachverstehen)

Ausgangsdynamikbereich

Differenz zwischen dem minimalen und dem maximalen Stimulationspegel

Ausgangskraftpegel ("output force level", OFL)

Pegel der den Knochen bewegenden Kraft relativ zu 1 µN

Dynamikbereich

Differenz zwischen dem minimalen und maximal übertragenen Signalpegel

Empfindungspegel ("sensation level", SL)

Lautstärke eines Signals relativ zur individuellen Hörschwelle

Funktioneller Hörgewinn ("functional gain", FG)

Veränderung einer psychoakustischen Hörschwelle, die durch das Hörsystem erreicht wird

Hörpegel ("hearing level", HL)

Lautstärke eines Signals relativ zur normalen Hörschwelle

Maximaler Ausgangspegel ("maximum output", MO)

Frequenzverlauf des maximalen Kraft- oder Schalldruckpegel, den ein Hörsystem abgeben kann

Verstärkung ("gain")

Differenz der Pegel zwischen Eingang und Ausgang eines Hörsystems

Standardbezugspegel (äquivalente Bezugspegel)

Schwellenschalldruckpegel (RETSPL) oder Schwellenkraftpegel (RETFL) für Normalpersonen

Schwellenkraftpegel

Pegel der den Knochen bewegenden Kraft relativ zu 1 µN, der mindestens notwendig ist, um einen Höreindruck auszulösen

Schwellenschalldruckpegel

Schalldruckpegel relativ zu 20 µPa, der mindestens notwendig ist, um einen Höreindruck auszulösen
About this article
Cite this article
Rahne, T., Plontke, S.K. Apparative Therapie bei kombiniertem Hörverlust. HNO 64, 91–100 (2016). https://doi.org/10.1007/s00106-015-0087-5
Schlüsselwörter
Aktives Hörimplantat

Ausgangsleistung

Knochenleitung

Kombinierter Hörverlust

Verstärkung
Keywords
Active hearing implant

Maximum output

Bone conduction

Mixed hearing loss

Gain