Zusammenfassung
Hintergrund
Die adaptive Desaktivierung stellt noch immer die einzige kausale Therapie der Acetylsalicylsäure(ASS)-Hypersensitivität dar und wird nahezu weltweit durchgeführt. Bislang existieren jedoch kaum Daten zur Krankheitsentwicklung unter laufender Desaktivierungstherapie, insbesondere Langzeitdaten fehlen.
Studiendesign
Aus einem großen Patientenkollektiv mit nachgewiesener Hypersensitivität gegenüber ASS wurden 194 Patienten mit initiierter Desaktivierungstherapie über bis zu 5 Jahre (Mittelwert, MW: 32 Monate) nachbeobachtet.
Ergebnisse
Patienten mit einer Sofortreaktion in der systemischen Provokationsprüfung zeigten nach einem Jahr der Therapie Ansprechraten von 77 %. Im Beobachtungszeitraum wurde bei 12 % eine komplette Remission erreicht, bei 38 % zeigte sich eine deutlich rückläufige Symptomatik, in 32 % fand sich eine partielle Verbesserung, während 13 % unter persistierender und 5 % unter progredienter Symptomatik litten.
Schlussfolgerung
Die adaptive Desaktivierung stellt eine sehr effektive kausale Therapie zur Verbesserung sowohl der chronisch-hyperplastischen Sinusitis als auch des Asthma bronchiale dar. Zur Festlegung und Anpassung der Therapiedosierungen sowie zur Anwendungsdauer sollten weitere Daten gewonnen werden.
Abstract
Background
Adaptive desensitization still remains the only causative therapy for acetylsalicylic acid (ASA) hypersensitivity and is carried out nearly worldwide. To date there are hardly any data available on disease development under current desensitization therapy and longitudinal data in particular are missing.
Study design
Out of a large collective of patients with proven hypersensitivity to ASA, 194 patients with initiated desensitization treatment were observed for periods up to 5 years (average 32 months).
Results
Patients with immediate reactions to systemic challenge tests revealed a response rate of 77 % after 12 months of therapy. In this period 12 % reached complete remission, 38 % showed a clear reduction in symptoms, 32 % reached partial remission, 13 % remained unchanged and 5 % suffered from disease progression.
Conclusion
Adaptive desensitization therapy for hypersensitivity to ASA has been shown to be an effective causative therapy and chronic hyperplastic sinusitis as well as bronchial asthma could be improved. For the determination of maintenance dosages and required time periods more data are needed.
Access options
Buy single article
Instant access to the full article PDF.
USD 39.95
Price excludes VAT (USA)
Tax calculation will be finalised during checkout.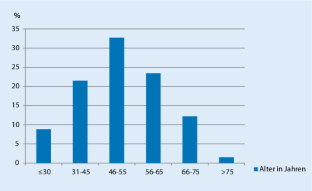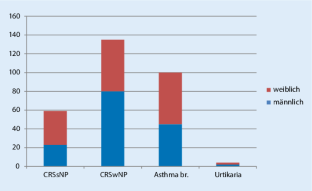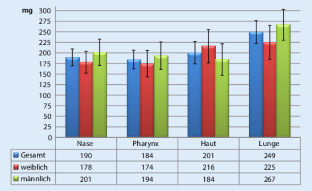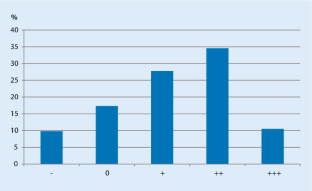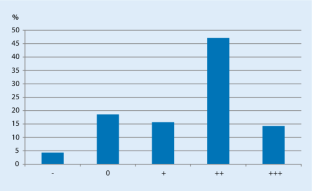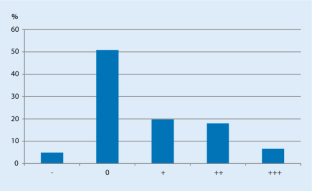 Literatur
Collaboration AT (2002) Effectiveness and safety of aspirin may be overrated. BMJ 324:71–86

Benner JS, Glynn RJ, Mogun H, Neumann PJ, Weinstein MC, Avorn J (2002) Long-term persistence in use of statin therapy in elderly patients. JAMA 288:455–461

Berges-Gimeno MP, Simon RA, Stevenson DD (2003) Early effects of aspirin desensitization treatment in asthmatic patients with aspirin – exacerbated respiratory disease. Ann Allergy Asthma Immunol 90:338–341

Berges-Gimeno MP, Simon RA, Stevenson DD (2003) Long-term treatment with aspirin desensitization in asthmatic patients with aspirin – exacerbated respiratory disease. J Allergy Clin Immunol 111:180–186

British Thoracic Society (2005) Scottish Intercollegiate Guidelines Network. Concordance and compliance. In: British guideline on the management of asthma, 2005, S 59–60 (www.sign.ac.uk/guidelines/fulltext/50/index.html)

Brocklebank D, Wright J, Cates C (2001) Systematic review of clinical effectiveness of pressurised metered dose inhalers versus other hand held inhaler devices for delivering corticosteroids in asthma. BMJ 323:896–900

Bundesärztekammer (BÄK), Kassenärztliche Bundesvereinigung (KBV), Arbeitsgemeinschaft der Wissenschaftlichen Medizinischen Fachgesellschaften (AWMF) (2013) Nationale VersorgungsLeitlinie Asthma – Langfassung (2. Auflage. Version 5. 2009, zuletzt geändert: August 2013). http://www.versorgungsleitlinien.de/themen/asthma. Zugegriffen: 10.05.2015

Castells M (2009) Rapid desensitization for hypersensitivity reactions to medications. Immunol Allergy Clin North Am 29:585–606

Dahlén B, Kumlin M, Morgolskee DJ, Larsson C, Blomqvist H, Williams VC (1993) The leukotriene receptor antagonist MK-0679 blocks airway obstruction induced by inhaled lysine-aspirin in aspirin-sensitive asthmatics. Eur Respir J 6:1018–1026

Forer B, Kivity S, Sade J, Landsberg R (2011) Aspirin desensitization for ASA triad patients – prospective study of the rhinologist's perspective. Rhinology 49:95–99

Fruth K, Pogorzelski B, Schmidtmann I, Springer J, Fennan N, Fraessdorf N, Boessert A, Schaefer D, Gosepath J, Mann WJ (2013) Low-dose aspirin desensitization in individuals with aspirin-exacerbated respiratory disease. Allergy 68:659–665

Gosepath J, Schafer D, Mann WJ (2002) Aspirin sensitivity: long term follow-up after up to 3 years of adaptive desensitization using a maintenance dose of 100 mg of aspirin a day. Laryngorhinootologie 81:732–738

Hähner A, Hummel T, Stuck BA (2014) Riechstörungen und ihre Therapie. HNO 62:860–866

Hope AP, Woessner KA, Simon RA, Stevenson DD (2009) Rational approach to aspirin dosing during oral challenges and desensitization of patients with aspirin-exacerbated respiratory disease. J Allergy Clin Immunol 123:406–410

Juergens UR, Christiansen SC, Stevenson DD, Zuraw BL (1995) Inhibition of monocyte leukotriene B4 production after aspirin desensitizatio. J Allergy Clin Immunol 96(2):148–156

Kirsche H, Klimek L (2015) ASS-Intoleranz-Syndrom und persistierende Rhinosinusitis. HNO 63:357–363

Klimek L, Pfaar O (2009) Aspirin intolerance: Does desensitization alter the course of the disease. Immunol Allergy Clin N Am 29:669–675

Kowalski ML, Makowska JS (2015) Seven steps to the diagnosis of NSAIDs hypersensitivity: how to apply a new classification in real practice. Allergy Asthma Immunol Res 7:312–320

Lee JY, Simon RA, Stevenson DD (2007) Selection of aspirin dosages for aspirin desensitization treatment in patients with aspirin-exacerbated respiratory disease. J Allergy Clin Immunol 119:157–164

Lee JK, Grace KA, Taylor AJ (2006) Effect of a pharmacy care program on medication adherence and persistence, blood pressure, and low-density lipoprotein cholesterol: a randomized controlled trial. JAMA 296:2563–2571

Martelli NA (1979) Bronchial and intravenous provocation tests with indomethacin in aspirin-sensitive asthmatics. Am Rev Respir Dis 120:1073–1079

Mita H, Endoh S, Kudoh M, Kawagishi Y, Kobayashi M, Taniguchi M, Akiyama K (2001) Possible involvement of mast-cell activation in aspirin provocation of aspirin-induced asthma. Allergy 56:1061–1067

Mita H, Higashi N, Taniguchi M, Higashi A, Kawagishi Y, Akiyama K (2004) Urinary 3-bromotyrosine and 3-chlorotyrosine concentrations in asthmatic patients: lack of increase in 3-bromotyrosine concentration in urine and plasma proteins in aspirin-induced asthma after intravenous aspirin challenge. Clin Exp Allergy 34:931–938

Mita H, Higashi N, Taniguchi M, Higashi A, Akiyama K (2004) ncrease in urinary leukotriene B4 glucuronide concentration in patients with aspirin-intolerant asthma after intravenous aspirin challenge. Clin Exp Allergy 34(8):1262–1269

Mühlmeier G, Maier H (2013) Bestimmung organbezogener Schwellenwerte bei ASS/Salicylat-Intoleranz durch intravenöse Provokation. Allergo J 22:252–258

Patriarca G, Bellioni P, Nucera E, Schiavino D, Papa G, Schinco G, Fais G, Pirotta LR (1991) Intranasal treatment with lysine acetylsalicylate in patients with nasal polyposis. Ann Allergy 67:588–592

Randerath WJ (2013) Das Analgetika-Asthma-Syndrom. Dtsch Med Wochenschr 138:541–546

Reiß G, Reiß M (2009) Analgetikaintoleranz: Ursachen, Diagnostik und Therapie. MMP 32:445–450

Rizk H (2011) Role of aspirin desensitization in the management of chronic rhinosinusitis. Curr Opin Otolaryngol Head Neck Surg 19:210–217

Steinke JW, Culp J, Kropf E, Borish L (2009) Modulation by aspirin of nuclear phospho-signal transducer and activator of transcription 6 expression: possible role in therapeutic benefit associated with aspirin desensitization. J Allergy Clin Immunol 124(4):724–730

Stevenson DD, Pleskow WW, Simon RA, Mathison DA, Lumry WR, Schatz M, Zeiger RS (1984) Aspirin-sensitive rhinosinusitis-asthma: a double blind cross over study of treatment with aspirin. J Allergy Clin Immunol 73:500–507

Stevenson DD, Hankammer MA, Mathiason DA, Christiansen SC, Simon RA (1996) Aspirin desensitization treatment of aspirin-sensitive patients with rhinosinusitis-asthma: long-term outcomes. J Allergy Clin Immunol 98:751–758

Stevenson DD (2004) Aspirin and NSAID sensitivity. Immunol Allergy Clin North Am 24:491–505

Stevenson DD, Szczeklik A (2006) Clinical and pathologic perspectives on aspirin sensitivity and asthma. J Allergy Clin Immunol 118:773–786

Stevenson DD, Simon RA (2006) Selection of patients for aspirin desensitization treatment. J Allergy Clin Immunol 118:801–804

Stevenson DD (2009) Aspirin sensitivity and desensitization for asthma and sinusitis. Curr Allergy Asthma Rep 9:155–163

Sweet JM, Stevenson DD, Simon RA, Mathison DA (1990) Long-term effects of aspirin desensitization treatment for aspirin-sensitive rhinosinusitis-asthma. J Allergy Clin Immunol 85:59–65

Szczeklik A, Nizankowska E, Duplaga M, AIANE (2000) Natural history of aspirin-induced asthma. Eur Respir J 16:432–436

Szczeklik A, Stevenson DD (2003) Aspirin-induced asthma: advances in pathogenesis, diagnosis and management. J Allergy Clin Immunol 111:913–922

Wynn R, Har-El G (2004) Recurrence rates after endoscopic sinus surgery for massive sinus polyposis. Laryngoscope 114:811–813

Zentz LC (2012) Chapter 1: Fundamentals of Math – Apothecary System. In: Sudbury, MA: (Hrsg) In: Math for Pharmacy Technicians. Jones & Bartlett Learning, Sudbury, S 7–8 (Retrieved 5 July2012)
Ethics declarations
Interessenkonflikt
G. Mühlmeier, R. Hausch und H. Maier geben an, dass kein Interessenkonflikt besteht.
Alle beschriebenen Untersuchungen am Menschen wurden mit Zustimmung der zuständigen Ethik-Kommission, im Einklang mit nationalem Recht sowie gemäß der Deklaration von Helsinki von 1975 (in der aktuellen, überarbeiteten Fassung) durchgeführt. Von allen beteiligten Patienten liegt eine Einverständniserklärung vor.
Additional information
Redaktion
P.K. Plinkert, Heidelberg
B. Wollenberg, Lübeck
About this article
Cite this article
Mühlmeier, G., Hausch, R. & Maier, H. Adaptive Desaktivierung bei ASS‑Hypersensitivität. HNO 63, 707–714 (2015). https://doi.org/10.1007/s00106-015-0065-y
Published:

Issue Date:

DOI: https://doi.org/10.1007/s00106-015-0065-y
Schlüsselwörter
Salicylate

ASS

Hypersensitivität

Langzeituntersuchungen

Medikamentenadhärenz
Keywords
Salicylate

Acetylsalicylic acid

Hypersensitivity

Longitudinal studies

Medication adherence